Cacti make great landscaping plants. My pursuit in understanding more about cactus drove me to find out more on where it grows. Stick around to see what I found out.
So, where does a cactus grow? Cactus often grow in different climates. Most of them grow in dry and hot regions. However, some thrive in rain forests and mountains. What's even more surprising is that some also grow in Antarctica and Alaska. They are also found in Mexico and various parts of SouthWestern U.S.
What's more surprising is that cacti can grow even in the harshest environments. They store water in their stems, leaves, and roots. This explains why they can survive for long, even when it does not rain.
Where can you find cactus?
Cactus has over 1700 species which most of them are native to the Americas. Different species grow in different environments. Below are some of the climatic regions you can find cacti.
The Desert
Some cacti are found in drought-prone areas such as Mexico, Texas, parts of South America, southwestern US and the Atacama desert in Chile which is the world's driest place.
Most species of cacti survive in the deserts. What makes them survive is their adaptation to the environment. When it rains, they take advantage of it and store as much water as they can. Their roots are on the surface, which enables them to collect the water and store it in the stems quickly.
The amount of water the cactus stores is approximately 90% of the plant. For example, for the Saguaro, about 750-1000 liters are stored when it rains heavily.
How does water not evaporate considering the hot nature of the desert?
Unlike other plants that shed off leaves during the hot season, cacti can continue photosynthesis due to their sunken pores on the leaves, and they also have a waxy stem to prevent evaporation.
The pores often open during the night to release some moisture and close during the day.
Their spines protect them from animals that would ideally eat them. However, for animals such as camels, the spines don't prevent them from eating as they have papillae, which help them eat cactus with little discomfort.
Some of the notable species found in desserts such as California are Prickly Pear, Barrel Cactus, and Cholla.

Rainforests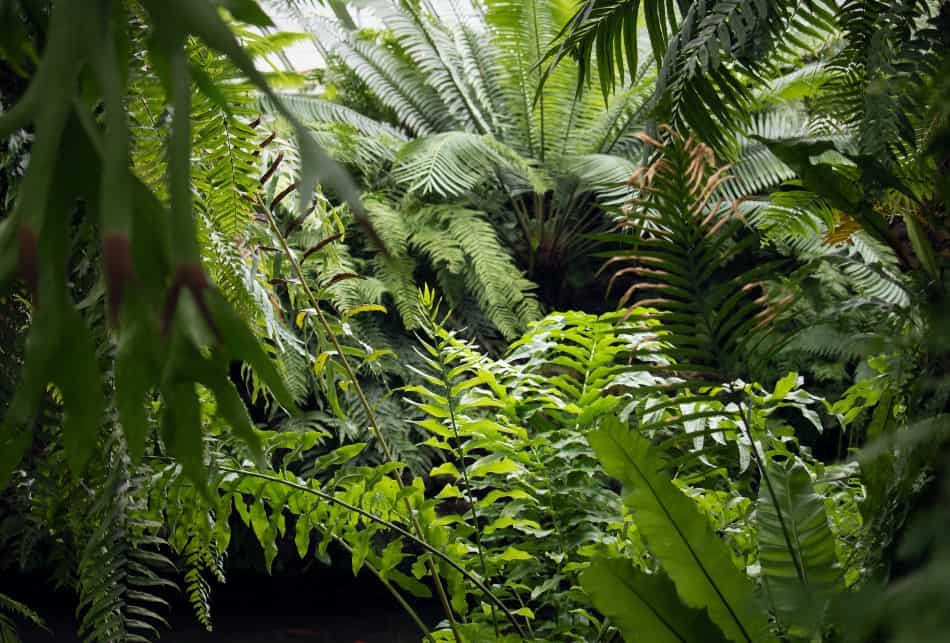 Tropical rainforests such as central America, Carribean Islands, northern South America, southeastern Brazil, and Bolivia, are all home to certain species of cacti.
Contrary to what people think, cacti don't only grow in deserts. There are those that grow in rainforests and are usually known as jungle cacti. Unlike the mostly thorny desert ones, jungle cacti don't have spines.
Most of the cacti are found in cloud forests that are in the elevation f between 1,000 and 2,000 meters.
Some of the popular species are the holiday cacti: Thanksgiving, Easter and Christmas Cacti. These cacti are mainly lithophytic (grow on rocks) or epiphytic (grow in trees). Such succulents mostly get their nutrients from dead leaves, the air or debris in cracks or crotches.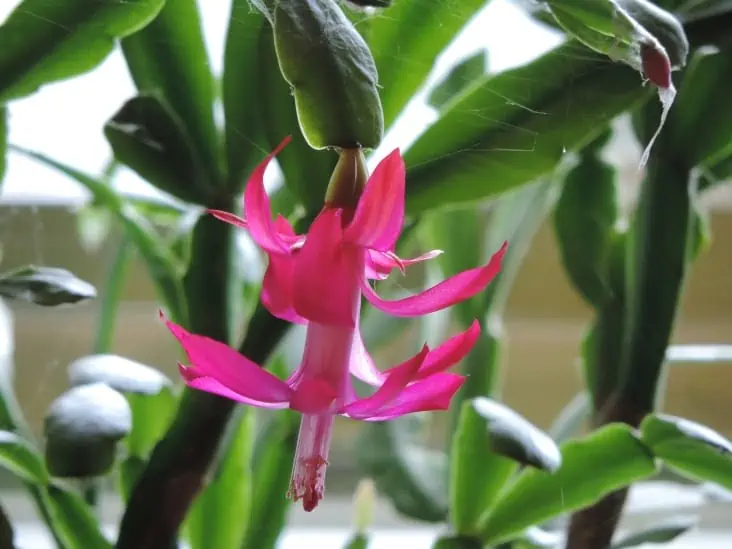 The cacti that grow in trees do not sap any nutrients from the trees but rather do so for support. They have elongated leaves whose primary purpose is to absorb light.
When planning to grow jungle cactus, it's essential to mimic soil close to such natural conditions. To do so, you'll need an appropriate potting mixture containing stuff like potting soil, pumice, oak leaf mold, orchid bark, among others.
Always repot your cacti after every two to three years around when it has finished blooming. Ensure the cacti get the right amount of light. Just like in the rainforests, they grow in restricted sunlight, don't expose them to prolonged summer light.
When they reach the flowering stage, consider using a tomato-type fertilizer every fortnight. Be keen not to use a high-nitrogen fertilizer. 

Mountains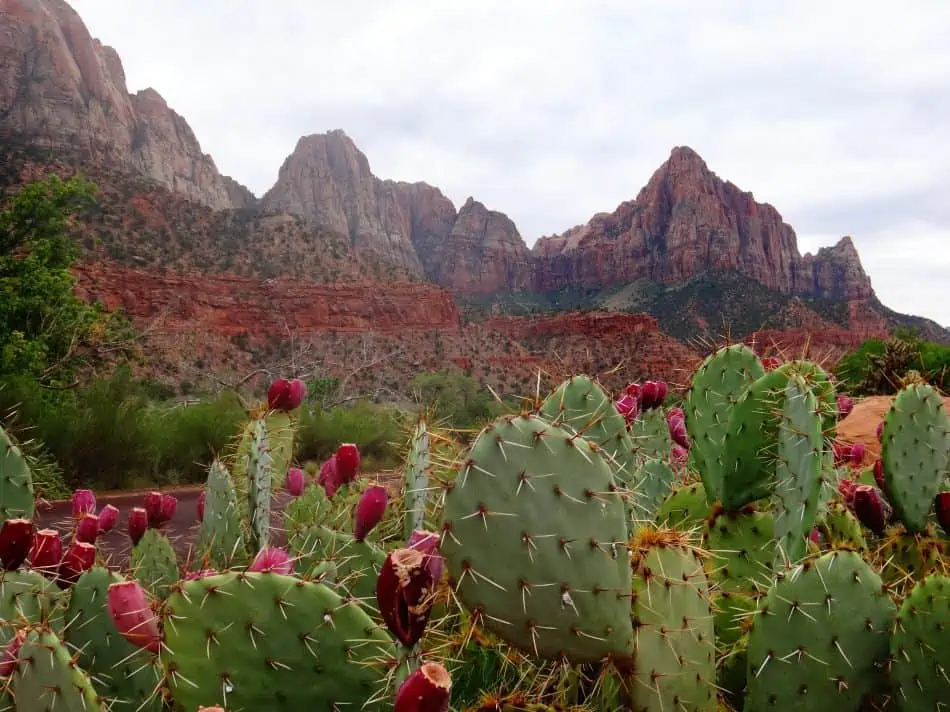 As hard to believe as it seems, cacti grow in the mountains. However, they grow in the mountains with low latitudes. Such cacti can be found in Whipple Mountains
In this case, the mountains will tend to interrupt the humid winds and have a side that's rainy due to 'catching' water in the air and facing the wind.
On the other side of the mountain is the rain shadow where there is rarely any rain since the air that goes to the other side comes back when it's compressed, hot and dry. Cacti will often grow in this part of the mountain as they have the arid environment they thrive in.
What makes cacti grow well also in the mountains is the fact that the soil here is usually eroded and is quite rocky. 
Cacti love environments that are windy, rocky, and gravely soil, which is what is found in the mountains.
The Mountain Ball Cactus is one of the species found in the mountains.
Breathtaking Places Where You Can Find Cactus
Cacti are beautiful, and I have rounded up all things cacti here. I have compiled an impressive list of some of the best places globally where you can find all sorts of species. The list involves locations as far as Texas and Spain. The craze about cactus is clearly not going away any time soon.
1. The Tehuacán-Cuicatlán Biosphere Reserve
For starters, the Tehuacán-Cuicatlán Biosphere Reserve was listed as a UNESCO World Heritage Site! From the incredible landscape to the cacti galore, this reserve provides some of the best shots. It is around 500,000 hectares of land that's protected.
There are four mountian ranges: Sierra Mazateca, Sierra Mixteca, Sierra Zongolica and Sierra de Juarez.
What makes this reserve stand out is the cactus. There are over 2500 columnar cacti species here! It is considered the largest concentration of cacti species globally.
The reserve is considered as a 'biodiversity hotspot' because of the rare species found here that may be in danger of extinction. It is also among the last areas or remaining wild cactus in such volumes which justifies why it is on the heritage list.
With such a large reserve to explore, you may spend days hiking while exploring the great cacti species available. There are buses available from Tehuacan to the Reserve. The only trick here is, be sure to sit on the front seats for a clear view.
Also, if you decide to go on the bus, you can go to the Helia Bravo Hollis which is a botanic garden that's filled with cactus in between paths.
2. Moorten Botanical Garden and Cactarium
This garden in Palm Springs was established in 1939 by Patricia and Chester Moorten who were a celebrity couple. At that time, they were helping Walt Disney in designing Disneyland's Frontierland.
The Moorten gardens sit on a 0.4-hectare land. As you enter, you can see the Moorten home commonly referred to as the Cactus Castle. The garden is 1.5 miles from Palm Springs, and there is parking space.
The couple showed their love for botany by exploring and collecting all sorts of desert plants. Moorten garden boasts of about 3,000 of desert cacti as well as other desert plants.
There is a cactarium greenhouse which has different species of cacti collected from various parts of the world.
If you need guided tours, you need to book in advance. You can also make purchases of the available plants. Note that, the gardens are closed on Wednesdays.
3. The Legendary Cactus Store In Los Angeles
The Cactus Store, located in the neighborhood of Echo Park, has a rare variety of species from all around the world. The store started in 2014, and its daily operations are run by Carlos Morera- a graphic designer, his uncle Johnny Morera-nursery man and cactus specialist, and other friends: Prof Christian Cummings, Max Martin, Jeff Kaplon and Greg Passuntino.
Before the store came to life, they took about two weeks on trips to the Mexican border to hand pick cactus from different farms.
Even though the store is only 350 square feet, it has 8,000 pounds in cinderblocks for displaying the various types of cacti.
The store is best known as a collector's store. Each cactus is handpicked for its own unique features. For example, a cactus may seem small in size and is more expensive than other ones, but some have been in existence for over 70 years. Some are just found on one particular farm in the whole world.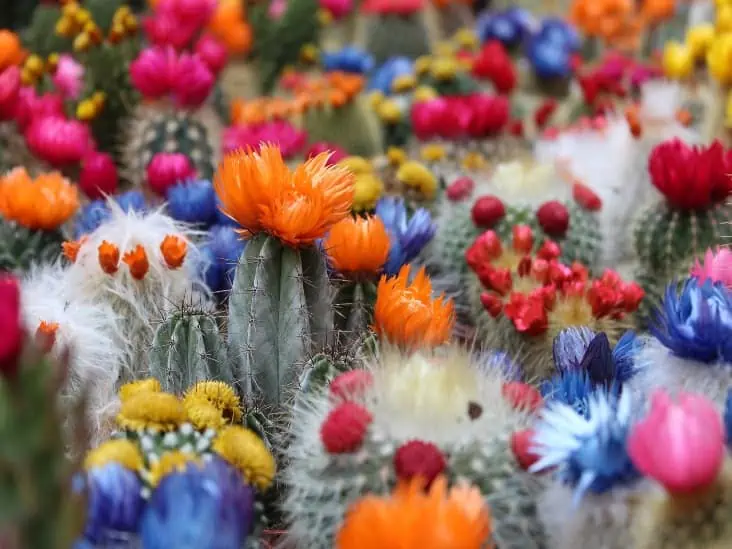 The store ensures that each cactus is unique and has different attributes to the rest.
What's even more mindblowing is the fact that the pots in which the cacti grow come in raw form and are from a Mexcian manufacturer. Since cactus hate being in moist soil, these unglazed pts are better because they suck water out quickly as compared to the glazed pots.
If you are planning to buy any cacti in the store, the prices start from $25 to around $1300 per piece.
When the store started back in 2014, it was not named immediately, and it got the name, 'Cactus Store' from people because they just started calling it that.
Located in Copenhagen, the store was opened in 2015 by three childhood friends: Gro, Cille, and Maja.
The store has specialized in over 150 cacti species. Most of the cacti have been sourced from a local Danish nursery which makes all their cacti Danish-bred.
What's impressive about this store is that the owners show you how the cacti can create the perfect decor for your house. They also help you know how to care for the cactus.
The store started way before it was officially opened when Maja and Cille moved in together and started a cactus collection until they covered the whole large windowsill. It was when Cille traveled to Guatemala that she learned how to cook cactus and how to use them. This was when they decided to open the store together with Gro, Maja's sister.
Some of the tips they give when planting a clipping is: cut a small section of the cactus, leave it to dry for ten days. When planting, plant half the clipping which should be covered by soil. Avoid watering for the first few days to give it time to let the roots grow. Once they grow, you can water. They also mention that you need to be patient as the cactus takes a while to row.
5. Desert City, Madrid
For nature lovers, this is another magnificent place. There are more than 400 xerophytic species on the 5,000 square meters gardens.
The garden is divided into five zones:
Arizona: this section has a variety of cacti.
Oasis: it's a forest full of palm trees.
Tuscany: has species such as pomegranate, lavender, olive, among others.
Tabernas: this is where landscaping breaks the aesthetics of the rest of the garden.
Guajira: this is where the gardening plants, together with cacti and other xerophytes coexist.
There are free guided tours every Saturday and Sunday at 11.30 a.m. If you are coming in groups of more than ten, you have to book in advance.
The owner is Mercedes Garcia. You have an option of purchasing plants of your choice.
6. Getty Museum Cactus Garden
This magnificent garden was built in 1997. It is a mixture of ancient and modern as California traditions, and the ancient Mediterranean inspired it.
A notable feature about the cacti plants found here is that the layout is what creates terrific effects. Each section of cacti contrasts with the one next to it.
There are 1500 species of cacti and succulents here. They sell at between $10 and $800.
7. Jardin de Cactus
This magnificent garden is in Guatiza, northern Lanzarote. It is situated in a former quarry where extraction of volcanic sand was done to pour on cultivated areas for the retention of moisture.
The garden's design was by the artist, Cesar Manrique, who was among the most influential artists. From the paved ways to the walled bridges, all evident at the garden are courtesy of Cesar.
The cactus garden has over 450 cacti species with over 4,500 examples. These species are from all five continents. The dark volcanic rocks, together with the green plants coupled with the blue sky, make the garden look magnificent.

8. Prick London
The prick was one of the first-ever cacti and succulent boutique in Dalston, London. The store's founder is Gynelle Leon. Most of the plants are from the UK and Europe.
The store sells over 150 types of plants. Cacti are considered low maintenance and a great addition to the modern way of living. They add to the home decor creating a sophisticated, relaxed look.
The store has its own design of pots. Gynelle's passion for cacti began when she started picking giant cacti. She was mostly attracted to the fact that they seemed to last longer than her relationships!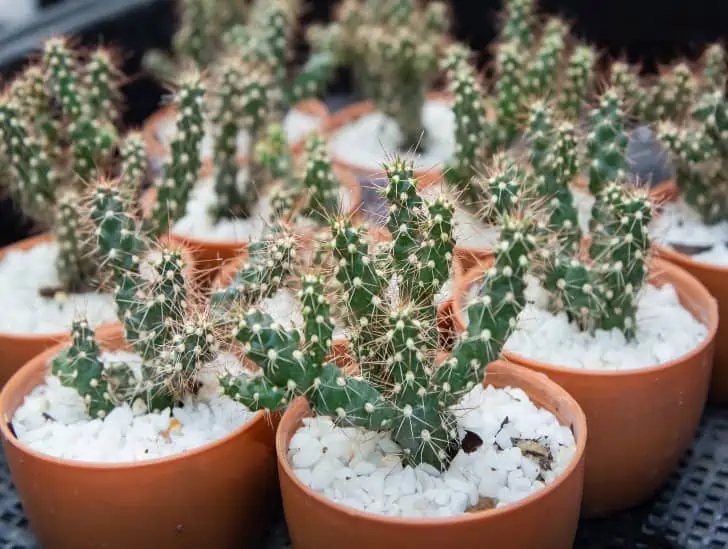 What makes this tore even more attractive is the fact that it is a complete contrast of garden shops. It is almost as enjoyable as shopping for clothes.
Interestingly, they have a Best Selling Book: Cacti and Succulents: Choosing, Styling, Caring by the shop's owner, Gynelle.
9. Cactus Garden Chandigarh, India
The garden covers 7 acres of land. It is India's most extensive botanical garden. Well known for its beauty of the cacti species in it, it was established in 1987.
The best months to visit this garden are between September all the way to March. It has numerous species of about 272 varieties of genus Mammillaria cacti with a distinct one from Mexico known as Bursera, and its shape is like a big tree.
10. Arizona Cactus Garden
Even though this garden is officially the Arizona Cactus Garden, it is located in Stanford University in California. Leland and Jane Stanford built the garden between 1881-1883. It is 30,000 square feet. And it is free to the public daily.
Currently, the garden contains 500 cacti. The cactus garden is divided into two subsections: The Eastern and Western hemisphere. The Western hemisphere holds cacti species native to the Americas while the Eastern one has the rest of succulent plants such as aloe and jade plants.

Related Questions
How can you make cactus grow faster? Cactus grow faster if they are exposed to the right amount of water (only water when the soil is dry), fertilizer (once a month during warm months) and light (place the cactus in the sunniest place of your home and keep rotating weekly). Provide an ideal condition during warm months throughout the year for faster growth.
How can I get rid of cactus spines? There is the option of using tweezers and magnifying glass. The other more straightforward way is applying white glue to the affected part of the skin and wait for about 30 minutes until it's dry then gently roll the gauze from the skin.
Are cactus spines poisonous? There are no known cactus spines that are poisonous. What happens is that some small 'glochid' spines of some cacti species will easily stick in the skin and can be quite challenging to remove. Wear gloves such as those worn by rose gardeners to avoid this.
Last update on 2023-07-26 / Affiliate links / Images from Amazon Product Advertising API