Cacti are among the easiest plants to grow as long as you understand their needs and can take good care of them. In fact, only a few plants can compare to their size, color, and beauty. Since most of them grow slowly, space is never an issue. However, just like other plants, cacti require specific conditions to thrive. This brings us to the big question that we shall cover throughout this article.
Can a cactus grow anywhere in the world? The simple answer to this question is Yes. Contrary to popular belief that cacti can only thrive in arid areas, the truth is that these plants can survive in almost all climates. There is evidence showing that some cacti species thrive in tropical rainforests and colder climates in different parts of the world. Typically, cacti are not fussy plants and will always thrive as long as you provide them with the right growing conditions and treat them well.
In this post, we discuss everything you need to know about cacti plants and their habitats. We shall also highlight some of the physical features unique to these plants that make them ideal for almost any climate.
What Is the Natural Habitat for Most Cacti Plants?
Let us start with what most of us know. Cacti plants are naturally adapted to living in arid areas that do not receive a lot of rainfall. In this case, the term "arid" is only used to refer to dry areas which receive sporadic rain.
In most cases, these areas are not true deserts because no plant or animal would survive in a true desert. This is the primary reason why you will find most cacti species growing in parts of North and South America.
In fact, every country in North and South America has at least a few naturally occurring cacti species growing there.
However, further analysis reveals that most of the cacti species in these two continents grow around the Tropic of Capricorn in South America and Tropic of Cancer in North America. Some species also grow in the Caribbean Islands. These are not desert areas.
To help you understand the concept of natural habitats better, we have come up with four different categories of cacti you need to know.
1. Desert cacti
This is perhaps the most common type of cacti. In fact, when most people think of cacti, they tend to think of deserts, but that is not always the case. The term desert is mostly misused to mean dry areas that don't receive plenty of rainfall.
For instance, if we take the Sonoran desert in the United States, where you will find a wide range of cacti species growing, you cannot say that the area is completely dry. In this case, we are talking about a desert that has two rainy seasons, which provide these plants with plenty of water.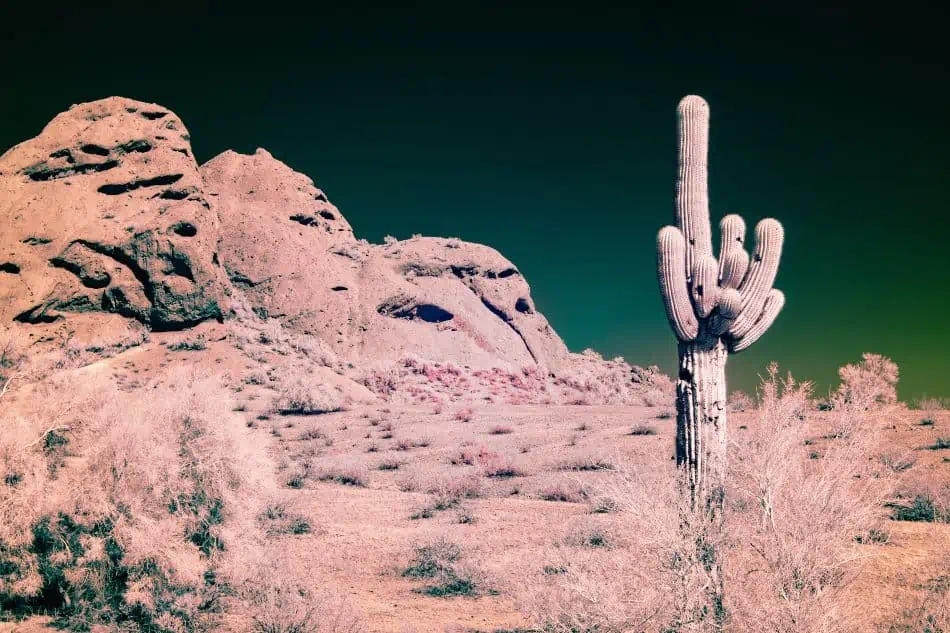 Being the second-largest desert in North America, the Sonoran desert covers parts of Arizona and California and stretches to Mexico's border. The first rain season occurs in the summer while the other happens in winter.
During this time, cacti plants that grow in this region absorb plenty of water to sustain them throughout the dry season.
2. Jungle cacti
You will find this type of cacti in the tropical rainforests that stretch across Central America, Brazil, and parts of Asia. Climatic conditions are quite different here compared to deserts. Typically, these areas receive plenty of rainfall throughout the year.
Cacti species that grow in this region usually require a lot of water than their desert counterparts. Most of them have true leaves and grow pretty fast.
Most jungle cacti are either lithophytic or epiphytic, meaning that they grow on rocks or in trees, respectively. These plants receive most of their nutrients from the air or dead leaves. However, it is essential to note that they are not parasitic.
Jungle cacti that grow in trees do so for support and do not depend on their host for nutrients. One of the best examples of jungle cacti is the Christmas/Holiday cactus.
3. Mountain cacti
Some cacti species also grow in mountain regions, especially in the Andes Mountains. The Andes is the longest mountain range in the world that stretches for about 7,000km from the western coast of South America.
The temperature in this region can vary significantly from nice and warm to freezing. Nonetheless, some cacti species have adapted to living in such high regions.
The cacti plants that dwell here shrivel in fall and winter to cope up with the freezing temperatures. The shriveling can be compared to the popular sap cycles in some plants. During these cycles, the plant's sap "goes down" in fall and "rises" in spring to survive rising and falling temperatures.
4. Coastal cacti
We also have cacti species that have adapted to growing in coastal regions. Keep in mind that coastal areas can sometimes be harsh, and the salty water, air, and soil can make it difficult for some plants to survive there.
For instance, along the coastal strip of Chile, you will find some cacti plants that can survive for years without rain. Such plants have unique features that help them endure such harsh climatic conditions.
Since the sea water is mostly cold, a stream of cold air moves over the hot land every morning, forming fog. The coastal cacti plants find the water they need to survive by absorbing as much moisture from the fog as possible.
5. Tropical cacti
Tropical cacti are mainly ornamental plants that thrive in humid climates. You will mainly find them in South America, the Caribbean Islands, and Central America.
These plants require plenty of water since they grow in warm climates with moderate yearly rainfall.
The amount of sunlight these plants receive also affects their growth significantly. They need approximately eight hours of light daily to stay healthy.
The most common tropical cacti are the Christmas/ Holiday cactus and Easter cactus. They have different colors and blooming seasons.
Physical Characteristics Unique to Cacti Plants that Helps Them Survive Anywhere and Everywhere
As mentioned earlier, these succulents have unique features that help them survive in different climates and environments. Some of the standout features that are unique to cacti plants include:
1. The spines
The needle-like structures on the surface of most cacti species are perhaps the most known feature distinguishing cactus from other plants. The spines play a critical role in the survival of a cactus plant.
First, they take the position of leaves on the plant. The lack of true leaves means that the plant has fewer stomata, which consequently mean reduced water loss through transpiration.
Secondly, spines play a critical role in protecting the plant from predators such as animals and human beings. In some cacti species, they help with absorption of rainwater by directing water droplets towards the plant's roots.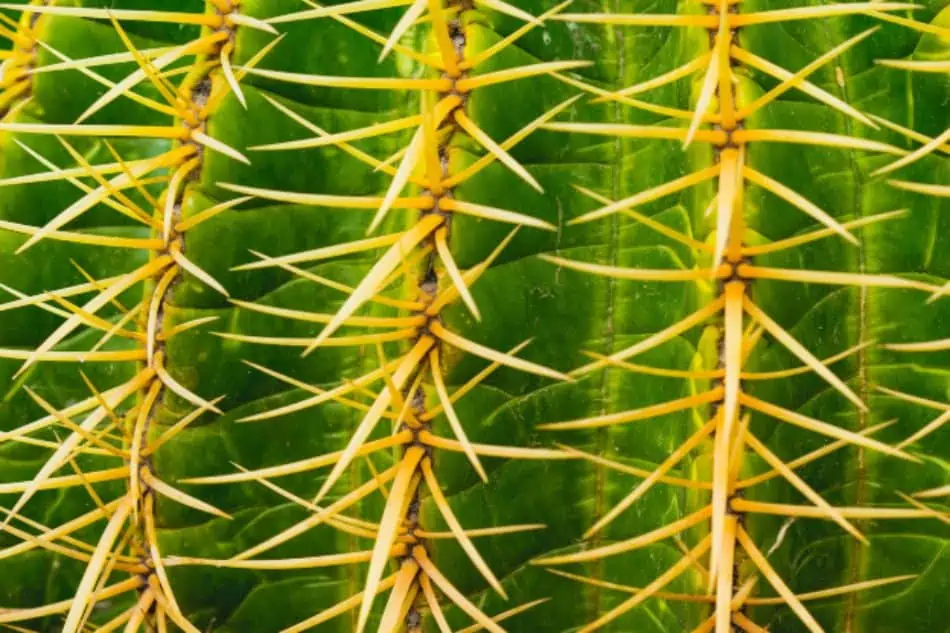 2. Areoles
An areole refers to a raised structure on the surface of a cactus plant from which spines originate. Areoles can only be found on cacti plants. They are circular/oval-shaped and mostly appear like raised fusion-discs full of sharp spikes or small hairs.
Although some other plants may have spines, if the spines are not originating from an areola, then the plant is not a cactus.
3. Specialized root system
These succulents also have a slightly different root system compared to other plants growing in harsh climatic conditions. Instead of having a deep root system, cacti plants usually develop an extensive shallow root system that spreads widely and only sits a few inches below the surface.
Whenever there is rainfall, the fibrous roots absorb water from the surface pretty quickly and more efficiently. The roots grow exponentially during the rainy season, but when it gets drier; they wither and break off from the parent plant to minimize water loss.
4. Deep-layer stomata
All cacti plants have an adaptation known as deep-layer stomata. These are specialized cells that close when temperatures rise significantly to prevent water loss.
As a result, the plant can go for days without using any water from its reservoir. In fact, research shows that some cacti species can survive for more than two years without water.
5. Waxy cuticles
Cacti also have waxy cuticles that help them reduce moisture loss from their stems and leaves during the day.
The wax helps trap a thin layer of air around these parts, preventing dehydration and allowing the plant to remain hydrated even in hot and dry weather.
The wax also reduces the rate of water loss through transpiration, thus allowing cacti to survive in arid climates.
6. Thick and expandable stem
Cacti plants have succulent stems that help them store water. Unlike other plants, the stems of cacti can expand and contract depending on the availability of water.
When it rains, their bodies swell up as they absorb the much-needed moisture. In dry seasons, they shrink and become wrinkled to reduce water loss through transpiration.
Sometimes, the stem of the cactus may even split to create more surfaces for sun exposure and subsequent photosynthesis.
The splitting also helps reduce stress during droughts since it's easier for them to contract into smaller sizes when water is scarce.
Can a Cactus Plant Survive in Cold-Winter Climates?
The truth is that you can grow cacti plants in cold climates as long as you know what to do and how to do it right. While most of us may think that these succulents are only meant to thrive in dry areas, the opposite is also true.
To successfully grow a cactus plant in cold-winter climates, you must understand how these plants grow and their essential requirements. Keep in mind that cacti plants are succulents that store water in their stems and roots.
Cacti require well-draining soil which doesn't hold water for too long. You can easily make your own soil by mixing coarse sand and some compost in the ratio of 2:3. Avoid growing your cactus in pure sand because it doesn't hold nutrients for long.
Although these plants do need some water to survive, you should be careful with watering, especially in the cold-winter regions. The best thing to do is to water your plant when the soil is completely dry. However, it is always good to let mother nature do the watering for you during the rainy season.
Avoid watering your plant in fall and winter because most cacti species enter a period of dormancy during this time. If you water during this period, the excess water may freeze in the stem of your plant leading to death.
Protect your plant from snow and ice and expose it to as much sunlight as possible during spring and summer. With time, your plant will get used to the cold climate and start to thrive.
Summary
Cacti are amazing plants that can grow anywhere in the world. You can grow these plants in your backyard or in pots and position inside the house. With their unique features, you can be sure of getting something incredible that will make your house feel like a home.
The most important thing you need to do is understand your plant's needs and do your best to provide a conducive environment for better results.
Last update on 2023-10-05 / Affiliate links / Images from Amazon Product Advertising API