Well, the secret lies in how this plant is adapted to absorb, store, and use water efficiently over a prolonged period.
So, where cactus store water? Primarily, cactuses store water in collapsible-water storage cells found in the stem. However, some cactuses also store water in their roots that are modified to perform this function. The collapsible water-storage cells appear as holes or spaces in the stem and retain water for a fairly long time.
Furthermore, ribs/flutes are present, which creates room for the water to retain. The ribs/flutes are invisible when the cactus is fully swollen but become visible when the stem shrinks.
Just like any other living thing, cactus needs water to survive. However, given the areas where it grows, water is often scarce. To compensate for this and adapt to the hot temperatures well, this plant has developed a wide range of special abilities that allow it to store the little water that it receives for a relatively long time. For instance, the needle-like spines of cacti are highly modified leaves that not only protect it from predators but also help to reduce the loss of water by restricting air flow near the cactus.
How Is the Cactus Cortex Modified to Store Water?
During its evolution, the cactus cortex underwent various modifications that give the plant more water-storage capacity. The cactus cortex is divided into two sections, namely; the inner water-storing region and the outer photosynthetic layer.
The outermost layer is green, which allows the plant to absorb carbon dioxide used in photosynthesis even though it is quite different from a typical plant leaf.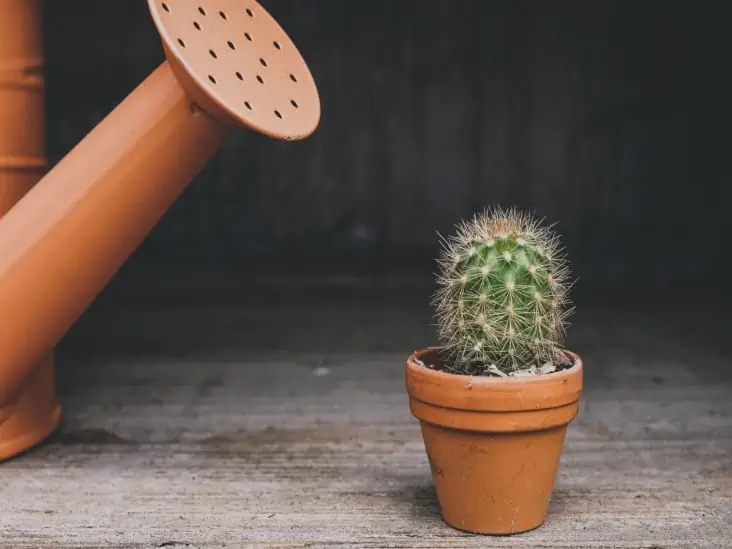 The innermost layer is succulent and comprises of numerous collapsible water-storage cells that store enough water to keep the plant healthy and hydrated even during prolonged dry spells.
These cells have fewer chloroplasts and a highly flexible, lignified, and elastic wall that allows the cell volume and shape to change rapidly as water is absorbed or released.
The selective advantage of storing water isn't just what keeps the collapsible water-storage cells alive but rather the fact that the water can readily be made available to photosynthetic cells of the cactus plant.
The water is also readily available to flower buds, axillary buds, developing fruits, and other parts of the plant.
Water-storage cells have thin, flexible walls that contract or shrink rapidly as water is transferred in and out of the cells. In all cactuses, the cell walls of the inner cortex are thin and highly flexible and can easily fold to prevent unnecessary water loss.
On the other hand, the cells that need water in cactus are thick and more resistant to shrinkage. As the volume of water within the cactus shoot reduces, the cells of the inner cortex give up more water transferring it to other plant cells hence minimizing water stress and allowing the process of photosynthesis to continue.
The evolutionary expansion of collapsible water-storage tissues in the cortex of plants can sometimes create problems to the epidermis.
Since plants produce epidermis cells only at the shoot and root tips, a succulent stem that swells after a downpour can limit the amount of water absorbed.
But, this isn't the case for most cacti plants since they have a pleated stem surface comprising of either ribs or tubercles that ensures maximum water absorption.
What Role Do Mucilage Cells Play in Water Storage in Cactus?
A surprising aspect of water storage in a cactus plant is the role of mucilage cells. These cells are common in many cacti plants and are believed to be highly adaptive in the cactus to help it retain more water.
Mucilage cells are also present in other plants. It is the presence of these cells that make some plants feel slimy when cut. Mucilage cells form a predominantly carbohydrate tissue that is capable of binding and holding water quite firmly.
But with water held tightly in the mucilage cells, how does that help the other cells of the cactus plant? Well, as is the case with the cactus cortex described above, the collapsible water-storage cells must always provide water to other plant cells and not keep it for themselves while the rest of the plant suffers.
In most cases, the cactus plant experiences prolonged spells of drought; hence, they should be able to digest the mucilage tissue and release water to other plant cells.
How Is the Cactus Root System Modified to Enhance Water Absorption?
Since they grow in deserts, you may be tempted to think that cacti grow deeper roots to help them search for a constant supply of groundwater. However, this isn't the case.
Generally, the cactus plant develops an extensive shallow root system that lies just under the earth's surface and may extend several feet away from the plant to increase the rate of water absorption.
When it rains, the cactus shoots out more roots. But, during prolonged droughts, some roots dry up and break off from the plant to conserve water supply.
Typically, the cactus plant becomes more hydrated than the soil it is growing in, and sometimes it faces the risk of losing water to the ground. To avoid such a scenario from happening, the plant tries to disconnect itself from the soil as much as possible during the dry spells.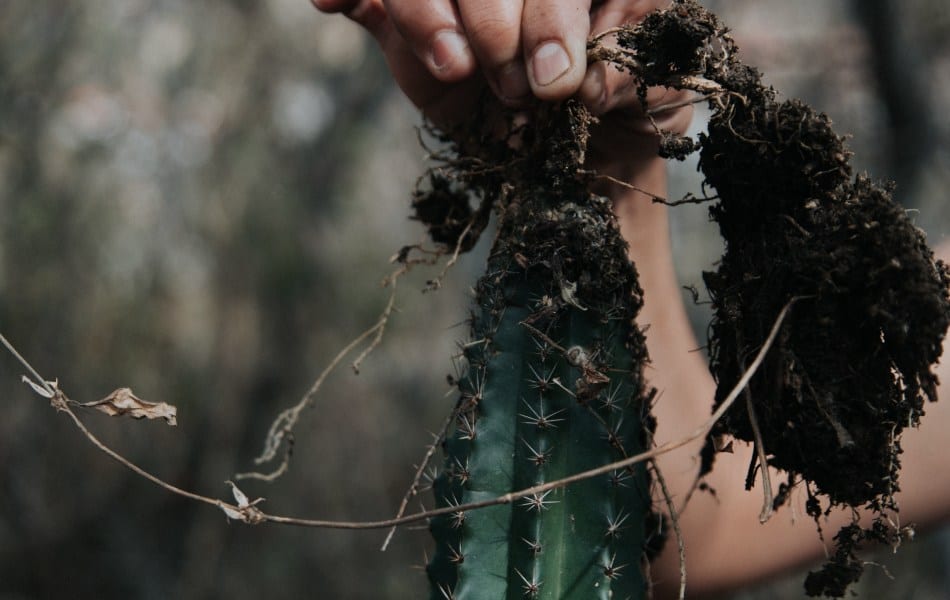 Some cacti send down a long and strong taproot soon after germinating. The taproot provides strong anchorage so that the plant isn't washed away in rainstorms and also allows it to tap deeper subsurface soils with more moisture.
Examples of cacti that develop a taproot include the saguaro and the giant Mexican cereus. Saguaro's taproot may extend up to 5 feet into the soil.
Some cacti have succulent roots that store food and water. A perfect example is the Cereus Greggii, commonly referred to as the Arizona queen of the night that has an enlarged root system weighing up to 27 kilograms.
The part of the root that becomes enlarged is the xylem tissue that stores starch and water. Most cacti don't have aerial or adventurous roots since they tend to increase water loss. Cactus roots also change their characteristics as the water supply fluctuates.
For instance, after a downpour, the existing dehydrated roots become more water conductive, and new roots are rapidly formed to help in soaking up the little available rainwater.
During the dry spells, the roots fall off, and the existing roots dehydrate and shrink, creating an air gap that helps to prevent water stored in the roots from escaping back to the soil.
Are There Any Other Useful Traits That Help the Cactus to Survive in Deserts?
Apart from the collapsible water-storage cells, mucilage cells, and a specialized root system, cacti have also developed a waxy skin, prickly spines, and reversed opening and closing of the stomata to lower the rate of water loss.
In fact, in some cacti, the prickly spines also collect rainwater and direct it to the plant roots.  All plants have stomata that open and close to collect carbon dioxide used during photosynthesis.
Cactus Plants (Mix of 3), Mammillaria Cactus Plants Live in Cactus Soil, Opuntia Cactus Live Plants, Cacti Plants Live, Cactus Décor Succulents, Cacti Décor Drought Tolerant Plants by Plants for Pets
LIVE DESERT PLANTS: Each cacti mix may include but is not limited to a golden barrel cactus, Mammillaria elongata, Opuntia microdasys, Trichocereus cactus, and more.
CACTI HOME DÉCOR: These decorative indoor plants can be grown on a plant stand with other potted plants, in a cactus terrarium with other cactus accessories for lively cacti desk décor, or in a...
HARDY INDOOR PLANTS: Drought resistant plants like these thrive in cacti and succulent potting mix with pebbles for plants and may become live flowering plants with the help of cacti and succulent...
CACTUS GIFT SET: This cactus gift box is perfect for a DIY terrarium kit, to give as cactus wedding favors, and as cactus party decorations for any celebration.
LIVE PLANTS GUARANTEE: Each live desert cactus ships in a 2 inch planter, varies in size by species, and arrives in prime condition.
Stomata refer to the numerous little pores found on plant surfaces. During the process of photosynthesis, plants convert the collected carbon dioxide into sugars.
Typically, stomata open during the day and close at night. But, this process can be quite troublesome in desert plants such as the cactus since a lot of water escapes through these pores each time they open.
If a plant is trying to conserve its water reservoir, it can be a risky business to open the stomata and lose water. While most plants open their stomata during the day, cacti and other desert plants open their pores at night.
The cooler night temperatures, lack of sunshine, and the calm breeze help cacti to retain a lot of water during the process. However, the lack of sunlight at night doesn't allow cacti to manufacture food at that time. 
Therefore, it stores carbon dioxide at night and embarks on photosynthesis in the morning when sunlight is available. Even the leafy cacti such as the Pereskia have developed similar traits to make their living in the desert a little bit easier.
Related Questions
Where do succulent plants store water?  Typically, all succulent plants store water in stems, roots, and fleshy leaves. All cacti are succulent plants as are other non-cactus desert plants such as euphorbia, aloe, and elephant trees.  However, there is a wide range of other adaptations that are essential to ensure effective water absorption and storage.
Pink Crown of Thorns Plant - Euphorbia - 4.5" Pot
This euphorbia is very easy care
Bright pink flowers bloom year round.
Our own Emeritus Gardens easy Care sheet is included.
Also our Emeritus gardens organic plant food is included.
Gift wrap and expedited shipping is available.
Why do cacti have spines? The needle-like structures present on the surface of cactus are known as spines and represent modified leaves. The lack of actual leaves makes it possible to imagine the plant as one large stem with spines instead of leaves. One of the primary functions of the spine is to protect the cactus from plant-eating animals. It also provides shed for the cactus itself and minimizes water loss.
Can you drink the water from a cactus?  Drinking water from a cactus isn't recommended since you are ingesting a new substance that your body has to process.  If you must drink water from the plant, drink from a fishhook barrel that isn't toxic. The cactus fruit is edible as well.
Last update on 2022-09-07 / Affiliate links / Images from Amazon Product Advertising API