From adding a home's aesthetic value to being a tourist attraction in different parts of the world, the cacti are exotic with over 2,000 species. I had previously been wondering if cactus is a flower, a plant, or a tree. Stick around to see my findings.
Would you classify a cactus as a flower, plant or tree? Cactus is a plant belonging to the family Cactaceae which comprises 127 genera and has over 1700 species. Cactus are not flowers, but the areoles which are sort of branches are what give rise to the flowers. Cacti are not trees as trees have woody stems which cacti don't. Cacti can grow up to the height of trees, but they have succulent stems that do not classify them as trees.
Cacti can be as tall as 19m with the Pachycereus pringlei being the tallest and the Blossfeldia liliputiana being the shortest with a record of 1cm at maturity. It is reasonable to think that cactus are trees, especially for those that are quite tall. However, there are the epiphytes that grow on trees, which makes it clear that they are not trees.
What is the most explainable definition of a plant?
If you come across a succulent plant that has spines, it is most likely of the cactus family.
In simple terms, a plant can be young trees, shrubs, vines, bushes, grasses or herbs. As mentioned, all cacti species are plants. With over 1700 species, cacti grow globally. Some of the common cacti species are:
Prickly pear
Saguaro cactus
Peyote
Chin cactus
Star cactus
Christmas cactus
Thanksgiving cactus
Moon cactus
Barrel cactus
Cholla cactus
Totem pole cactus
We have several characteristics that make cactus a plant:
1. Photosynthesis
Unlike other plants that photosynthesize with their leaves, cacti do so with their stems. At night, they take in carbon dioxide, which is then used during the day.
2. The stem succulent
A cactus is classified as a succulent. In other terms, a succulent is a plant that has thick juicy stems or leaves that store water. A cactus stores its water in stems, and some species are adapted to arid areas.
3. Special skin surface
One attribute that makes cacti not lose a lot of water is the fact that they have waxy surfaces that prevent evaporation. Some species also have ribbed surfaces that prevent splitting even when the plant expands during desert rainstorms.
4. Cactus spines
Cacti have spines that protect them from being eaten by animals. The spines also act as insulation during the dry seasons.
Is cactus a flowering plant?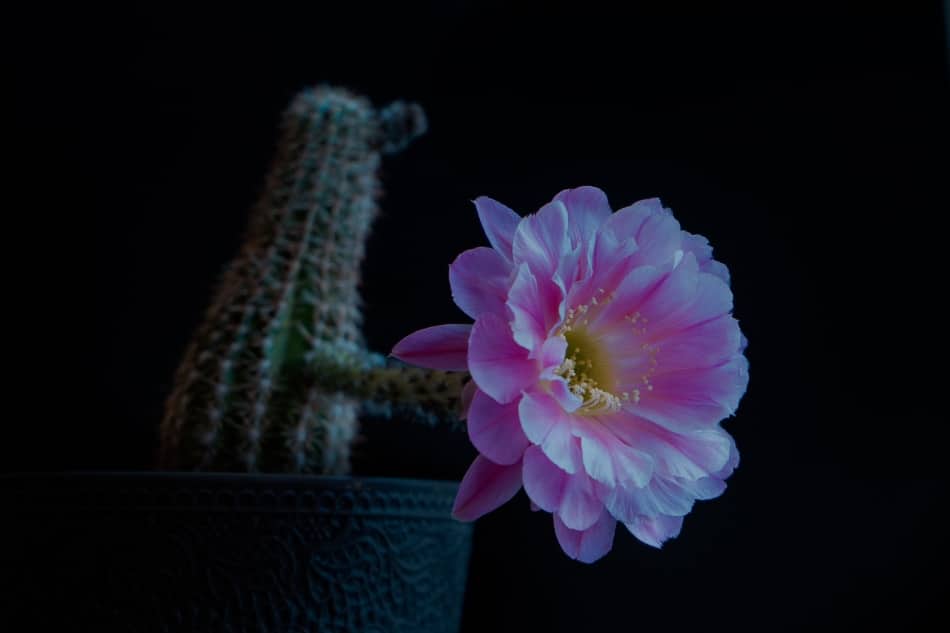 Yes, cacti are referred to as flowering plants.
Do all cacti bloom?
Every type of cactus is capable of blooming. It only depends on how you care for it and its age. Some species bloom when they are over 30 years. Others will not bloom if they are not in the right light conditions. For the Holiday cacti, they only thrive if they get short days and longer nights.
Potted cacti need to be regularly checked as you need the right amount of water, fertilizer, and light for it to bloom.
Short stem cacti such as the hedgehog cacti that have mature stems that are below 2ft usually flower in five years or less. Such species often produce red flowers which are in plenty during spring.
The Easter lily cactus produces white, lavender, magenta, and red flowers. For the Peanut cactus, stems usually crawl on the ground when they are ⅔ long and produce orange flowers in spring that are 1 inch and above wide.
The Mammillaria is an example of a round cactus. These types bloom in a span of between three and four years after they sprout.
Although they are round when they are young, as they grow, some form small columns, their flowers are magenta, red, pink, yellow, green, and white. They grow outdoors and are native to South America.
One thing about this type is that when you grow from the seed, they take years before blooming. However, if you cut a clipping from a mature blooming cactus, it will continue thriving even after the separation.
Note, the Saguaro has to be grown from the seed since their branches when planted won't root. They take between 40-55 years to flower.
There are other columnar cacti such as the Peruvian apple cactus will take about 10-15 years to produce white flowers. The Senita cactus produces pink flowers.
How do you encourage blooming?
It can sometimes be quite a challenge to get a desert cactus that's designed to grow in arid areas to bloom indoors. However, you just need to mimic these conditions, and you get them to bloom.
1. Buy a blooming cactus
When purchasing, the only sure way to know that your cactus will bloom is buying one that's blooming already. Some of the best varieties to buy that bloom easily are Spiny cactus, Christmas cactus, Easter cactus, Bolivian cactus, and Dwarf cactus.
2. Place them in the right temperatures
If your cactus is to bloom, then you need to place it in the proper temperatures. You want them to bloom if possible on an annual basis.
Most cacti bloom during summer. During winter, ensure that you keep your cacti at 50 degrees Fahrenheit. This way, you can be sure it will flower during spring.
3. Expose them to light
During the growing season, you can keep your cacti outdoors to get enough sun and light. Direct sunlight is ideal during this period as you make sure that it drains water well to avoid its roots decaying.
Most cacti need approximately four hours a day of sunlight. You may sometimes notice you cacti turning yellow; this could be because they are getting excess light. Try to balance out for healthy, growing cacti that have high chances of blooming.
4. Water appropriately
As much as most of the cacti are drought-prone, they still need adequate water, especially the growing season for them to bloom. Water the succulents when you notice the soil is dry. Have good drainage so that the soil doesn't soak and cause the roots to decay.
During winter, water rarely only when the pot is extremely dry. In spring and summer, water at least once a week. Preferably, use rainwater as tap water may cause buildup, which tampers with the nutrient flow to the cactus.
For varieties such as the Holiday cacti, they love water. Have a regular water schedule to ensure they have enough water. Consistent misting will help them produce healthy flowers.
Be on the lookout not to overwater as it may cause stunted growth. On the other hand, underwatering will cause shriveling.
5. Use an appropriate fertilizer
The only time you are allowed to use fertilizer is during the growing season. Purchase a fertilizer that's only designed for cactus. Ensure it has a high ratio of potassium and low on nitrogen. To apply the fertilizer, take one tablespoon of fertilizer and mix it in a gallon of water. Then water the cactus until the soil becomes moist. 
Apply the fertilizer every two weeks during its growing season. When cacti are dormant, they don't need any additional nutrients.
Ensure you have a potting mix for the cactus.
Can cactus be classified as a tree?
There's not really a definite explanation of a tree. However, it is generally agreed that a tree is a perennial plant that has an elongated stem and trunk that supports the trees and branches. It comprises of woody plants. A tree should be ideally above 32ft those that are less qualify as shrubs.
The tallest cactus is the Saguaro with it reaching about 40ft. Cacti can be tree-like. However, they are not trees for the fact that even when their trucks are quite woody, when they dry out, they become very light and porous.
Cacti don't have leaves but instead have spines with fleshy stems, unlike trees that have quite woody stems. So cacti are not trees.

Related Questions
How long do cacti flowers last? Cactus flowers last only for a day. Some of the species will flower at night, and moths and bats then pollinate them. The reason they bloom at night is that they want to preserve water, especially for those that grow in the desert. Their big flowers are easy targets for pollinators.
Which species of cacti last longer? The lifespan of different cacti is between 10 and 200 years. Those that grow outdoors tend to outlive the indoor ones. The Saguaro Cactus is thought to have the longest lifespan of between 150 and 200 years. The Neobuxbaumia macrocephala lives approximately 200 years while the Cephalocereus columnatrajani lives 145 years.
Is it safe to drink cactus water? On the extreme, only consider this if you are out of options. The saguaro stores about 200 gallons of water, but it can be toxic. The barrel and prickly pear cacti store safe drinkable liquid. The easiest way of getting access to the water is by peeling their fruits and eating them raw. Only do this if its an absolute emergency.
Last update on 2023-07-26 / Affiliate links / Images from Amazon Product Advertising API