Disclaimer: The author is not a medical doctor or veterinarian. The information presented is purely to share our experience and for entertainment purposes. As always, check with a doctor and/or veterinarian before making any health or nutrition decisions and consult with a doctor and/or veterinarian regarding any question or problem that you have. The author and blog disclaim liability for any damage, mishap, or injury that may occur from engaging in any activities or ideas from this site.
Cactus plant is so appealing to us because it's stress-free when it comes to maintenance, not forgetting its beautiful blooms. As much as we love cactus for home decor, it is important to know whether the spines are poisonous or not.
So, are cactus spines poisonous? Cactus spines are not poisonous for humans or animals. However, a spine puncture can lodge deep into the skin and even get to the collagen and muscles. It's also crucial to note that a spine can also have bacteria and fungi on its surface that may cause infections in your body.
It's paramount to consider what plants we bring into our homes as some might be detrimental to our health. Continue reading to see what to do in case you get a spine injury.
Purposes of Spines on Cactus
Protection against predators
Animals like the desert tortoise, wild pigs, or bighorn sheep use the plant for food.
This plant's spines do an excellent job protecting itself using the needles. The thorns pierce the skin upon touch and some for instances from the Cholla variety can even fly to the face and cause painful injuries.
Providing shade to prevent water evaporation
The cactus plant needs all the shade it can get from the hot desert sun. One cactus plant may have thousands of spines, and these collectively work together to shield the plant from the hot sun that may promote moisture loss.
Water collection in foggy areas
The cactus plant can take advantage of unlikely situations to quench its thirst. In foggy areas, the plant can collect water from the air using its spines. When the fog settles on the spikes, it later liquefies and falls on the ground below, and the roots absorb the water for conservation.
Did you know that airflow around plants contributes to moisture loss? Water loss via airflow is worse in the desert where there are strong desert winds. With no sufficient plant cover to break the magnitude in which the winds hit the plants, there is bound to be a massive loss of water.
Thanks, to the spines, moisture loss is minimal for the cactus plant. The needles create a buffer that restricts airflow around the plant, saving the plant from losing a lot of water.
What do you do when you get pierced by a spine?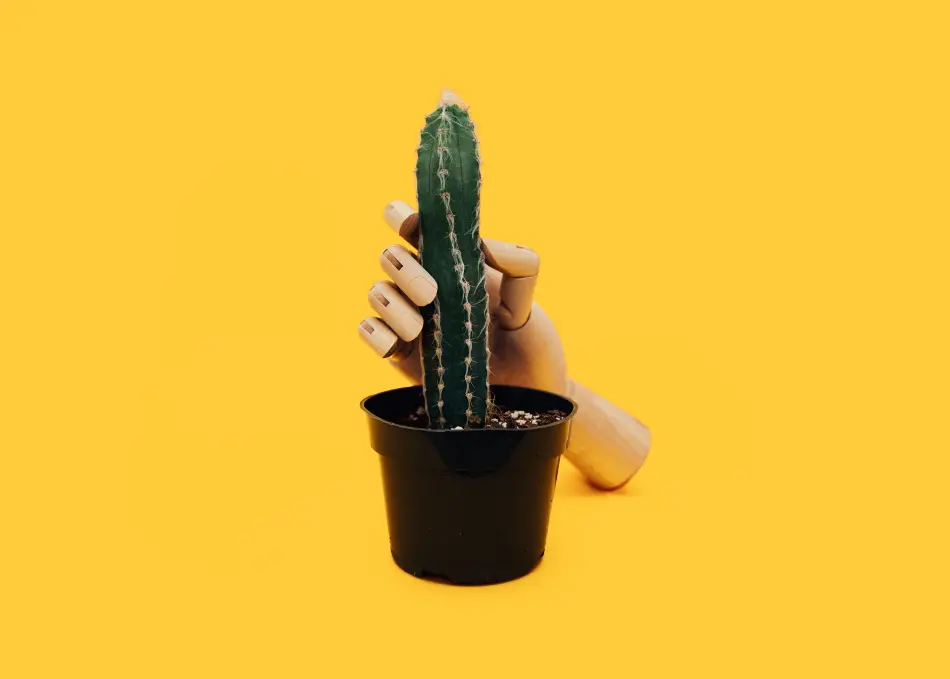 You're neither a predator, nor are you a cactus smuggler, but a cactus spine can easily injure you. The following are scenarios that might leave you with spine injuries;
Outdoor activities like hiking, horse riding or biking in an area that has cactus
Caring for either an indoor or outdoor cactus plant
Trying to rescue a loved one or pet from the snare of a cactus plant
The scenarios regarding how a spine could end up injuring you are endless. It's therefore vital to learn how to safely remove a thorn from your body safely, to avoid worsening the situation.
According to Science Daily, punctures from the barbed variety of cactus such as the "jumping" Chollas can easily puncture deep and become challenging to remove. The University of Illinois at Urbana Champaign embarked on a study to find out how exactly the spines are so effective at causing injury.
The research involved comparing several cacti such as the prickly bear, saguaro, Cholla, barrel cactus, and rose cactus. The scientist tested the effect of the spines upon pricking both chicken and pig flesh.
The results showed the following:
After an attempt to remove the spines from chicken flesh, the spine had a coating of chicken flesh on it, meaning that it came off with torn tissue.
On removing the needle from the pig meat, only a portion of the spine came out, meaning that only a part of the spine broke off, and the remaining part was buried deep within the pig's flesh.
Such gory findings, right?
Cactus spines do not contain any poison that can kill you upon perforating your skin. However, the thorns are painful and can cause infections that might turn septic, if you don't take care of the problem the right way.
It's also possible for spines to leave pustules that could stay on your skin for months. Pustules can leave black marks that comprise of dead skin, and the only way to get rid of these is via surgical removal.
In worse case scenarios, the wound contract a staph bacterial infection that may be hard to treat even with antibiotics. It's also possible for a person to get gangrene that may result in amputations.
The good news is that it's possible to remove the cactus spine from your body safely if you do it the right way. The natural reaction to do is to either try to pull out the sine with your bare hands or teeth.
Please do not try to use your hands because the spines will transfer from whatever area of the body to your hands. Trying to use your teeth is even worse because the painful spikes could lodge in your tongue or lips.
There's no one size fits all, in spine removal. However, the following pointers may help you remove cactus in a safe manner that won't cause more damage.
Here's what to do if you get pierced by a spine accidentally
If you have an entire stem attached to the needles on your body, start by cutting off the bigger chunks using a pair of scissors or pliers. Leave about half an inch of the spine on your skin for the next step.
To remove the remaining bits that may still be stuck under your skin, use small tweezers. Unlike that large tweezers, the small ones are more effective at removing little bits of spines lodged in your skin. 
Some cacti like the Cholla release dozens of spines in one area. If you have plenty of these needles, start by running the affected part of the body under running water. The water softens the thorns, making them easier to remove.
Another effective way to remove spines is to use tape. Put the sticky side of your tape on top of the area. Gently pull out the tape, and it should come off with the spines.
Some spines are translucent, and it might be hard to know whether there's still any left stuck under your skin. To test whether you've managed to pull the whole spine out, try touching the area. If it's still sensitive to touch, the chances are that there are bits still stuck in your skin tissue.
If you can't see any spines and your skin is still sensitive, use a magnifying glass to locate the exact position of the spine. Trying to, dig around your skin trying to remove thorns that you can't see with the naked eye might be tiresome, and might also create more harm than good. 
How to remove prickly pears spines?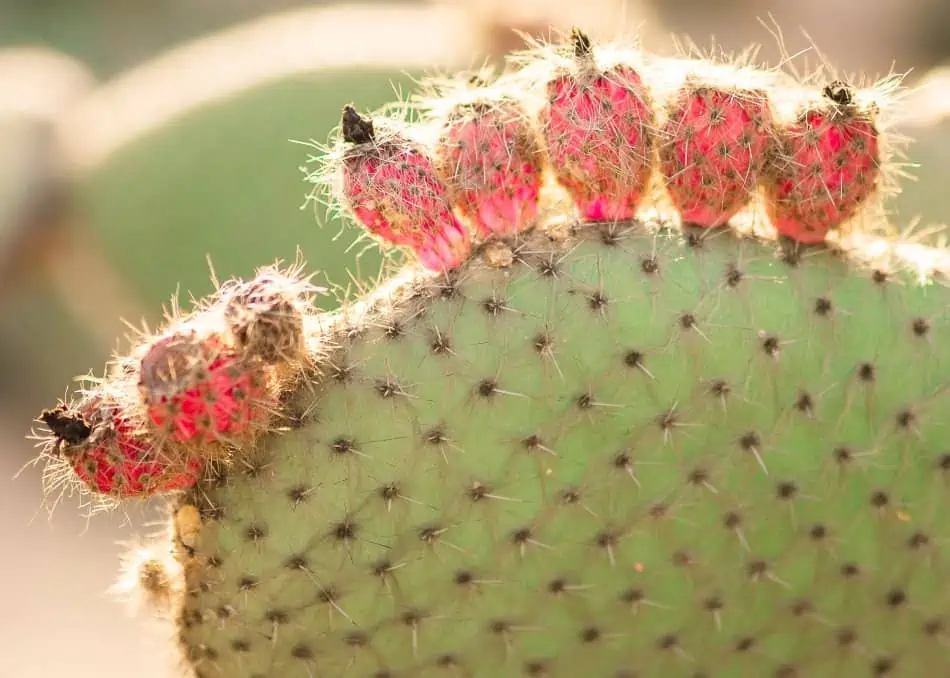 Some cactus species such as the Opuntia can be a source of food. The cactus produces the prickly pear, also known as the tuna fruit. The fruit is common for use in appetizers, salads, soups, vegetable dishes, desserts, jelly, candy or entrees.
During preparation, the preparer has to clean the fruit to remove all spines properly. However, tiny needles may remain if the handler doesn't properly clean the fruit, and they may end up getting stuck in the lips, throat, or tongue.
To remove these spines, chew on a piece of bread, and swallow it. Your saliva will moisten the bread, and make it soft enough to pull out the needle as you swallow it. The bread trick has worked countless times for Raul Puente-Martinez, a curator and research botanist in a Phoenix desert botanical garden.
If the spines are impossible to remove using tweezers, you might need to go to your local hospital. Needles in your legs can leave you unable to walk for days and might require a doctor's attention. If there's already an infection resulting from the injuries, the doctor might give you an antibiotic to help with healing.
It's common for people to use a blunt knife to scrape off the spines. However, this method might break the needles halfway, and leave bits in your skin. The broken spines may also cause fresh punctures on your skin.
As for pets, please leave the spine removal for veterinarians. Unlike you who can tell exactly where the pain is, a pet can't speak up, and it might be too late before you realize the exact locations of spines.
Related Questions
What is a normal reaction to expect after a spine puncture? Expect skin irritation, reddening, or rashes. Rush to the emergency room immediately if you start experiencing severe reactions like severe swelling, difficulty in breathing, or swallowing. Bear in mind that some spines might be carrying dangerous pathogens like bacteria and fungi which might be causing the reactions. It's, therefore, best for a doctor to examine you and prescribe the right medication.
What are the most poisonous cactus species on earth? There are no poisonous cactus species that would cause death, anywhere on earth. There was a debate some years back about a Mexican cactus plant whose punctures resulted in wounds that would never heal. Scientists later established that the septic wounds arose from bacteria and fungi on spines.

Last update on 2023-07-26 / Affiliate links / Images from Amazon Product Advertising API