Most of us can agree to the fact that cacti plants are some of the hardiest and most resilient plant species in the world. Generally, they are low-maintenance plants that need little care to thrive. These plants can store water for a relatively long period and adapt to different environments quite well. But the big question is, do cacti plants require fertilizer to survive? Can these plants thrive and bloom without any form of fertilization? We are here to help you understand the right thing to do.
So, does a cactus need fertilizer? The simple answer is yes. Just like any other plant, cacti need nutrients to thrive and bloom. Occasional fertilization helps the plant replenish the essential nutrients it has used from the soil throughout the season. At minimum, fertilizing your cactus plant at least once or twice a year is a good thing to do. However, if you are well organized and can set up a good schedule, fertilizing it three times a year (in spring, summer, and fall) can yield great results.
Keep reading to understand everything you need to know about fertilizing your cactus plant and how to do it properly.
Before we start, here is a list of our favorite and recommended Fertilizer (Here)
Why Is Cactus Fertilization Important?
What is the first thing that hits your mind when you hear about cacti? Most probably, you picture a thorny desert plant that is used to surviving in hostile environments. You probably think the perfect environment for these plants is a harsh desert with two weather extremes; longer periods of no rainfall and shorter periods of sporadic rains.
You picture a plant that must always strive to absorb and store as much water as possible whenever it rains to survive. But did you know that there is the other side of a cactus plant, especially when it is domesticated?
The moment you decide to start growing cacti plants in your indoor or outdoor garden, you should be prepared to treat them right to achieve the results. Fertilizing your plant can help to keep it happy and healthy, no matter the season.
Just like any other houseplant, feeding your cactus will help it adapt, actively growing, and flower beautifully. The right kind of fertilizer applied the right way and at the right time helps your plant obtain all the necessary nutrients needed to thrive.
Furthermore, proper fertilization encourages healthy growth and flowering.
Now that you know why it is essential to feed your plant, it is also important to know the right type of fertilizer to use and how to fertilize the plant correctly.
Types of Cactus Fertilizers
As mentioned earlier, fertilizers contain essential nutrients your plant requires for healthy growth. Cactus fertilizer can either be organic or inorganic and are mostly available in powder, liquid, solid, or granular form.
A significant number of gardeners prefer using inorganic fertilizers because their chemical composition is consistent. This doesn't mean organic fertilizers are bad, but most of them may lack essential elements which might cause a deficiency. You may also be forced to use them for a prolonged period to achieve better results.
The main elements of cacti fertilizers include:
1. Nitrogen (N)
The primary purpose of nitrogen is to encourage good top growth. It also plays a critical role in building protoplasm, protein, and other essential components of plant cells.
2. Phosphorous (P)
Phosphorous/phosphate encourages good root growth to provide the plant with strong anchorage. This mineral element also helps in seed germination (in case you want to propagate your cactus by seed) and ripening of fruit.
3. Potassium (K)
The primary purpose of potassium is to encourage good flowering and development of fruits. You will need a fertilizer that is high in potassium when you are trying to make your cactus plant bloom.
During spring (when your plant is in an active growth cycle), consider using a low nitrogen release fertilizer. A 5-10-5 (NPK) compound works best. Carefully mix your fertilizer in the potting mix, and it will keep your cactus plant happy until summer.
Another good alternative is to use a water-soluble fertilizer. Once you have obtained your water-soluble fertilizer, mix ½ tablespoon per gallon of water and spray carefully onto the base of your plant.
When using water-soluble fertilizer, consider applying the fertilizer at least once every two weeks during the active growth season.
Water-soluble fertilizer tends to work best for desert cacti than using a granular mixture. However, both methods are quite good, and the final decision will largely depend on what you prefer.
During the dormant period (winter), do not feed your plant with fertilizer because it is in a "resting" mode.
What Is the Best Fertilizer for Your Cactus Plant?
Now that you know the types and major components of cacti fertilizer, you may be asking yourself how to determine the best fertilizer for your plant.
Before we dive deep into the selection criteria, there are a few things you need to keep in mind.
First, you should know that cacti plants are not heavy feeders. This means they do not require a lot of fertilizer to thrive. In fact, these succulents tend to respond well when fertilizer is applied at a half or quarter strength.
Also, you should keep in mind that strong fertilizers, especially those with high nitrogen component, may cause problems to your plant. Although most cacti plants do not require a specific fertilizer blend, they often do well when fed with a highly diluted multi-purpose fertilizer.
Always go for a low-nitrogen, water-soluble fertilizer for better results. Use a 5-10-10 (NPK) fertilizer blend or 10-10-10 (NPK) diluted to its ¼ strength. You can also come up with your own custom blend by combining a 5-10-10 blend with a 1-7-6 blend. The resultant blend may help in maintaining a consistent amount of nutrients in your potting mix.
The bottom line is to ensure you are feeding your cactus plant with the best possible blend of fertilizer. A few manufacturers sell already diluted fertilizer ready for use.  Feel free to find one if you do not want to handle the dilution process by yourself.
Signs That Your Cactus Needs Feeding
The truth is that cacti plants are highly sensitive to fertilizer. As a result, you must watch out for signs of nutrient deficiency before you consider feeding them.
Your cactus' leaves and stems will become yellowish if it is not getting enough nutrients. You may also notice that the overall growth rate has significantly slowed down. This is an indication that your plant requires feeding.
But it doesn't mean that the appearance of these signs indicates that your cactus needs more fertilizer.
Stressful conditions such as prolonged dryness and too much water can deprive your plant of vital nutrients.
If you are uncertain, water the soil deeply before adding a diluted fertilizer solution. Give your cactus time to respond before adding more fertilizer.
Fertilizing Your Cactus Plant
As the growing season approaches, take time to inspect your plant regularly. Consider inspecting it at least once every week and check for signs of new growth such as fresh needles, new leaflets, or increased size. You should only start feeding your plant when there are signs of growth.
One important thing you need to keep in mind when fertilizing your plant is to use your fertilizer sparingly. Too much fertilizer can lead to poor root growth and stunted growth.
If you are using a 10-10-10 (NPK) or 5-10-10 fertilizer blend, be sure to dissolve one tablespoon of the fertilizer in one gallon of water.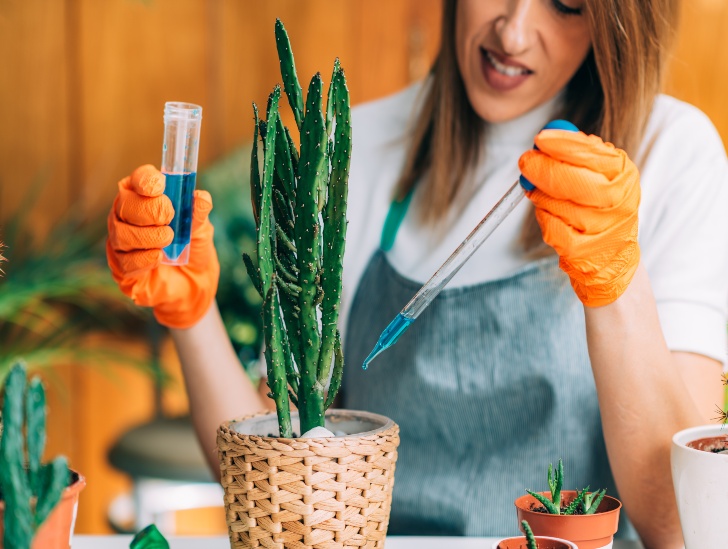 Use the resultant mixture to water your cactus plant until the soil is completely moist. However, you need to be careful to avoid overwatering your plant since it may have adverse effects on your plant.
If you are using a 1-7-6 (NPK) fertilizer blend, consider using the slow-release method to feed your plant. Take one tablespoon of the 1-7-6 (NPK) fertilizer blend and mix it with one gallon of water. Use the mixture to water your plant sparingly.
When watering a potted plant, allow the mixture some time to sink in properly. Also, make sure you are pouring the mixture slowly to allow the plant enough time to absorb it and drain out whatever is excessive.
Always check if the topsoil of your container is completely dry before watering again. This should happen after approximately two weeks.
No matter how you choose to feed your plant, remember the fact that you are not supposed to overfeed. You might think you are doing the right thing, but overfeeding is dangerous to your cactus the same way overwatering is.
Essential Things to Keep in Mind When Feeding Your Cactus Plant
Overfeeding may cause more harm than good. Applying too much fertilizer can cause severe burns or even death.
Be careful with your plants during summer if you are using chemical fertilizers. A slight mistake can be catastrophic.
Know the type of fertilizer that will work best for your plant. If you have no idea where to start, consult experts.
Always start slow and improve with time if you don't see the desired results.
Fertilizer can damage recently potted or repotted cacti plants. Consider delaying fertilization until after your cactus establishes itself in the new pot. This occurs after two to three months.
Some cacti species, such as the holiday cactus, are usually dormant in summer and active in winter. Therefore, for such plants, develop a reverse fertilization schedule so that you feed them at the right time.
When Is the Best Time to Feed Your Cactus?
The best time for fertilizing your cactus plant is during the growing season, usually from late spring to early fall.
Consider applying the right fertilizer once every two weeks only when you notice new growth in your plant.
However, if you are using a slow-release fertilizer blend, consider fertilizing your cactus every three months instead. Take time to observe your plant and adjust your fertilizing schedule accordingly.
At the end of the day, every cactus is unique and different, so pay attention to your plant's needs when creating a fertilizing schedule. Most importantly, remember not to overfeed or overwater your cactus.
What Happens If I Overfeed My Cactus Plant?
Overfeeding is as detrimental to your cactus plant as overwatering. Too much fertilizer can burn the roots and leaves of your cactus, leading to stunted growth or even death.
Moreover, excess fertilizer might wash away essential trace elements from the soil, resulting in nutrient deficiency.
Therefore, if you suspect you have overfed your cactus, withhold the fertilization immediately.
Consider flushing the soil with large amounts of water to eliminate any excess fertilizer and restore nutrient balance in the soil.
Furthermore, if the leaves of your cactus are yellowing or wilting even after providing optimal care and fertilizing correctly, consider consulting an expert for help.
They will diagnose the exact problem and provide professional advice on how to maintain the health of your cactus and restore its beauty.
Can I Use Organic Fertilizers on My Cactus?
Yes, organic fertilizers are as effective in providing essential nutrients to your cactus as chemical fertilizers.
These fertilizers usually come from natural sources such as guano, bone meal, compost, earthworm castings, and fish emulsion.
Organic fertilizer is an excellent choice if you are looking for an eco-friendly way to feed your cactus.
Moreover, these fertilizers also help improve the structure of your soil over time and promote microbial activity in the soil.
Final Thoughts
Providing good growing conditions and following a proper feeding schedule are critical elements you need to adhere to when growing cacti plants. Doing things right will give your plants the best chance of staying healthy and happy throughout the year.
Now that you know how to fertilize your cactus, don't be afraid to go out there and practice what you have learned here. Go create your own beautiful and happy cactus gardens and enjoy life!
Hope you enjoy this article, here is a list of our favorite and recommended Fertilizer (Here)
Last update on 2023-10-05 / Affiliate links / Images from Amazon Product Advertising API