If you have been growing cacti for some time, you must have heard the warnings of how too much water can be disastrous. In fact, cacti experts say that overwatering can kill a cactus plant faster than underwatering. Now, wouldn't it be surprising even to ask if it is possible to root a cactus in water? We shall find out in a moment.
So, Can A Christmas cactus root in water? Yes, the jungle cactus is quite different from desert cactus since it mostly grows in tropical regions that receive plenty of rainfall. One of the most common types of jungle cactus is the Christmas cactus. Since it is well-adapted to the tropical climate, a jungle cactus (Christmas cactus) can root in water without any problems.
In this post, we focus on the Christmas cactus and its ability to root in water. We shall also help you understand if you can grow a cactus in water. Read on to find out everything you need to know.
Rooting Christmas Cactus Cuttings in Water
As mentioned earlier, a Christmas cactus is quite different from the other types of cacti. It lacks the pokey spines of typical desert cactus, and even though it is a succulent, it is mostly found in regions that experience a tropical climate. It also blooms in winter, unlike desert cacti that mostly bloom in summer. To root your Christmas cactus cuttings in water, you will need the following:
A sharp scalpel or small kitchen knife
Vase, small jar, or any other container that can hold water
Small aquarium perlite or gravel
Houseplant fertilizer
Choosing a Christmas cactus for cuttings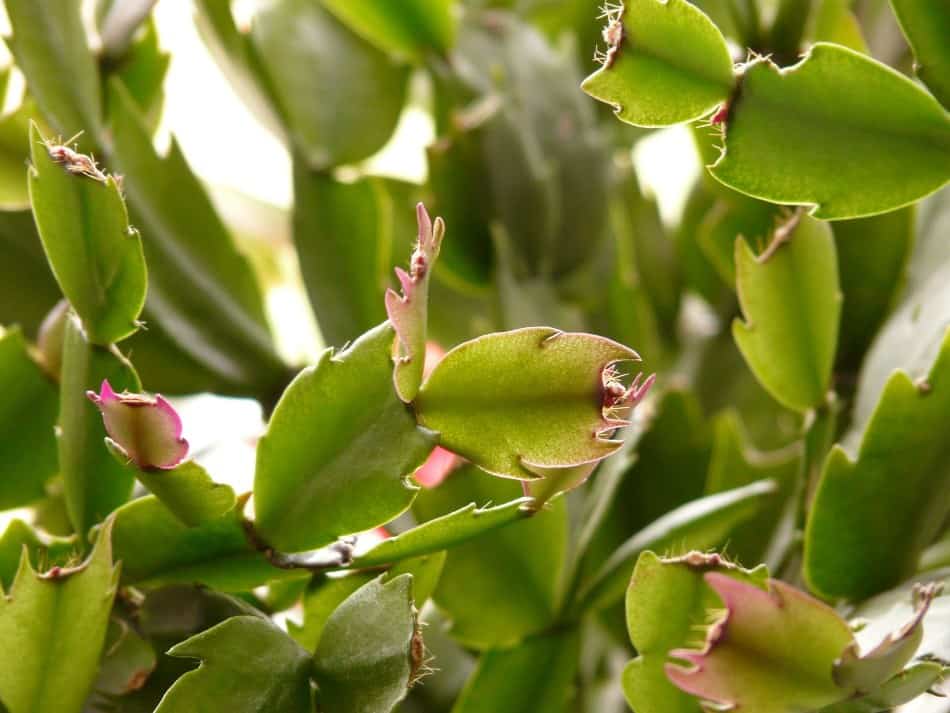 Before you even start thinking about the rooting process, you must ensure you have good cuttings that will root easily without problems. When it comes to this type of cactus, you must always remember one thing:
Take your cuttings from a thriving, healthy plant to increase your chances of success. Keep in mind it is almost impossible to bring something dead back to life. Therefore, put your best forward and start with healthy cuttings.
You should also make sure the plant from which you intend to take cuttings is mature enough. Rooting cuttings taken from a relatively young plant can sometimes be difficult.
How to take cuttings from your Christmas cactus plant
Once you have identified a healthy and mature plant, you need to know how to take the cuttings correctly. To do it the right way, start by identifying a juncture on your plant where you want to take a cutting about three to four inches long. Make sure the cutting has three or four leaves or sections.
Sometimes, gently bending the juncture and twisting it a little bit is enough to snap it off from the plant. If you cannot snap it off by bending, consider using a scalpel or kitchen knife to chop it off.
If possible, take Y-shaped cuttings with a minimum of three or four leaves/segments attached. Before you move to the next step, let your cuttings sit in a cool, dry place for at least three days. Depending on the overall conditions in your home, the cuttings could be ready to root in 48 hours or even less.
The less heat and humidity they are subjected to, the faster they will dry and callous. Avoid rooting the cuttings before they are fully dry at the cut end. A little patience goes a long way.
How to root a Christmas cactus in water
Once your cuttings have dried and calloused, it is time to move onto the next step of the process; rooting. Follow the steps outlined below to root your cuttings successfully in water.
Take an empty vase, jar or whatever container you have chosen to use and fill the bottom with aquarium perlite, pebbles, or stones. Make sure the stones/pebbles are about three inches deep.
Add water to the container until it rises above the stones. Carefully place the cut end of your Christmas cactus cutting into the water until two segments are fully submerged. Consider rooting three or four cuttings in one container.
Position the container in a spot that receives plenty of bright but indirect sunlight.  Make sure the container is also in a place you can easily monitor. Allow the container to sit in the designated spot until roots start to form.  
PS: Sometimes, it may take up to eight weeks before roots start to appear. Always keep a keen eye on the water level in the container to ensure two segments of each cutting remain underwater. Consider adding more water if need be. The humidity in the container will help your cuttings root without rotting.
Planting Rooted Cuttings
Once the cuttings have rooted successfully, you will need to transfer them to an appropriate planting pot. Remember that the cutting will need sufficient growing space to start growing. Ensure the pot isn't too small or too big.
Also, make sure the container is filled with three parts of coarse compost carefully blended with at least one part of perlite or small aquarium gravel. The primary purpose of the perlite or gravel is to enhance soil drainage so that your potting mix doesn't hold water for too long.
The potting mix should remain slightly moist for prolonged periods, and the air temperature should be no cooler than 70oF during the day and between 60 and 65oF overnight.
With the right growing conditions, your Christmas cactus will grow relatively fast and start to flower early.
Can You Grow a Cactus in Water?
Given that you can root a jungle cactus in water, you may be wondering if you can grow it in water as well. The truth is that you can grow a cactus hydroponically, but you will need to consider a lot of things and take the necessary precautions to succeed with this approach.
Growing a cactus in water is a little bit easier because it doesn't require an active hydroponic system with a pump. The only thing you need to do is ensure the roots of your plant soak thoroughly in clean water with the right nutrient combination.
Growing cactus hydroponically offers a wide range of benefits over traditional soil growing.
First, it provides you with an opportunity to control nutrient and water levels more precisely, which contributes to healthy plants. Furthermore, once the hydroponic system has been set up, taking care of your cactus plant requires less effort compared to other growing methods.
Follow these steps to start growing your cacti plants hydroponically:
Start by rinsing the aggregate material to be used and soak it in water for a few hours.
Carefully place the designated mesh inner container inside the outer pot. Also, be sure to cover the entire bottom of the inner pot with at least one inch of the aggregate material.
Remove the cactus plant from the soil and rinse its roots thoroughly until all soil has been removed. Rinsing helps to prevent potential problems that come with soil, such as parasite and fungus growth. While rinsing, be careful not to damage them.
Once you have got rid of the soil, place your cactus on the top layer of the aggregate material. Carefully spread the roots evenly around the available space. Fill the inner pot with the remaining aggregate material. Do not cover up the part of your cactus with spines, but ensure you have enough material in place to keep your plant stable.
Mix standard A and standard B-type nutrient solutions with water to an appropriate level recommended by the manufacturer. Fill your tray/pot with enough of the nutrient and water mix to cover the roots of your plant. Watch the water level to make sure it doesn't cover the stem of your plant to avoid stem rot issues.
Always remove your cactus once every two or three weeks to wash the roots and be sure to get rid of any decaying or dead roots. You should also wash the stem of your plant to remove dust. Change the nutrient solution at least once every two months.
Repotting is still essential even if you are growing your cactus plant hydroponically. Therefore, always consider repotting your cactus once its roots have filled the inner container. This may happen once every two or three years. There is no need to repot unless this happens.
The Bottom Line
Generally, rooting Christmas cactus cuttings in water is relatively easy. The key to success is knowing where and how to find healthy and mature cuttings and being patient with the process. Also, it takes a lot of practice to start rooting your cuttings successfully.
Fortunately, once you have mastered the art of rooting cactus cuttings, everything else falls into place pretty easily. Just keep in mind a potted cactus is an incredible gift to a friend, relative, or even a neighbor. Therefore, keep rooting the cuttings!
Last update on 2023-07-26 / Affiliate links / Images from Amazon Product Advertising API