Have you ever wondered why people grow cacti plants in their homes? The truth is that these plants are not only beautiful but also healthy. Cacti and many other indoor plants can help put you at ease in your home. In fact, the benefits of growing these succulents indoors exceed the downsides. As long as you know how to take care of your plant, it will also take care of you.
So, is it good to have a cactus at home? The simple answer is Yes. Cacti and other houseplants have a wide range of health benefits to offer us. Furthermore, these succulents are relatively easy to grow and maintain. Indoor cacti can boost your productivity, make you breathe better, and make you feel happy. They also make your house feel like home and have unique therapeutic properties.
In this post, we discuss some of the benefits of having cacti plants in your home and where to position them to get the best out of them. Read on to find out everything you need to know about growing cacti at home.
Is It Good to have a Cactus at Home?
As mentioned above, cacti plants bring a lot of positive vibe and energy to your house. These are simple plants that can live anywhere as long as you know how to take care of them. They are a great option if you are looking to add a bit of greenery and visual interest to your living space.
With their low-maintenance status and unique appearance, these plants are perfect to use as indoor plants. However, there are lots of other reasons why cacti make excellent indoor plants. Below are some of the top benefits of growing cacti in your home.
1. Indoor cacti plants reduce stress
Many studies have been conducted to establish the effect of indoor plants on stress levels in humans. A study conducted in 2010 confirmed that indoor plants could reduce tension/anxiety, depression/dejection, fatigue, and feelings of anger/hostility.
These are just some of the ways an indoor cactus plant can help you feel better. If you had just one or a couple of these plants in your house, it could make you a better person. Imagine stepping out of your home every day feeling good and ready to face the day.
You can also have a cactus plant in your office to keep the positive energy and good vibe around you all day. Walking into the office feeling fresh and happy seems like a good bargain, isn't it?
2. Taking care of a cactus plant will make you feel happy
Most of us can agree that there is no better feeling in the world than taking care of something and seeing it nourish. The truth is that taking care of plants can give you the same sense of accomplishment as taking care of a pet.
In fact, pets and indoor cacti plants make a wonderful companion because they are good to look at and don't demand too much from you.
You don't need to be a plant expert to give your cactus the best care.
Furthermore, you feel good when you see your plants thriving and living happily. Although it can take you some time to figure out what your plants like, that shouldn't be a major issue. As soon as you figure out your plants' light requirements, appropriate pot size and soil, water requirements, and fertilizer needs, you are good to go.
When you see your plant growing well, you feel proud of being a successful cactus gardener.
Also, there is so much to learn about your cactus plant. The benefits of growing these succulents in your home are vast, and you will learn many things along the way. You will know how to propagate them, re-pot, and also discover the different types of cacti plants.
3. Improves air quality
Plants are awesome, and human beings cannot survive without them. Therefore, having some in your house helps to bring the benefits closer to you. Green plants such as cacti absorb carbon dioxide from the air and release oxygen. This is one of the basic ways of improving air quality.
Keep in mind that all human beings need oxygen to survive and get rid of harmful toxins from their bodies.
Apart from absorbing carbon dioxide, these plants can also improve air quality in other ways. In 1973, NASA scientists conducted a scientific study that identified over 107 volatile organic compounds (VOC) in the air inside one of their space stations.
Occupants of the station often suffered breathing difficulties and other respiratory complications that were later identified as the Sick Building Syndrome (SBS). Experiments were initiated to help deal with the issue, and one of the tests involved growing plants inside the space station.
After a few months of growing plants inside the station, it was discovered that the number of VOCs had not only been reduced but eliminated altogether.
By having cacti plants inside your house, you could reduce the amount of air impurities by over 50%. Indoor plants can also lower the amount of dust and bacterial buildup in your indoor spaces.
Always remember the fact that there are many toxins within your home created by pet dander, furniture carpets, plastics, paint, and certain cleaning products that can cause harm when inhaled. Cacti plants can reduce the impact of such impurities significantly.
4. Cacti plants have unique therapeutic and medical properties
That is right. A lot of people talk to their plants, which makes them feel better. It is human nature to develop a close relationship with things we value in life – whether humans or not. Just the same way some people talk to their pets, others speak to their plants.
But, the fascinating part about this interaction is that plants actually benefit from the conversation as well. In fact, some gardeners believe that talking to plants can help them grow faster and stronger.
When you speak, you are releasing carbon dioxide, which plants need to manufacture food. This means that when you talk closely to your indoor plant, it gets extra carbon dioxide allowing it to speed up photosynthesis.
On the other hand, indoor cacti plants have a way of making you feel relaxed and comforted. In fact, a single cactus plant can offer you much more than you expected. Technically, the benefits of growing a cactus plant in your home are endless.
5. Boost productivity
Controlled tests have actually shown that having a cactus plant in your office (including home office) can increase productivity by over 12%. This is because they help reduce the amount of carbon dioxide in the air.
Excessive amounts of carbon dioxide in the air can make you tired, restless, anxious, and can also cause headaches making you less productive. If you can manage to control the amount of carbon dioxide present in the air you breathe, it can clear up your mind and help you focus more.
The more productive you are, the better you feel about yourself and your job, and that can lead to a better life. After all, if your boss notices significant improvement in your output, you could get a job promotion that may result in a pay raise.
6. Growing a cactus in your home can enhance your memory
Psychology research conducted by the University of Michigan in the United States outlined a wide range of mind-blowing benefits one enjoys when interacting with nature. Interaction can mean taking a walk in the park, looking at plant photographs, or growing plants in your home.
The study showed that interacting with nature can enhance one's memory by up to 20%, leading to improved performance at work and school.
Therefore, it is a great idea to grow cacti plants in your house and place them in your study room, home library, home office, or any other room where you and your kids typically do your work.
Should You Place a Cactus in the Living Room?
There is no doubt that cacti plants bring positive energy to your home. These are beautiful plants with intense protective energy.
However, the biggest problem with these plants is their spines/needles. This is the primary reason why you need to identify a good spot in your house where you will put these plants.
A good living room should be calm, relaxed and secluded from the other rooms in your house. This should be a place where you can feel comfortable and relaxed. If you have your cacti plants all over the place, they will constantly poke you with their spines.
To get good vibes, place your cactus plants in the fame and reputation quadrant of your home. The fame and quadrant section is the part of your home dedicated to what and who you are and what you portray to the outside world.
This is mostly the corner of your house that is direct across the main entrance. You can also position your cacti plants along with windows since they emit a lot of protective energy. Other places you can place your plant include your study room, home office, and library room.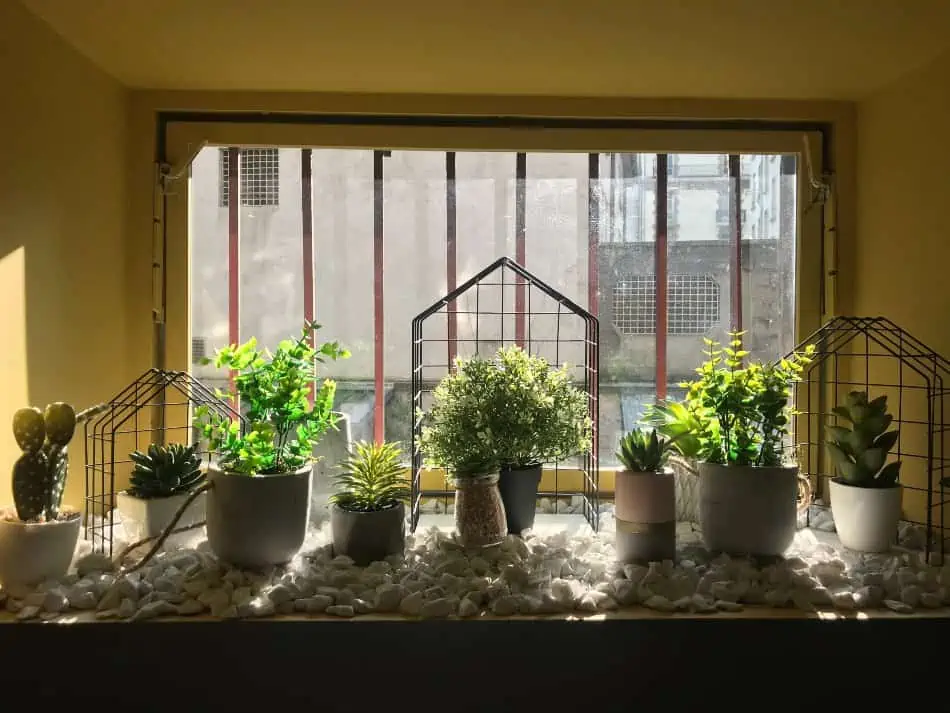 Summary
Cactus plants are great plants to have in your home since they bring subtle beauty and an incredible visual experience, especially when they flower. The only thing you need to ensure when growing these plants in your home is to have them in the right place. Avoid positioning them in your living room and kitchen.
Last update on 2023-12-11 / Affiliate links / Images from Amazon Product Advertising API