Members of the cactus plant family are unique and tend to exhibit a wide range of shapes and sizes. Even though these succulents can be found in many parts of the world, most cacti species except four tropical species are native to America. Like every group of living things, the differences between different cacti species vary considerably.
In fact, each cactus species is well adapted to growing in specific areas that experience a certain climate. For instance, most species within the Echinocereus genus are cold-hardy and can withstand frost.
So, where in the wold you can find cactus? Generally, most cacti species grow in hot and dry regions in North and South America. In North America, these desert plants are prevalent in Mexico, Canada, and many parts of the Southwestern United States. In South America, they are mostly found in Brazil. Some cacti species also grow in Central America and adjacent Islands such as the Caribbean and Galapagos. Rhipsalis baccifera is the only exception that can be found growing in parts of tropical Africa, Madagascar, Mauritius, Seychelles, and tropical America.
Read on to discover everything you need to know about this amazing desert plant and where it grows. We cover essential details that will enrich your knowledge.
Cactus Plant: A Quick Overview of Its Structure and Unique Features
The family of Cactaceae comprises a significant number of flowering plants with succulent stems. The term succulent is used to refer to stems that can store water for relatively long periods. This is one of the unique features of this plant that helps it to survive in arid conditions.
The presence of a unique structure known as the areole also makes these plants unique. The primary function of the areola is to produce flowers, branches, and spines. Keep in mind that different kinds of spines serve different purposes.
Some spines are soft and feathery to help protect the cactus from intense UV light, while others are tough and sharp to help protect the plant from predators.  The presence of spines instead of true leaves also plays a critical role in minimizing water loss through evaporation and transpiration.
The plant surface is covered with a waxy-like substance known as cuticle that also plays a critical role in minimizing water loss. Cacti plants have also developed a unique survival mechanism known as revered opening and closing of stomata.
While regular plants open their stomata during the day and close them during the night, the reverse is true for a cactus. Their stomata open during the night and remain closed during the day to help conserve water.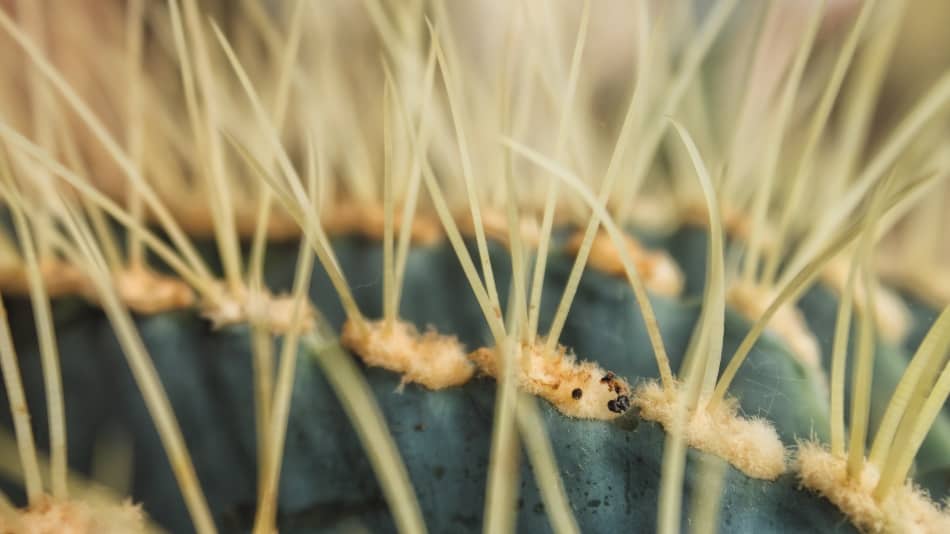 These plants tend to vary in size, depending on their species. Perhaps, the tallest cactus is the Mexican giant cardon that can grow to a height of 60 feet (18 meters). In contrast, the smallest cactus is believed to be the Blossfeldia liliputana that is less than three centimeters in diameter when fully grown.
Natural History of Cacti Plants
Most cacti species are native to America. In fact, there is no known cacti species native to Europe, Australia, or Africa. To date, not much is known about early cacti plants because only a few cactus fossils have been found.
The oldest fossil that was found in the United States dated to more than 50 million years ago and was highly similar to modern-day prickly pear.
However, scientists believe that some cacti plants grew in the tropical environment until about 65 million years ago when the world's climate started to change from year-round rainfall to alternating patterns of dry summers and wet winters.
Later, when deserts began to form, the plant was forced to adapt to the dry, desert conditions. Although most cacti species are synonymous with deserts, some grow in tropical regions of Mexico, Brazil, and the Caribbean Islands.
One of the most common tropical cacti species is the Christmas cactus, which grows in Brazil's tropical rainforests.
Where Do Cacti Live?
Most cacti species grow naturally in the wild. This is where they are meant to be. The three places you will find these plants growing naturally are; deserts, mountains, and forests.
Deserts
Many people tend to think that all cacti plants grow in deserts, but that is not the case. Only a few cacti species are truly adapted to growing in arid conditions such as deserts and semi-deserts.
The giant Saguaro cactus is perhaps the most prominent face of desert cacti. The giant plant grows in the Sonoran Desert and can live for up to 200 years. The Sonoran desert is the second largest desert in North America, covering parts of Arizona and California. It also stretches to the Mexico border.
The desert receives three short rain seasons- one in summer and two in winter. The Saguaro is well-adapted to live in these conditions and grows well among other desert plants.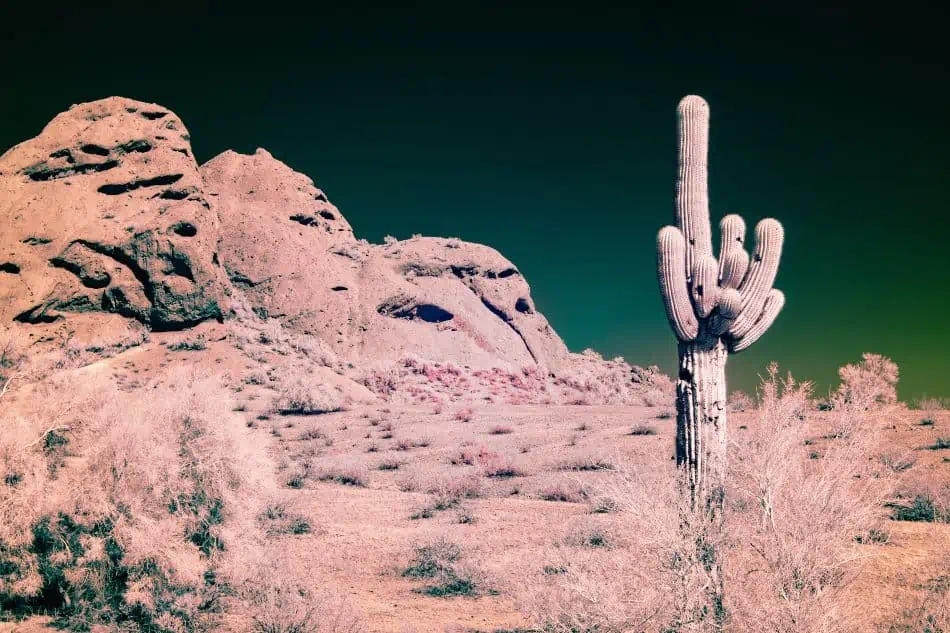 Mountains
Some cacti plants are also found in mountainous regions. The Andes is one of the longest mountain ranges in the world that serves as home to a significant number of cacti plants. The mountain stretches from the western coast of South America for approximately 7,000km.
Copiapoa is one of the oldest cacti species growing in the Andes. The plant is well adapted to living in rocky areas that can go for years without receiving rain.
The primary reason why the Copiapoa can survive for such a long period without water is the sea. Cold air from the adjacent Caribbean and Pacific seas moves over the hot land producing a lot of fog. This happens almost every morning, helping the plant find the water it requires to survive by absorbing moisture from the fog.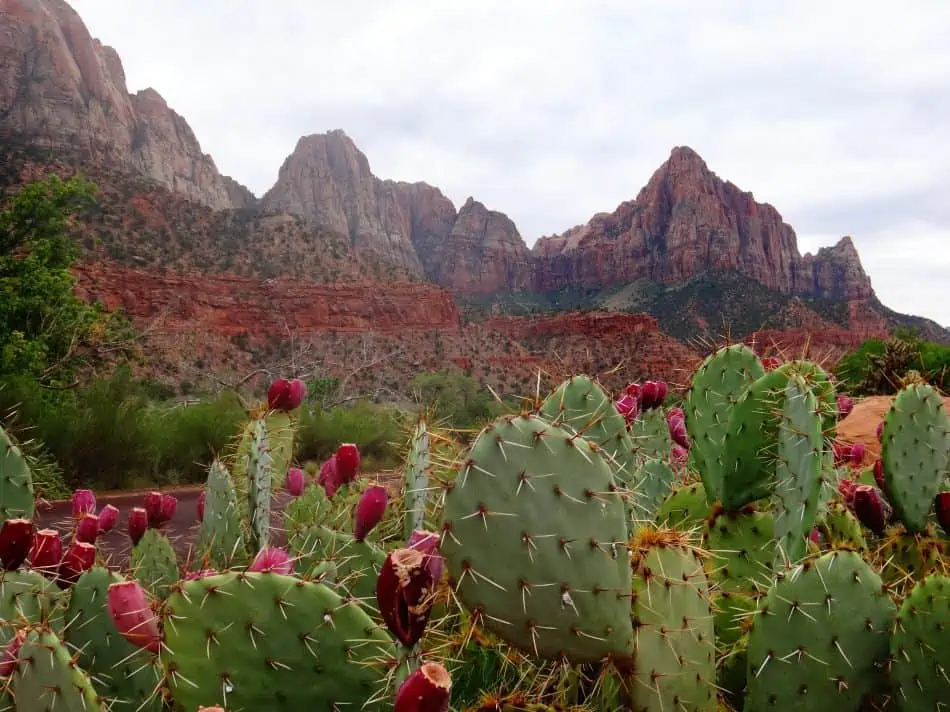 Forests
A significant number of epiphytic cacti species grow in the tropical rainforest that stretches across Central America and northeast of Brazil. Climatic conditions are quite different in these regions since they receive plenty of rainfall.
Cacti species that grow here, such as the Christmas cactus, don't need physical modifications or unique features to survive since there is plenty of water available.
Geographical Distribution of the Cactus Family
In this section, we cover the general range of altitude and latitudes that favor the existence of cacti plants.
Altitude
Some cacti plants do well in low altitudes, while others do well in high altitude areas. These succulents can be found growing down along the coast of the Pacific and Atlantic oceans as well as other low-altitude regions such as the infamous Death Valley in California.
In some parts of North America, cacti plants can be found growing up to 3350meters (11,000 feet) above sea level, particularly in the White Mountains in California. Some of them grow in even higher altitudes in areas of the Sierra Nevada range.
In parts of South America, particularly on the Western edges of Andes, some cacti plants grow in regions as high as 4,500 (15,000 feet) above sea level.
In most cases, the high altitude species are low growing plants similar to those found in the southern and far northern altitudes. The higher altitude cacti species are often spiny or wooly to survive the intense UV light that strikes the surface due to a thinner atmosphere.
Some of the common species found in the high altitude regions include Austrocylindropuntia floccosa and Opuntia polyacantha.
Latitude
In North and South America, most cacti species are found at latitudes that many people may find quite surprising. To the northern parts of America, these plants are mostly found in Southern Canada, specifically Ontario, to the East and British Columbia to the west.
In the much drier and milder western range, you will find them growing in northern regions than eastern regions. Unfortunately, only a few cacti species can survive the extreme cold conditions in this region.
To the tip of southern America, you will find low-growing cacti plants such as the Pterocactus australis, Maihueniopsis darwinii and Maihuenia patagonica.
Don't Mistake Other Desert Plants for Cactus
Cacti are not the only plants that grow in deserts. There are lots of other plants in these areas that many people mistake for cactus. Some of the common non-cactus plants you will find in the desert include century plants, commonly referred to as Agave and the Dudleya plant.
Dudleya has succulent leaves and stems and a unique physical appearance that closely resembles a cactus plant.
Other plants commonly mistaken for cacti include bears grass, desert pineapple, some types of Yuccas, and stool plants.
The only stem plant that is not a cactus is the candelilla, which is covered with many slender branches. The plant doesn't have areolas or spines, and its flowers are quite small compared to cacti flowers.
Summary
This simple overview covers some critical information you need to know about the general habitats where cacti plants grow. Keep in mind that there may exist micro-climates that host unique cacti species suited for those conditions within each habitat.
The occurrence of cacti plants in extremely cold and wet regions may come as a surprise to many, but that is how things are.
We hope you have learned a few things that can make you a better gardener. Subscribe to our email list for the latest gardening tips on cacti plants.
Last update on 2023-12-10 / Affiliate links / Images from Amazon Product Advertising API