If you are new to cacti plants, you might be wondering if they can really survive without sunlight. After all, these are desert plants, and you might be tempted to think that you are doing them a favor by keeping them away from sunlight. But is that the case? Probably not.
So, can a cactus live without sunlight? The short answer is NO. Cacti, just like any other plant, need sunlight to survive. Although these desert plants can survive for short periods without sunlight, they need exposure to lots of sunlight to thrive and blossom. Typically, a mini-cacti plant requires at least four hours of direct sunlight daily to thrive.
There are a few cacti species without spines that are pitched as low light plants. A good example of this type of cacti is the Christmas cactus. The problem is that if you don't provide your cacti plants with sufficient sunlight, they will become thin, sickly, and may eventually die.
In this post, we bring you a complete breakdown of cactus light requirements and what you can do to achieve better results with your plants. Read on to find out everything you need to know.
What Does Sunlight Provide for a Cactus Plant?
Every plant needs sunlight because it plays a critical role in photosynthesis. This is the process of turning carbon dioxide and water into sugar; the plant's primary energy source. Sunlight also helps your cactus with blooming and growing healthy stems, flowers, and roots.
Whether you're planning to get an Old Man cactus, prickly pear cactus, Christmas cactus, or whatever desert cacti you wish to have, ensure that they have enough direct sunlight.
Sunlight also provides warmth. This ensures that the plant can access essential nutrients from the soil. During winter, the little sunshine received helps to keep the cactus warm and healthy, even when it's snowing most of the time.
Additionally, sunlight helps in maintaining a succulent's aesthetically appealing look. With sufficient exposure to natural light, your cacti will be lush green and bright colored. It also helps keep a good balance of water and moisture in the plant's cells.
Succulents are unique plant species because they require varying degrees of sunlight. Most of their chemical conversions usually happen in low light and are only completed when the plant has access to enough light.
This is part of the plant's survival mechanism since it allows it to store carbon dioxide and only complete the process of photosynthesis when there is enough light.
How Much Light Does a Cactus Plant Need To Thrive?
Light (whether sunlight or artificial light) is a funny thing since you cannot measure it. While you can add two tablespoons of fertilizer to your potting soil or pour one cup of water on your plant, you cannot say that I have given my plant 10 lbs. of natural, free-range light.
Therefore, the best approximation we have when it comes to light is to measure the duration. So, a good question would be; how long should your cacti plants be exposed to light each day?
Well, the simple answer is that all succulents, including cacti, need between 10-14 hours of light every day. Here, we are assuming that we are not talking about the shad-loving cacti plants because they would easily fry if you expose them to light for such prolonged periods.
It is also good to mention that some species of spiny cacti have developed distinct shapes to help minimize the amount of sunlight they need to survive. The spines are highly modified leaves that minimize the amount of water they lose through evaporation.
Such plants need to be exposed to light for only four to five hours each day, and they will be okay. Two critical factors affect light requirements for cacti plants. They are:
Etiolation
This is a technical term used to refer to a state where your plants "stretch" or become "leggy." Etiolation can happen in any type of plant, but it is highly noticeable in cacti and other succulents because these plants tend to be so compact.
The process occurs when your plant is not being exposed to sufficient amounts of light. Therefore, it reacts by proliferating (stretching) towards the light direction. The truth is that all plants will always know where light is coming from and how to get there as fast as possible.
While in etiolation, the plant will reduce the number of leaves (spines) it grows. During this process, it may appear weak and ugly. However, it is not unhealthy. As soon as it gets to the spot of light, the cactus plant will resume its normal growth and stabilize it.
Unfortunately, the effects of this process are irreversible. This means that once the plant has grown all stretched out, it will remain that way for the rest of its life. The only solution you have is to prune the etiolated part of the plant.
In most cases, the plant will resume normal growth once the wound has healed, and if you stick the prune section in some soil, it can start growing too.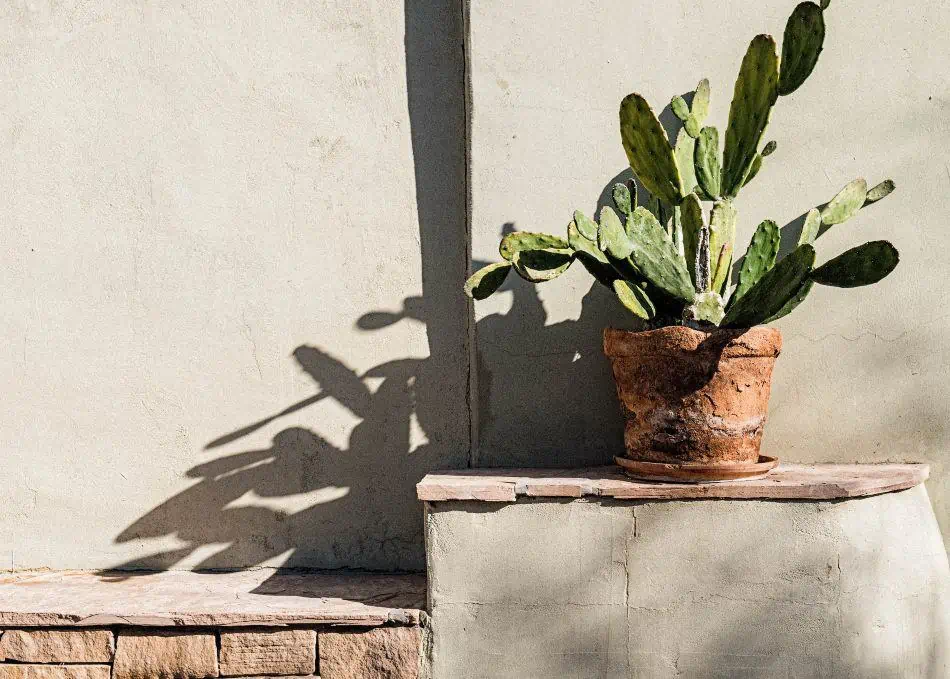 Seasonal light differences
It is also pretty evident that the level of sunlight intensity varies greatly from season to season. During summer, the days are pretty long, and sunlight intensity is pretty strong as well.
Most cacti plants tend to do well in these conditions. However, if you live in a region that is known for extreme summers, you may want to protect your plants from potential sunburn.
On the other hand, winter days are relatively shorter, with less intense sunlight. If your cacti plants slide into dormancy during this season, that will be much better. If not, then you might need to supplement the minimal natural light with more artificial light.
Some people rotate their plants indoors and outdoors as seasons change. This is a good idea as long as you know when to take your plants indoors or outdoors and how to acclimatize them to avoid damage.
How Does Dormancy Affect Light Requirements?
As mentioned in the previous section, cacti plants tend to slide into dormancy during the cold winter months. During this period, their rate of metabolism slows down, and they stop growing. Dormancy occurs because the freezing temperatures don't provide optimal temperatures for chemical reactions. Therefore, the rate of photosynthesis slows down, which in turn affects plant growth.
However, this is a critical part of the plant's life cycle. While you could artificially continue to provide sufficient exposure to light to trick your plant into thinking it is still summer, the effects can be adverse
Cacti plants require the dormancy period to produce seeds, fruits, and flowers. Therefore, if you trick the plant into thinking it is still summer, you may miss out on this vital phase. While in dormancy, a cactus plant can still survive with minimal exposure to light.
Sunlight vs. Artificial Light: Which One Is Better for Your Cacti Plants?
This is a highly debated topic. In fact, we can write an entire book on this topic alone! However, the comparison is quite interesting, and a lot of science and personal preference comes into play while making a decision.
The truth is that neither natural sunlight nor artificial light is better than the other. There are situations when sunlight outshines artificial lights and vice versa. So, how do they stack up?
Sunlight
Natural sunlight is quite amazing because it is readily and freely available. You can simply position your cacti plants on your windowsill, water them, and they will still thrive. Isn't it great?
Sunlight has always been there, and every living thing on earth is well adapted to handle its heat. Cacti plants and other succulents know how to harness their energy and used it to power a wide range of chemical reactions.
In fact, cacti plants were created to bathe in sunlight. They have a wide range of adaptations that help them to absorb different wavelengths of sunlight and protect themselves from the excessive heat. That is why you will never go wrong if you choose to expose your cacti plants to lots of sunlight.
What Kind of Sunlight Does a Cactus Need?
Cacti plants need natural sunlight to survive. If you do not expose your cacti to sufficient light, they will start etiolating and stretching out of shape.
Therefore, if you are growing a cactus indoors, ensure it is close enough to a window that receives plenty of natural light.
You can also use artificial lights such as LED and fluorescent bulbs to supplement the natural light for your indoor cacti.
As mentioned earlier, you must provide them with 6-10 hours of good-quality light each day for optimal growth.
Remember that too much sunlight can cause sunburn on your cacti plants, so be sure to monitor light levels and adjust accordingly.
How Can You Maximize on Natural Light Indoors?
Natural light tends to fade off as the day progresses. This natural cycle works well for indoor cacti plants. Typically, the morning to midday light is brighter and more intense. However, its strength fades off in the afternoon.
If you are in the northern hemisphere, position your cacti plants on south-facing windows for the best results. This way, your plants will have more hours of daylight, which enables them to thrive.
In regards to east and west-facing windows, the east-facing windows offer the best option because the sun rises in the east, and the strongest sunlight is in the first half of the day. North-facing and west-facing windows are ideal for cacti plants that prefer partial sunlight.
While positioning your plants on a windowsill, consider external factors such as nearby buildings or trees that may cast a shade on the windows. Also, position your plants as close to the glass as possible.
Keep your window glass clean since dirt and accumulated grime tend to block a significant amount of light. If you run out of windowsill space, consider getting a hanger or windowsill shelf to accommodate the extra plants.
Artificial Lights
Natural sunlight is great, but artificial lights may help you when there is no sunlight for a prolonged period. In fact, if you are into cacti plants so much, there is a high possibility you ran out of windowsill space a long time ago. This means that all plants positioned far away from the window cannot receive natural light.
Furthermore, if you live in a region that experiences extremely colder winter seasons, you may want to bring your plants indoors and at least expose them to some light. If you bring your plants indoors and fail to provide them with sufficient exposure to light, they may etiolate or even die.
Artificial lights are also a great option when it comes to propagating since their intensity is quite low. In fact, specific light wavelengths can be used to encourage fruiting and flowering.
Unfortunately, artificial lights aren't available freely. You will need to find the right bulb and pay your electricity bill to enjoy their benefits. Fortunately, the upfront cost is relatively low, yet it provides you with a lot of freedom when it comes to growing cacti plants.
How Does Lighting Affect Flowering?
For cacti plants, timing is everything when it comes to flowering and fruiting. When the days are shorter, they produce more flowers and fruits.
That's why when you keep your cacti plants indoors all year round, they may not flower as expected since there is no natural light that signals when the days are shortening.
Luckily, with artificial lights, you can easily manipulate the light hours. When you expose your cacti plants to more prolonged lighting hours, they will eventually flower and fruit.
To achieve this, you can use a timer that runs for 12-14 hours daily and turns off when it is time for them to rest.
Also, note that different cacti plants have different flowering requirements. For example, some species may require longer lighting hours than others to flower.
Summary
Cacti, just like any other plants, need sufficient exposure to light to thrive. If you don't provide the right amount of light, your plants won't bloom and may succumb to various infections. These plants require approximately 10-14 hours of light to thrive, but they can still do well with relatively less amount.
We hope this information gives you a good foundation for growing healthy cacti plants in your home. Do you have a question or comment? We would love to hear from you in the comments section.

Last update on 2023-07-26 / Affiliate links / Images from Amazon Product Advertising API