What comes to your mind when you think of a cactus plant? You probably think of a desert plant that can go for prolonged periods without water and still survive, right? While it is true that these plants prefer dry soil and have adapted to living in deserts, they still require a sufficient supply of water, especially during the growing season.
How long can a cactus go without water? Typical desert cacti can survive for up to two years without water. This is because it has developed thick stems that store a lot of water and has a protective layer that prevents water loss. However, this doesn't apply to indoor cacti because the conditions are quite different. Indoor varieties do require frequent watering depending upon the species.
In this post, we discuss how long a cactus plant can survive without water in detail and help you understand how these plants have adapted to living in arid areas. Read on to find out everything you need to know about cacti.
How Long Can a Cactus Live Without Water? A Detailed Explanation
No matter how hard these desert plants are, they cannot survive without water forever. Science tells us that a cactus plant is a living thing, and all living things require water to survive.
It is only that cacti plants have developed unique features that help them go for longer periods without water. In fact, some cacti species can survive for as long as two years without water supply.
These desert plants usually use water stored in their roots and stem much more efficiently compared to non-desert plants.
Furthermore, they don't give up water through evaporation as easily as other plants since they don't have leaves. This might make you think that cacti plants have developed deep roots to help them acquire more water from underground.
On the contrary, they have a shallow and extensive root system that stays just a few inches beneath the ground. The roots can also extend a few meters from the plant to help in collecting as much water as possible.
They also tend to develop more roots quite fast once the rains come and will shrivel back up and break as soon as the dry season kicks in to help it store its water supply.
How long a cactus plant can survive without water supply will also depend on the species of the plant, its size, and the location where it is growing.
For instance, the mammillaria cacti species and other small cactus species can survive without any problems during the whole winter season without water.
This is approximately four months without water, but they must be stored near-freezing temperatures to a couple of degrees up during the summer season.
The relatively bigger cacti species such as Ferocactus and Barrel can last much longer without water supply since they have bigger water storage capacity in their stems.
How Does a Cactus Plant Live Without Water?
As mentioned earlier, every living thing needs water to survive. But, given the natural areas where cacti plants grow, water supply is generally scarce.
Sale
Altman Plants Assorted Cactus Collection 2.5" 4 pack
UNIQUE HAND SELECTED: Each order contains GROWN WITH LOVE and hand selected cactus plants. You will receive a variety of unique cactus similar to the ones in the photo which may include: Echinocactus,...
EASY CARE: Featuring Eye-Catching flowers, spines and forms, these cacti are easy to grow and grow great together in gardens or any container. Many cacti can thrive in the sunniest, most neglected...
SIZE: Succulents come in 2 1/2" pots fully rooted in soil. Plant measurements will vary as different species grow in different ways: for example, some grow wider, shorter, taller, trailing etc. All...
PACKAGING: All plants come with helpful Care instructions and are PACKAGED WITH CARE at our Facility by our succulent shipment specialists. We ship plants dry to keep them relaxed and rot-free— once...
HEALTHY LIVE ARRIVAL : Your succulents will arrive alive and healthy. We are well known for our excellent customer service and going the extra mile for our customers. Please feel free to directly...
To adapt to this environment, these plants have developed a wide range of unique features that allow them to conserve the little water they receive from rare rainfalls.
For instance, the prickly spines of the cactus plant are actually highly modified leaves. These spines serve two primary functions- they help protect the cactus plant from desert animals that want to feed on them and reduce water loss by restricting the flow of dry air near the plant.
Most cacti plants also have an extensive but shallow root system that helps them soak up any little rainfall that may come their way.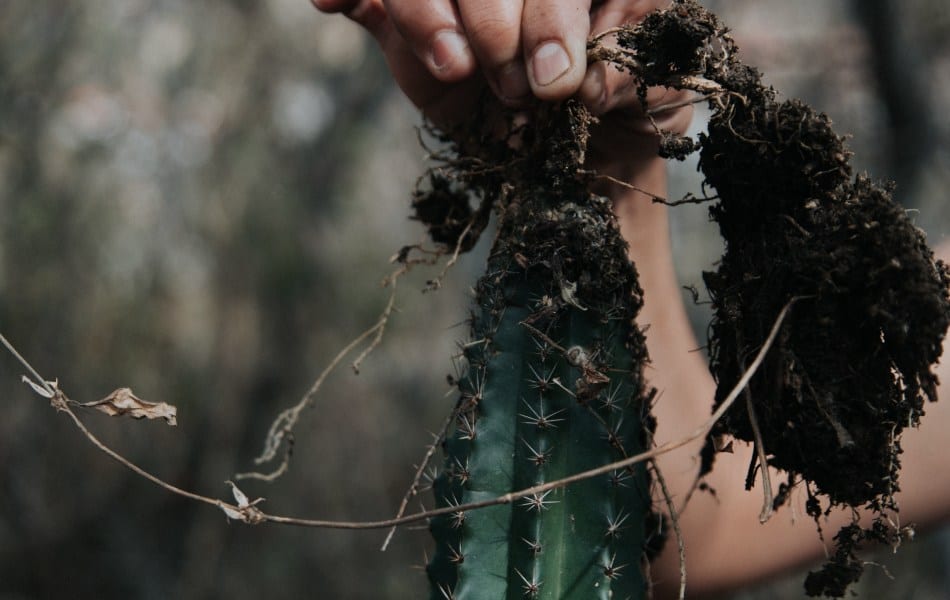 Since rain is usually sporadic in arid areas, these plants have developed thick stems that allow them to store as much water as possible for longer periods.
For instance, a fully grown Saguaro can absorb and store up to 200 gallons of water when there is a good downpour.
So, How Much Water Do Cacti Plants Need to Survive?
This is a relatively difficult question to answer since there is no specific measure of the amount of water a cactus plant may need to survive.
In fact, water- whether too much or too little- is one of the hardest things to get right and a common reason why gardeners lose their cacti plants.
Sweeping generalizations on how much and how often to water your cactus plant may not help since every cactus is different.
Here are some simple guidelines to follow while watering your plant:
During the growth season – usually from spring to fall- your plant requires regular watering and fertilizing. During the hotter summer months, make sure you water your plant at least twice a week.
However, many plants tend to rest in a state of semi-dormancy from late fall to early spring and may need less water then. If you live in a relatively wetter area, you may not need to water your cacti plants during this period.
Always let the soil dry out completely before watering again. Check to ensure that the top few inches of the soil are completely dried out before you water your plant. A water gauge can help you establish the soil's moisture level, or you can even stick one of your fingers into the soil to gauge the moisture level. If the soil sticks on your finger, give the plant some time before watering again.
Some plant experts say that cacti need little water during the winter season while others believe they don't need any watering during this season. The most important thing to do is to test and carefully watch your plant to see how much water it requires during the cold season.
Plants in pots usually require more water than those planted directly in the ground. Therefore, be sure to adjust your watering accordingly.
Watch out for signs of under-watering or over-watering of your plant. An underwatered cactus will look pale, skinny, rubbery, or deflated.
apine Soil Moisture Meter, Plants Moisture Meter, Plant Water Meter for Indoor/Outdoor Plants, Hydrometer for Plants(Green)
※【Plug and Play, Quick Measurement】: Are you still troubled by when your plants need to drink water? apine plant moisture meter can be your reliable partner, you can know the soil moisture you...
※【Professional and reliable, accurate reading】: The apine soil moisture meter adopts a newly upgraded high-quality stainless steel induction probe, which brings you more accurate test...
※【Easy operation, No battery required】: Worry about the complicated operation for the first time? It doesn't exist, just insert the probe of plant water meter into the soil about 2-4 inches,...
※【Professional and Considerate, High-quality Service】: Each apine moisture meter for plants especially comes with a wiping cloth for you. Please wipe the soil moisture meter with the included...
※【Warm Tips】: 1.The plant thermometer is specially designed for soil, please do not use it to test the water or other liquids. 2. Rock or other too-hard soil may cause probe damage. 3. Our plant...
At first, an overwatered cactus may look healthy and plump, but waterlogging your plant will soon cause its roots to die and rot. Eventually, the plant will turn pale and get soft.
How Do You Know Your Cactus Is Underwatered?
Since cacti plants are generally hardy, it is quite easy to forget to water them. However, not watering your cactus plant can cause a lot of stress, and it might start showing signs of being underwatered. Here are some signs that you should look out for:
Wilting: If your cactus plant starts to wilt, it is a sign that it is not getting enough water.
Shriveling: If the stems of your cactus plant start to wither, it is another sign that it is not getting enough water.
Soft spots: If you see any soft spots on the stem of your cactus plant, it is a sign that it is dehydrated and needs to be watered immediately.
Yellowing: If the color of your cactus plant starts to change to yellow or brown, it is a sign that it is not getting enough water.
Dropping leaves: If your cactus plant starts to drop its leaves, it signifies that it is stressed and needs more water.
How Do You Know Your Cactus Is Overwatered?
While underwatering your cactus plant can cause stress, overwatering it can be even more harmful. Overwatering your cactus can lead to root rot, which can eventually kill the plant. Here are some signs that you should look out for:
Soft stems: If the stems of your cactus start to feel soft or mushy, it is a sign that it is getting too much water.
Yellowing: If the color of your cactus plant starts to change to yellow or brown, it is a sign that it is getting too much water. Therefore, it is critical to pay close attention to any color change in your plant.
Mold: If you see mold growing on the potting mix or the surface of your cactus plant, it is a sign that it is getting too much water.
Dropping leaves: If your cactus plant starts to drop its leaves, it is a sign that it is stressed due to overwatering.
How to Tell How Much Water Your Cactus Needs Even If You Don't Know Its Species
Are you wondering how you can determine the right amount of water for your cactus if you don't know its exact species?
Answering the following simple questions should help you establish how often to water your cactus plant:
Does it have spines? Generally, if your cactus plant has a lot of spines, it might need less water than one with few spines. Most cacti plants have spines that are modified into leaves to prevent water loss through evaporation.
The spines trap air on the surface of the plant, creating a highly insulating layer that reduces transpiration and evaporation. Spines also provide a little shed and lower the plant temperature.
Does it have leaves or stems? Most cacti plants don't have true leaves. Typically, the thinner the leaves, the more water the cactus will need.
Cactus with thinner leaves have a high surface area to volume ratio, which makes them lose water at a relatively higher rate than those with thick and fat stems.
Is it small or large? In general, small cacti plants require less water compared to larger ones.
Does it have a solid stem? If your plant has a solid stem, it is probably great at conserving its water reservoir. The stem usually serves as the primary water storage area for a cactus plant. If the stem is ribbed, it allows the cactus plant to shrink or swell with water like an accordion.
How Often Should You Water Your Cactus Plant?
How often you should water your cactus plant will depend on a few factors, such as the type of cactus, the size of the pot, the climate, and the time of year.
Generally, it is best to water your cactus plant once every two weeks or so. However, you should always check the soil before watering to ensure it is dry.
To check if the potting mix is dry, insert your finger into the mix. If the soil feels dry, it is time to water your plant.
You might need to water your cactus more often in hot weather or during the summer months and less often in cooler weather or during the winter months.
If you are unsure how often to water your cactus plant, it is always best to err on the side of too little water rather than too much. Overwatering your cactus can lead to root rot, which can eventually kill the plant.
When you water your cactus plant, give it a good soaking until you see water running out of the drainage holes at the bottom of the container. Allow the plant to drain for a few minutes before putting it back in its location.
Be sure to empty any saucers or drip trays that might have collected water underneath the pot, as this can lead to root rot if the plant sits in water for too long.
You can also wait until the plant starts to show some signs of being underwatered before watering it.
How to Water Your Cactus
There are different ways of watering cactus, and the method you choose to use will most likely depend on your preference.
Typically, if you have planted your cactus in a plant pot, do the following:
Carefully place the plant pot in a saucer with sufficient water
Let the roots of your plant absorb moisture for some time
Once you think the soil in the plant pot is wet halfway up, carefully take it out of the saucer
Some people prefer watering their cacti plants by carefully submerging them in water. In most cases, this watering method is only applicable to cactus with big and thick roots.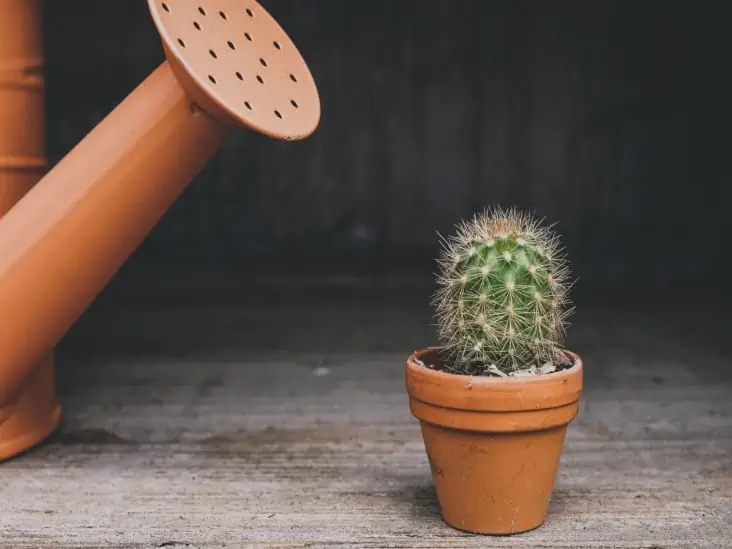 Alternatively, you can choose to apply water on the surface of the soil. The amount of water you use in this method will depend on the area where your plant is stored and the amount of sunlight and heat it receives. If your plant is stored in an open area with direct access to sunlight, you may need to water it a little bit more.
No matter the method you choose to use, always try not to overwater your plant. Overwatering your cactus plant is much more dangerous than under-watering it. Also, remember that the type of cactus species you have will guide you in watering.

Last update on 2022-09-09 / Affiliate links / Images from Amazon Product Advertising API