Cacti are generally low-maintenance plants. Give them access to sufficient light and a minimal amount of care, and they flourish. In fact, you can even ignore a cactus plant, but it will still thrive. But one of the easiest ways of killing a cactus plant is by overwatering. In fact, overwatering kills these succulents much faster than underwatering. It is also the primary cause of root rot among cacti plants.
So, can an overwatered cactus be saved? If the overwatering has already caused extensive root damage, then it might be difficult to save your dying plant. However, if you realize the problem earlier, then it is possible to help your plant bounce back with proper care. The most critical thing is to assess the damage accurately and initiate the process of saving the plant as soon as possible.
In this post, we discuss everything you need to know about overwatering cacti plants. The dangers of overwatering, the signs & symptoms, and how you can save an overwatered cactus plant.
Dangers of Overwatering a Cactus
The most common problem gardeners have to deal with when starting out with cacti plants is overwatering. But this might come with a hefty price that is so painful to pay as we had mentioned in the introduction. So, what are some of the dangers of overwatering a cactus plant?
1. Loss of color
Most cacti plants have different tones of green ranging from the lighter lime hues to the deep virid shades.
However, an overwatered cactus will mostly appear pale and dull. The discoloration usually starts slow such that you may even miss to notice any significant difference between the plant's original and present color.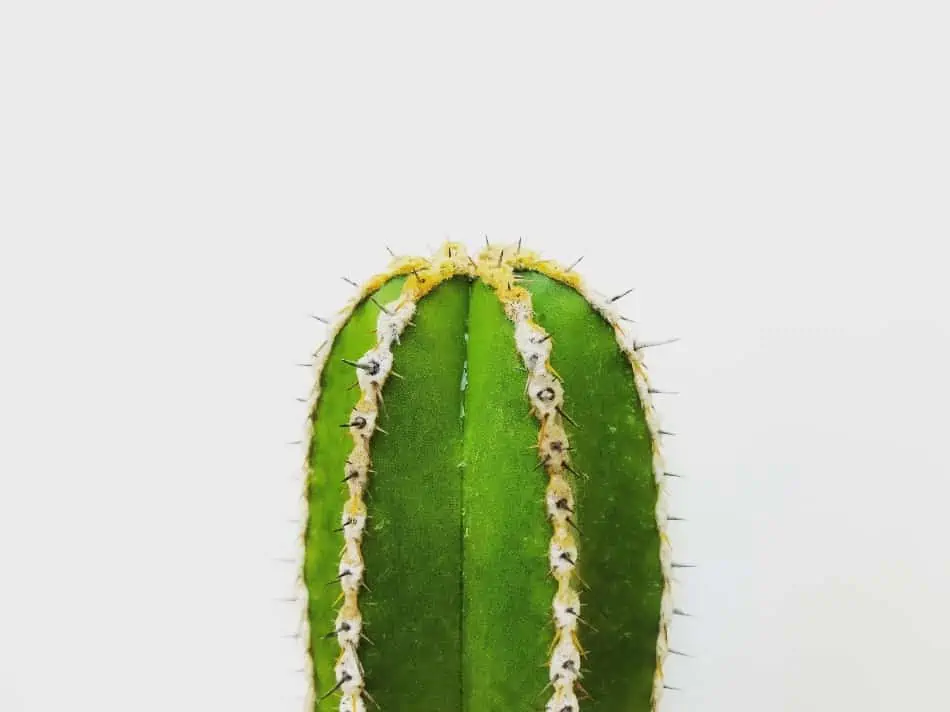 Over time, the green color turns to yellow due to chlorosis that occurs as a result of overwatering. Chlorosis refers to the loss of the green pigment and can lead to stunted growth and poor flowering of the plant.
Keep in mind that when there is too much water in the potting mix, the plant can no longer absorb nutrients properly. Therefore, your cactus stops flourishing because it lacks essential nutrients.
2. Soggy and droopy plant
Overwatering can also result in soggy and droopy plants due to too much moisture. Typically, if you touch your plant and notice that its stem feels soft and mushy, you should be worried.
The reason behind the softness and mushiness is that the stem cells are filled up with excessive water molecules and are now bulging outwards.
When the pressure builds up, the tissues of the plant start to swell and eventually rupture. The bursting of the tissues distorts the plant's internal transportation structure such that it is no longer able to transport water and nutrients to other parts.
With time, different parts of the plant start drooping and falling off one by one. For large cacti species such as the Saguaro, the entire plant may topple over because it can no longer support its weight.
3. Root rot & death
When a cactus plant is exposed to excessive moisture, decomposition is bound to happen. A waterlogged soil interferes with air supply to the roots leading to root rot.
In most cases, rotting attacks the plant starting from the root tips before it starts spreading to the base. Since root rot happens below the surface, it is usually difficult to realize the damage until it is too late.
When the rot is worse, your plant becomes stunted, and sections of the stem may fall off when you touch them. It will then start to turn black, and if nothing is done to salvage the situation, the cactus will eventually die.
Signs of Overwatering
The truth is that it may be difficult to know if you are overwatering your cactus because the symptoms may be misleading. In the beginning, an overwatered cactus may show signs of health and happiness. It will flourish and even develop new growth.
However, things may not be the same underground. As we have mentioned above, the plant's roots start rotting when they are waterlogged. The unfortunate thing is that the roots below the surface may be suffering, yet the plant is deceiving you with a healthy and happy appearance.
But, it is still possible to catch the signs early if you observe your plant keenly. You should slow down watering when you notice any of the following symptoms:
Wilting: Your plant may become visibly droopy and sad looking
Edema: Blisters and bumps that leave permanent scars on the surface of your plant start forming
Squishy stems and spines
Yellowing: The color of your cactus starts turning from green to yellow. The change might be gradual, and it is easier to save your plant if you catch it early other than wait until the whole plant turns yellow.
Leaf drop: For cacti plants such as the Christmas cactus, leaves will start dropping easily even when the plant is healthy.
Saving an Overwatered Cactus
While cacti plants are among the most forgiving plants, overwatering is an exception to the rule. So, what are you supposed to do when you realize you have been overwatering your plant?
1. Re-pot with dry soil
If you are 100% sure that you have been overwatering your cactus, the best thing you can do is take the plant out of its pot and then re-pot it with dry potting mix. After re-potting, lay it out to dry for a few days before you water lightly.
During this process, be sure to check the overall status of the roots. If you discover any root rot, use a sharp and clean knife to cut away the rotted sections. Make sure you are not re-potting it with damaged tissues.
Keep in mind that if you leave any rot behind, no matter how small it might be, it will start to spread to other parts of the plant.
2. Get rid of all dying leaves and stems
If you start to notice sections of the stem or leaves falling off, then it is a clear indicator that you have been overwatering your plant. At this point, take time to get rid of all the dying stems and leaves.
If a section of the stem is rotted but the leaves/spines are still intact, consider cutting off that section even if it means doing away with the few leaves attached to it.
For your cactus plant to survive, you must cut and remove all the infected parts because the rot spreads to other areas.
3. Start watering properly
Once you have re-potted your plant and ready to go, make sure you correct the mistake you have been committing all along; stop overwatering. Proper watering will be vital in preventing further problems. It also gives your plant a good chance of surviving.
Do not water your plant immediately after re-potting. Instead, wait for at least one week and make sure your first watering is light. From there, you should only be watering your plant when the top two inches of the potting mix is completely dry.
Do not water your plant from the bottom and never leave it sitting in a source of water for too long. Whatever you do, just keep in mind that it is better for your cactus plant to be dry than wet.
In fact, underwatering is not a serious issue and rarely kills cacti plants. A good rule of thumb is to water your indoor cacti once every ten days.
How to Prevent Overwatering
The best way to make sure your cactus grows without any problems is to find out its water requirements and try as much as possible not to overwater it. While this is not an easy thing to do, especially if you are a beginner, there is a general watering rule that can help you.
Typically, you should let your potting mix dry out completely between watering sessions. This means that you should always measure the moisture level in the soil before watering your plant. You can achieve this by dipping your finger in the soil to feel the level of wetness before you water.
If your finger feels wet when you dip it into the potting mix, wait for a few days and test the soil moisture again before watering.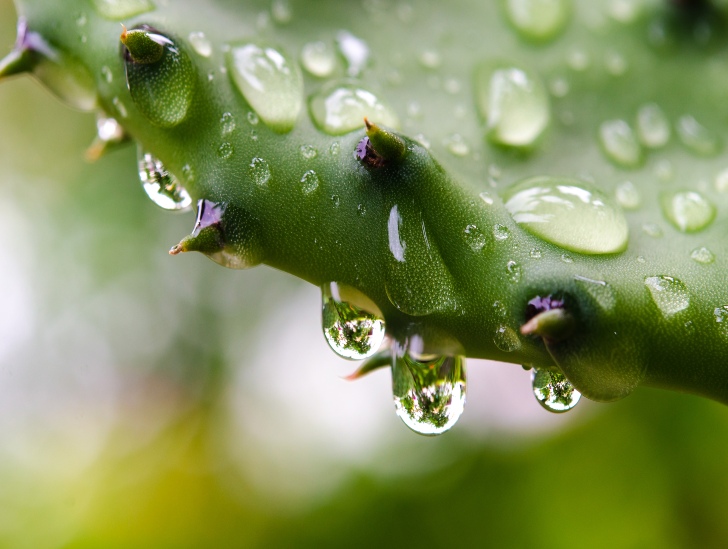 Also, it is good to keep in mind that cacti plants require less water in the winter. In fact, a cactus may require watering only once per month during winter. Some species can even survive through the entire winter without watering.
No matter the time of the year, it is essential to ensure your potting soil is well-draining and never allow your plant to sit in standing water because the results can be catastrophic.
Final Thoughts
Proper watering is a tricky skill that you can only learn through practice. If you are just starting out, there is a high probability of overwatering your plants.
However, with time, you will start learning about the water requirements of your plant, and you will be able to tell if you are overwatering it. Don't feel bad if you can't crack it during the first few months because it is a learning process.
If you have ever overwatered your cacti plants and saved them, let us know what you did in the comments section below.
Last update on 2023-07-26 / Affiliate links / Images from Amazon Product Advertising API