What comes to your mind when you think of cactus? You probably think of prickly plants that can only do well in a desert climate, right? Well, you aren't too far off the mark because this is what most of us know. But did you know that certain cacti species also thrive in slightly cooler temperatures? The family of cactus plants is vast and encompasses slightly more than 2,000 species. These plants grow in high deserts, low deserts, tropical areas, mountains, and many other areas.
So, what temperature is too cold for cactus? The lowest temperature a cactus plant can survive will largely depend on its specific species. While some species can't withstand temperatures below the freezing point, others can still thrive in temperatures below 0oF. One of the most cold-hardy cacti species is the green flowered hedgehog, which can still survive in temperatures as low as -20oF.
Cacti species that can survive freezing temperatures usually expel water at night so that the water stored in their flesh does not freeze. In this post, we look at some of the ways cacti plants have adapted to survive the cold weather (winter dormancy), the effects of cold on these desert plants, and how you can revive a cactus plant that has been exposed to cold for too long.
What Is the Lowest Temperature for a Cactus Plant?
As mentioned earlier, the lowest temperature for any cactus plants depends on its specific species. The Echinocereus viridiflorus, commonly referred to as the hedgehog cactus, is among the most cold-hardy cacti plants on earth. Although this plant tends to thrive in full sun, it can still survive temperatures as low as -20oF. The plant grows to a maximum height of eight inches and a maximum width of about three inches.
The fishhook barrel cactus is another type of cacti species that can tolerate temperatures as low as -5oF. The fishhook barrel is known for its relatively long spines that tend to curve at the end. It grows to a maximum height of approximately six feet and a width of about three feet.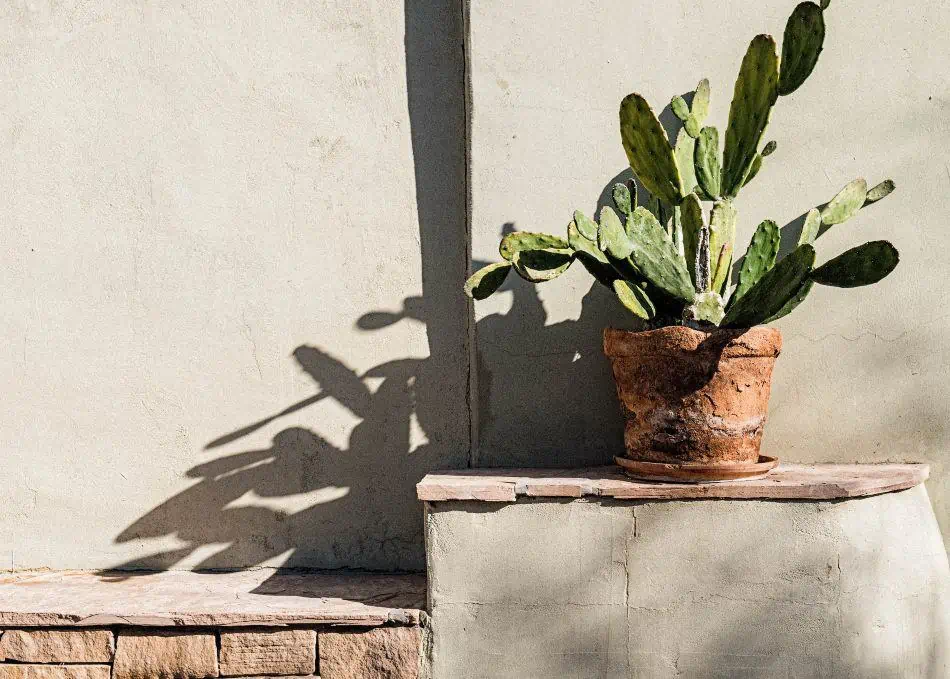 The Echinocactus texensis can also survive temperatures as low as 0oF. Commonly referred to as the horse crippler cactus, this cactus species blooms with beautiful purple flowers and grows to a maximum height of eight inches and a maximum width of 12 inches.
The other cold-hardy cacti species you need to take note of is the Opuntia Santa-Rita, commonly referred to as the Santa Rita prickly pear cactus. This particular plant features flat, pear-shaped paddles that are covered with spines and can easily tolerate temperatures as low as 12oF. It grows to a maximum height of about one foot and a maximum width of about ½ a feet.
However, it is good to keep in mind that cacti plants from warm winter climates are not built to withstand extremely cold temperatures and can suffer severe physical damage if exposed to low temperatures.
How Do Cacti Plants Survive in Cold Temperatures? The Winter Dormancy
To survive long periods of intense heat and dryness, cacti plants usually store a lot of water in their stems and spines (modified leaves). Therefore, cacti plants that grow in cold areas need to find some way of preventing the water stored in their stem cells from freezing. They usually do this by becoming dormant during the cold months allowing their cell sap to lose a lot of water in the process.
During the dormancy period, cacti plants will stop growing. This means that they will need less water and food. They also don't require a lot of sunlight.
Cacti plants can sense when winter is around the corner because of two things: the temperatures become colder, and the days become shorter. However, you can fool your cacti plants into thinking they have perpetual summer by bringing them indoors and providing them with a lot of food, water, and exposing them to lots of light.
This way, you can still get your plants to grow even during winter, but there is one big disadvantage of taking this route. Since most cacti plants use seasons as a signal to reproduce and flower, you may end up missing on that.
During the cold months, stop watering and fertilizing your plants; simply let them rest. If you must water them, then only give the plants enough water to survive.
What Happens If a Cactus Gets Too Cold?
If a cactus plant is exposed to temperatures that are too cold for its species, it can suffer damage. The most common type of damage is called "frost scald." This occurs when the water inside the plant's cells freezes, expands, and bursts the cell walls.
Frost scald can cause the cactus plant to become discolored, wrinkled, and deformed. In extreme cases, the plant may die.
Fortunately, there are a few things you can do to revive your cactus if you think it has been damaged cold.
First, bring the cactus indoors or in a warmer area. If the plant is in a pot, you can try placing it on a heated mat or in front of a space heater.
Second, make sure to water the plant well. The water will help hydrate the plant and replace any water lost due to cell damage.
Finally, try to give your cactus plant some extra light. The light will help the plant photosynthesize and produce the energy it needs to heal. Feel free to use artificial light, such as a grow light, if necessary.
Signs that Your Cactus Plant Is Experiencing Too Much Cold
If you live your cactus exposed to too much cold for too long, it will eventually die. Here are a few signs that your cactus is dying from the cold:
Shriveling or wrinkling.
The color of your cactus starts to change to a lighter shade.
The cactus feels mushy or soft to the touch.
There are black or brown spots on the plant.
The plant starts to produce fewer flowers or none.
The plant's growth slows down or stops completely.
If you see any of these signs, it's important to take action immediately. Bring your cactus indoors or into a warmer area, and water it well.
Can Ice/Snow Kill Cacti Plants?
If you live in a region that experiences ice storms, then you need to understand that such conditions are highly dangerous to most cacti species. Typically, ice storms and freezing rain are not good conditions for your outdoor cacti plants.
When storm ice builds upon the surface of these plants, they may die. Even the toughest cold-hardy plants may not survive the effects of ice or freezing rain. Any cacti plants grown outdoors must be covered properly before freezing rains begin.
Always consider the weather conditions of your region and whether you are prepared, as a gardener, to take the necessary steps to protect your plants from the ice before you purchase any cold-hardy cacti plants.
If you are anticipating freezing rains, make sure you cover your plants with plastic, which can easily be removed after the threat of layering ice is over.
However, hundreds of cacti species can still thrive in cold climate areas that experience snowfall and freezing temperatures below 0oF.
Even if the climate in your region has quite similar winters to the native habitats of your preferred cold-hardy cacti plants, the additional feature of freezing rain will expose your succulents to the danger of dying.
Remember the fact that ice formed by freezing rain can stay on the surface of your plants for prolonged hours, causing severe damage.
Recognizing Cacti Plants Damaged by Cold/Frost
Some cacti plants may be sensitive to cold temperatures that are nowhere near freezing. In fact, some cacti species won't even tolerate the normal cold temperatures when they are wet.
However, there is a significant difference in the type of damage that may occur from frost as opposed to cold conditions. In most cases, cold-sensitive cacti plants won't be damaged by cold itself but will succumb to other problems that occur as a result of freezing temperatures.
Typically, cacti plants exposed to extremely cold temperatures will start to rot. On the other hand, frost damage will destroy plant cells that were exposed to cold temperatures. This happens when the minute ice crystals within the cells cause the cell wall to rupture.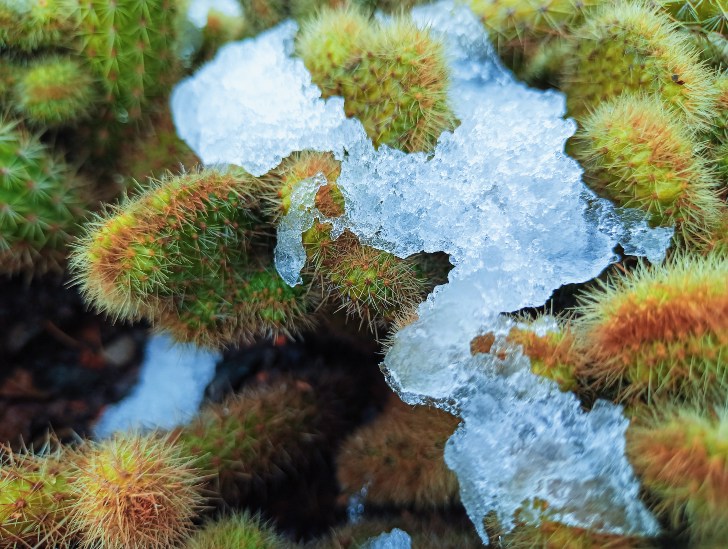 Quite often, you won't notice such damage immediately. It may take up to two days when the destroyed cells start to turn black for you to notice it.
Another common sign that your cactus plant has been damaged by cold is the presence of a softened tissue. The tissue may initially turn white. However, with time, the damaged areas of your cactus plant will start to turn black and decay. Finally, the cold damaged parts may fall off.
Reviving a Frozen Cactus Plant
Can a cold-damaged or frozen cactus plant be saved? Well, it can, but it requires a lot of patience. Keep in mind that when a cactus plant is left out in freezing temperatures for too long, the water stored in its tissues start to freeze and expand.
This sudden change may damage the stem cells. Once the water thaws, the stem tissues contract, but it is already damaged and may not hold shape resulting in limp stems and eventually rotten spots.
Exercise a lot of patience while dealing with a cold-damaged or frozen cactus plant. Don't be so quick to jump in and cut off the soft limb tips. Reviving your frost-damaged cactus plant is possible, but the clean-up should wait until all the softened areas turn black.
If you notice the tips of a cactus plant turning from green to purple or white, don't take any action. These are signs that your plant may heal itself. But if the tips start turning from green to black or white, pruning may be necessary.
Wait until a sunny day later in the spring season to be sure that the cold season is over then prune off all the black parts.
Cut off the arm tips carefully or even remove the entire "head" of your cactus plant if it has turned black. Consider cutting a joint if your plant is jointed. Don't leave any black spots on your plant since all black spots indicate rotting. Failure to remove any of the blackened parts can easily spread the decay and kill the entire plant.
If everything goes according to your plan, your pruning will revive the plant, and in a few months, new growth will sprout in all pruned areas. The new parts may appear a little bit different, but all the cold-damage sections will be gone.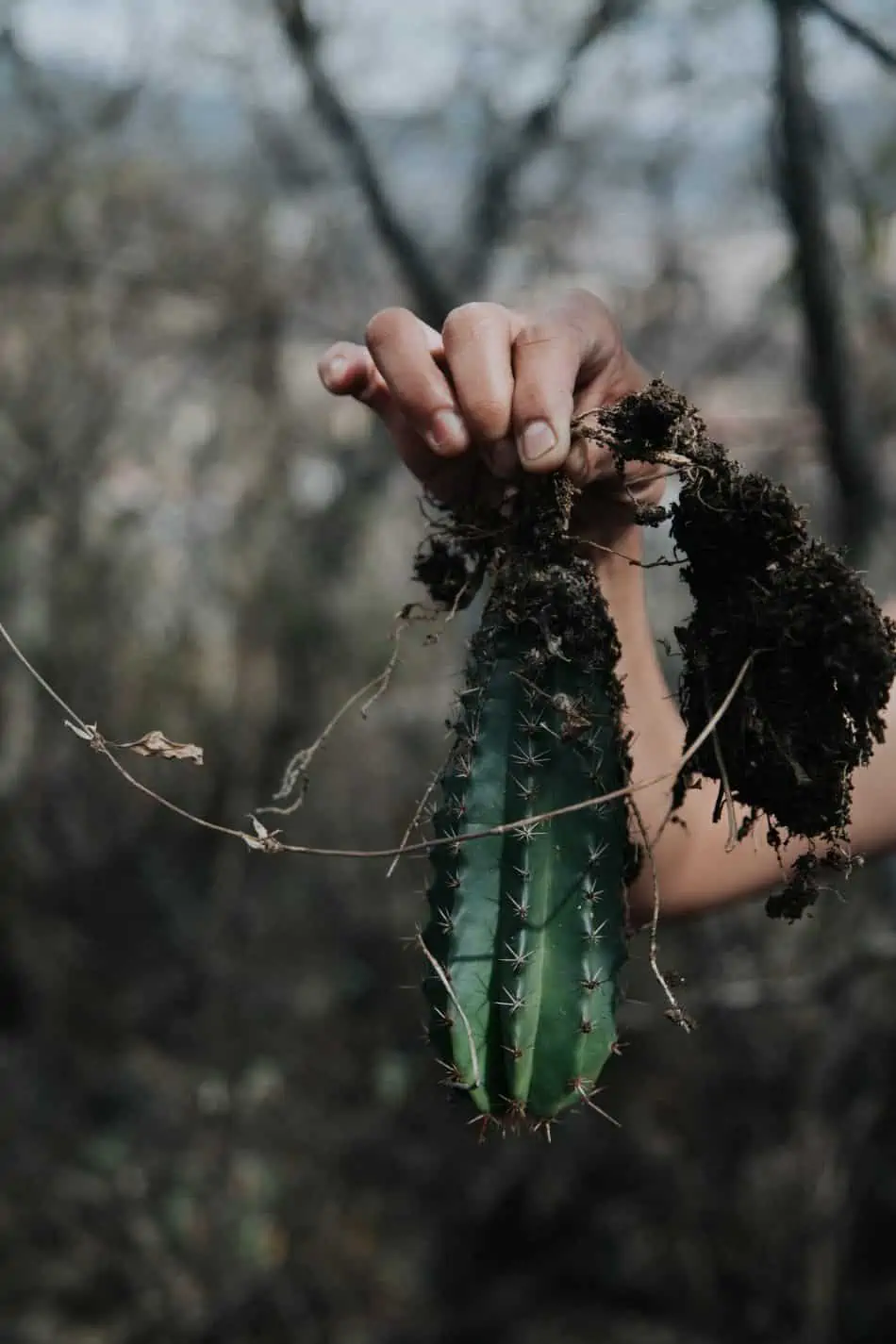 How Can You Protect Cactus Plants from Cold?
While some cacti species are quite tolerant of cold weather, others are not. If you live in an area prone to cold snaps, you can do a few things to protect your cactus plants from the cold.
First, bring any potted cacti indoors or into a garage or shed if the temperature is expected to dip below freezing. If you have cacti in your garden, you can cover them with a frost blanket or tarp to protect them from the cold.
Second, water your cacti well before the weather turns cold. Cacti plants store water in their fleshy stems and leaves, which helps to insulate them from the cold.
Finally, if you know that a cold snap is coming, you can try to acclimate your cactus plants to the colder temperatures by gradually exposing them to cooler temperatures over time.
The Bottom Line
Not all cacti plant species are the same. While others will survive in cold areas with temperatures as low as -20oF, others cannot tolerate anything below the freezing point. Success in growing cacti plants depends on your understanding of the temperature needs of your plant species.
Cold hardy cacti plants have developed specialized skills that help them to survive in extremely low temperatures. Even though some of the cacti species are tolerant to low temperatures, ice, and freezing rain can spell doom for your plants.
Remember that many cold-hardy cacti plants will only thrive if they are protected from severe weather conditions.

Last update on 2023-07-26 / Affiliate links / Images from Amazon Product Advertising API