The worst nightmare of every gardener is to see the plants they've worked so hard to care for slowly dying. One of the most common causes of plant deaths is root rot. Sometimes root rot can attack so carefully that you only realize it after it has done too much damage. To save the plants, you have to identify root rot and treat it before it affects the entire root system. But how does root rot look like?
While rot mostly attacks the roots, its effects are usually noticeable on the plant's upperparts. You might notice wilting stems, yellowing leaves, mushy stems, or wet potting mix. These signs are visible, and you don't have to pull off your plant from the soil to inspect it for rotting. But if you notice any of these signs, you'll have to consider un-potting the plant and checking the roots.
If you're wondering what rotting roots look like after un-potting your plant, this article is for you. Let's have a look at how to root rot looks like and what you can do about it. Here are answers to all the questions you might have concerning root rot.
What is Root Rot?
Root rot is a common condition that attacks plants from the roots causing them to decay and eventually die if not solved. Causes of root rot include fungi infection or lack of oxygen. Most of these causes occur from waterlogged soil, which causes the plant to suffocate.
The roots are the lifeblood of every plant, and if anything is not right, the whole plant suffers. Every plant needs oxygen for essential processes such as photosynthesis. Lack of oxygen prevents the root cells from producing a key molecule that saves and transports energy in cells. With time, the roots will start dying and will not uptake essential nutrients.
What Does Root Rot Look Like?
While you're likely to see signs of root rot on the stems or the leaves, sometimes that might not be the case. To be sure that your plant is suffering from root rot, you might have to inspect the roots themselves. Here are some of the things you're likely to come across when you encounter a rotting root.
A foul smell may not be a visible sign of root rot, but it's an obvious sign that all is not well with the roots. A healthy plant usually has an earthly smell. But when you notice that you can't stand the smell that comes from the roots when you un-pot your plant, that's root rot. Your rotting plant may emit a rotting eggy odor.
A healthy plant has creamy white roots, which are very firm. If you notice that the roots are rather soft and mushy, it's a good indication that you're dealing with root rot. The softness and mushiness of the roots occur from excessively soggy soil. This causes the fungal spores to multiply rapidly, causing the healthy portions of the root to turn brown and become mushy.
Roots Detached from the Plant
Sometimes the roots may be too affected that they easily fall off from the plant when you touch them. It's devastating to see the roots falling off the parent plant. This might be a sign that the rot has become so severe that there's very little you can do to save the plant.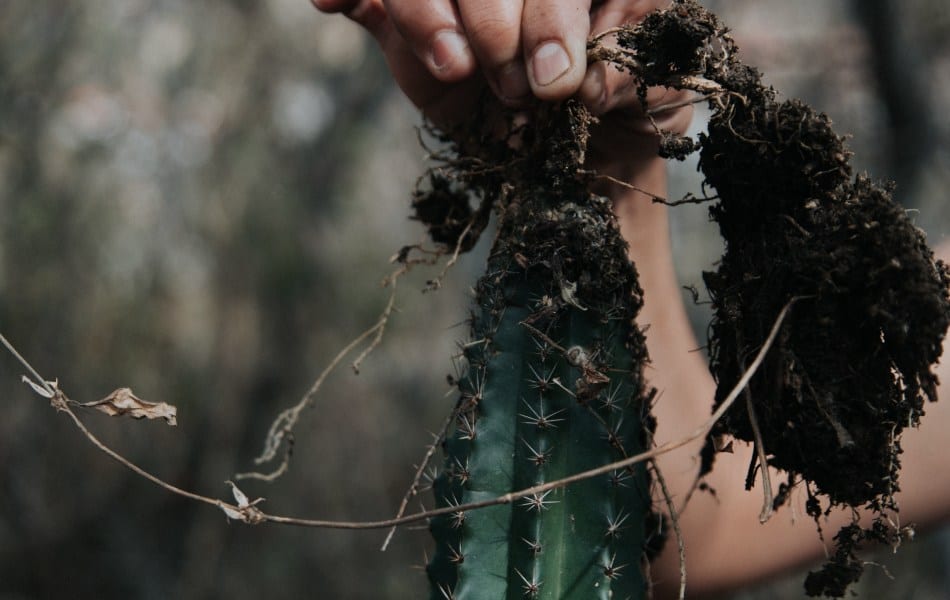 Other noticeable symptoms of root rot include;
Yellow leaves
Leaves falling off from the plant
Brown splotches on the leaves
Wilting stems or leaves
Unhealthy or malnourished plant
Black or brown roots
Stunted growth
What Do People Mistake Root Rot For?
When the roots start to rot and people see signs of a dying plant, the first thing that comes to mind is a lack of water or nutrients. Here are the two main things you're likely to mistake root rot for.
Many people think that the plant is turning yellow or not growing as it should because it lacks enough water. Sometimes you might think your plant is underwatered when in the real sense, it's overwatered. This can be confusing because the plant shows almost the same visual signs when underwatered or overwatered. An example of this is usually wilting leaves.
When you assume that your plant is wilting because it lacks enough water, the chances are that you'll begin to water it. You'll give the plant more water than it needs, which will further escalate the rotting problem. The plant will become waterlogged and suffocated. This will eventually cause its death.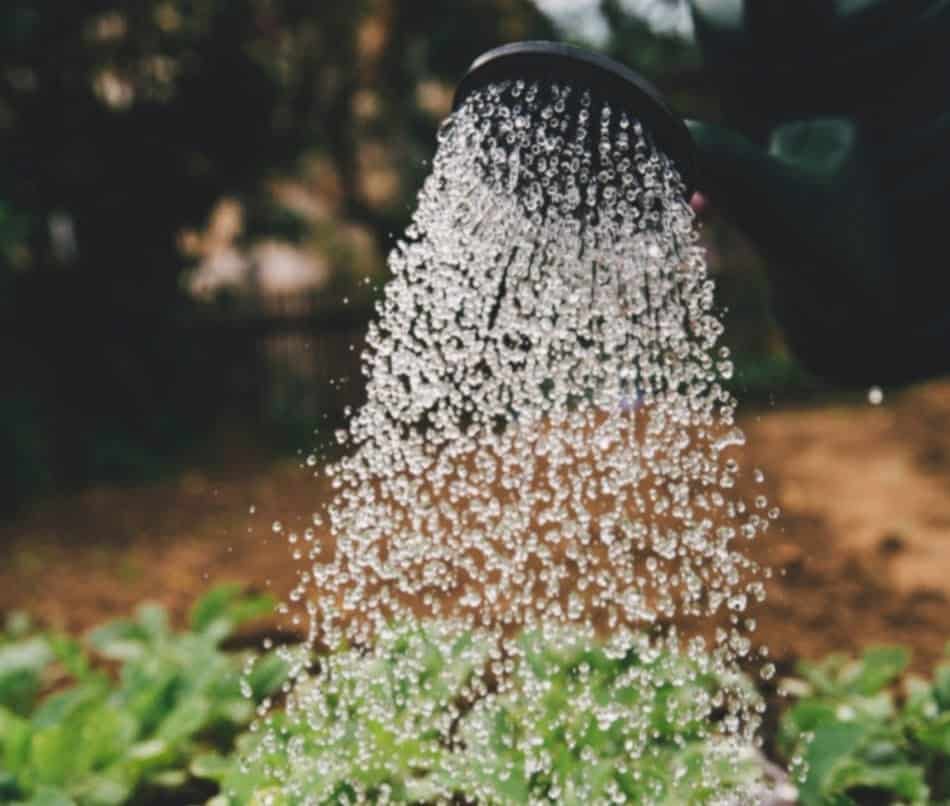 Other people mistake signs of root rot for nutrient deficiency. When the plant tends to have wet soil even with enough sunlight, and you can't see signs of pests, the first thing that comes to mind is lack of nutrients.
Mistaking root rot for lack of nutrients gives rise to another bigger problem altogether. You'll probably decide to give the plant a water-soluble fertilizer. And you'll mix water, soil, and fertilizers; hence, end up overdosing the plant. You'll add extra water on the soil that's already waterlogged. This means you'll wet the soil even further and escalate the rotting problem.
Causes of Root Rot
You'll only save your plant if you know the problem and the cause. Here are common causes of root rot that you'll likely come across.
One of the common causes of root rot is too much water. Plants have different water needs, and sometimes you might think it needs too much water when that's not the problem. Plants like cactus need very little watering. Sometimes you may think you're doing them good by watering when you're destroying them.
When the soil under your plants gets oversaturated, it will become a breeding ground for bacteria and fungi. Once you give fungi and bacteria some space to thrive, you won't be able to prevent root rot.
If you think overwatering is the only problem, then you're mistaken. Your plant can also suffer root rot when you don't give it enough water. When you stop watering your plant, the roots will begin to shrink and shrivel because of the dry soil. When you finally realize that the roots are so dry and decide to flood them with water eventually, you'll overwhelm the already fragile roots causing them to rot.
Poor soil drainage is when the water you give your plant only remains on the surface. When your pot lacks drainage holes, water won't escape, and you'll end up with too moist soil. This means that your plant will suffocate due to the lack of oxygen, which will cause the roots to rot. You should consider adding rocks and pebbles to the bottom of the pot to increase drainage. You should also avoid pots that have no holes.
If you're a gardener, you'll always think that your plant needs enough room. But using too big a pot is the worst mistake that can ever make. A big pot is one of the causes of root rot. Excess soil around your plant is the biggest source of problems. Those empty spaces between the soils can cause waterlogging, which will eventually invite bacteria.
Many plant species don't appreciate it when you plant them too deep. If the roots were to go deep, the plants would rather do that by themselves as they grow. Other plants need to root along the stems, and that means when you bury them deep in the soil, you'll be interfering with their growth. Ensure you check your plant's growing specifications so you don't lower its depth so much.
How to Deal with Root Rot
It's devastating to see that the plants you've worked so hard to tend to begin to rot and eventually die. But you must know that not every root rot leads to death. If you identify root rot early and the cause, chances are that you'll be able to save your plant.
If you can still see some white and firm roots in your plant, the chances are that you can still save it. You can bring your plant back to health by replanting it with good and fresh soil. But you can only replant and save your plant if not all of it has turned mushy. If the entire plant is mushy, it will be too late to save it.
For replanting to be successful and for you to save the plant, you should be careful with this process.  Make sure you get rid of all the parts of the root that have become mushy and brown. Use a sharp pair of scissors to do this. After removing the damaged parts, replant the plant within a few hours. After the process, dispose of the rotten parts and sterilize the scissors so that the fungi don't spread.
Summary
Identifying how to root rot looks like is the first step towards treating it. You should take immediate action when you notice that your plants are not growing as they should. The telltale signs of a sick plant include wilting stems and yellowing leaves.
Ensure you don't overwater underwater or give it improper drainage to protect the roots from rot. Act quickly so the rotting won't affect the plant too much to a point where you can't save it anymore. You don't want to wait until it's too late because this will mean losing all your hard work and precious plant.
Last update on 2023-07-26 / Affiliate links / Images from Amazon Product Advertising API