During the cold winter months, many gardeners believe their cacti plants only need a little amount of water- almost none at all. While this perception may be right in some cases, it can also be wrong. As a gardener, the last thing you want is your cactus plant to die due to dehydration.
Are you wondering how to water cactus in winter? During the low-light winter months, cacti should be watered only enough to prevent withering and shrinking. When watering your cactus, make sure you do it thoroughly. Water must flow through the drain holes and discard the excess after a few minutes. Avoid a series of repeated shallow sprinkling because it often results in distorted growth. However, you should always allow the soil to dry out completely between watering.
Understanding the water requirements of your cactus plant during different seasons is critical. Even though cacti are drought-resistant plants, they still need a sufficient supply of water to survive.
In this post, we discuss everything you need to know about watering your cactus in winter.
How Often Should You Water Cacti During Winter?
During the cold winter months, when cacti become dormant, it is usually advisable to water less frequently.
Consider watering your plant two to three times less often than during the summer. But, be careful not to dehydrate it.
Test and observe your plant to establish how much water it needs. Watch for signs in the stems and leaves that might show the plant is getting stressed due to lack of or excess moisture. We shall cover these signs later on in this post.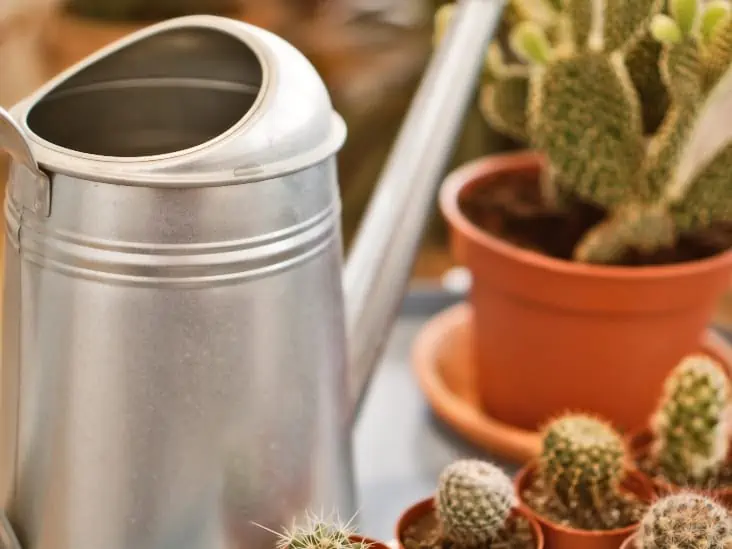 Most gardeners trying to grow cacti tend to suffer the greatest amount of plant losses during winter as a result of incorrect watering. Be careful not to be one of them.
While there is no simple recipe for advising on the exact amount of water or frequency of watering required during winter, there are many environmental and non-environmental factors that will determine your plant's water needs.
Factors that Influence How Often to Water Cactus in Winter
Your cacti plants will only thrive when they are watered sufficiently throughout the year. As mentioned earlier, these desert plants tend to grow best when they are watered sufficiently and left until the potting soil has completely dried up before watering again.
Some of the factors that affect how quickly your potting media will dry out include:
Size of cactus
You might be thinking that the larger the cactus, the more frequently it will need to be watered. However, that is not the case.
Younger and smaller cacti plants typically have higher growth rates and will require more water uptake compared to fully grown cacti plants.
The larger plants have a smaller surface area to volume ratio, which helps to lower the rate of evaporation of water from the surface of the plant.
Practically, you may need to provide a little bit more water to larger cacti plants during watering, but you will soon find that the smaller, faster-growing cactus plant planted in smaller pots require frequent watering.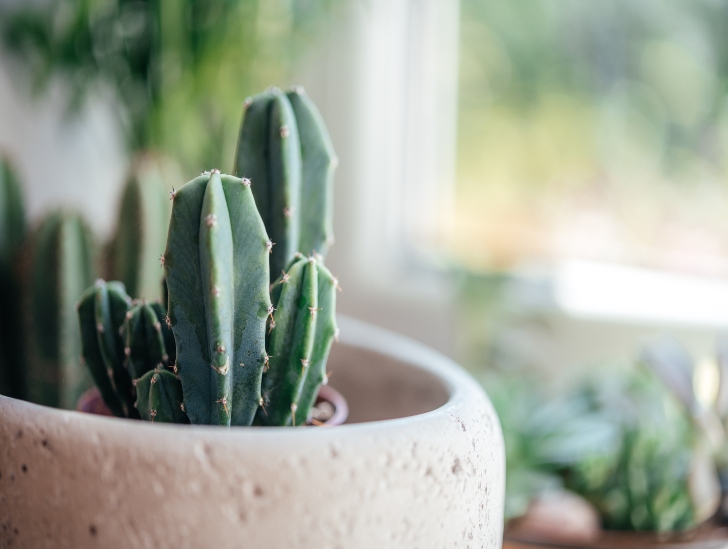 Species
The type of cacti species also affects how often you need to water your plant. One thing you need to keep in mind is that not all cacti are the same.
In fact, the term "cacti" is a short form for a specific plant family known as Cactaceae. The umbrella term encompasses different types of plants that live in different habitats and have varying needs.
Those from genus Ferocactus are the typical desert dwellers and require little amounts of water to survive. However, those from genus Echinopsis mostly found in South American and those from genus Oreocereus from high Andes Mountains need more water to survive.
To know the species of your cactus plant, be sure to look at the container it came in. Typically, there will be a tag or sticker somewhere on the container with the plant information.
You can also take it to your local nursery for identification. Once you know the exact plant species, it becomes easier to understand how often you need to water it.
Type of potting media
For better results with growing cacti, make sure your potting media is fast draining. You can either go for a commercial cactus mix or a simple DIY combination of coarse sand, potting soil, and perlite.
A well-draining cactus mix allows excess water to drain easily and the soil to dry quickly. Although this will mean that you need to water your plants more frequently, the results will also be much better.
Type of pot and drainage
For a cactus plant, the best strategy is to provide a lot of water and then leave the excess to drain rapidly, leaving the potting media dry and ready for another watering session.
While choosing your pot, avoid plastic pots because they trap a lot of moisture hence increasing the time it takes for the soil to dry out.
Terracotta pots are a good choice because they are porous and allow the excess water in the pot to slowly drain out through its walls and evaporate into the air.
This helps to reduce the time it takes for the soil to dry out. Conventional plant pots with lots of holes are also good.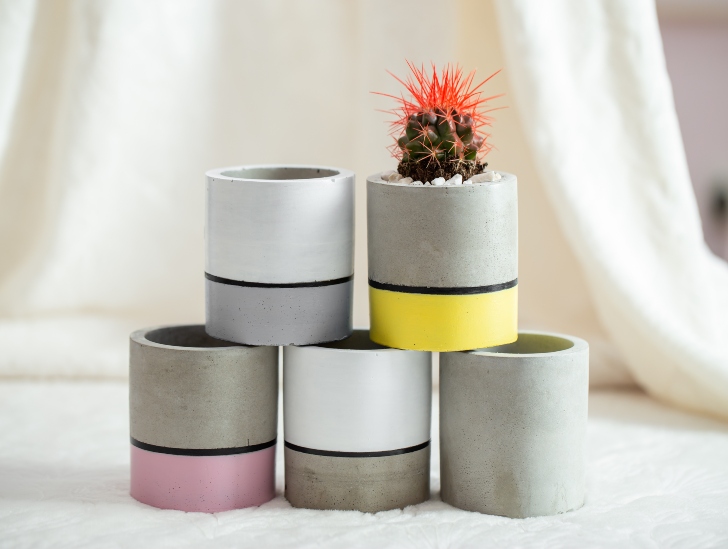 Humidity levels
The rate of evaporation tends to be higher in desert conditions. Wet cactus potting mix in dry areas will typically dry up faster because the air will have sufficient capacity to take up much more water.
Monitoring the humidity levels in your house is always a good idea when caring for your cacti and other indoor plants since it can help you predict water requirements for these plants.
Although natural succulents tend to do much better in arid conditions, you won't achieve success if you deny them water. However, as long as you monitor soil dryness and levels of humidity in your house, you can be sure of achieving great success.
How Do You Know Your Potting Soil Is Dry?
 It is quite easy to know when your cactus plant needs watering – whether in winter or summer. As a rule of thumb, the potting soil must completely dry out before watering. But, how can you check the soil at the bottom of your pot for dryness? Use any of these methods:
Push a skewer or stick gently into the potting mix right up to the bottom. Leave it for a few seconds before you remove it. If the skewer or stick feels or looks damp, then leave the plant for a while before watering.
Carefully poke one of your fingers into one of the drainage holes at the bottom of your pot to feel the amount of moisture. If the soil feels dry, then it is time to water your plants.
You can also use your finger to poke into the top few inches of your potting mix. If the soil feels dry up to a few inches down, then consider watering your plant. If the soil is still wet and clings to your finger, you can wait for a little longer before you add more water.
How to Water Cactus in Winter- Signs of an Under-Watered Cactus
An under-watered cactus will show signs of distress. The best way to tell whether your cactus is thirsty is by the overall appearance of its leaves.
If your plant has wrinkly or shriveled up leaves, it could be an indicator that it is under-watered. You may also notice plenty of dried up, brown, or dead leaves from the bottom of the plant.
Typically, as the plant starts losing its water storage, it is the bottom leaves that will start drying up first.
If the leaves feel soft and flat when touched, it could also be an indicator of under-watering. The leaves tend to lose their plumpness and firmness when a cactus plant is under-watered.
Luckily, you don't have to panic when you notice signs of under-watering in your cactus plant. Under-watering is usually far less harmful than overwatering.
If your plant is showing signs of under-watering, you can simply correct the problem by thoroughly watering the plant as soon as possible. The plant should rejuvenate fairly quickly and bounce back to its former state.
How to Water Cactus in Winter- Signs of an Overwatered Cactus
Overwatering a cactus plant is much more dangerous than under-watering it. When a cactus plants absorb too much water, it literally runs out of storage space, which can cause its cell walls to rupture.
A cactus plant with ruptured cell walls will feel mushy when you gently press or squeeze it. This is the most significant difference between an overwatered and under-watered cactus plan; the mushiness.
The other signs of an overwatered cactus include:
The base of the plant will start turning black or brown
The cactus leaves and stems will start changing color to black or brown
The plant will start to appear as if it is decaying or rotting
The cactus becomes mushy and may start leaking
Summary
Learning how to water your cacti plants in winter can take a little bit of trial and error. Watching for obvious signs of distress or overwatering can be an essential part of being a successful cactus plant gardener.
The most important thing to remember is to monitor your plant's potting mix throughout winter to know when it needs watering. Once you develop the techniques of being able to understand when your cactus needs watering, everything falls into place, and your cacti will start to thrive.

Last update on 2022-12-23 / Affiliate links / Images from Amazon Product Advertising API