Most of us probably know a cactus as a thorny green plant that grows in the desert. While that may be true, there is still much more to learn about these succulents and how they survive. Cacti plants have special features that allow them to adapt quite well to harsh environmental conditions. They usually store water in their stems, roots, and even leaves and live for up to one year without rain.
So, what are cacti made of? Almost all plants in the family Cactaceae have unique features that allow them to survive in relatively dry climates. Much of its body makes up the stem that stores and transports water to other parts of the plants. The plant has thorny spines designed to protect it, capture water, and regulate its temperature. It also has a relatively broad root system for maximum water absorption whenever it rains. Some cacti plants have flowers and fruits.
Read on to find out everything you need to know about these amazing succulents.
How Does a Cactus Plant Look Like?
There are approximately 2000 different types of cacti species that come in different sizes, shapes, and even colors. While green is the most common cacti color, we have some that are brown-green or bluish.
Some cacti plants are round, while others are literally flat like a pancake. Some are shaped like a starfish, while others are pretty long like snakes.
A cactus plant can be small or big depending on its species. In fact, the largest type of cactus can grow up to 66 feet tall and weigh up to 4600 pounds. That weight is an equivalent of a fully loaded truck!
Although most of us think that all cacti plants are ugly, the truth is quite different. Most cacti species are covered in thorny spines, but most of them also grow big, beautiful flowers during specific times of the year.
Cactus flowers can be blue, orange, yellow, white, or red. Some cacti plants bloom for only one day, while others put on the show for several weeks. Many of the flowers are nocturnal, meaning they only bloom at night.
The spikes on a cactus plant are known as spines and serve as leaves. These spines limit water loss through the process of evaporation, helping the plant survive in harsh climatic conditions. They also protect the plant from desert animals and birds.
What Makes Up a Cactus Plant?
Now that you understand how a cactus plant looks like, let us discuss some of the unique features of these succulents:
1. Corona
Corona is the highest part of a cactus plant. It is usually covered in spines and often has a purple tinge.
The corona is the most vulnerable part of the plant since it is where the flowers and fruits form, so it's important to protect this area while gardening.
Corona connects directly to the plant's vascular system and is responsible for transporting water to all parts of the cactus. It also supports photosynthesis and temperature regulation.
2. Stems
The leafless, spiny stem is a unique feature found on a majority of cacti plants. The stem is succulent, making it more adapted to storing water. Its surface may be smooth or covered with slight bumps known as tubercles.
The tubercles vary in size and are more prominent among cacti plants found in the genus Mammillaria. The stem may also be fluted or ribbed in shape. The prominence of ribs usually depends on how much water the stem is storing.
When the stem is full of water, the ribs are invisible since the stem is swollen. However, when the cactus plant is short of water, the stem shrinks and the ribs become more visible.
The stems of most cacti plants are green, brownish-green, or bluish since they contain chlorophyll used in the process of photosynthesis. They also have stomata that allow the passage of gases in and out of the plant. Some cacti stems are visibly waxy.
3. Ribs
Ribs are ridges found on cactus stems. Their primary function is to increase the surface area of the stem, allowing it to store more water during wet seasons and shrink when dry.
When there's a lack of water, the ribs become very pronounced due to the shrinking of the stem tissues. The prominence of ribs also varies depending on how much water is stored in the stem.
Cactus plants with short ribs are more adapted to surviving in dry climates, while those with long ribs are more suitable for wetter climates. The number of ribs also varies between species and is usually used for identification.
4. Spines
Most cacti plants have thorny spikes modified into spines. The primary functions of the spines are to protect the plant, regulate its temperature, and store water.
The spines usually grow from the center and edges of the rounded areoles. The central spines capture rainwater and direct it towards the roots for absorption. They also keep desert animals at bay.
However, the relatively thin, white, and radial spines that originate from the outside of the areolas are specifically designed to reflect and absorb sunlight. Cacti species with few or no spines at all, such as the Christmas cactus, tend to produce toxic chemicals as their primary defense mechanism.
The spines are also used for identification since they vary between color, size, number, hardness, and even shape. Most of them are straight or slightly curved and are usually described as needle-like, hair-like, or bristle-like, depending on their length and thickness.
Some cacti species have flattened spines, while others have hooked spines. Members of Opuntioideae tend to have relatively short spines known as glochids. The spines are barbed along their length and can shed quite easily.
5. Areoles
Areoles are unique to cacti plants. They typically appear as hairy or woolly areas on parts of the stems where spines grow. Cacti flowers also grow from areoles.
In the genus Leuenbergeria, the areoles grow on the axis of leaves. In a leafless cactus plant, the areoles sprout on specific areas on the stem where the leaf bases would have been.
Areoles are basically specialized and condensed branches or shoots. In a normal shoot, the nodes bearing flowers or leaves would be separated by the length of the stem. However, in areoles, the nodes are pretty close to each other, forming one structure.
The areole may be stretched into a relatively oval or circular shape. In some cases, it will be separated into two parts that are visibly connected in some way.
The part near the top of the stem will generally produce spines, while the other one will produce spines.
In most cacti species, the areoles only produce new flowers and spines only for a few years before it becomes inactive. This is the reason why some cacti plants have a fixed number of spines, with the flowers only being formed from the ends of the stems.
6. Roots
Most cacti plants have a broad and shallow root system that is fully designed to ensure efficient water absorption whenever it rains. The roots are located close to the surface to absorb as much rainwater as possible.
Keep in mind that most deserts only experience light showers. Therefore, the rainwater cannot penetrate the deeper layers of soil.
The broad root system also protects these succulents from wind damage in the dry and loose desert soils.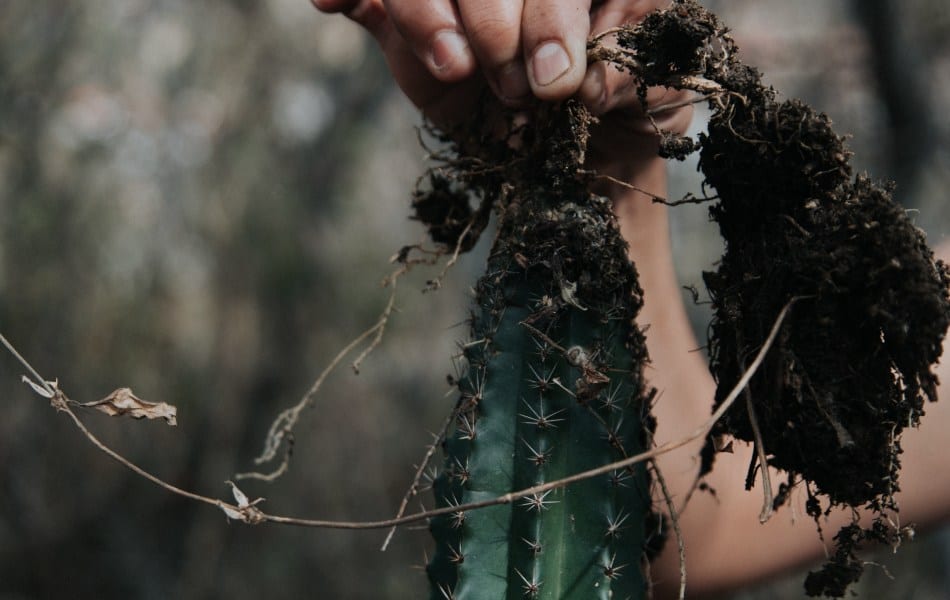 During the rainy season, cacti plants develop a dense root system to facilitate maximum water absorption. However, most of the roots are only temporary and die after the rainy season.
The large cacti species with a tall stem, such as the Saguaro, often develop a central taproot to provide further anchorage. The taproot also penetrates deep into the soil to access the water stored underground.
7. Flowers
Just like the spines, cacti flowers tend to vary greatly. The flower's ovary is usually surrounded by a material derived from the stem tissue forming a unique structure known as pericarpel.
Different cacti species have different flowering seasons. For instance, most desert cacti species will flower during spring, but the Christmas cactus will bloom during winter (around Christmas time).
The flowers have many stamens but only one style, which may branch into more than one stigma. The stamens arise from all over the inner surface of the flower, although some cacti flowers produce stamens in more specific areas inside the floral tube.
The flower is usually radially symmetrical, but some cacti species produce bilaterally symmetrical flowers. As mentioned earlier, the flower colors vary significantly from red to pink, white, orange, and magenta.
8. Seeds and Fruits
When flowers are pollinated, they form fruits. Depending on the species, the fruit derived from a cacti flower will be either fleshy or dry.
The fleshy fruits may contain up to 2000 seeds each, while the dry ones have only a few hundred seeds. The seeds are very small and usually found embedded in the pulp of their mother plant's fruits.
In some cacti species, the fruits may be edible. However, others are known to be toxic and should not be consumed without first consulting a professional. The prickly pear (Opuntia ficus-indica) is the most popular edible cacti fruit.
It has a sweet taste and can be used in all sorts of dishes. Dried fruits are also used to make a type of sweet confectionery called cactus candy.
The Cactus Life Cycle
All cacti plants reproduce. A typical cactus flower will have male and female parts. The male part produces pollen, while the female part contains an egg.
Insects, birds, and bats are usually attracted to the flowers' beautiful colors and sweet scent. While feeding, they transfer the pollen grains from the male part of the flower to the female part through pollination.
If the pollination is successful, the flower turns into a fruit. The cactus fruit is a flesh berry containing many seeds. When birds or insects feed on the fruit, the fleshy part is digested, but the seeds remain intact.
The seeds are then scattered far away from the main plant in the form of bird droppings. Wind and rain can also scatter the seeds.
A typical cactus plant produces up to one million seeds, but only one or two seeds live to become new plants. Some cacti species can reproduce without flowers and seeds.
For instance, both the cholla and prickly pear cacti species have relatively weak stem joints. When the stem breaks off from the main plant, it sometimes grows in the soil and develops into a new plant.
Most cacti plants are slow growers. Sometimes, it can take up to one or two years for them to grow into one inch. However, older plants tend to increase by three or four inches every year. These plants can live for up to 200 years.
Final Thought
Cacti plants are fascinating and highly adaptive succulents with many unique features that allow them to survive in harsh conditions.
From the structure of their stems and spines to their broad root system and showy flowers, they have a lot of interesting and useful features that make them stand out from other plants.
They are also valuable food sources and can be used for medicinal purposes or garden decoration.
Last update on 2023-07-26 / Affiliate links / Images from Amazon Product Advertising API