Lots of people buy cacti because they think it will be a great plant to freshen up their home that requires little to no maintenance. However, after several attempts to keep a cactus living, I have realized that cacti still require care and, more importantly, the proper placement.
Can cactus grow in shade? There are some cacti that thrive in low light, but most cacti need light. In fact, the best place to keep a cactus indoors is somewhere where it can get at least 4 hours of light. Cacti need to be in the sun or bright, indirect light. Windowsills facing the south or east are usually the best indoor locations for a cactus.
As a desert plant, cacti need plenty of light. However, the amount of light each cactus needs depends on its type. Doing some research on your specific type of cactus may be beneficial. In this article, we will try to help you understand how much light your cactus needs.
How Much Light Does an Indoor Cactus Need?
As a general rule of thumb, cacti do best when they can get at least four hours of sunlight a day. If your cactus is a flowering cactus, you may want to give it more sunlight during the growing season, which is usually March through September, to encourage flowering.
It is recommended that you place your cactus in windowsills facing the south or east because those directions get the most direct sunlight. If your cactus is a fresh cut or has just been transplanted into a new pot, wait one to two weeks before putting it in a location with direct sunlight so not to damage its new growth.
If there is not an area in your home where your cactus can receive this much sunlight every day, you can supplement natural light with an artificial grow light. If you choose to use an artificial grow light, leave it on for 10-14 hours a day, depending on the time a year and how much natural sunlight reaches it in the location you have chosen for it.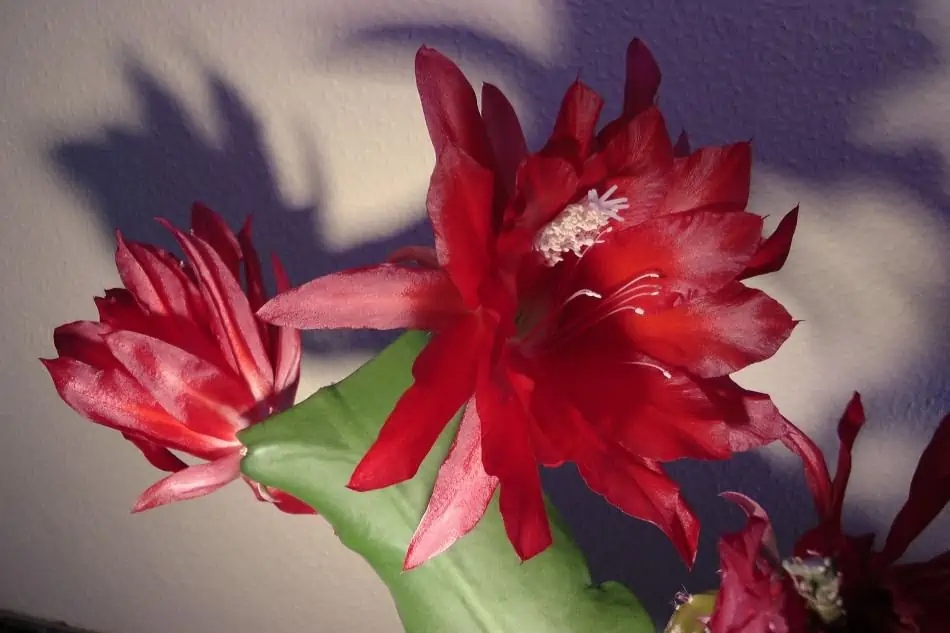 To find the best spot for your cactus to receive light, take note of what areas in your home receive the most sun and for how long. You may find there is a sunny location in your home that is not in the south or east after you take note of the sunlight coming into different locations at different hours of the day.
Monitoring your cactus after you have put it in one of these locations will tell you all you need to know about whether it is a good location to leave it or not. You will easily be able to tell if the cactus is receiving too little or too much light by regularly checking the condition of its stems and leaves over time.
When growing a cactus indoors, it needs:
4 hours of direct sunlight a day
A windowsill facing south or east
Time to get adjusted to its new home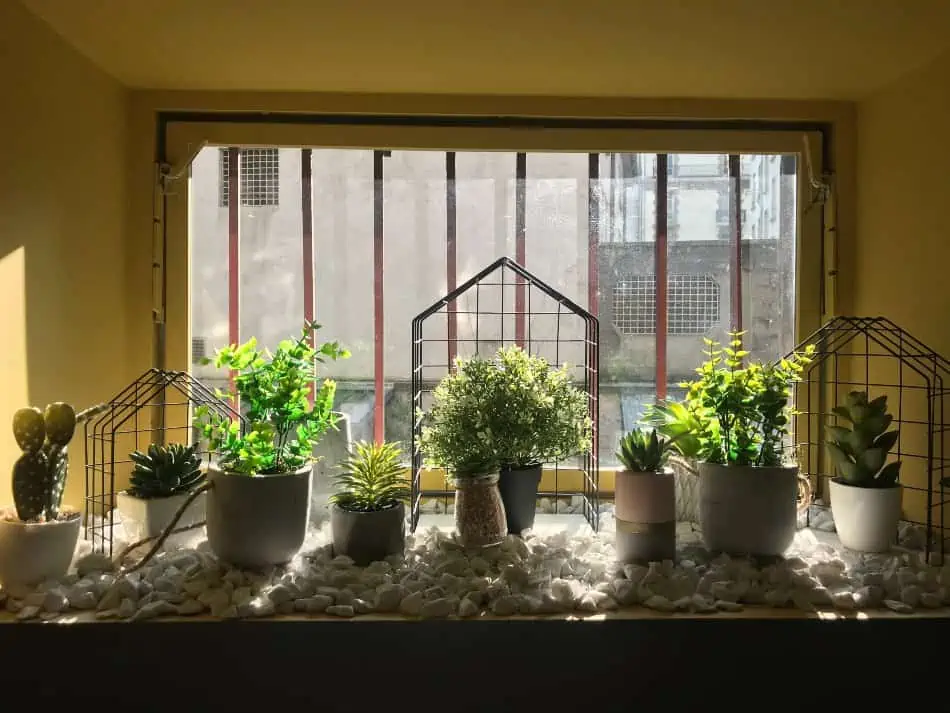 How Do You Know if a Cactus Needs More Light?
If your cactus is not getting enough light, it will start to stretch in the direction the light is coming from. This is known as etiolation. For instance, if a cactus is planted in the center of the pot and it begins to experience etiolation, you will notice it stretching away from the center. If this happens, try finding a spot that receives more light for your cactus. While your cactus can recover from not having enough light for a period of time, if your cactus experiences etiolation, the growth pattern it develops is permanent unless you prune it or clip it off.
You may also notice your cactus growing more on one side than the other. This just means one side of your cactus is getting more light than the other. Rotating your cactus regularly can prevent this and promotes more well-rounded growth all over the plant.
Your cactus may also experience thinning of the top growth if it is not getting enough light. If you move your cactus to a location where it receives more light, do so slowly over several days to introduce it to its new home and prevent scorching.
Other signs of your cactus not getting enough light is discoloration, fading colors, and root rot where the soil stays wet for too long. Cacti have a deep green color when they are healthy. Unhealthy cacti will fade to a pale green color.
If a cactus needs more light, signs include:
Etiolation
Thinning of top growth
Discoloration or fading
How Do You Know if a Cactus Needs Less Light?
As you may already know, cacti love light. However, too much light or rather, too much heat from sunlight, can damage your plant.
If your cactus is getting too much light, it will start to change colors. It will look bleached, or even turn shades of yellow or orange. It may even get sunburnt. This typically happens if your cactus is in a window with too much direct sun exposure or if you introduce the cactus to more light too fast.
Sunburn on a cactus looks brown or calloused. It will also look rougher than the rest of the plant. The damage done to sunburnt cacti is permanent, but the leaves or stems that are sunburnt can be pruned and removed. If this happens to your cactus, move it to a location where it gets less light or receives more indirect sun exposure.
If you do choose to move the location of your cactus, especially if you are moving it to an area where it gets more light, allow it plenty of time to become adjusted to the new light. Do this by slowing moving your cactus closer to the light source over a period of a few weeks.
If a cactus needs less light, signs include:
Can Cactus Grow in Bathroom?
Yes! You can grow a cactus in the bathroom! The bathroom is actually a great place to keep a cactus because they can draw in moisture from the air as needed. However, as with growing any cactus, make sure it has ample light.
If your bathroom is south or east facing, or has windows with ample sunlight, you will definitely be safe placing your cactus in your bathroom. However, if your bathroom does not get ample sunlight, you may want to consider using an artificial light or choosing a cactus that thrives in low light.
While cacti are known as a desert plant that enjoys hot and dry environment, there are actually some cacti that thrive when placed in a bathroom with low light and high humidity. Those types of cacti include orchid cacti, mistletoe cacti, and more. Some research on your specific type of cactus and its light, water, and environment requirements would help make sure that it will thrive in your bathroom.
There are also many different places you can put your cactus in the bathroom. While the amount of light is the most important aspect in finding a place to put your cactus, you are not limited to just the window sill. You can place a cactus on a shelf or on your countertop, on the back of your toilet, or even hanging by the window. The possibilities are endless!
Adding any kind of greenery or foliage to your bathroom can actually be beneficial. They can improve air quality by removing pollutants, boost your energy, and improve your mental health. Not to mention, when you put a plant in a humid bathroom, they absorb the extra moisture in the air which helps it grow. It's good news for anyone who tends to forget about watering their plants!
Related Questions
Other than plenty of sunlight, what does my cactus need to thrive? Water. While your cactus doesn't need a lot of water, it still needs some to survive. A good rule of thumb is to water your cactus when the soil seems dry. Water your cactus thoroughly and if it soaks up the water fast, dowse it one more time. Usually, Cacti need water at least once a week.
If your cactus is not getting enough water, the leaves will begin to pucker, shrivel, and become discolored. If your cactus has been watered too much, it will feel mushy, begin to brown, or experience root rot.
Does the temperature of my home affect my cactus? Yes. Cool temperatures can lead to water being absorbed slower and it sitting in the pot much longer which could lead to root rot. As temperatures change, make sure you are checking the soil before you water your cactus and do not water it unless the soil is dry. You may only need to water your cactus once a month if it is in a cool environment.
Hot temperatures can affect cacti, as well. While they are desert plants that thrive in hot environments, hot temperatures mean the water will dry up much quicker. If the temperature in your home is on the warm side, you may need to water your cactus more than once a week. A high temperature, especially for a cactus sitting in a window, can also lead to burning.
Last update on 2023-07-26 / Affiliate links / Images from Amazon Product Advertising API