Gardening can be either a hit or a miss for some people, especially if they have little to no experience. Many may feel that they need a green thumb to start a garden successfully. Although some plants can be much easier to grow, others require a bit more love. The Mammillaria Cactus is no exception. This type of cacti is simple by nature; however, it requires a bit of extra attention to properly grow one.
To successfully grow a Mammillaria Cactus, you need to use proper lighting, give the plant the right amount of water, pay attention to the temperature, and, most importantly, be extremely observant and check for any signs of rotting.
You do not need a green thumb to grow a plant; however, every bit of useful information helps you achieve maximum results. So, if you're considering planting a Mammillaria Cactus in the near future, then this is the perfect article for you.
Growing a Mammillaria Cactus
Since you are thinking about growing a Mammillaria Cactus, you'll need to make sure that you have the right tools to successfully grow your cactus.
Think of gardening like following a recipe for a new dish: you want to have everything prepared, and you want to make sure you are not missing any key ingredients, but most importantly, you need to follow all the steps.
Here is your step by step guide for growing a mammillaria cactus.
What You'll Need ?
The first step to growing your Mammillaria Cactus is buying all the materials that you will need.
It is important to note that this may become quite expensive down the line. Nevertheless, if you want to have great results, you'll need to make a good investment. Here are just a few key items that you'll need.
Soil comes first. One of the most important components of gardening is the soil. Think of it as your plant's foundation.
You'll want to make sure that you purchase a cacti mix. Since cacti do not require many nutrients, you will need to make sure that you do not buy soil that includes built-in fertilizer. One of the best brands for cactus soil is Repotme, which is available for sale on Amazon for $19.95. 
When you go out to buy your pot, you'll want to make sure that it is a small pot with large drainage holes in order to prevent overwatering your cactus.
Fertilizer is also key. This is not your typical fertilizer. It is important that you take note of this before you go out and buy your supplies.
You'll need to purchase a water-soluble fertilizer for your plant's food since it is high in phosphorus and low in nitrogen, which is useful for cacti. Cactus Juice is a great water-soluble fertilizer which is perfect for cacti and is available for sale on Amazon.
Now it's time for you to put all of those items to use and begin growing your cactus. Remember, this is a step-by-step process, and there is no skipping or rushing it. This will ultimately determine your plant's success.
With these key components in place, you'll be one step closer to growing the perfect Mammillaria Cactus.
Steps of Growing a Mammillaria Cactus
Growing cactus is not as difficult as most people may come to think, and you can get this project off the ground in a few simple steps.
Luckily for you, the most difficult part of this entire process is purchasing the materials. Since we just went through those items, you already have an idea of what you need.
Here's what you need to do to get the process going:
Prepare your soil. As mentioned before, you'll need to use the right soil. In most gardening cases, you'll need to have gone the extra mile to prepare your soil, but because you've purchased the cactus mix, it's ready for you to start planting.
Add your soil to your container. You'll need a shallow container for this step and something that is not permeable because you don't want gases or liquids getting through the surface. A plastic container may be sufficient.
This container is solely used for the beginning of the process to ensure that your seeds grow properly.
Plant your cactus seed into the soil. When it comes to cacti, there are two ways you can go about planting. You can either use cactus seeds or plant a seed from a cactus pod that will require you to already have a cactus on hand and requires more labor.
Either way, both methods of planting work very well.
Seal your container. Once your seed has been planted, you'll need to put a tight transparent lid over your pot. Saran wrap is more than sufficient for this step.
Once you have covered your container with saran wrap, you'll need to place the container in direct sunlight.
The saran wrap will allow your pot to retain moisture. At this point, it may take several weeks for you to see any sprouting take place.
Now that you have planted your seeds, you will be responsible for taking care of your cactus so that it does not die on your watch.
One of the leading reasons for plants dying is due to lack of care, or doing way too much to the plant, and not allowing it to grow naturally.
Mammillaria Cactus Care
So after you have let a few weeks pass, you're probably wondering what happens next.
You should already be seeing your cactus spines beginning to peak out of the soil by this point. The weeks following your cactus spines beginning to peak are absolutely vital. So, here are some tips you can follow to make sure that your cactus gets quality care.
Uncover your cactus during the day. Since the spines are beginning to peek through the soil, you'll need to make sure that your cactus has some time to breathe.
To do this, you'll need to remove the saran wrap during the day. As your cactus continues to grow, you'll find yourself leaving your cactus uncovered for longer periods of time.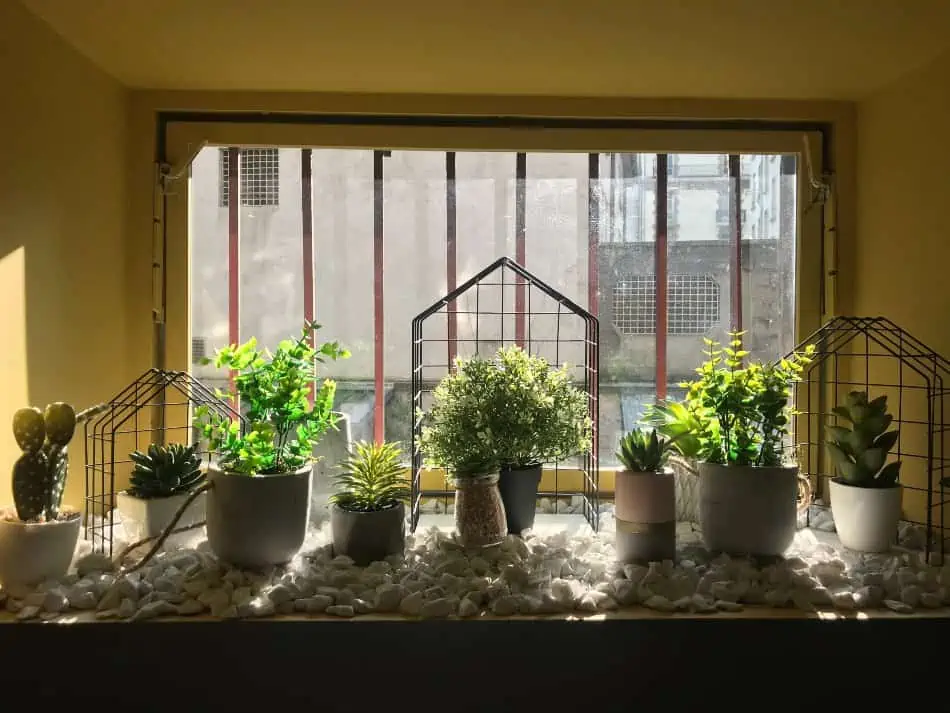 Repot your cactus. Now that you have an actual cactus growing, it's time to remove it from the container where you planted your seedling and add it to your perfectly sized, specially chosen pot.
Make sure you wear gloves and cover your surface with a sheet because this step can be quite messy. Once you have placed your cactus in its new soil and pot, you may want to let it recover in the shade for a while, and then, over the next few weeks, gradually put it back into the sun.
Do not overwater. There's a reason why cacti survive in the desert and require little water. Believe it or not, a sprinkle of water is enough to make sure that your cactus gets sufficient water and stays hydrated.
A cactus can retain a lot of water, so it does not require constant watering, which is why it's also a perfect plant for beginner gardeners.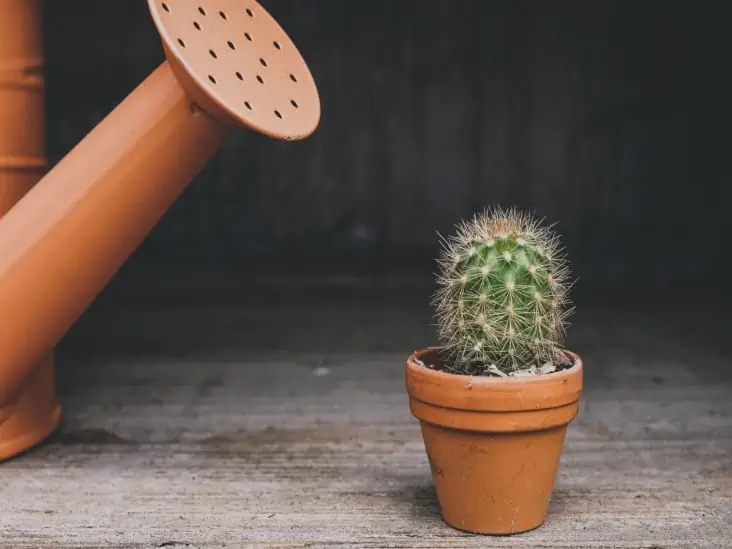 If you are not sure when it is the right time to water a cactus, a great tip is to allow the soil to completely dry out before adding more water, so make sure you keep a close eye on the soil when checking for moisture.
Fertilize while it's still young. You want to make sure that you use your liquid fertilizer when your cactus is still in its beginning stages of the growing process. Make sure that you follow the instructions on the packaging to make sure that you properly fertilize your cactus.
It is important to note that adding too much fertilizer to your cactus may actually prevent the cactus from flowering.
With these tips, you'll be able to properly take care of your cactus without having to worry about whether or not you are doing things correctly. Remember always to follow instructions on your care materials when caring for your cactus.
Preventative Measures
Like any gardening process, there may be a point where you'll run into problems, and you'll need to make sure that you address those problems immediately to prevent any further issues down the line.
Here are a few common problems that come with cactus and how you can address those issues.
Overwatering leads to rotting. Believe it or not, you can actually cause your cactus to rot by overwatering it. Once it starts, the rot will eventually spread and end up killing the cactus.
In order to prevent the spread of rot, you'll need to remove the rotting piece of the cactus. You can detect rotting if your cactus appears to be a brownish color and begins to soften.
If your cactus looks pale, then it needs some sun. The pale color of a cactus is known as etiolation, and a lack of sunlight causes it. However, do not leave it in the sun for long periods of time. You'll need to put it in the sunlight to prevent further damage gradually.
Remember, cacti are desert plants, so being in the sun is actually a good thing, do not feel the need to deprive them of sunlight because you think that they might get overheated.
With these things in mind, you'll be able to tackle any problem that comes along with the responsibilities of growing a cactus. It's all about following directions and preparing yourself for any worst-case scenario.
With the above tips, you'll be able to put yourself ahead of a problem instead of having to scramble to find a solution.
Tips For Beginners
If you're reading this article, you are likely a beginner in cactus growing, which means that this section is super useful to you!
The tips in this section will give you an extra boost to help you properly grow your cactus like an expert.
Go the less expensive route first. The worst thing that can possibly happen to you is that you throw your money down the drain. Although gardening is a big investment, you may want to consider purchasing a less expensive cactus to make sure that you get the hang of caring for a cactus.
Purchasing a succulent might be your best option since they require little care and provide for easy practice.
Keep a constant eye on your cactus. Growing cactus is all about patience, but it also involves keeping a watchful eye and observing any issues that may arise. As mentioned before, you can take some preventative measures by keeping a watchful eye.
Keep the pests away! Pests can cause big concern for your cactus and may bring along problems; however, it's best to stay away from harsh chemicals that can actually harm the cactus. According to When in Manila, a great natural pesticide that you can use is combining some dish soap, vinegar, and water into a spray bottle and spraying it on your plant.
Sometimes going natural is so much better than having to spend money on harsh chemicals that may actually cause harm to your cactus. Also, the ingredients are already in your home!
Make sure soil is dry before repotting. At some point, you'll need to repot a cactus, which is a very important step in the growing process.
When you finally reach the repotting step, you'll need to make sure that the soil is completely dry when removing it. While you have the cactus in your hands, you'll want to check for any dead roots and cut them immediately.
Also, after repotting, make sure that you do not water the cactus for at least a week.
By following the tips in this section, you'll be able to grow a beautiful cactus without having to worry about any issues. The tips are intended to be extremely useful for beginners and will gradually turn you from a first-timer to an expert in no time!
The Mammillaria Cactus
The Mammillaria Cactus, known as the pincushion cactus, is very common in the South West region of the United States and can also be found in parts of the Caribbean. Although these cacti are common in those particular regions, it does not mean that you will be restricted from growing them in your home. They'll just require some extra attention.
You'll know that you've come across a Mammillaria Cactus because the cactus's spines will be either straight or hooked. In addition, there will be small flowers sticking out of the cactus, and they will form a crown across the top, the colors of the flowers will vary.
According to Gardening Know How there are about 250 species in the Mammillaria Cactus family. Although the pincushion cactus is much more common, there are other types of cacti in the Mammillaria family that you may want to consider planting. Here are a few additional members of the Mammillaria family.
Mammillaria Bocasana: This cactus is also known as the Powder Puff Cactus. Although this is a cactus, there is a fuzzy white substance that grows out of the cactus. The flowers on this particular cactus are often white or yellow.
Mammillaria Plumosa: Also known as the Feather Cactus, the stems on this cactus are completely covered in a white substance almost like a feather. The flowers on this cactus are usually white and yellow, pretty similar to daisies.
Mammillaria Elongata: This cactus is quite interesting due to its structure, which is how it got its nickname, the Lady Finger Cactus. This cactus is very clustered with cylindrical stems, like a cluster of ladyfingers. The spines of the Mammillaria Elongata Cactus are usually a golden yellow color, sometimes even a brownish color.
Although these different cacti forms will vary in shape and size, the attention that goes into growing them will be roughly the same across the board. Growing cacti properly from seeds can be quite complex, so you want to make sure that you follow all the necessary guidelines when you are starting the process.
Final Thoughts
By properly following the instructions and purchasing the right items, you will be on the verge of growing a beautiful mammillaria cactus. Simply by following the tips and tricks in this article, you'll be one step closer to becoming an expert, and will have enough confidence to grow an entire field of cacti.
When going through the growing process, you'll slowly begin to notice that growing cactus is much more simple than you may have originally thought.
Remember, it's almost like following a recipe. And if you follow each step correctly, you'll have a successful experience in cactus growing!
Last update on 2023-07-26 / Affiliate links / Images from Amazon Product Advertising API