The time a cactus takes to grow from seed depends on the species and the climate. Cactus seedlings are quite sensitive, and they continuously need protection from direct sunlight. If possible, keep them indoors then introduce them to the outdoors slowly.
How long does a seed take to germinate?
The seed germination time depends mostly on the species and where you are growing your cactus. When you choose to grow your cactus indoors, they are more likely to germinate fast. Indoors are a more controlled environment, and seed germination can take between three months and several months.
On the other hands, if you decide to grow your seeds outside, they take years to germinate. Here, cacti will have to wait for the ideal moisture and temperature for them to grow unlike indoors where you have the option of placing them in a light shade windowsill.
Cactus seedlings need proper care and protection. They need sun protection for the first few years until they are about 3 inches long. Placing them indoors or in a shaded place is the best way to help in seed germination.
When they are about 1 inch long, you can start introducing them to the sun. Go increasing the light intensity and keep them off if they start scorching. If after some time you comfortably leave them on the windowsill consistently, then it may be time to take them outdoors.
Why Grow Seeds?
You may be wondering why opt for cactus seeds instead of propagating from cuttings? Here are a few reasons:
Seeds are an inexpensive option because they may end up costing a few cents. You can even collect them from your other cactus plants or get them from a friend.
It is easier to get different species that may not be available as plants.
With seeds, you can easily give away as gifts to friends.
When you notice cactus seedlings starting to develop, you can gradually begin to remove the transparent cover that covers them. However, when to remove is quite essential, and it will depend on the species. The best way to ascertain when to remove is when the seedlings start developing spines.
When removing the cover, don't just remove it wholly, start by cutting sections of it to introduce the plant to the change. Cacti the size of a marble, which are usually about six months are okay for planting in pots.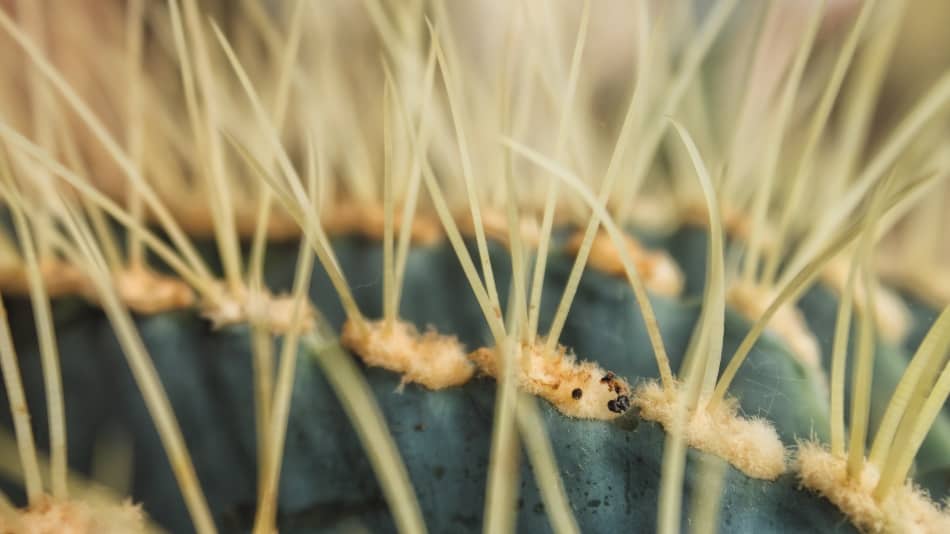 The Steps To Growing Cactus From Seed
1. Acquiring the seeds
The first step to planting cactus seeds is purchasing them. Most garden supply stores will have the seeds, and you also have the option of buying online. The good thing about buying online is you can select your preferred species through a simple click on your laptop and delivery is done to your doorstep. Some stores will even sell the seeds in packets of different species.
The other option would be to pick your own seeds from already blooming cactus in case you grow them. The seed pods are usually some brightly-coloured off-shoots that bear flowers. Once the flowers fall off, what is left is the pod.
Sowing your seeds in late winter or early spring is the best time because it will give the seedlings ample time to grow during summer.
2. Harvesting from the pods
As mentioned, if you decide to harvest the seeds yourself, then you need to remove the pods. It is recommended to remove the pods when they are still damp but not wet. The seeds are usually inside the pod.
Once you remove all mature pods from your cactus, you need to remove the seeds. Using a knife, slice the pods and scrape off the seeds. Note, seed color varies from different species. Some are usually black or have some reddish dots. They also vary in size; some are extremely small. 
3. The soil you plant the seeds in is significant
One thing about cactus seedlings is that they are intolerant to poorly draining soil. You need to protect your seedlings from common cactus problems such as bacteria and molds, which means the soil needs to be sterilized.
To sterilize the soil, you can bake or microwave the soil mix.
Sterilizing soil
There are various ways you can sterilize your soil before using it to plant the seedlings.
You can steam the soil using a pressure cooker. Pour in a few cups of water into the pressure cooker and place shallow pans of soil (not more than 4 inches deep) over the rack top. For each pan, cover it with foil paper and then close the lid. Steam for about 30 minutes.
In case you don't have a pressure cooker, pour an inch of water into a sterilizing container and place soil-filled pans (usually covered with foil) on a rack on the water. Cover the container and steam for about 30 minutes.
For both methods, after steaming, allow the soil to cool while wrapped with foil until you are ready to use.
If you decide to use a microwave, fill microwave-safe containers with moist soil and covered with a lid. Don't use foil here. Ensure there are ventilation holes on the lids to prevent pressure buildup.
Heat your soil for 90 seconds. Leave the soil to cool by covering the ventilation holes with tape.
The other option would be putting two pounds of moist soil into a polypropylene bag. Place the soil in the microwave with the top left part open to allow ventilation. Heat the soil for about 2minutes 30 seconds full power. Once you are done, close the bag and allow it to cool.
For the oven, you need a container that's specific for oven use. Put soil about 4 inches deep into the container and cover it with foil. Using a thermometer, place it at the centre and heat at 180F for about 30 minutes.
Once the time lapses, allow the soil to cool and remove the foil only when you are ready to use the soil.

When coming up with a soil mixture for your cactus seedlings, you need to find the right proportions for your seedlings to germinate. You will need
Pumice or granite stone
Cactus soil
Vermiculite
First, the base of the soil mixture should be pumice stone and the cactus soil. Start by removing any chunks in the cactus soil because they may potentially be a breeding place for bacteria as well as not drain water well. 
Once you sift the cactus soil, mix with the pumice or granite stone. In case you don't find pumice stone, you can use limestone screenings, which is also a cheaper option. Make sure the pumice is more by about 10% than the cactus soil.
Pour the mixture where you intend to plant the seeds and avoid packing it in, let it stay as natural-looking as it can. Since seedlings are quite small, using a 2-inch pot is sufficient. You can even use existing materials to act as pots for the seeds.
In the case that you are reusing pots, make sure you clean them thoroughly to prevent potential pests from killing the seedlings even before they germinate. To clean them, you can use bleach water and rinse thoroughly.
What these seeds need is a high-drainage soil. Make sure you moisten the soil but make sure the water drains completely.
Spread your cactus seeds on top of the soil, don't force them into the soil. You can then cover them with a thin layer of either sand or cactus soil. The reason for not burying them deep in the soil is because they only have small amounts of stored energy which may not reach deep into the soil before running out.
Make sure to label your containers once you spread the seedlings. It is crucial especially if you plant species by species in different containers are they are great so that you can take specialized care on each species. You don't want to have difficulties when growing them because some species are too similar to each other and you may confuse one for the other.

4. Exposing the seeds to the sun
After soil moistening and covering the seeds with sand, you need to cover them in a transparent lid or plastic wrap. Place your seeds in a strategic location, preferably indoors, where they have access to the right amount of sun. Consider placing them on a sunny windowsill.
Don't place them outside because they don't like intense sunlight. The purpose of the transparent lid retains moisture and helps the cacti sprout as well as allowing light to reach the plant.
Monitor your seedlings carefully. If they start turning purple or becoming red, the chances are that they are getting sunburned. Reduce the amount of light access.
During the initial stages, as much as the seeds need sun, they need the heat more. Warm areas of the house like the kitchen are ideal. However, you can also purchase a heating mat that you place under the seed containers is a way to boost germination.
Heat and light are essential as the cactus grows to avoid retaliation where the plant grows thinner and soft such that it breaks when touched.
In most cases, cacti need a temperature of between 70F and 90F for germination.
5. What to do when germination starts
Like earlier mentioned, cacti grow slowly, and you need the patience to see them through the whole process. After planting and having the right light and temperature, you should see your seedlings start germinating. It could take a month or more before they do.
Tiny spines start forming at this stage. This is your cue to let the plant breathe away from the plastic wrap or transparent lid. However, do it gradually, leave the top open for a few hours during the day and then go increasing the hours.
Keep doing this until you establish that the cactus doesn't need the wrap.
Keep in mind that when you uncover the cactus, water evaporates much faster, which will need you to have a watering schedule to avoid the plant dying.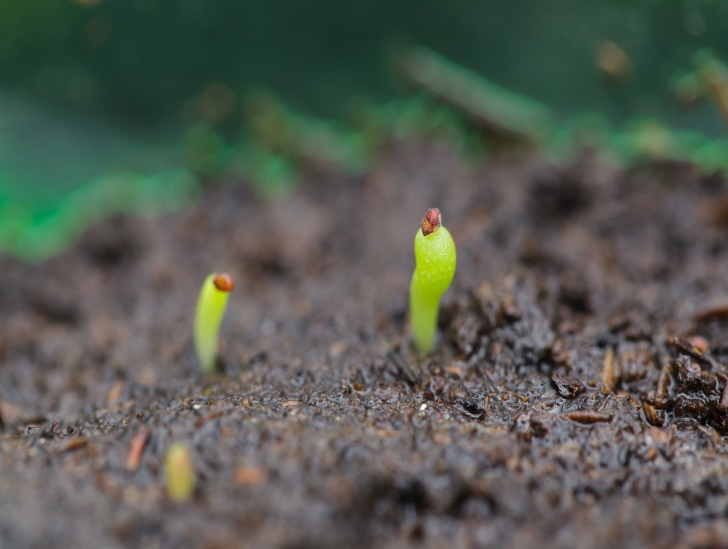 Fresh or distilled water is ideal for preventing the growth of bacteria and algae. If you feel your tap water tastes like chlorine, don't use it on your cacti. Since the roots are quite tender, using water with chlorine will burn them. This could end up in killing the cactus.
Even as the seedlings sprout and seem to be doing well, the truth is, below the ground, the roots are still at a tender position and can't adequately absorb enough nutrients. Keep the seedlings in the plastic wrap until they overgrow. The high humidity is what facilitates nutrient and water absorption in the roots until they are strong enough.
Some species don't have spines, so an indication of growth is when the seedlings sprout. Make sure you don't leave any water on the soil. Keep checking for signs of overwatering. No standing water should be in the container. You can dip your finger into the soil to feel how dry or wet it is.
When germination occurs, keep the same timetable you had when you started watering them. Be on the lookout of certain signs such as seedlings thinning, which could be a cause of poor light. The algae may be top of the soil, which could be a cause of overwatering. A fungus infected cacti will start having black spots.
6. Repotting
When the seeds are overgrown, it is now time to repot. Choose your potting container wisely as you need one that drains quickly. You need one with drainage holes so that during watering, the excess water drains to avoid root rot.
Terracotta and unglazed ceramic pots are some great examples of good drainage pots. However, other types of containers can also work, but the key is getting one that drains water quickly and doesn't leave the soil clogged with water.
Even as you get the ideal container, how much you water the cactus also contributes to whether your plant rots or not.
Naturally, as cactus grow slowly, they may take even a year to reach the size of a marble. At this point, you need to repot to give it room to thrive well. Get the right pot size because getting small-sized one prevents the plant's proper growth.
Once you remove the cactus from its previous plastic wrap, using the same formula you used for its last soil, make a new mixture. After making it, place the plant in the container then pour in the soil mixture.
Water the mixture after 3-4 days and make sure you don't use any plastic wrap or lid to cover the plant.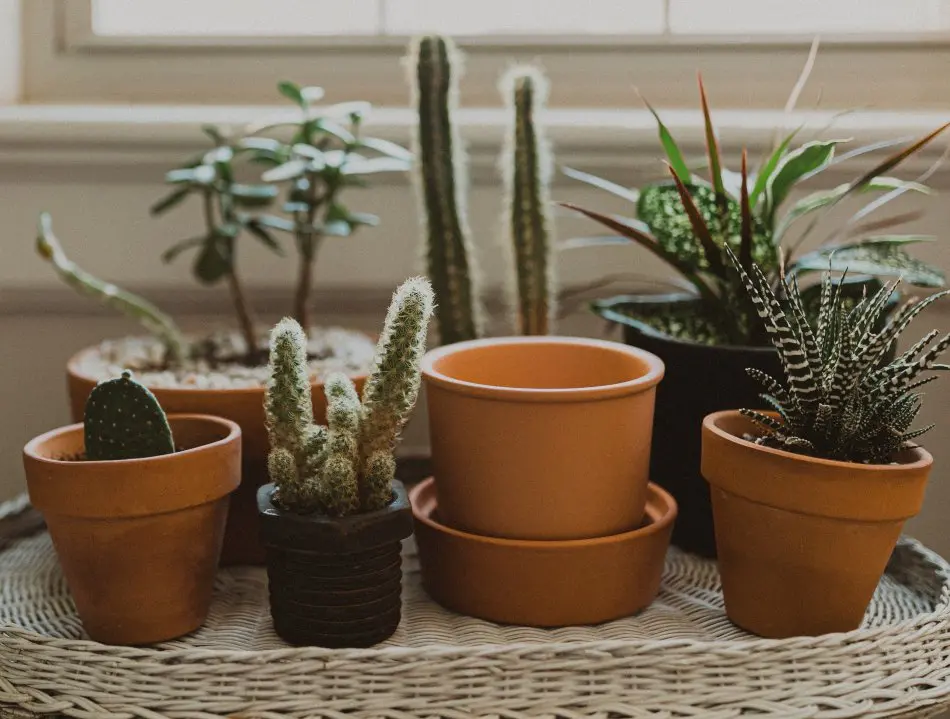 7. Recovery time after repotting
Once you repot, allowing the plant to take in the new changes helps it avoid any problems. Repotting can be stressful to plants, and they need recovery time. If you previously placed it near a place with ample sunlight, try keeping it in the shade for a few days until it recovers. You can then re-introduce it to the sunlight slowly until it can fully take on the heat.
Unlike other potted plants, cacti have low water requirements. They are succulents, and they often store water to use when the soil dries up. A general rule of the thumb is to wait until the soil dries before watering the plant again.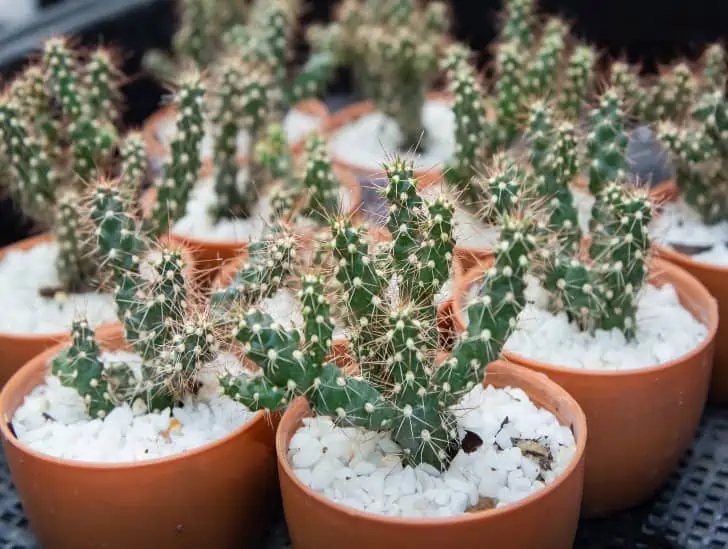 Once your plant grows, you can even water monthly. During winter is when their water requirements are low for most species. At this time, only water when the plant needs it. You'd rather have an underwatered plant than an overwatered one because it is easier to deal with insufficient water than excess.
During the growing months, use a cactus fertilizer to help in the growth process. Cacti generally need a lower amount of fertilizer than the rest of the plants.

The above process should help you grow your cactus seamlessly from seed. If you want to experience the joys of watching it grow from the seeds all the way up, you can do this effortlessly.

Related Questions
How do you ensure your cactus germinate faster? Usually, cactus have slow growth and may end up taking years to grow. However, you can help them germinate more quickly. Soak them in warm water for about 30 minutes as this will loosen up the seed coat and activate germination.
How does a cactus produce seeds? For a cactus to produce seeds, its flowers have to undergo pollination. Pollen has to be transferred from one plant to another by insects or birds. Once pollination takes place, fruits develop that contain the seeds. One cactus plant has the potential of producing a million seeds.
Last update on 2023-07-26 / Affiliate links / Images from Amazon Product Advertising API