Cacti are remarkably durable and low maintenance plants. In most cases, they only need sufficient exposure to light, well-drained soil, and careful watering to thrive. Pest issues aren't common with cactus and are easy to deal with when they arise. Although these succulents are generally considered hardy, stem drying and browning is a common problem that you may encounter.
So, why is my cactus turning brown? Cacti plants can turn brown, yellow, or even purple for different reasons. For instance, if your plant is turning brown from the top, the cause could be sunburn. However, if the browning starts from the bottom towards the top, root rot could be the culprit. Red spider mites and corking could also cause your plant to change color from green to brown.
In this post, we discuss all the possible reasons that may cause your cactus to turn brown and what you can do to save it from the problem. Read on to find out everything you need to know.
Why Is My Cactus Turning Brown?
As mentioned in our introduction, cacti plants can turn brown for many reasons. In this section, we discuss some of the top causes of this problem.
Root rot
If the base of your cactus plant is turning brown and the stem is soft and yellow, the problem could be root rot.
Unfortunately, plants with root rot can be quite challenging to save because the rot usually starts inside before working its way out. In most cases, symptoms of root rot will only begin to show when the problem is already advanced.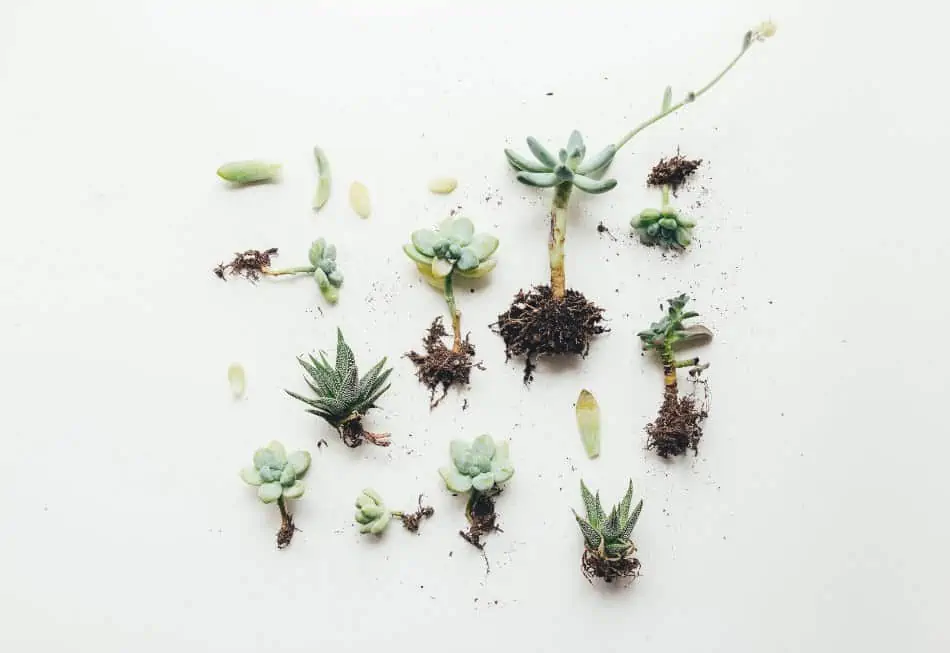 The moment you notice signs of root rot, the best thing to do is stop watering the plant and repot it in well-draining soil.
You can also try to save your plant by cutting away all the tissue that is showing signs of rot plus some of the healthy tissue surrounding it to ensure the rot doesn't spread.
Make sure you use a clean, sharp knife and wipe it with alcohol in between the cuts. Once you are done, be sure to apply sulfur powder on the wounds to help the plant heal. Overwatering and poor drainage soils are the common causes of root rot.
Indoor hazards
Your indoor cacti plants are still at risk from the same pests and diseases as their outdoor counterparts. However, indoor plants may suffer additional problems that are only unique to them.
When your indoor plants start to show signs of browning or drying out, be sure to check that they are not located close to a heat vent.
The blowing hot stream of air from the vent can cause plant tissues to dry out despite the thick layer of waxy that protects the plant. AC vents can also cause similar damage, although it may take longer for the damage to appear.
Typically, if your plant starts browning and feeling brittle on one side, yet it isn't positioned directly in a window, it is time to consider moving it to another spot.
Sunburn
If your cactus plant is turning brown from the top, the most common and likely cause would be sunburn. This may sound abnormal because most of us tend to think that cacti plants are sun-loving, desert plants.
However, not all cacti species thrive in the hot sun. Some of them require minimal light and partial shade to do well. Cacti plants bought from a plant nursery or store may also suffer sunburn if you do not take time to introduce them slowly to the bright, outdoor light.
In most cases, mild sunburn will appear as whitish discoloration on the sun-facing side of the plant. With time, the whitish spots turn to brown scars which are a symptom of severe sunburn. Cacti plants with severe brown burns have permanent damage, and there is nothing you can do about it.
But, if your plant has whitish spots, you can save it by moving it to a shady area. As long as you provide shade on the hottest days of the year, it will fully recover. It will also help if you take some time to learn about your plant's lighting requirements so that you can provide the best conditions possible.
Keep in mind that cactus species that aren't used to being in direct sunlight must be acclimatized by exposing them to full sunlight for a short period each day.
Start increasing the exposure progressively over several weeks. It won't be long before your plants fully acclimatize to the outdoor light conditions.
It is also good to mention that some cacti plants should never be exposed to full sunlight all day.
Scales
Scales refer to small insects that usually appear as brown spots on cacti plants because of their hard brown shell coverings. These insects feed on plant juices that weaken the cactus plant making it look yellow or brown.
If this is the case with your plant, consider spraying it with a stream of water to get rid of the scales or wash it with a relatively weak solution of detergent. You can use your preferred brand of insecticide for large infestations.
The other way of killing scales is by using cotton swabs soaked in horticultural oil on each side. This forms an oil layer on top of the scales cutting off the oxygen supply to the insects.
With time, the insects suffocate to death.
Frost damage
Just like sunburns, frost damage can also cause cacti plants to turn brown in affected areas. The damage is quite similar, and the only way to differentiate between sunburn damage and frost damage is by checking the temperature.
When tissues of a cactus plant are subjected to freezing temperatures, the cells rapture. Although you may fail to notice the damage right away, the plant will try to self-heal by creating calluses over the damaged tissues.
This is the same type of self-healing mechanism that occurs after a hail storm as well although the brittle spots on the plant are usually patchy.
Frost damage can still happen on indoor plants that come in direct contact with the window glass.

Mites
If your plant is turning brown from the top where new growth is appearing, it could be a sign of mite infestation.
Red spider mites are tiny insects that suck juices from your plant at the more tender parts. These insects are so small such that it might be relatively easier to look for their webs other than the insects themselves.
Symptoms of mite infestation include rusty brown spots that appear at the top of the plant and the presence of mite webs.
If left untreated, these pests can kill your plant by feeding on the entire outer layer of tissue. Indoor cacti are the most susceptible to red spider mites.
Sometimes, the plants come from the nursery when they are already infested with these mites. To get rid of bugs, consider watering your plant from overhead with a relatively strong stream of water.
Root lice are another common type of mite that may infest your cactus. Root lice can jump from pot to pot for plants grown in greenhouses, making it difficult to control.
The best way to deal with root lice is by separating your new plants from the other plants for a few weeks. You should also avoid soil sharing and recycling to control root lice.
Corking
The sudden appearance of firm barklike and brown tissue a few inches above the soil of an otherwise healthy cactus plant could be a sign of corking.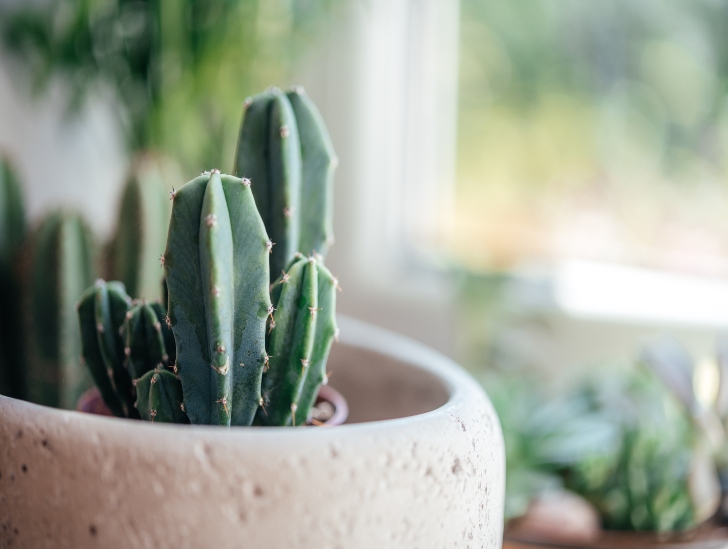 Fortunately, this is part of the natural aging process of cacti plants that shouldn't worry you so much.
In most cases, corking starts from the base of the plant and moves upwards progressively. If your plant is browning due to corking, there is nothing you can do about it because it is a natural process.
Just focus on taking good care of it to slow down the aging process.

How Can You Prevent Your Cactus from Browning?
Are you wondering if you can protect your cactus from turning brown? The good news is that there are lots of things you can do to avoid this problem.
The best way to keep your plant from turning brown is to make sure it is growing in a conducive environment. Also, make sure you quarantine new plants and scrutinize them for pests and diseases before you expose them to your other plants.
To avoid browning as a result of root rot, provide your plant with loose and well-drained soil. Expose it to sufficient light and avoid overwatering. More than 90% of root rot cases occur as a result of overwatering.
In fact, cacti plants recommend underwatering instead of overwatering. Always remember the fact that overwatering cacti plants is much more dangerous than underwatering.
The Bottom Line
Browning is a relatively common problem that many cacti gardeners have to deal with. Fortunately, this is not a death sentence for your plants. When you notice brown spots start to form on your plant, take time to identify the problem and deal with it accordingly.
Do not panic or try to solve the issue without understanding its cause. If you cannot identify the cause on your own, don't be afraid to call in a plant expert to help you solve the problem. Keep in mind that growing healthy cacti plants require good care!

Last update on 2023-09-01 / Affiliate links / Images from Amazon Product Advertising API