Cacti are hardy plants that can survive and thrive with minimal care. In most cases, these succulents aren't affected by too many issues.But it doesn't mean your plant won't experience any issues whatsoever. One of the common issues that affect cacti plants is drooping or a cactus falling over. If you notice sections of your plant falling over, then it means it is stressed in some way, and you need to find out the cause as soon as possible.
So, why is my cactus falling over? Falling over is a sign of stress in cacti plants. Even though the plant may appear to be perfectly healthy, something could be ailing it and the sooner you find it out the better. Some of the leading causes of drooping in cacti plants include overwatering/underwatering, a plant potted in a container that is too large, weak roots/root rot, pest infestation, or lack of sufficient sunlight.
In this post, we discuss some of the common reasons why your cactus plant may be falling over and what you can do to save it. Remember the fact that the earlier you identify the problem and deal with it, the better.
So, let us get started
1. Underwatering
Let us start with one of the most common causes of this issue; underwatering. Typically, if you don't water your plant sufficiently, it will start becoming too dry, and with time, it will start falling over. An underwatered cactus may also become dormant and purplish.
An underwatered cactus lacks sufficient water in its cells, which results in a relatively weak stem hence the falling over.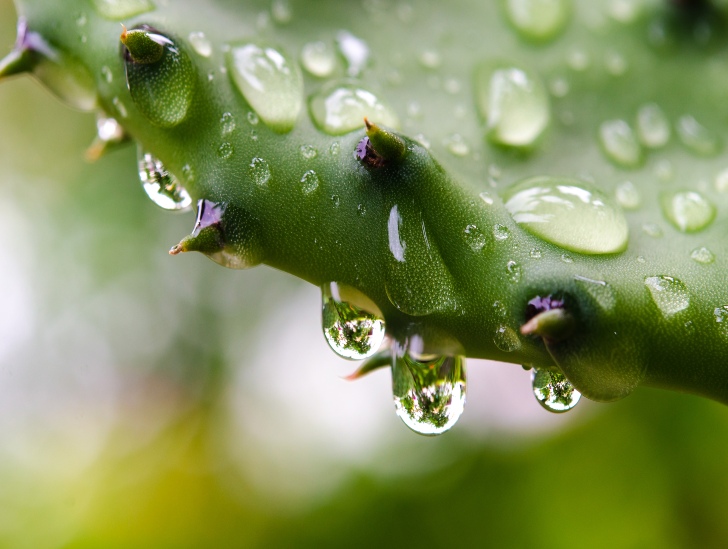 This problem is most likely to arise in winter when most people believe that they don't have to water their cacti plants. While most cacti species don't require watering during this period, ensure you keep your plant in relatively cool conditions if you will not be watering it.
Also, don't abandon watering completely just because it is winter. Instead, reduce your watering and monitor how the plant responds to the change. If you have been watering once every two weeks, you can lower it to once every three or four weeks.
Keep in mind that underwatering in winter, especially when your plant is in a warm place, may lead to loss of roots. The more the plant loses roots, the more fragile and weak it is, leading to a wide range of issues, including drooping
2. Overwatering
Closely related to underwatering is overwatering. In fact, overwatering is a much bigger issue than underwatering because it is rampant and dangerous.
A typical cactus plant prefers airy and fast-draining soil. Generally, your potting mix must not be kept wet or waterlogged for too long because it can cause irreversible damage.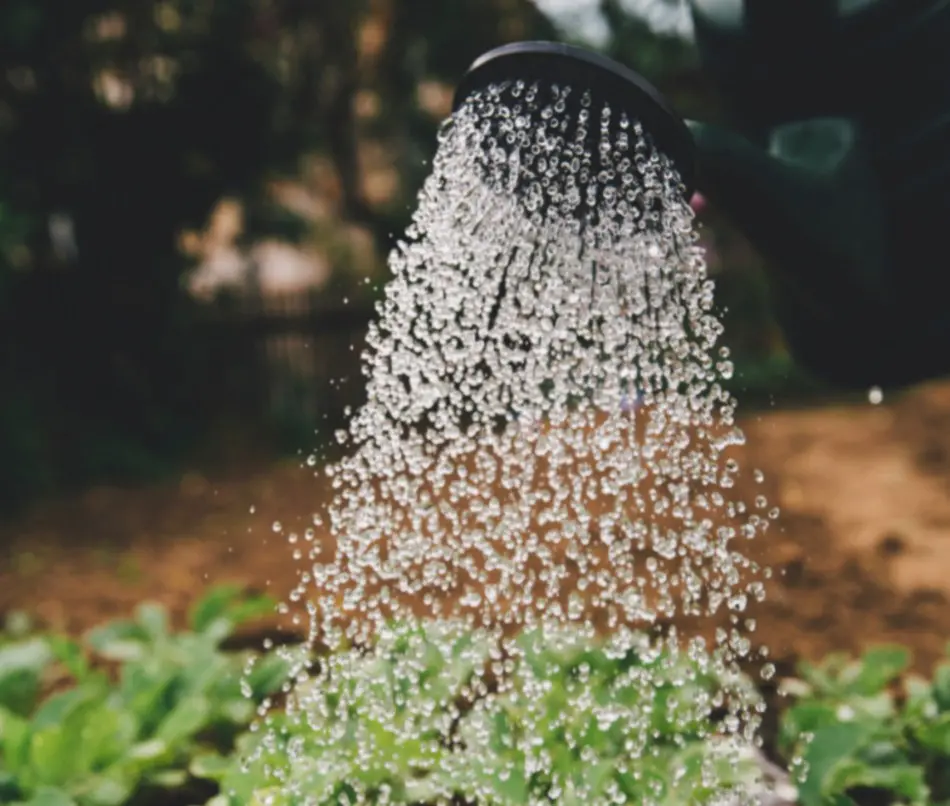 That is especially true during the winter season when temperatures fall to below freezing point. During this time, you should only water your cactus lightly and when it is absolutely necessary. A good rule of thumb is watering once every five or six weeks.
Before you water your plant, always ensure that the potting mix is completely dry. You can check for soil dryness by sticking your finger into the container. If it feels wet, don't water. You can also use a moisture meter to be 100% sure that you aren't watering at the wrong time.
Overwatering causes root rot, which can result in drooping. Desert cacti are highly prone to root rot compared to jungle cacti. An overwatered plant will become soft, mushy, and may become brighter in color.
3. Pest infestation (Mealybug)
Sometimes, your cactus may start falling over due to pest infestation. If your plant looks weak, damaged, or has visible spots on its surface, it could be a sign of mealybug infestation.
These insects usually attack cacti plants and start sucking juice from the stem, leaving behind blemishes. If you don't deal with these pests promptly, they can spread to every part of the plant, making it difficult to salvage the situation.
The good news is that you can easily kill mealybugs by hand. Alternatively, consider rinsing the plant with insecticidal soap or a concentrated solution of liquid dish soap and clean water. After rinsing the plant in the soap solution, let it sit for at least one day before rinsing it with clean water.
Avoid exposing the cactus to direct sunlight during this period to prevent sunburn. Remember that it may take several attempts to get rid of all the mealybugs because newly hatched bugs may not be killed with the first attempt.
4. Your Cactus is potted in a container that is too big
Another reason why your cactus may be falling over is that it could be potted in a container that is too big for it. These succulents don't like being potted in large containers even if they have overgrown their current pots.
Choosing the right size container can play a critical role in ensuring that your plant is happy and healthy. Ideally, you want a container that will only allow a small amount of space from both sides. You also need to allow one or two inches on the bottom to provide roots with sufficient space to grow.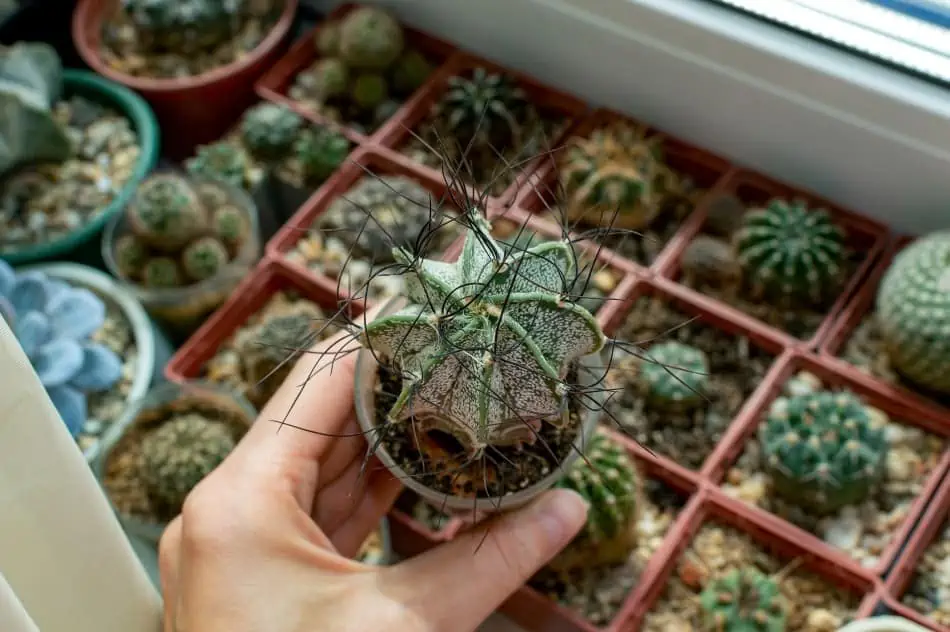 Monitor your plant's progress closely and only repot when it is clear that it has outgrown its current container. A good rule of thumb is to repot once every two or three years.
However, if you are using tap water to keep your plant hydrated, consider repotting once every year because tap water is hard water and contains a lot of minerals that tend to accumulate in the potting mix pretty fast. High quantities of these minerals can damage your plant and its roots.
When roots start sticking out of the container's drainage holes, it is a sign that it is time to repot. Repotting must be done just before the growing season and avoid repotting your cactus when it is flowering.
5. Freeze damage
Most cacti species are native to deserts and other dry areas. This means that these plants are not accustomed to growing in cold climates that experience extremely low temperatures. Therefore, if temperatures drop to below freezing point even for a few hours, cacti plants can easily suffer freeze damage.
Exposed parts of the plant will start developing black spots, and within a few days or weeks, the black areas will dry out and start to droop. If the freezing occurred only for a few hours, then the damage is most likely cosmetic, and your plant will eventually grow out of it.
Exposure to adequate sunlight, warmth, and proper watering will help your plant to overcome the problem quite easily. If your plants are growing outdoors, transfer them to spots that receive plenty of radiated heat at night, such as close to a wall.
If temperatures continue to drop, be sure to cover your cacti plants with a cotton sheet to provide additional warmth and protect them from frost damage. If they are potted, consider moving them indoors.
6. Lack of sufficient sunlight
Most cacti species require a lot of sunlight to thrive. Some cacti plants can even tolerate full sunlight without an issue. Just like other plants, these succulents require sunlight to photosynthesize.
Without sufficient sunlight, they won't manufacture enough food leading to a significant imbalance in the metabolic process. Over time, the plant becomes weak and droopy because it lacks sufficient nutrients to sustain its metabolic process.
Each cactus plant has its own light requirements. Ensure you understand the light requirements of your plant and stick to the recommendations.
Generally, epiphytic cacti require more shade compared to desert cacti. Therefore, if you are growing such cacti indoors, consider positioning them on south-west and south-east facing windowsills. If you place them on a north-facing windowsill, you will need to provide more shade to avoid sunburn.
Significant differences in light and temperature can also cause your cactus to fall over. For instance, if the temperature inside your house is too high, but there is no light, your plant may start stretching out in search of light. Some of its parts may start falling over in the process.
This is the primary reason why you must always be careful with sudden temperature drops. For example, if you are taking your plants out after winter, you must be cautious with how you introduce them to the outside temperature. Make sure the process is slow and gradual to avoid problems.
Also, you should avoid watering your plant with cold water. Gardening experts say that you stand a good chance of achieving better results if you use lukewarm water.
Final Thought
Drooping is a relatively common problem that affects cacti plants. While there is no specific cause of the issue, a close inspection of your succulent can help you determine why it is falling over.
Take time to assess how you have been treating your plant and you will find the answer. The secret to dealing with this problem is identifying the cause as early as possible and dealing with it before it gets out of hand.
Last update on 2023-07-26 / Affiliate links / Images from Amazon Product Advertising API