Cacti are unique plants that belong to the family Cactaceae. The family is pretty large and features over 127 genera and 2500 species. These plants thrive both indoors and outdoors and are always an excellent option to add to your plant collection. Indoor cacti plants require little maintenance to thrive and are beneficial in a wide range of ways. But how long do indoor cacti plants live? Let us find out.
How long does an indoor cactus plant live? In the wilderness, these plants can survive for hundreds of years, but things change when they are grown indoors. On average, indoor cacti plants survive for ten years or slightly more. However, with the right growing conditions and ideal care, the lifespan of an indoor cactus plant can be increased significantly.
But, you should know that the lifespan of these succulents depends on a lot of factors. The three main factors that will affect the lifespan of your indoor cactus are species, growth conditions, and care.
In this post, we discuss everything you need to know about the lifespan of indoor cacti plants and what you can do to make sure your spiny friend lives longer. So, let us get started.
The lifespan of a Cactus Plant Indoors: Detailed Discussion
Generally, cacti plants growing in the wilderness tend to live much longer than their indoor counterparts. In an ideal setting, an outdoor cactus plant can survive for up to 200 years or more.
However, indoor plants have to adapt to a new environment and new conditions which tend to destabilize the plant. On average, an indoor cactus plant will survive for ten years. Some delicate species will even die after a few months, but that shouldn't worry you so much.
As long as you are taking good care of your plant and providing it with good growing conditions, you can be sure to have it around for a prolonged time.
Before we dive deep into our discussion, let's take a few minutes to discuss the general lifespan of some of the famous cacti species.
How long does a Christmas cactus live?
Let us start with one of the most common types of cacti grown indoors; the Christmas cactus. This beautiful indoor plant belongs to the genus Schlumbergera, and many plant scientists consider it a hybrid between two different cacti species.
Generally, the Christmas cactus closely resembles the Schlumbergera truncate, which is commonly referred to as the Thanksgiving cactus.
Its name is derived from its unique characteristic of blooming in the winter around the Christmas period. The plant is native to the tropical rainforests of Brazil and tends to grow better in relatively cool temperatures.
The average lifespan of a Christmas cactus is approximately 20 to 30 years, but a lot depends on the care and maintenance you provide.
Proper care, in this case, includes providing a relatively cool and humid environment, frequent watering, and a moderately sunny location.
However, you need to be careful not to overwater your plant because it can cause severe and irreversible damage.
How long does a Saguaro cactus live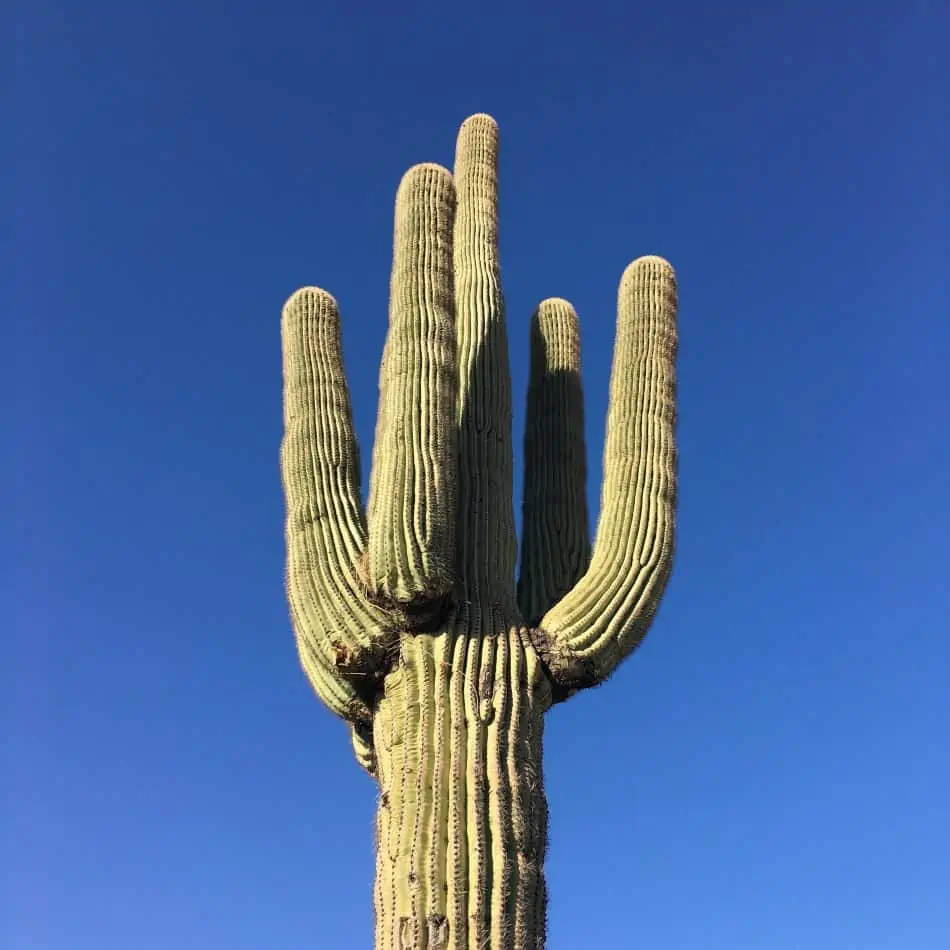 Another famous cactus plant is the Saguaro that is native to North America. The plant belongs to the Carnegiea genus and gigantea species. The Saguaro is a slow-growing plant, but it is gigantic. In fact, a fully grown Saguaro can reach a height of up to 50 or 60 feet.
One thing that is unique about this cactus is that young Saguaro plants cannot live independently. In most cases, there will be an adult Saguaro nursing and protecting a baby Saguaro until a certain age.
Sometimes, the older plants die in the process, leaving the younger plants to take up their space.
It is also interesting to note that in its first ten years, a Saguaro plant doesn't grow more than two inches. Furthermore, it doesn't start flowering until when it is over 30 years old and the first arm will only start growing when the plant is more than 75 years old.
On average, a saguaro cactus can live for up to 200 years, but that aging will depend on a wide range of factors. The average age of an adult is about 125 years.
If you want to grow this plant in your home, make sure you grow it outdoors and in the ground to provide it with enough space to stretch out and attain its maximum size.
How long does a Moon cactus live?
Moon cacti are also popular houseplants in different parts of the world. The plant has a wide range of different names, such as the Hibotan cactus, Red Cap, and the Ruby Ball plant.
Many people love the Moon Cactus for its attractive appearance that resembles a lollipop. The lower part of the plant carries and supports a round moon-like part that is usually red, yellow, orange, or purple.
Determining the exact lifespan of a moon cactus is sometimes tricky because it is a combination of two different cacti species.
For instance, the Gymnocalycium (one of the parents of the moon cactus) doesn't grow more than a few inches tall and lacks chlorophyll while the Hylocereus (the other parent plant of moon cactus) grows to a height of up to 30 feet and is evergreen.
You will notice that the two species that come together to form the moon cactus have entirely different characteristics and growth requirements.
Consequently, the moon cactus becomes a unique combination of two different and incompatible cacti species. This means that the plant is relatively weak and unstable. Therefore, it can only survive for a relatively short time before it dies.
Typically, a moon cactus has a shorter lifespan that ranges from months to a few years. Sometimes, it may die within three months or survive for up to a decade.
Proper care and suitable growing conditions can increase the lifespan of the plant quite significantly.
How long does the Golden Barrel cactus live?
The golden barrel cactus is native to the Sonoran Desert in Mexico and Arizona. It gets its name from its unique shape, which looks like a large, round barrel.
This cactus can reach heights of up to 5 feet when fully grown, and its spines are yellow or golden.
The golden barrel cactus is a very hardy and resilient plant, so it can live for quite a long time if given the proper care. It generally has an average lifespan of 30 to 50 years; some species have been known to live for up to 100 years or more.
However, it is essential to note that the golden barrel cactus will not reach its full size until it is around 15 years old.
If you want to keep your golden barrel cactus healthy and long-lived, make sure to provide it with enough sunlight and water. Regular pruning can help the plant stay healthy and free from pests and diseases.
Overall, it is a relatively easy plant to take care of and can provide you with many years of beauty and enjoyment.
How long does the prickly pear cactus live?
Another common indoor cactus plant is the prickly pear cactus, which belongs to the Opuntia genus. It is a low-maintenance plant that thrives in sunny locations and requires minimal watering.
The exact lifespan of a prickly pear cactus will depend mainly on the size of the cactus and its growing conditions. On average, a small prickly pear cactus can live for up to 40 years, whereas a large one may live for more than 200 years.
Good growing conditions and proper care will help to extend the life of the cactus significantly. If you want your prickly pear to last longer, ensure it is exposed to plenty of sunlight and not overwatered.
How To Grow Cactus Indoors for a Longer Lifespan
Growing cacti plants indoors is not a difficult thing to do, but you need to ensure you are providing your plant with the right conditions for better results.
Successful gardening of these succulents does require sticking to simple rules and being perfect in doing the small things that matter.
Here are some tips on how to look after your cactus indoors if you want it to live long.
1. Watering
Watering is perhaps the most important thing you need to master if you want to have a cactus plant for longer. Although underwatering is an issue, overwatering is by far the most common cause of death for these succulents.
The trick to getting it right is to follow the plant's natural seasonal habits. For instance, you should always treat winter as a period of rest for the plant. During this time, you don't need to water your plant frequently because it is in a state of dormancy. In this case, only water when the potting mix is completely dry.
During spring and summer, you need to water your plant frequently because this is the active growing season. Every time you water, allow the excess water to drain out quickly and let the soil dry slightly between watering.
You can also feed your cactus with some fertilizer during this time to boost growth. Check out our simple guide on how to fertilize your cactus and the type of fertilizer to use.
2. Potting
Potting is another important aspect of indoor cacti plants that you should pay close attention to. When choosing a pot for your plant, make sure it is the right size and weight. Even if you decide to go for a relatively heavier pot for purposes of preventing it from tipping over, you have to get the size right.
The potting mix you use should be fast-draining and full of nutrients for better results. If you cannot make your own potting soil, go for the commercially prepared options, but be sure to check on drainage thoroughly.
When your plant becomes bigger, consider repotting it into a new and bigger container to allow growth without causing root damage. Typically, you should consider repotting your cactus plant once every two years.
3. Position
Lastly, where you position your plant plays a critical role because it determines the amount of sunlight that it receives. Most cacti species love a lot of light and airy spaces, but make sure you are not exposing your plants to extremely bright light because they can suffer sunburns.
Also, after winter, if you want to take your plants out, do so gradually. You can start by positioning them under shades for a few days before you expose them to direct sunlight.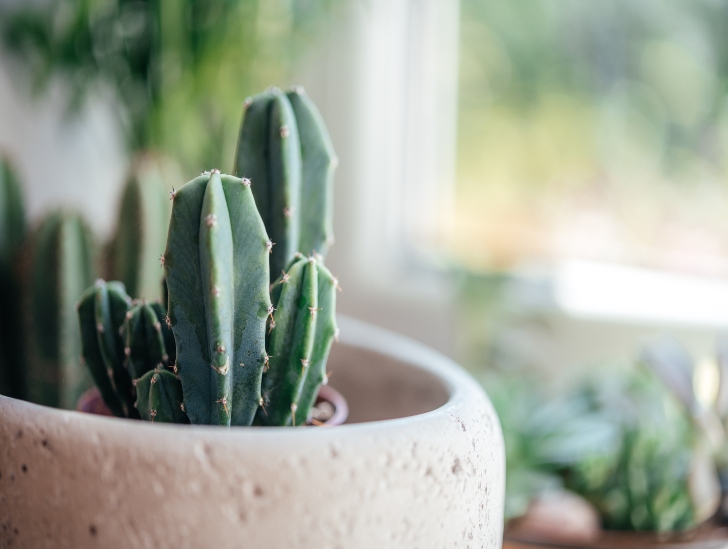 If you are living in the southern hemisphere, position your plants close to north-facing windows so that they can receive plenty of sunlight. If you are living in the northern hemisphere, east-facing windows will be a good option.
4. Fertilizing
While many cacti species don't require regular fertilizing to thrive, it is always a good idea to give them some extra nutrients during the growing season.
Always go for a balanced fertilizer that either has an NPK ratio of 10-10-10 or 6-12-6 and use it in moderation. Fertilizing should be done once every two months, but always reduce the frequency during winter because most cacti species slide into a state of dormancy.
For better results, you can also add some organic matter to the soil, such as compost or worm castings. This will give your cacti the essential nutrients it needs to grow and thrive indoors.
Final Thoughts
Cacti plants come in different colors, structures, and sizes. These plants are unique and good houseplants since they require little maintenance to survive. They are hard, resilient, and live for many years.
Generally, outdoor plants live longer than indoor plants because the indoor environment tends to have a significant impact on the structure and adaptation of the plant. While some indoor cacti can survive for more than ten years, others will die after only a few months.
Fortunately, there are lots of things you can do to increase the lifespan of your indoor plants. Providing an ideal growing environment and proper care can go a long way in increasing the lifespan of your indoor plants.
Last update on 2023-07-26 / Affiliate links / Images from Amazon Product Advertising API