Creating a perfect indoor cactus garden is easier said than done. Ensuring that your cactus garden remains vibrant irrespective of the season is a perfect way to brighten your spirit. Most succulents and cacti are great indoor plants for your cactus garden because they require minimal maintenance to create that perfect display that your guests will love.
Unlike other plants, you will not need to water, feed or prune them regularly. Nevertheless, elements such as changing temperatures, poor exposure to sunlight and dry air make it challenging for some succulents and cacti to thrive.
So, what are the best low-care plants for your indoor cactus garden? Most cacti and other succulents stand out as the best low-care plants for your cactus garden. Their unique water storing ability and tolerance to dry conditions make them ideal for a low-care plant. This includes low care cacti like saguaro cactus, Star cactus, Bunny ears Cactus, San Pedro cactus, barrel cactus, cholla cactus. Others include tolerant succulent species like hens and chicks, Burro's tail, African milk tree and bishop's cap.
This article looks at the ideal plants for your cactus garden. It will discuss different types of plants that will thrive with low care and spell out the unique features that make them stand out as low care plants.
Saguaro cactus
The saguaro cactus is probably the first plant that comes to mind when you think of a low care plant. Saguaro cactus can live in a pot for 150 years without moving it outdoors but much longer in the wilderness. The plant is a slow grower and establishes strong roots making it a perfect houseplant.
On average, saguaro cactus roots can go up to 4 inches deep when potted. A Saguaro cactus can take up to 10 years to get to 1.4 inches in height. It may take another 60 years before the plant grows up to 10 feet tall. At this point, it can start producing arms. Some saguaro cactus may only produce one arm, while others can produce a dozen of them.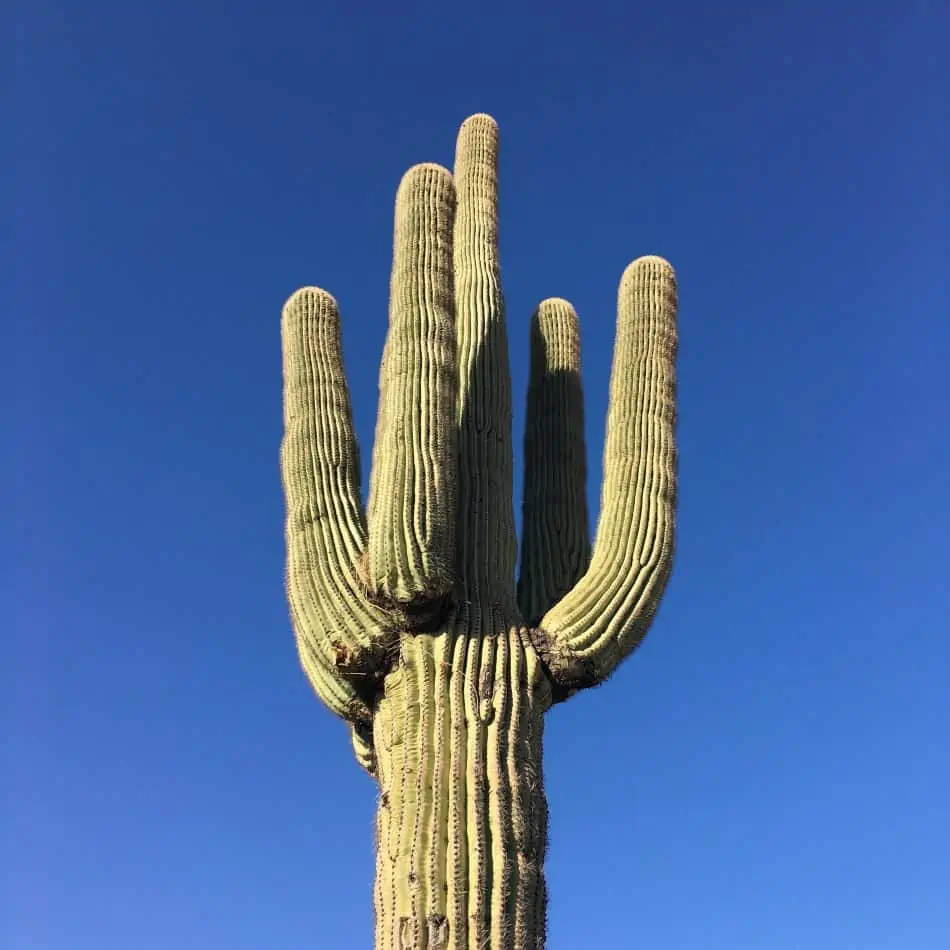 Flowering in the saguaro cactus occurs between May and June. It produces white, bright flowers, about four inches wide. Saguaro flowers have pretty yellow stamens and emit a sweet scent.
Star Cactus
The star cactus is popularly known as the sand dollar plant. Notably, the star cactus looks like a star when mature, thus the name. It features a round shape, divided into star-like slices and only grows two inches tall. Star cactus is usually green, but some varieties may have brown patches.
This cactus develops pretty spine pads that are completely covered with white scales and dots. During spring, the star cactus produces bright, yellow flowers. Even with minimal care, this plant will reward you with big pretty flowers. These flowers develop into reddish or gray woolly berries, covered with small dots.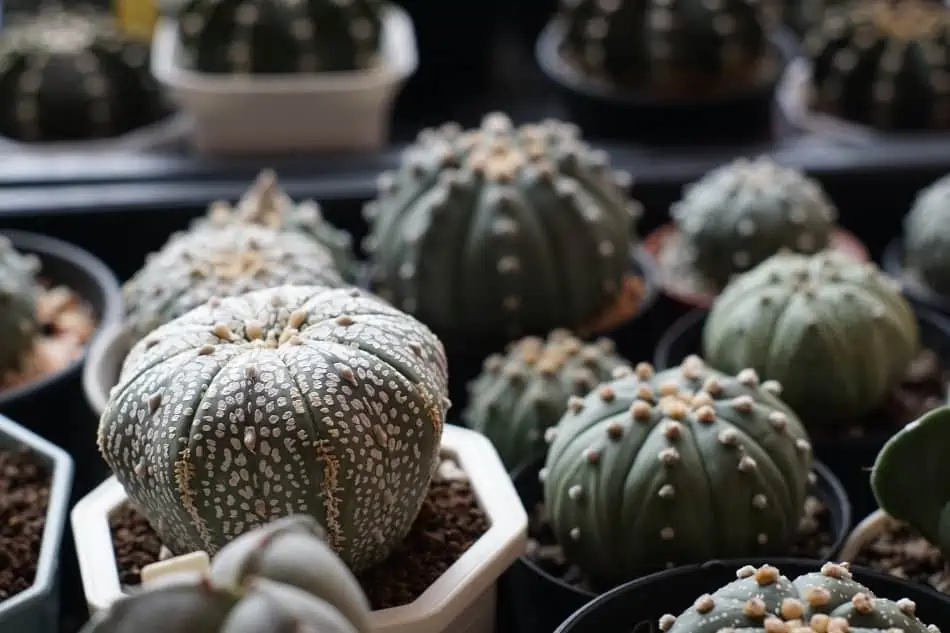 Star cactus is not cold-resistant but can still survive in a temperature range of 20-25 degrees Fahrenheit. During winter, this plant thrives in significantly low temperatures. So, as much as the plant thrives best in higher temperatures, you do not need to care for your plant differently during winter.
Bunny ears cactus
This tolerant desert cactus, also called angel's wings, is a perfect cactus for beginners or busy gardeners. Notably, this plant has no leaves or stems. Instead, it has green oval-shaped pads resembling rabbit ears and is covered with tiny bristles. This is an ideal low-maintenance plant yet still attractive for your home decor.
Bunny ears cactus grows approximately 6 feet in width and 4 feet in height, but some may grow taller. If you are lucky enough, this plant may produce bright, yellow flowers, 2 inches wide, during summer. After blooming, the flowers turn into red or purple-colored fruits.
San Pedro cactus
Originally found in Peru, the San Pedro cactus is a fast-growing species that is quite popular for its value in traditional medicines and religious ceremonies. Some believe that the plant brings healing and promotes radical introspection in a religious context.
While growing this succulent in your garden as an ornamental plant is safe, consuming its by-product (mescaline) remains illegal in some countries like the US. The cactus is relatively poisonous, so you should keep it at a safe distance from your pets and children.
San Pedro grows up to 6 feet in width and 18 feet in height. The individual stems of the San Pedro cactus are green but turn to blue-green with age. Each stem has five ribs measuring approximately 2 to 6 inches tall. During winter, this cactus produces yellow flowers that measure around 8 inches in diameter.
The plant requires minimal water to survive, but it still needs some attention and love, especially during summer. For better results, place it in a well-lit area to ensure it gets enough sunlight. If you need to reproduce the plant, you can propagate it once the stem is 4 meters tall.
Barrel Cactus
The barrel Cactus is popularly known for its fascinating color and cute cylindrical shape that beautifies any space. Growing up to 6 feet in width and four feet in height, this resilient cactus adapts well in warm climate conditions. Wild barrel cactus plants can grow up to 10 feet.
Barrel cactus produces flowers with reddish-orange petals located at the top of the cactus. Although the plant's fruits and flowers may not be considered edible, the pulp of the stem is widely used for making candy. The taste of the pulp varies depending on the species. As a result, this architectural beauty remains an endangered species.
Cholla Cactus
Popularly known as jumping chollas, this plant is found in the Northern Mexico dessert. Different species of this plant have a wide variety of shapes, including creepers, shrubs or trees.
The most common and standout feature in the cholla cactus is the nasty spines. Cholla cactus has sharp spines covered by a sheath which makes them quite glamorous. That said, the spines can cling onto fur, so place your plant away from your curious pets' or kids' reach.
The cholla cactus thrives best when placed in a plastic or clay pot. These pots are ideal for such cactus species because they get rid of excess moisture. Remember to repot your plant at least once a year. Cholla is resistant to pests but may get infested once in a while. So be sure to spray them using Pad or Stem Spray Method whenever such pest attack signs abound.
Hens and Chicks Plant
The hens and chicks plant belongs to the family of succulent plants and produces flesh, thick and evergreen leaves. Generally, this plant is relatively tiny and has a beautiful round shape, making it perfect for interior home décor.
You can find this cute plant in multiple colors, from purple to dark green. Hens and chicks leaves are rounded and covered with downy hairs. Leaves change color depending on the climate or exposure to the sun.
Mother plant referred to hen grows in every direction to produce 'chicks' under it in the form of offsets. Eventually, each chick matures and becomes an independent plant. Give new plants enough water, and once they develop a strong root system, you can water them once a month.
After it matures, the offset separates itself from the hen, but you will need to cut it off in some cases. Breaking away from the offset from the mother is beneficial since much energy and nutrients are used to support the chick.
African milk tree
Originally from Africa, the African milk tree produces tiny yellow and white flowers and emits a white liquid when broken or cut. Some countries like India mix the liquid with mud and use the mixture to sharpen axes and knives. However, the liquid is not safe for consumption and may even cause skin and eye irritation. As such, keep the plant away from pets and children. 
When grown indoors, the African milk tree can grow up to 5 meters tall. This cactus is slow-growing, so you will not need to repot it frequently. You will also need to be patient before seeing the plant flower, as it equally takes time to get to this stage. Generally, flowering occurs once the plants reach 30, 60, and sometimes 70 years old. In some cases, the plant never blooms altogether, especially in a controlled environment.
The African milk tree is a resilient and bright light plant that requires minimal care. So, it is ideal if you have a super busy schedule or travel a lot but still desire to find a relaxing and stunning view when you get home. The plant adapts perfectly to indoor spaces and can survive in any environment.
Bishop's cap
Known for its unique shape, the bishop's cap is a must-have desert plant for any garden enthusiast, thanks to its vibrant and easy-going style. At a young age, the plant has a spherical shape, but it resembles a Bishop's miter as it grows taller.
An adult Bishop's cap is star-shaped and has five ribs with tiny white dots. The number of ribs might vary depending on the climate. Notably, this plant can grow up to 8 inches in diameter and about 3 feet in height.
This resilient succulent grows slowly and takes its time to produce flowers. Beautiful yellow flowers begin to appear at the top of the plant once it matures. During spring, the flowers develop a reddish-orange color at the center.
For better results, expose the plant to at least seven hours of indirect light daily. You can use a piece of sheet cloth to protect the plant from direct sunlight. Additionally, it has a small root system making it ideal for small pots.
These low care plants will give your indoor garden beautiful greenery look all year round. They are amazing and excellent displays for any indoor space. The only thing most of these plants need is enough water and sunlight.
Last update on 2023-10-05 / Affiliate links / Images from Amazon Product Advertising API