Choosing the right pot size for your cactus plant can be quite complicated, especially if you are still a new gardener. A container that is too small or too big can have a significant impact on the overall health of your plant. Luckily, once you figure out how pot size affects the growth of your cactus plant, it becomes relatively easier to establish the appropriate size for your plant.
So, how big of a pot does a cactus need? Generally, you should leave about a half-inch of space between the main body of your cactus and the pot's rim. This will provide the plant with sufficient room to grow and spread. Too much space between the plant and the pot rim can prevent it from growing larger because the roots need to spread out first before the cactus starts to expand. For instance, if you acquire a three-inch cactus plant, a 3.5-inch pot will be good enough.
In this post, we discuss everything you need to know about container size for a cactus. Read on to discover more.
Cactus Root System: A Quick Overview
Before we dive deep into discussing the right pot size for your cactus plant, it is essential to understand the nature of this plant's root system because it will have a significant impact on the container size.
Generally, cacti have a shallow root system that tends to spread out widely but less deep. They have fibrous roots that specialize in absorbing moisture from the ground surface more easily. These roots only penetrate a short distance into the soil.
For instance, a young Saguaro plant that is about 12cm high may have a root system spanning two meters in diameter and only 10cm deep. The extensive root system is one of the main factors behind the successful survival of cacti plants in deserts where there isn't plenty of water.
However, some species usually have a long taproot that grows deep into the ground to anchor the plant and draw out as much moisture as possible. The taproot is supported by smaller fibrous roots that stay close to the ground surface to absorb water and moisture quickly.
If you purchase a cactus plant with a taproot, you may want a relatively deep container to allow the taproot enough space to grow. Carefully study the root structure of your preferred plant and keep it in mind when choosing the container shape and size.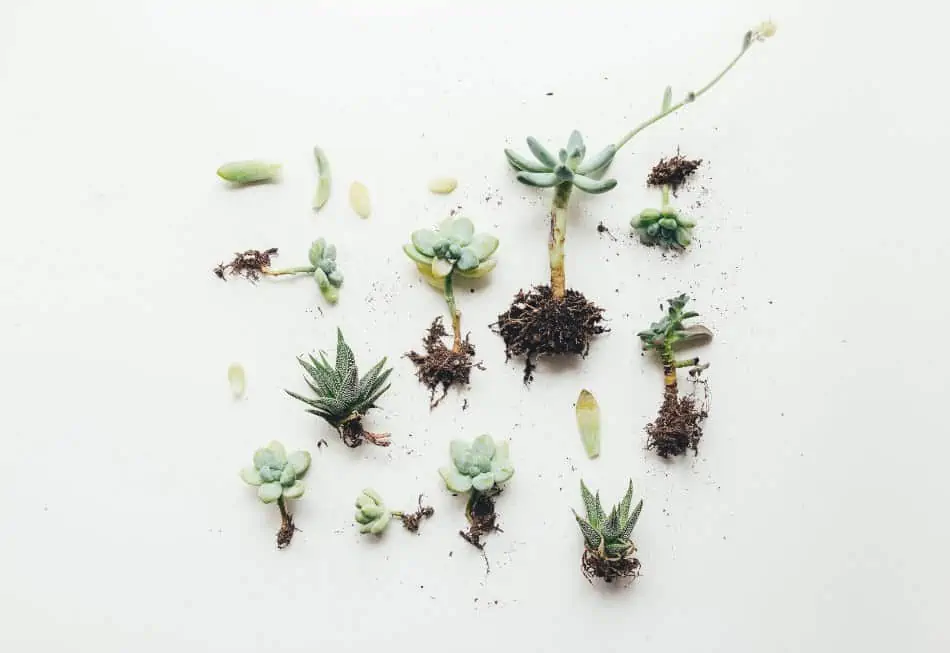 Why Is Pot Size Important?
Pot size is a critical factor to consider when growing cacti because it plays a crucial role in determining how healthy your plants will be. A container that is too small can be a detriment to your plant's health.
If the roots of your plant become constricted due to small pot size, the plant won't grow as fast as it should. It will also limit the overall size of your cactus at full maturity. Furthermore, small pots hold less soil which means fewer nutrients are available for the roots of the cactus to absorb.  You will experience the same issues if you grow too many plants in one pot.
While you may not be having a pot that is too small, you should also avoid containers that are too big for your plant.  It may seem like an incredible idea to provide your plant with plenty of growing space, but that could also cause a wide range of health issues. A container that is too big can even cause your plant to die.
Keep in mind that if the container is too big, it will hold a lot of water for longer periods. Over time, the roots of your plant will start developing root rot due to overexposure to excess moisture.
Root rot is a serious problem that can easily result in the death of your plant. If you realize your pot is too big, make sure you monitor the amount of water and frequency of watering to avoid problems.
Apart from the overall size of the pot, its depth also matters. Avoid containers that are too deep or too tall because of the amount of potting mix they contain. Just like containers that are too large in diameter, those that are too deep/tall tend to retain a lot of moisture for longer periods which can result in root rot.
Although you may be looking for a container with sufficient room for the taproot, you need to keep in mind that too much room may cause other problems. Generally, these succulents prefer shallow containers that dry out faster. This way, you will have healthy and happy plants.
Determining the Right Pot Size
Many seasoned gardeners recommend using a container that is about 10% larger in diameter than the cactus plant at its widest point. For instance, if your cactus plant is approximately four inches across its widest point, consider a container that is about 4.5 -5 inches in diameter.
These measurements include both the above and below ground portions of your plant.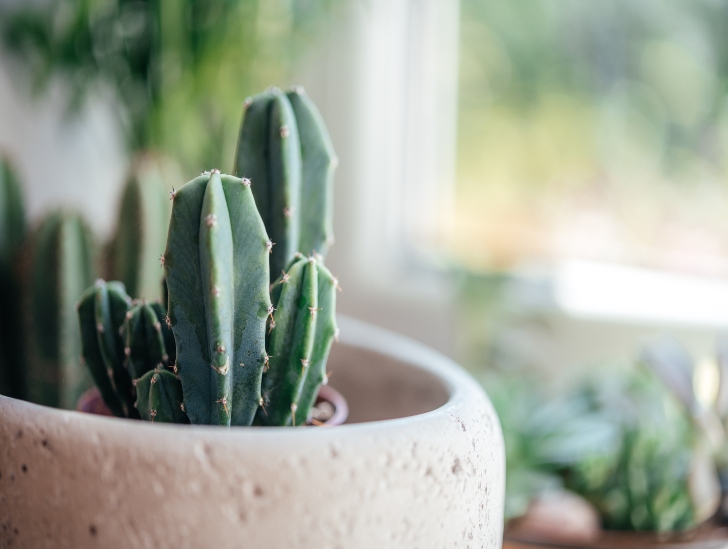 A good-sized pot will provide your cactus with sufficient room to grow without having too much soil or crowding the roots.
Potting multiple plants in one container
At this point, you may be wondering if it is right to have more than one plant in a single pot. Well, it is fine to plant more than one cactus in one container, but you need to be careful with the process. Make sure the plants have similar growing requirements, i.e. their water and light requirements match.
For instance, a jungle cactus may not be compatible with a desert cactus, but you can have an Echinocereus sp. in the same pot as the Mammillaria sp (desert cactus). You should also consider the growing rate of each plant before mixing them.
Slow growing plants can be potted together the same as fast-growing plants. If you end up with a mix of slow-growing and fast-growing cacti in the same pot, things won't be good. In most cases, the fast-growing cactus will upset the balance of your composition and force you to get rid of it because it would overcrowd the slow-growing species.
When choosing your pot, make sure you consider how many plants you plan on potting in the same container. In this case, it is upon you to use your best judgment and instinct to estimate how much room each plant will require to avoid overcrowding.
Also, keep in mind that most cacti plants need a considerable amount of light to thrive. Therefore, be sure to allow sufficient room for each plant to receive enough light without blocking others.
Up-potting
Potting is a continuous process, and the proper pot size for your cactus will always change as the plant grows.
As it gets bigger, you will need to transplant it into a larger pot. Gardening experts recommend using a pot that is approximately one or two inches larger in diameter than the previous container.
This will allow your cactus to grow without risking its health with too much moisture or soil.
Be careful with cuttings
When planting cacti cuttings, make sure you are using an incredibly shallow pot. Cuttings can easily be damaged if they are given too much moisture or when planted too deeply.
The relatively smaller containers that you may not use with your bigger plants will always work best when potting cuttings.
Critical Features of a Good Cactus Pot
No matter the size or shape of your container, it is crucial to ensure that it has proper drainage. A container that doesn't allow water to drain out quickly is quite dangerous because it will expose the roots to excess moisture leading to root rot. You must also make sure you are using the right type of potting mix intended specifically for cacti plants.
It is also critical to consider the material the container is made of and how it will affect your plant. Ceramic and terracotta containers are quite popular, but they tend to heat up quickly when exposed to sunlight. This can dry out the soil pretty fast before the plant absorbs sufficient moisture.
Wooden containers usually stay cool for longer periods when exposed to sunlight but retain too much moisture in shades. Some pots are also made of a metallic material, but they are not a good choice for long-term use because they are susceptible to rust.
Always consider where you will be keeping your plant before you decide on the type of container to purchase. The storage area will help you determine what material will be best for that location when shopping for your plant pot.
Final Thoughts
Pot size is a crucial factor to consider when growing cacti plants. Generally, the right pot will almost be the same size as the plant and more specifically, its roots.
When choosing your pot, it is always good to take a look at your plant roots to determine whether you will need a deep or shallow container. If your plant grows long roots, you will want a relatively deep container.
We believe you are now well equipped to purchase a new pot for your cactus. While there are lots of other things you need to consider when choosing a pot, it is still a fun part of growing cacti plants.
Let us know what you think in the comments section and subscribe to our email list for the latest cactus growing tips.
Last update on 2023-07-26 / Affiliate links / Images from Amazon Product Advertising API