Jade plants are interesting succulent plants that are easy to maintain and have fleshy leaves and woody stems similar to small tree trunks. The hardy houseplants are also known as friendship trees or money plants, and they thrive in dry and sunny environments. In their native South Africa, where summers are stifling and the ground very dry, they may reach a height of 10 feet.
Like all other succulent plants, Jade plants need direct sunlight to grow. If your plant does not get the right amount of sun, photosynthesis will cease, and the plant will not grow. They may also become leggy or droopy if light conditions are poor.
These attractive succulents flower in winter, producing star-shaped blooms. Once you know the growing conditions of the natural habitat of the jade plant, you can replicate this environment in your house or office. The proper amount of sunlight will help your jade plant grow. The site is vital, mainly when growing your Money Plant indoors.
The Best Jade Plant Location
Direct sunlight is not appropriate for most indoor plants because it results in the burning of leaves. However, the Jade Plant is an exception and does well with direct sunlight. If you have a mature jade plant, place it in direct sunlight for at least 4 hours. For a young plant, use a bright but indirect light. However, Jade varieties with variegated leaves do not prefer the direct sun and thrive in shining and indirect sunlight.
The best location for your Money Plant is next to a sunny window facing west or south. If you can't get a bright spot, or if it's cloudy, place your plant near an artificial light source. If you choose fluorescent lighting, select one with two bulbs. Label a bulb for use and use it to deliver a full spectrum of light for your plant. The second bulb should be a cool white bulb. The disadvantage of using artificial growth lights is that the leaves appear light green.
Indoor Plant Location
Here are the top indoor plant sites for your Jade Houseplant.
Sunny Patio
A perfect location for your Jade Plant would be a Patio or Balcony adjoining your room. This option is great if you are looking for robust growth in your Money Plant. These places are great because your plant will get the proper sunlight all day long. The optimal exposure time is four to five hours in these conditions.
Near a Sunny Window
A window where your jade plant can obtain tons of natural light is ideal for regular growing. The rooms with south-facing windows are fantastic locations and west-facing windows. A window facing east may also work because of the direct sunlight in the morning and the late afternoon sun, which is not too intense.
In a Room with Partial Sunlight
If you have no space next to a window, you can put it where it can get a few hours of indirect sunlight throughout the day. Ideally, the direct sun is vital, but if the room is lit correctly and receives natural light, the plant should be fine, although the growth is not as vigorous.
Shaded Location in your Room
A shaded location is not the best choice and only applies if you can't get direct sunlight into your home. Opt for a well-lit room during daylight hours. Even though it will survive, it will grow at a slower pace.
Outdoor Plant Location
You can place them on patios for outdoor plants but move them indoors once autumn and winter are in place to protect them from freezing. The best outdoor location can receive direct sunlight in the morning but is shielded from the constant afternoon sun. If you stay in a warm environment and keep your plant outside, pick a place with some shade when the sun is hottest to keep your plant from cooking.
Maintain indoor temperatures of 64 to 74 degrees Fahrenheit for best results. They appreciate cool nighttime temperatures up to 55 degrees Fahrenheit. Airflow from cooling and heating systems can also cause temperature variations. The amount of sunlight required varies depending on the season. Let's examine the different light needs of the jade plant depending on the season.
The Direction of Sunlight.
The sun's direction for the Jade plant is critical in deciding the best spot. You must know the direction of your house facing to settle in the appropriate position for your jade plant. We recommend a south-facing window but consider the various approaches and pros and cons.
● North Facing
A north-facing window receives a little light, but the light is barely enough for the optimum growth of your jade plant.
● East Facing
The eastward windows receive enough sun in the morning and a few hours of the late afternoon sun, which is not intense.
● West Facing
A West Facing window receives an intense afternoon sun that can be harsh for the leaves of your jade plant. To limit intensity, you can use simple curtains.
South-facing windows receive a sufficient amount of light during the day, making them ideal for your jade plant.
Jade Plant Seasonal Light Requirements
Winter Sunlight Requirements
The Jade Plant does not require round-the-clock bright light during winter. However, a bit of light is necessary if you want your plant to survive in winter. Sunlight also prevents your plant from becoming soft in the cold.
Because there is less sun in winter, make sure your plant gets some sun by moving it closer to a window during the rare sunny winter days. We do not recommend an east-facing window during this period because the light could be insufficient.
However, place your jade plant away from a cold window, as that can be bad for your plant. You can protect your Money Plant against cold windows and draughts by putting a curtain on your window or pulling the shade.
If your jade plant is outdoors and your surroundings have winter temperatures that may be as low as 45F or less, move your plant indoors until spring. However, if temperatures don't go down regularly, you can leave your plants outside as long as you protect them from freezing. To shield your plants from frost, you can put them on a covered terrace, tie the Christmas lights on the plant or cover your plant with a rag.
Springtime Sunlight Needs
Be careful about rays in the spring, especially if you have placed your plant near a window facing west or south. The delicate new leaves unfold in the spring and can quickly burn, so move the plant slightly away from your window or use transparent curtains. However, established jade plants thrive on sunlight.
To measure whether you give your money, plant the necessary amount of light, put your hand on the window when the sun is brightest. If the light is too much and burns your hand, it may be too hot for your Jade plant. Turn your house plants each week for better sun exposure on your leaves.
Sunlight Consistency
Jade plants can adapt to different lighting conditions. However, sudden temperature variations can put your plant's growth at risk. Frequent shifting can stress out your Jade plant. If you want healthy plants, you should be consistent.
If you suddenly increase the light, your plant may end up with brown patches and burnt leaves, ultimately affecting your plant's growth. We suggest placing your jade plant in an area with appropriate indirect light and sufficient direct light.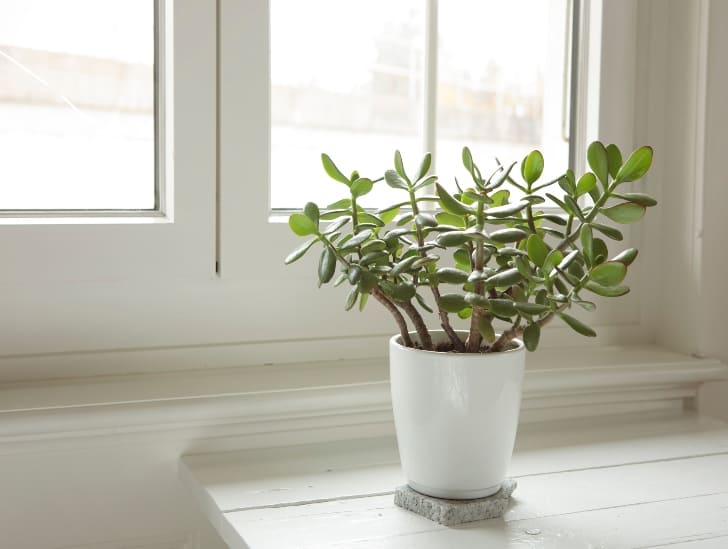 To move your jade plant, do it one step at a time. If your plant is used to sift a light, slowly move it to a brighter place to give it the time to adjust to its new environment. You may first place your plant in a shaded area. Shift it to a sunny location where it can get direct sunlight for some time and gradually increase sunlight over time; this should take you about two weeks.
Signs That Your Jade Plant Is Getting Inadequate Sunlight
Jade plants are versatile and can survive under diverse lighting conditions. However, your jade plant will not flourish in low-light conditions. How can you tell that your Money Plant is not getting enough light?
Yellow leaves
Yellow leaves are an obvious sign of low light in Money Plants due to a lack of nutrients. You can move your plant to an illuminated point if you notice yellowing.
Pointy Leaves
A jade plant that points towards the light source is most likely suffering from poor lighting. Also, if the leaves are thin and floppy, please increase the quantity of light that your money plant gets.
Slow Growth
Slow growth demonstrates that your plant does not have enough energy to grow due to low light. Thin stems also indicate insufficient sunlight.
If you suspect that your jade plant does not get enough sunlight, you can use artificial growing lights or turn the plant to bring light in all directions.
Conclusion
The jade plant cannot survive in the absence of sunlight. If you want to have a compact and complete Money plant, you must provide sufficient light. Direct sunlight will allow for vigorous growth. On the other hand, indirect sunlight may work but not deliver an optimal growth rate.
Last update on 2023-07-26 / Affiliate links / Images from Amazon Product Advertising API