Did you know that the jade plant is also called the money plant or lucky plant? It is a succulent plant with white or pink flowers, native to South Africa and Mozambique. Many people plant jade plants in their homes and offices, and it is believed to bring luck. There are so many reasons why many people want this tree near them.
This article will look at some of the amazing facts that you didn't know about the jade plant and why you should consider growing it in your home or office. It is also good to know that jade plants have a miniature tree-like appearance that makes them appealing for decorating a house. They have a long life span and grow up to three feet long.
1. It is Easy to Care for Jade Plants.
One of the most reasons why people plant jade plant is their ease when it comes to caring. From the time you grow it to the time it will mature, there is little effort required from you. The most important factors to consider when growing are water, temperature, and light.
Watering a jade plant
Watering jade plant depends on the season; is it winter or summer. During the summer season, it requires little water, and even less water during the winter season. The plant is susceptible to overwatering, especially during the colder season, as it causes root rot.
As a succulent plant, do not let your jade plant dry out completely. Jade plant requires water at different intervals hence do not water the plant on a schedule. Instead, water the plant when the topsoil seems dry. Leave spot or leave fall is caused by inadequate water or excess of it.
Light
Jade plant requires at least four hours of direct sunlight each day. It should be placed in bright, indirect sunlight if the plant is young because direct sunlight can damage the growing leaves. For well-established jade plant, it can adequately handle direct sunlight.
If the plant is planted indoors, place the jade plant in a south-facing window. It is a typically perfect spot with enough light. Do not let the leaves touch the windowpane, because it could cause sunburn.
Proper temperature
Jade plants are not frost-tolerant hence cannot tolerate the cold. They tend to grow best at room temperature, such as 650 to 740 F. During the winter season; when the temperature drops significantly, it's good to find a warmer place for your plant.
2. Jade Plant has Significant Benefits.
The Jade plant is one of the plants willing to pay back your effort through numerous benefits. Its color will encourage you to have the plant at home, but its benefit will do much more. Some of the scientifically proven benefits of the jade plant include
Improves quality of indoor air
Indoor is where you spend most of your time at night. Scientists have proven that indoor air can be polluted and dangerous, just like outdoor air. Lack of proper air can lead to sick syndromes such as headache, dizziness, or nausea.
To clean up indoor air, you can choose to use ventilators, but the jade plant cuts on all costs related to the maintenance of ventilators. Jade plants improve the quality of the air by purifying it and emitting clean oxygen gas for you.
Jade elevates the level of humidity.
The summer season causes dry air in the house. Additionally, the winter season lowers indoor humidity due to the addition of radiators. If you want to improve the level of humidity in your indoor air plant, a jade plant is a perfect solution.
Low humidity indoors is not only bad for your health but also your beauty. Low humidity causes dry skin, an itchy throat, and flaky lips. The evapotranspiration caused by the jade plant during the dark times increases relative humidity.
The Jade plant is a medicinal plant.
In Chinese culture, the jade plant is not just a beautiful plant but a medicinal one too. Extract from its leaves are used to treat wounds, stomach upsets, and warts
Jade is a Chinese traditional medicine mentioned as a diabetes remedy
Jade plant is also believed to open the energy flow in the body, uplifting, positive vibes
Drinking tea made from jade plant mellows out the diabetes symptoms
Its juice is also believed to cure skin warts
It adds a touch of beauty.
Jade plant has green colored leaves that are usually tear-shaped, wedge-shaped, or oval-shaped. For some species, the leaves come with red blushing around the edges, which can match nicely in your office or home. The leaves are well placed in a thick and woody stem.
Jade plant is a beautiful plant that matches well in every type of home interior due to its stubby look. During the late winter season, it greets you with beautiful white and pink flowers. Jade is a plant that will always count on to make a difference in your home.
3. The Jade Plant is a Perfect Plant for Novice Gardeners
The Jade plant is a plant for everyone. It grows well in the homes of those who can care for it correctly. It favors even the novice gardener and grows well too. It spruces up the interiors and the landscape without much maintenance.
The Jade plant is an excellent example of a flowering succulent that will not shy away when its time comes. It blooms during the winter giving white and light pink flowers which are start shaped. Jade plant easily adapts well to numerous conditions and can do well in the low-light area too!
4. The Jade plant is a 'Feng Shui' plant.
Apart from the beauty and the medicinal value, jade is a well-known Feng-Shui plant. It is a plant popularly known to attract good luck where it is planted. The presence of a plant in the house is considered to give off Chi, which is known as positive energy.
Most cultures especially in Asia believe that the jade plant is a good luck charm that attracts and activates financial energy. Being an evergreen tree, the jade plant is also a symbol of consistency hence will attract positive energy.
Here are some of the ways it will bring positivity.
Placing it at the door of your business or office to bring growth
Place the plant in the southeast window of your home to bring wealth to your home
If it is placed in the eastern section, it is believed to boost the health and happiness of family
All these believes are what makes the plant to be known as the money tree. I hope you will try the plant at home and prove it.
5. The Jade plant is a friendship plant.
The Jade plant is a fantastic tree to give as a wedding favor or housewarming gift. It is again referred to as the friendship tree because it is effortless to share with friends. If you want to share it with your friends, all you have to do is cut a few leaves and give them out.
A small cut from a jade plant can bring up a whole new plant still with less maintenance. Giving out a jade plant is considered as passing on the favor to others. So, consider planting jade not only for your benefit but also for others. Don't forget to give a jade to those you love.
6. The Jade plant is an enduring plant.
If you like a tree that will save both your money and your time, jade is the best. It can endure and survive in almost all conditions. They are known to survive in strong winds and even droughts. Jade plant quickly adjusts to the atmospheres around them.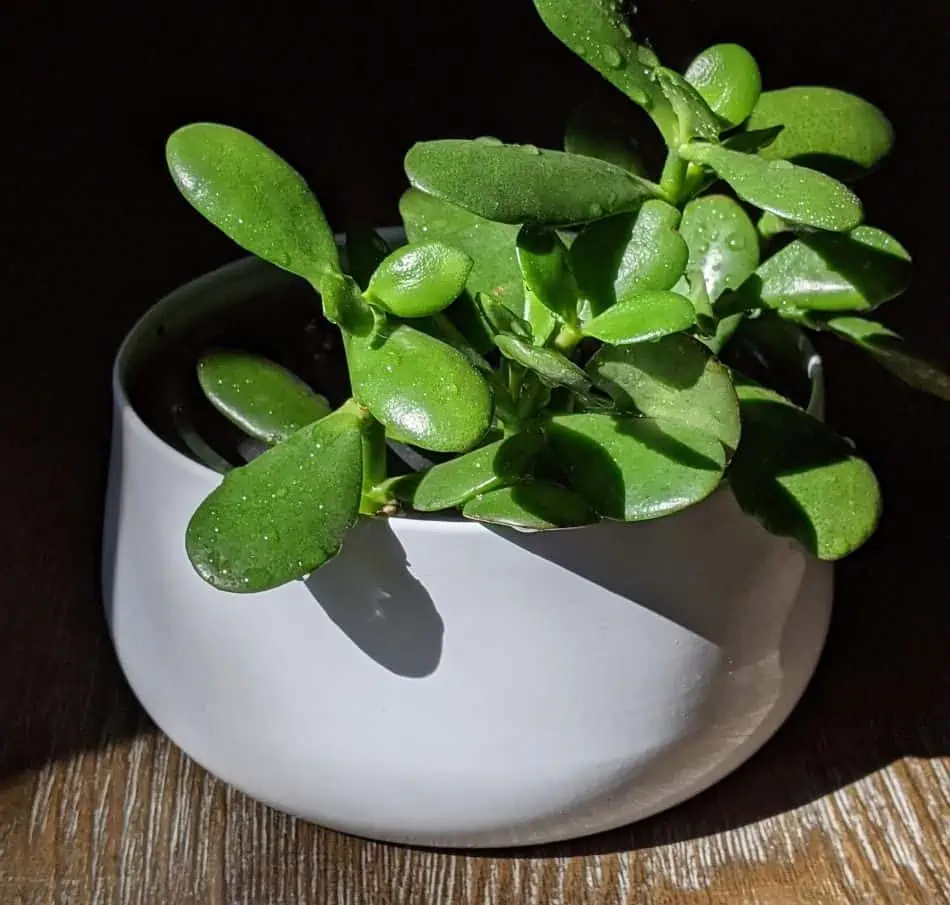 Because it has a slow growth rate, jade plant will not give you the stress of changing the pot often. It will take a long time before it demands to be repotted in a bigger pot. It will also not need frequent pruning and fertilizing as well.
The Jade plant is a perennial plant with an average life span of about two years, though some live longer. This plant will not just endure for a short time; it will endure for long. Jade can stay in neglect for days.
Bottom Line
Bringing the jade plant into your house is bringing an ornament that will positively impact most of the areas of your life. If planted in round foliage, shinning in deep shape, the jade plant looks appealing. There are many types of jade plants, and you can choose the one most favorable to you. But in all of them comfort and beauty has well been blended with good luck.
If you don't believe in luck, I guess you don't like dry lips translated to humidity by the jade plant. The truth is that jade plant has all the reasons why you should have it in your place. If your body tends to irritate with such plants, well, stay a little far and purified air will meet. With all that, it's time to go jade.
Last update on 2023-07-26 / Affiliate links / Images from Amazon Product Advertising API