Succulents have enjoyed a rise in popularity over the past few years, with Jade plants being no exception. These plants are fairly resilient and relatively easy to grow indoors and outdoors since they are long-lived. With just a little care, they can grow to between three and six feet tall, albeit slowly.
So, how do you care for a jade plant? Jade plants are mostly grown as indoor plants but will benefit greatly from being moved outdoors during summer since they love a lot of light. The plant requires at least six hours of light every day to thrive. You also need to ensure the potting mix you choose for your jade plant is a succulent-specific blend with good drainage. Water your plant more often during summer but reduce the watering during the cold winter months and feed it with controlled-release fertilizer at the beginning of the growing season.
In this guide, we go further into outlining the most important things you need to do to keep your Jade plant happy throughout the year. Keep reading to learn everything you need to know.
A Brief Overview of the Jade Plant
Jade plant is a succulent that is mainly grown as a houseplant. It has fleshy, oval-shaped leaves and thick, woody stems resembling tree trunks. The plant is native to South Africa, where it is believed to bring luck and good feng shui to its owners.
With its miniature tree-like appearance, the jade plant is mostly used as a decorative houseplant. Since it can survive for many years, the plant is usually passed down from generation to generation.
The jade plant is well adapted to growing in relatively warm and dry conditions in most homes. However, it is still important to keep it well watered during spring and summer when it is actively growing.
Like other succulents, it is crucial to let the soil dry completely between watering since the plant is highly susceptible to stem and root rot.
If you live in an area that experiences a mild, dry climate throughout the year, you can grow Jade plants outdoors as landscape plants. But, you can't do so in areas that experience extremely low temperatures during winter since these succulents are highly susceptible to cold damage.
Homeowners with pets must be careful where they position their jade plant in the house since all parts of the plant are toxic to dogs and cats.
How to Care for Jade Plants
The truth is that jade plants are generally less demanding and easy to grow. The most important thing you need to keep in mind is that these succulents are highly susceptible to too much moisture and some diseases.
Like all the other succulents, overwatering a jade plant can be fatal. That is why it is critical to keep the soil dry between watering sessions and do everything possible to avoid overwatering your plant.
Below are some of the essential jade plant care tips you need to know to keep your plant happy throughout the year.
1. Growing Area
As mentioned earlier, these plants can be grown as either indoor or outdoor plants. But you should only consider having them as outdoor plants if you live in an area with favorable climatic conditions (no snow falls or freezing temperatures during winter).
Indoor jade plants benefit greatly when moved outdoors during spring and summer. The additional sunlight during these seasons results in increased growth, color, and vigor.
Ensure you move your plant to a safe area such as your porch or patio area that receives direct sunlight, acclimating the plant slowly to prevent shock and sunburns.
Always bring it back indoors in the fall when nighttime temperatures start dropping to below 50oF.
2. Light Requirements
Jade plants are succulents and love a lot of light, especially when they are still young. So, a jade plant needs to be exposed to indirect sunlight for at least six hours to thrive. However, you need to keep your plant away from direct sun rays to prevent sunburns.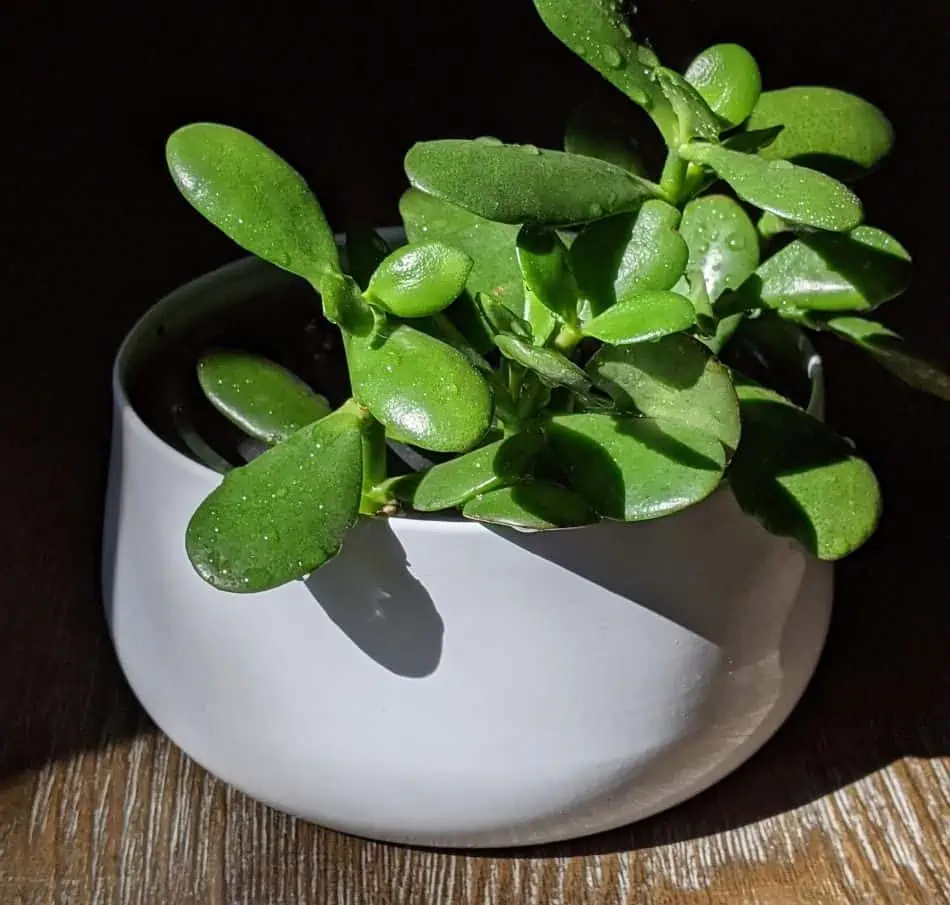 Harsh light can easily scorch young jade plants or cause the leaves of older plants to turn red. The spots are permanent unless you prune off the affected areas and allow new growth to replace them.
During fall and winter, when there is no plenty of sunlight, you should consider using artificial lights to keep your plant happy. Ideally, the best place to position your plant is on the south-facing window if you live in the northern hemisphere.
3. Water Requirements
During the active growing season (spring and summer), you should consider watering your plant more often so that the soil is moist but not wet. As long as you use the right type of succulent soil and your container has plenty of drainage holes, it shouldn't be difficult to keep the soil moist.
However, you need to reduce the watering frequency during winter because the plant goes into dormancy. During winter, consider watering your jade plant once or twice a month.
The best way to water your jade plant is by letting it sit in a saucer of water for a few minutes and pour off excess water from the container after a few minutes.
You can also water from the top and only stop when the water starts pouring out of the draining holes at the bottom of the growing container. That is an indication that the soil has soaked well.
Allow the soil to dry completely before you water your plant again. Always scoop the top two or three inches of the topsoil and feel it before watering your plant. If it feels moist, don't water.
4. Soil Type
Jade plants require good drainage to thrive and overcome potential root rot. Typically, they will do well in native soils that are sandy or rocky. For houseplants or outdoor garden plants, ensure you use a well-draining succulent potting mix.
Add an equal amount of perlite or pumice to regular soil to improve drainage and prevent excess moisture from accumulating. The soil should have a neutral or slightly acidic pH level.
Alternatively, you can house your jade plant in a clay or terracotta vessel to help with extra moisture from the soil. Keep in mind that poor drainage will lead to root rot hence killing your plant in no time.
5. Repotting Jade Plants
These succulents don't mind being root-bound in a relatively small growing container. In fact, keeping them root bound in a small pot will only make the plant smaller and more manageable.
Ideally, you should consider repotting your plant every two or three years to encourage growth. However, older jade plants can be repotted every four or five years.
The best time to re-pot is during spring, just before the growing season kicks off. Avoid watering your plant after repotting for at least one week, and wait for at least one month before you feed it with fertilizer to avoid burning its roots.
6. Fertilizer Requirements
Many people think that jade plants don't require fertilizer to thrive, which isn't the case. In fact, if you underfeed your plant during the growing season, it won't grow as expected.
To keep your plant healthy and happy, feed it with a controlled-release fertilizer at the start of every growth season or maintain a weekly feeding schedule using a liquid fertilizer solution.
Use a balanced 20-2-20 plant fertilizer at quarter strength on mature jade plants and fertilizer with less nitrogen on the young plants.
7. Pruning
The only time you should prune a jade plant is when you see dead/dying or shriveled branches. If that happens, simply snap off the affected branches and let new ones grow.
The good thing about these succulents is that they are highly forgiving and will always develop new growth wherever you cut them.
You can also prune if you want to get rid of sunburn spots or shape your plants to create beautiful scenery.
8. Temperature and Humidity
Jade plants will generally do well in temperatures ranging between 65oF and 70oF. But it doesn't mean that these plants can't handle cooler temperatures completely. During winter, they can handle temperatures of 55oF to 60oF.
Never keep a jade plant in temperatures below 50oF for a prolonged time because they are highly susceptible to cold damage.
If you start to notice white spots on your plant, it could be a sign of exposure to extremely low temperatures. Like sun damage, cold damage is permanent, and the only way of getting rid of it is through pruning.
9. Propagation
Jade plants can easily be propagated through a leaf cuttings, stem cuttings, or offsets. Stem propagation is quicker and has a relatively higher success rate.
For leaf cuttings, start by selecting a healthy leaf on your plant. Gently remove the leaf from the stem, ensuring a clean break.
Allow the leaf to callus over for a few days to prevent rot before placing the callused leaf in well-draining soil. Water sparingly until roots and new growth appear, then transplant the new plant to its new home.
Propagation through stem cutting is quite similar to propagation through leaf cuttings. Start by choosing a healthy stem and cutting it into sections, each containing several leaves.
Allow the cut ends to air dry and callus over before you plant the stem sections in well-draining soil, burying them slightly.
Water sparingly until roots develop and new growth emerges, then transplant them into individual pots.
You can also propagate jade plants through offsets. Carefully separate the offset from the main plant, ensuring it has roots attached. Plant the offset in its own pot with well-draining soil and water it lightly as you monitor its growth rate.
Consider propagating during the warm months and ensure that the leaf or stem cutting you use is healthy and disease-free.
10. Pests and Diseases
The jade plant is highly susceptible to mealybugs, aphids, spider mats, and scale insects. Mealybugs cluster on the undersides of the leaves and along the stems. They feed on the plant's sap, causing wilting and yellowing of leaves.
You can remove them manually using a soft brush, or a cotton swab dipped in alcohol. Regularly inspect your jade plant for early signs of infestation.
Aphids feed on the sap of jade plants and can cause leaves to curl and turn yellow. The best way to deal with aphids is by spraying the affected areas with a mixture of soapy water (a few drops of dish soap in water) or using neem oil.
Spider mites usually spin fine webs and can cause stippling, yellowing, and leaf drop. Use a strong jet of water to dislodge spider mites.
Frequent misting can also help prevent infestations. If the issue persists, consider neem oil or insecticidal soap.
Common diseases that affect this succulent include root rot and powder mildew. Root rot is commonly caused by excessive watering, and symptoms include wilting, yellowing leaves, and a foul odor from the soil.
Final Thought
Caring for a jade plant is relatively simple. Although these plants are slow-growing, they can mature into a beautiful jade tree that adds beauty to your indoor space or outdoor plant garden. Take time to learn your plant's needs, and everything will be fine.
Last update on 2023-09-08 / Affiliate links / Images from Amazon Product Advertising API