Plants typically require daily exposure to sunlight to survive and thrive. Ice plants get their name from the tiny, reflective hairs that look like ice crystals. They are trailing perennials in warm temperatures with vibrant flowers. These sun-loving succulents need at least six hours of direct sunshine per day but can withstand partial shade even if they don't bloom as much.
The leaves are fleshy and bear the appearance of succulent plants. Commonly known as the frost plant, there are many reasons that this common indoor plant is a favorite. Ice plants are packed with vitamins and minerals and have been touted to treat digestive issues; the juice can also treat infections when applied topically. The fruits may be eaten whole or preserved and used for making jam.
Ice plants thrive in warm regions, so if you add the plant to your collection, be sure to provide similar conditions to native African habitats. The right amount of sunlight is essential for the healthy growth of your ice plants, especially if you want your plants to bloom.
Almost always, when you buy your ice plant, you will find the sunlight requirements on the label or the seed package. While tags are a great way to determine the best lighting conditions for your plant, more research will help to keep your plant healthy. In your research, you may encounter some sun exposure terms that may be confusing. Let's look at the various terminologies to help you decide what works best for your ice plant.
Different Types of Sunlight Exposure
Figuring out how much light your home or yard receives can be difficult. You can use gadgets to measure sun exposure, although they may not be accurate. Observe the planting area for two weeks to determine the average trend. Once you know how much light the site gets, it is easier to match the requirements of the plant tags.
Ice plants can do well in different ranges of sun exposure, so you have more flexibility in determining the location. However, they prefer direct sunlight for better development but may tolerate partial sunlight.
Full Sun
A full sun location gets between six to eight hours of direct sunshine between 10 am and 4 pm. Full sun is not easy to achieve because ice plants require full sun to bloom, but young plants cannot take the intense heat that comes with such sun.
The best way to place growing ice plants is to get much sunlight in the morning or try late in the afternoon. Plants will grow well if they get between six and eight hours of direct sunlight.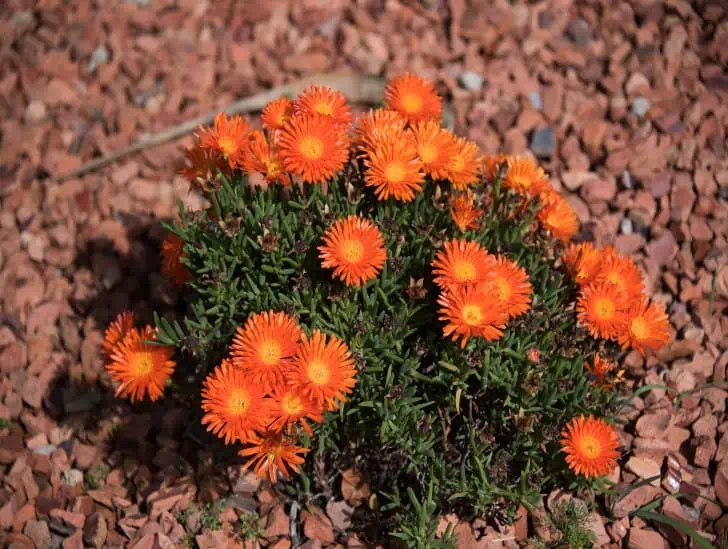 The more established ice plants can thrive in more hours of direct sunlight because they grow well in dry climates. You can use a mulch to maintain soil humidity and keep it cool. As a perennial, the ice plant needs full sunlight as long as you consider the water needs.
Partial Sun
Partial sun refers to exposure to between four and six hours of direct sun per day, mainly during cold morning hours. Although these plants require some hours of sun to bloom and fruit, they do not need all day in the sun.
Ice plants may grow in partial sunshine but more slowly and may not bloom. If you come across a plant labeled partially shaded or do not enjoy the blooming of the ice plant, place it where it is obstructed by the direct afternoon sun.
Full Shade
Not many plants can thrive without sunlight. The ice plant is not one of those. Plants that need shade can survive with only four hours of direct sun, especially in the morning or late afternoon.
Sunlight Requirements
Most people think that houseplants do not need too much sunlight. Ice plants differ because they enjoy full sunlight. Although they can do pretty well in partial shade, they appreciate the full sun. We recommend about 6-8 hours of direct sun. If your plants lack sunlight, they will become leggy and grow less.
The Best Location for the Ice Plant in Your Home
The ice plant growth guide or guidelines recommend a sunny spot that will get at least six hours of direct sunlight.
Indoor Light Requirements
The perfect spot for your indoor ice plant should be the brightest spot available in your home. Consistency is vital; the site should receive adequate light throughout the day. You can put your plant near a window facing eastward. The southern and western ones are equally good. To find the best position, you may need to move the plant more than once.
Ice plants do not tolerate poor light for long. If you cannot obtain enough natural light in your home, you can use artificial cultivation lamps. Grow lamps complement light requirements, especially in winter.
Choosing the Best Grow Light for Your Ice Plant
Intensity
Ice plants need a specific amount of sunlight so that photosynthesis takes place. The light requirements are pretty high, so get lights that emit at least 2,000 lumens per square foot.
Colour
Indoor ice plants grow well under bulbs as natural sunlight in terms of spectrum. The optimal color temperature must be at least 5000 kelvin.
Energy Usage
Both LEDs and fluorescent lamps produce a whole spectrum of light. However, fluorescent lights have more energy consumption, while LED lights last longer and use less power.
Indoor Light Terminologies
Bright
Bright interior illumination means no obstacle between the plant and the window. Obstructions include blinds, curtains, and curtains. They may also obstruct outside the window, such as trees or bushes.
Bright light means that you have to place your plant in a sunny place, probably to the south or west-facing windows with bright and direct sunlight all day.
Filtered
Filtered light, also referred to as indirect light, is partially dimmed and slightly shaded. As we have already seen, ice plants can also grow under filtered light, but they will not reach optimal growth.
Plants that need filtering light must be exposed to sunlight for a few hours, preferably in the morning or late afternoon: South-facing and east-facing windows better capture filtered sunlight. The good thing about the filtered sun is that your plants will get enough sun without being over-exposed.
Shaded
Dim Light refers to zero direct and low sunlight. The light which enters through the window is obstructed by curtains, furniture, or even outdoors by trees or buildings. Plants in need of shaded areas probably have high water requirements.
Outdoor Sunlight Requirements
Ice seedlings, when cultivated outdoors, prefer light shade to full sun. They do better in zones with much sunlight. When your ice plant is exposed to much sun, it will reach its best coloring. If you move it into a shaded area, it will look pale.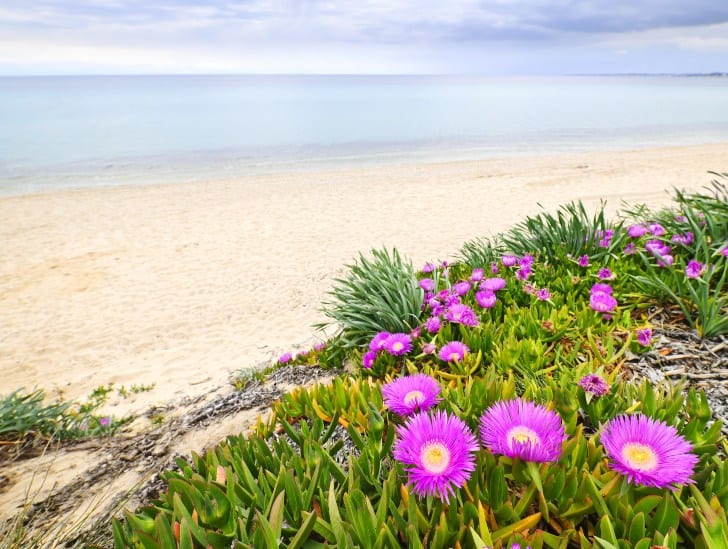 Consider gradually raising the amount of sun until your plant is used to direct sunlight. Pay close attention to younger and smaller plants as they may be damaged by sunlight when exposed to intense heat.
Signs That Your Ice Plant Is Getting Enough Light
You can see that your Ice Plant gets plenty of light if it grows well. However, if the leaves are burned or the flowers appear thin, the plant's location is probably not the best. You can also relocate or rotate your plant if you suspect that the place is not perfect.
Ice plants that do not get enough sunlight will also be lengthened because they stretch to get more light, which causes weak stems and lean growth. Furthermore, the plants will be pale and dull.
Can Ice Plants Get Too Much Sun?
Ice plants are found in vital areas and tolerate drought. Although the plant loves the sun, younger or newly propagated ones are a little difficult. In addition, if your ice plants are accustomed to growing indoors, they may get sunburned when they are moved outdoors for the first time. We suggest that you slowly acclimate your ice plant to direct sunlight if you want it to survive.
Sunburns can result in permanent scarring of your ice plant. To protect your plant from sunburn, begin by slowly conditioning your ice plant to intense light before total sun exposure. First, give your plant a partial shade and gradually expose it to more sun until it is fully acclimatized to the heat.
The morning sun is less intense and is a great place to start as you work your way to the brutal afternoon sun. Alternately, shade your plant over the first exposure. When you slowly increase exposure to the sun, you protect your ice plant from sudden impact and leaf damage.
Conclusion
Ice plants bear colorful flowers like daisies. If you want to take in the beauty of these flowers all year long, give your money plant enough direct sunlight. However, if you want to control the growth of your ice plant and don't mind the minimum flowers, you can go for partial shade.
Last update on 2023-07-26 / Affiliate links / Images from Amazon Product Advertising API