While cacti can make gorgeous additions to your indoor plant displays, you may be wondering if having cactus in the home is good for you and your family's health. Sure, they look pretty and can tie a room together, but do they serve any further purpose?
So, is it good to have cactus at home? Actually, the answer is a resounding yes. There are many benefits, both emotional and physical, from having cacti in the home. These include better air quality, increased mood, more productivity, therapeutic benefits, and in children, a sense of responsibility and accomplishment.
In this article, we'll be exploring each of the health benefits of having cactus indoors as well as discussing the best cacti to grow in your home.
1. Better Indoor Air Quality
When we breathe, we convert oxygen into carbon dioxide. Carbon dioxide is the toxin that we expel and the toxin that plants thrive on and convert back into oxygen.
A cactus absorbs the released carbon dioxide in the home and reverts it into fresh, clean oxygen for you and your family to breathe while you're inside. This is an obvious plus for your overall health, especially when you consider how polluted indoor air is (hint: it's often 2 to 5 times more polluted than outdoor air!).
These plants will also reduce levels of some home pollutants, such as nitrogen dioxide and benzene. So, the more cacti you have inside, the better your air quality will be.
2. Having Cacti Indoors Can Make You Happier
Having plants like cacti indoors can bring a feeling of calmness and increase your mood. After all, who just wants to be stuck inside without the beauty of nature? This isn't just a theory; it's been proven time and time again by studies like this one. The cutesy and colorful appearance of cacti helps to relieve stress and also decreases stress-related depression as we actively transfer our stresses into caring for the cactus.
Not only can cacti make you happier, but they can also make your spouse happier and increase the bond between you and your family. This is because, by caring for plants, we naturally become more empathetic and caring for those around us, as well.
Overall, having a cactus indoors can improve the bond we have with ourselves, with our friends, and with our family members.
3. They Can Make You More Productive
Whether you work from home or have a cactus in your office, these little potted plants can make you more productive during the workday. Along with increasing your mood, having an indoor cactus can make you feel more energetic and ready to take on the day.
Not only do they make you more productive, but they'll also make your children more productive. Children who spend time around indoor plants tend to learn better, meaning having cactus in your home could help them to focus better on their homework, become interested in their learning topics, and keep their minds vital and energetic.
4. An Indoor Cactus is a Great Learning Experience
No matter if your green thumb is looking a bit on the black side or if you have a child that is interested in the things of the natural world, having a cactus indoors is a great learning experience and can provide you or your child with a sense of accomplishment.
If you've never cared for a plant or are looking to broaden your gardening horizons, looking after an indoor plant is a rewarding experience that won't take up too much of your time with maintenance, while still allowing you to enjoy the natural elements indoors.
For children, having a cactus at home will give them a chance to learn responsibility as they water and check on the conditions of the cactus (such as making sure it's receiving enough light and isn't being exposed to cold conditions). This can better prepare them for potentially looking after a future pet or for being in a school setting.
5. They Can Help You Heal
Though this may not apply to every household, it's worth mentioning that having a cactus indoors has the potential of helping someone who's sick recover more quickly. Plants in hospital rooms have been shown to help patients heal faster due to their soothing effects and stress-reducing properties.

If you've recently had a medical procedure, caring for your indoor cactus may even significantly reduce the time it takes to recover.
6. Caring for an Indoor Cactus Can Be Therapeutic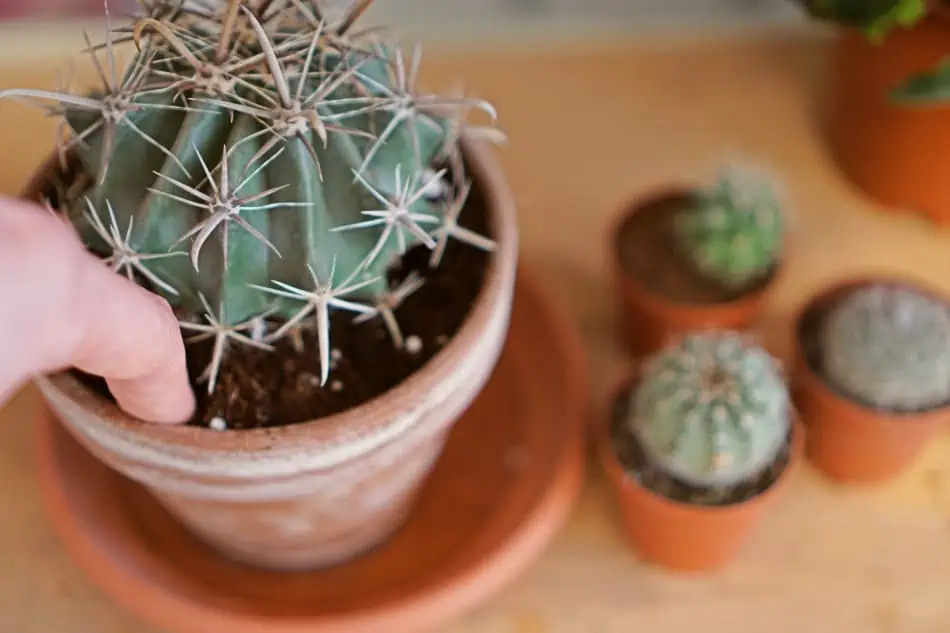 Having a cactus at home and caring for it can be therapeutic for those who have endured some type of trauma. Rather than focusing on the traumatic event solely, the mind can wander to the cactus, caring for it, and focusing on its needs while working through the events underwent.
7. They Can Reduce Outdoor or Indoor Background Noise
It's become a popular trend to use flora to lower the noise you hear in your garden, but did you know that having a plant indoors could help with noise issues, as well?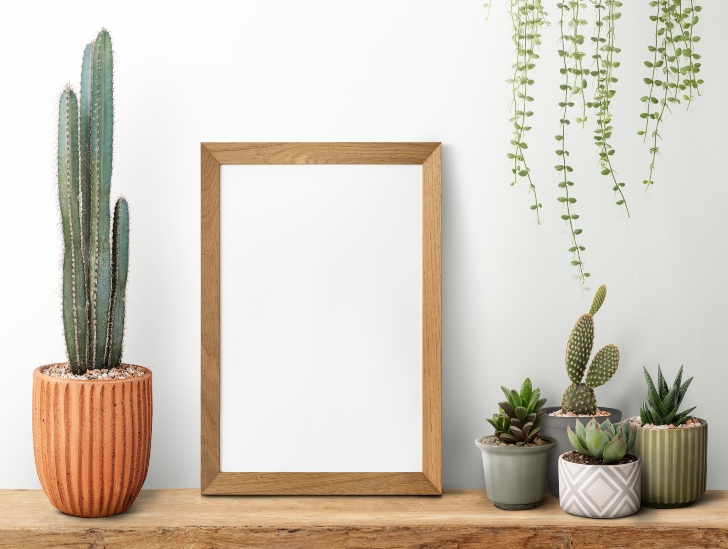 Cacti can help reduce the amount of background noise you hear in your home whenever you're trying to relax. This is due to their surface area bouncing noise off of it and away from you. Placing cacti next to your doors, windows, in your workspace, or around comfort rooms can help to lower the noise level and induce a calming effect.
The Best Cacti to Have at Home
While any cactus would have positive effects on your health at home, there are a few species that we'd recommend due to their vibrant colors, bigger sizes, and unique appearances:
Christmas Cactus: This cactus adorns itself in vibrant red, pink, white, or orange flowers and fans out in drooping, long branches. Christmas Cactus can get quite large, so it's best to place them near a big window.
Moon Cactus: the Moon Cactus is small and compact, making it perfect for a desk. It boasts a bright, rounded bulb of yellows, oranges, pinks, and reds top a deep green stem.
Old Lady Cactus: Cute and fuzzy (though spikey, so be careful), the Old Lady Cactus is covered in white fur and boasts a colorful ring of pink blooms in the summer.
Bunny Ears Cactus: It's as adorable as it sounds and will surely increase your mood. Bunny-Ears Cactus pads look like a rabbit's ears and are covered in tiny white hairs that give them a fluffy appearance. In the warmer months, these cacti will blossom in summer, producing yellow flowers and fruits.
Star Cactus: This dainty cactus is in the shape of a star and can be placed just about anywhere in your home. During the summer months, the Star Cactus pretties itself up with a large, yellow flower right in the center of the plant.
These cacti would provide your home with brilliant color, improving the overall look and feel of your home, as well as your mood. They're all also easy to care for, taking away any stresses you may have of maintaining a plant.
Final thoughts
While, at first glance, it may not seem as though having a cactus at home would provide you and your family with many health benefits, the truth is quite the contrary. There are a plethora of benefits to having a cactus at home, helping to improve both your physical and mental condition, as well as potentially improving the relationships in the home -all while simultaneously adding a splash of natural color and liveliness to your decor.
Last update on 2023-07-26 / Affiliate links / Images from Amazon Product Advertising API