The cactus is a fascinating plant that has adapted to grow in some of the harshest conditions on Earth. Everything about it, from its stem to its spines, is designed to maximize its ability to store water for itself in areas where the soil is dry and rainfall scarce. Cactuses are also an excellent choice for a beginner in houseplants because they require so little maintenance
Can a cactus grow in any climate? Cactus plants can grow in any climate, although they are native to North and South America. The majority of cactuses are found in the hottest, driest areas on Earth. However, certain species of cacti grow in rain forests, on mountain ranges, and even in Alaska and parts of Antarctica.
Cactuses can survive on very little water and thrive in the temperature extremes found in deserts around the world. That being said, there are varieties of cactus that grow in rainforests where water is abundant, on lush mountain bases, at high elevations, and low elevations. It is a plant that can grow anywhere in the world, although it's native to the Americas.
Where Do Cactuses Grow?
Cactuses can grow in any climate, but the vast majority of species are native to North and South America. Interestingly, there is one species that is found naturally in Africa, Madagascar, and Sri Lanka, but no other major continent has native cactus species.
Throughout the Americas, cactuses grow throughout South America in deserts, mountains, and rain forests, up through Mexico, through the United States, and into the southern reaches of Canada.
The stereotypical, large cactuses dotting a vast prairie or desert landscape that most people think of are found throughout Mexico and the southwestern United States, and these are often the largest and tallest of the cactus species. Species that grow in climates other than dry, arid deserts are usually smaller, inconspicuous plants.
How Many Species of Cactus Are Out There?
There are nearly 2,000 species of cactus, with a wide variety of shapes and sizes. A deep-dive into cactus varieties will tell you that they are extremely varied in appearance and size, and it is difficult to separate them into a few distinct categories of physical appearance. Most cactuses are what are called "succulents," meaning they have fleshy stems that are designed to absorb and hold substantial amounts of water.
How Are Most Cactus Alike?
Outer Appearance
Though their sizes vary significantly based on the species and location, most cactuses have sharp spines as well as thick skins that are designed to keep water from evaporating. Their spines are intended to keep the fleshy stems from being eaten, but that doesn't stop many small animals from burrowing into cactuses and using them as homes and food sources.
Root Systems
Most cactuses grow on the ground and have wide-spreading root systems that allow them to gather water from a wide area. While most have fine roots, several species have taproots that go deep into the ground. The cactus that's found in Africa, Rhipsalis baccifera, is found on tree branches instead of growing on the ground.
Areoles and Spines
All cactuses also have what are called areoles, small brown protuberances that are often woolly or hairy in appearance, and from which sprout both spines and flowers. Cactuses have what are called spines, which are different from thorns in that spines are modified leaves, while thorns are modified branches.
Cactus spines are extremely varied in appearance, with some being straight, some being hooked, some being a combination of both, and some appearing as what are called glochids, which are very short, fine clusters of spines which are particularly irritating when caught in the skin.
A cactus's spines are not like leaves, which aid in photosynthesis; rather, most spines seem to be a defense mechanism to keep the stem from being eaten by animals.
How Cactuses Affect the Ecosystem
Cactuses are an important part of their ecosystem. Their root systems serve to keep soil erosion at bay, and they are a food source for a wide variety of animals, insects, and even people.
Several animals have a symbiotic relationship with cactuses, such as woodpeckers that make their homes in a cactus and keep insect invaders at bay. Humans have used cactus stems and fruit as a food source for centuries as well.
How Does a Cactus Reproduce?
Like most plants, cactuses produce flowers that are used for reproduction. Flowers have both male and female parts, and pollen from one flower is passed to another flower where it fertilizes the egg. These fertilized eggs grow into fruit that holds seeds, which are then eaten by animals and spread throughout the surrounding area.
Varieties and Sizes of Cactus
The size of a cactus varies based on its species. Several of the most common species of cactuses include:
| | |
| --- | --- |
| Saguaro | Pronounced "se-WAR-o," this is one of the best-known cactus species and can grow to a height of 40 feet, although some older plants in the American southwest and Mexico have been known to reach 60 feet. It has a thick central stem and an arm-like branch that branch off the main stem. |
| Barrel | These shorter types of cactuses have a very thick, squat stem and don't have parts that branch off. They come in a wide variety of shapes and sizes, but the largest can grow up to 10 feet tall; others only grow to inches. |
| Prickly Pear | These cactuses are characterized by round, broad "leaves" that are covered with spines, and are typically much shorter than their saguaro and barrel relatives. The largest variety of prickly pear cactus can grow up to 5 feet tall, but they also spread out over a large area, with some covering up to several square feet in-ground space. |
Are Cactuses Good Houseplants?
Because of their self-sufficient and hardy nature, cactuses make very popular houseplants and make most of the must-have houseplant lists.  They require minimal upkeep, and smaller varieties can grow in small pots without becoming too obtrusive.
They require a small amount of water, but the qualities that allow them to thrive in arid climates make them a popular choice among people looking for attractive additions to their home décor.
Popular Houseplant Varieties
Obviously, smaller species of cactuses are more suitable for in-home décor. Some of the most popular species of house-cactus are:
Angel-wing (a variety of prickly pear)
Saguaro
Old lady
Bishop's cap
You may notice that the saguaro is included even though it can grow quite large in the wild; it has an extremely slow growth rate though (often taking two centuries to reach its full height), and keeping it in a small pot also keeps it small. Cactuses are also popular in landscaping, often in the southwest U.S. states of New Mexico and Arizona.
Taking Care of Your Cactus
With a minimal requirement for watering and some species only needing three hours a day, a cactus can make anyone feel like an expert horticulturist. Depending on the variety you choose, most cactuses need water once every 10-14 days or so. They do best when they have sunlight all day, but they can thrive on as little as three hours a day.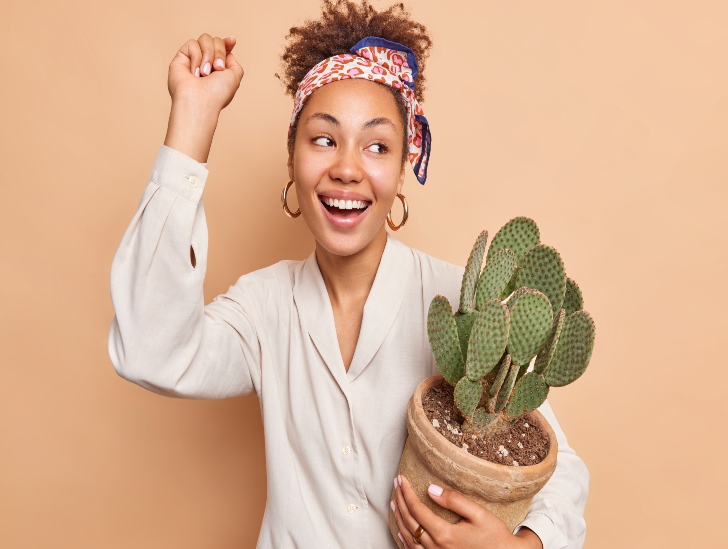 You definitely want to put your cactus in a spot in your house where it can get the most sunlight. If you have small children or pets, that is an additional concern; while some house varieties have softer spines, many of them are very sharp and can be painful if touched by a curious toddler.
So, What's the Plural of Cactus?
If you've been wondering whether the plural of cactus is "cactuses" or "cacti," either is correct. "Cacti" conforms to Latin rules for plurals, while "cactuses" is more common in English rules. Cacti is a more common plural form among English speakers. Cactus can also double as a plural form, though this is much less common.
Last update on 2023-07-26 / Affiliate links / Images from Amazon Product Advertising API