Unlike most green-leafed and flowering indoor plants, cacti are incredibly hardy and don't require an abundance of care, water, or climate control. As long as their basic needs are met, cacti can thrive just about anywhere you place them.
So, is cactus a good indoor plant? As a general rule of thumb, yes. Cacti love dry conditions and warm, comfortable temperatures typically found in the home. They also won't need to be watered often or pruned. Though, some species will do better indoors than others because of their size and sunlight requirements.
In this article, we'll be discussing the best cactus plants to have indoors and how to care for them to help them thrive.
The Best Kinds of Cactus to Have Indoors
Cacti are increasingly popular plants because of their large variety of appearances. These plants come in different shapes, textures, colors, floral features, and sizes — with some species, like the Saguaro cactus, reaching heights of 40 or more feet. With that in mind, it's crucial to choose a cactus species that is better suited for indoor growth.
Here are our favorites:
1. Old Lady Cactus
Adorned with long white hairs, the Old Lady Cactus might just remind you of your grandmother's hair or that rugged cardigan she likes to wear.
This lovely indoor cactus blooms a ring of pink or purple flowers on the top of the plant during the spring and would look beautiful sitting on a window sill or near a sliding glass door. It also has large spines that poke through the white fluff.
Old Lady Cactus Care:
Place in full sun (around 6 to 8 hours daily to keep hairs looking healthy)
Water once every other week or once a month during the winter
Plant in sandy, well-drained soil
Consistent sunlight exposure is key to growing a healthy Old Lady Cactus, so if you don't have an area in your home that receives sufficient light, you may want to consider a grow light to supplement the hours your cactus isn't getting sun.
2. Christmas Cactus
With a large number of plants going dormant during the winter, the colder months can become drab and gray. That's where the Christmas Cactus comes in. This gorgeous indoor cactus generally blooms bright red flowers at the end of each branch but can also clothe itself in flowers of white, purple, yellow, or pink.
What's great about the Christmas Cactus is that it requires less light than other species, meaning you can place it virtually anywhere in your home without the worry of needing consistent light.
Christmas Cactus Care:
Water your Christmas Cactus once a month.
Place in an area that receives 4 to 6 hours of sunlight each day. 4 hours each day will still lead to blooms, however, 5-6 hours per day will result in more colorful, fuller flowers.
Plant in well-drained soil, preferably sandy. You could even supplement a third of your regular potting mix with sand.
Avoid overwatering. Christmas Cactus are prone to root rot and will only need to be watered once every 3 or 4 weeks. These plants do best in average home temperatures of 65 to 70 degrees Fahrenheit.
3. Bunny Ears Cactus
As cute as its name entails, the Bunny Ears Cactus is a slow-growing cactus that's perfectly suited for an indoor environment. Rather than cover itself in long, pointy spines, this cactus is coated in small groups of off-white prickles resembling fuzz. It grows between 2 and 3 feet tall and up to 5 feet wide on average, making it great for sunrooms or placement next to large windows.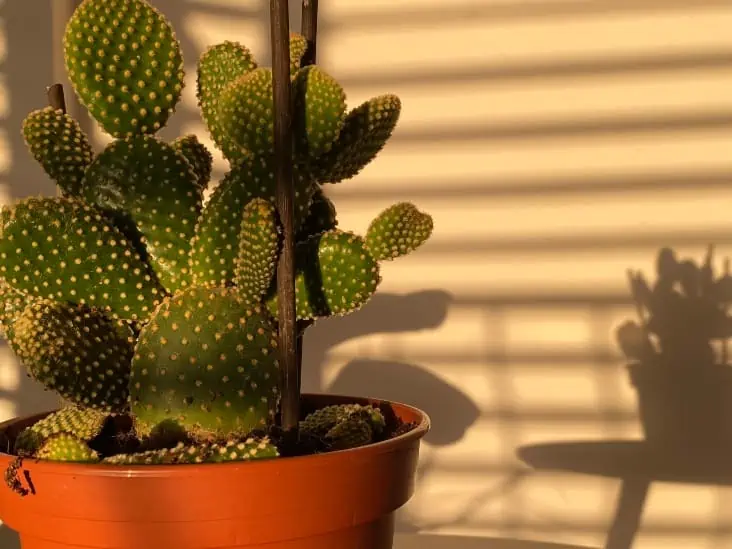 Bunny Ears Cactus Care:
Bunny Ears Cactus should be watered once a month or every three weeks, depending on sun exposure and indoor temperature.
This cactus should have access to partial sunlight — about 4 to 6 hours of direct exposure daily.
As with all cacti, plant in well-drained, preferably sandy soil.
With adequate sunlight, the Bunny Ears Cactus will bud in late spring and begin sprouting purple fruit and white flowers in early summer.
4. Star Cactus
A native Texas cactus, the Star Cactus is both interesting to look at and petite, making it a perfect choice for an indoor garden display. This is an adorable rounded cactus with 8 sections, each lined with white prickly dots. The Start Cactus will only reach a width of about 6 inches at most, so it can be placed practically anywhere in the home.
Star Cactus Care:
Water your Star Cactus once a month — no more and no less. Excess water could lead to root rot.
This cactus requires adequate sunlight, around 6 to 8 hours daily, to be the healthiest.
Soil should be rich in nutrients and allow for proper water drainage. Slightly sandy soil is preferable.
In the center of the cactus, a bright yellow flower blooms in the spring from March to May. The center of the flowers are generally orange and reach diameters of 3 to 5 inches across.
5. Moon Cactus
One of the more interesting indoor cactus options, the Moon Cactus is a popular choice for homes because of their bright coloring and unique shapes. They have a moon-shaped crown sitting atop a central green stem that commonly comes in shades of pink, orange, and yellow. They're also quite petite, only growing a few inches tall and 8 or so inches in diameter at the fullest part of their body.
Moon Cactus Care:
Moon cactus requires watering once every three or four weeks.
Exposure to direct sunlight for four hours per day is all that's needed to keep this cactus healthy.
The soil should be rich and sandy and able to drain well. Fertilizer is also occasionally recommended for these cactus plants.
Moon Cactus is two cactus plants grafted together. Because the colorful part of the Moon Cactus isn't able to survive well on its own, the lower portion allows it to have a prolonged life. The downside to Moon Cactus is that they don't have as long of a lifespan as other species. While other cacti may live for multiple decades, Moon Cactus may only survive for a single decade or less.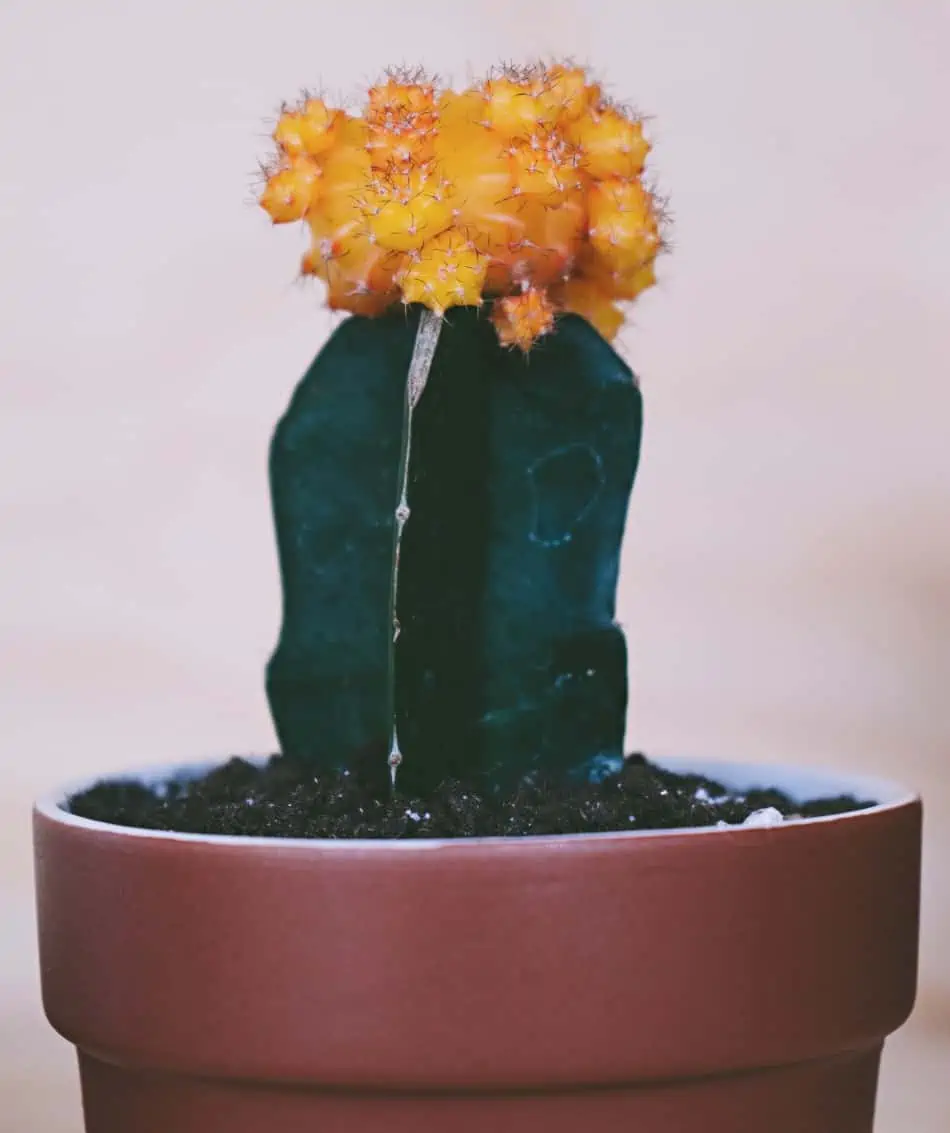 General Cactus Care
To keep your cactus happy and healthy, there are few general care tips to keep in mind, such as:
Ensuring the plant is draining water well. One of the biggest killers of cacti is overwatering and water-retention. The majority of cacti will only need to be watered once a month. Be sure that the soil allows for proper water drainage, as pooled water will result in root rot.
Keeping the temperature consistent and warm. An indoor temperature of between 65 and 70 degrees is perfect for all cacti. Temperatures that are too cold will kill a cactus, and so will moisture, so your home should also have dry air.
Giving your cactus adequate sunlight. Keeping your cactus in a window sill or near a glass door is your best bet. Sufficient sunlight is necessary, but too much can fry your cactus. If your plant requires partial light, be sure to move it to a shaded area after it's had its fill of sun.
Fertilizing every other time you water. Adding a 10-10-10 fertilizer to your cactus will result in a more robust plant and brighter colors.
Overall, cacti are set-and-forget plants that don't demand an abundance of care. Just as long as they receive enough light and watering now and again, they'll be good to go year after year.
Final Thoughts
When it comes to cacti, there are a few varieties that do better indoors than others. Star Cactus and Moon Cactus are two of the most common indoor cacti because of their unique appearances, small size, and vibrant coloring. Keep in mind that less is more when cacti are in question—only water when necessary and place them in a window that receives consistent sunlight.
Last update on 2023-07-26 / Affiliate links / Images from Amazon Product Advertising API