Disclaimer: The author is not a medical doctor or veterinarian. The information presented is purely to share our experience and for entertainment purposes. As always, check with a doctor and/or veterinarian before making any health or nutrition decisions and consult with a doctor and/or veterinarian regarding any question or problem that you have. The author and blog disclaim liability for any damage, mishap, or injury that may occur from engaging in any activities or ideas from this site.
Have you ever tried eating a cactus fruit? Despite its unusual appearance, the prickly pear is delicious and loaded with a wide range of healthy nutrients. Also referred to as the tuna fruit, nopal cactus fruit, or the cactus pear, this fruit packs a naturally sweet flavor and can be served as a dessert. It is low in calories and sugars making it an ideal choice for low-carb and ketogenic diets.
Are cactus fruits good for you? The simple answer is "YES". Each prickly pear fruit is packed with high levels of vitamin C, potassium, dietary fiber, calcium, magnesium, polyphenols, flavonoids, and B-family vitamins. These fruits are also loaded with antioxidants and healthy minerals that play a critical role in managing blood sugar levels, lower cholesterol, and reduce inflammation.
In this post, we discuss some of the health benefits of cactus fruits and simple ways you can consume the fruit. Read on to find out everything you need to know about the prickly pear fruit.
What Is Prickly Pear Fruit?
Before we jump into discussing the health benefits of this wild fruit, let us take a few minutes to understand it better. The prickly pear or cactus fruit is mostly found in Mexico and southwestern regions of Mexico. The fruit is mainly used in Mexican cuisine and comes with different names.
Edible prickly pear mostly comes from Nopal cactus, which thrives in hot, arid areas. The fruits can only be consumed when the plant is still relatively young. When the cactus gets older, the fruits become a little bit tougher and hard to eat.
There are over 200 different species of Nopal cactus spread across North and South America, all of which produce some form of prickly pear fruits. However, not all varieties of prickly pear are edible. The most commonly consumed prickly pear fruit is of the O.ficus-indica species, commonly referred to as the Indian Fig Opuntia.
The most interesting thing about the cactus fruit is that it grows at the very edge of the spiny leaves of the cactus plant. The fruits are oval, and their color usually ranges from light green to yellow, red, and pink, depending on the cactus species and level of ripeness.
Some Interesting Cactus Fruit Nutrition Facts
Whether you want to boost your immune system, get leaner, or feel energized, you can always count on prickly pear fruits for the best results. A single cactus fruit packs up to 24% of the daily recommended vitamin C intake together with high doses of nutritional copper, potassium, calcium, and magnesium.
Compared to some of the other common fruits, cactus fruits are quite low in carbs. Each prickly pear packs a paltry 9.9 grams of carbs, which includes approximately 3.7 grams of nutritional fiber. You will also get small amounts of thiamin, vitamin B6, selenium, iron, and vitamin A from this fruit.
Prickly pear is also a great choice if you are on a low-fat diet because it contains less than one gram of fat per serving. Isn't it a perfect addition to your body slimming plan? In fact, its rich, sweet flavor will easily satisfy your cravings without getting you into any health problems.
What Are the Health Benefits of Cactus Fruit?
There are many health benefits of cactus fruits. They include its ability to improve the digestive process, lower cholesterol levels, boost the immune system, reduce inflammation, aid in weight loss, and decrease the risk of developing diabetes. Let us discuss some of these benefits in detail.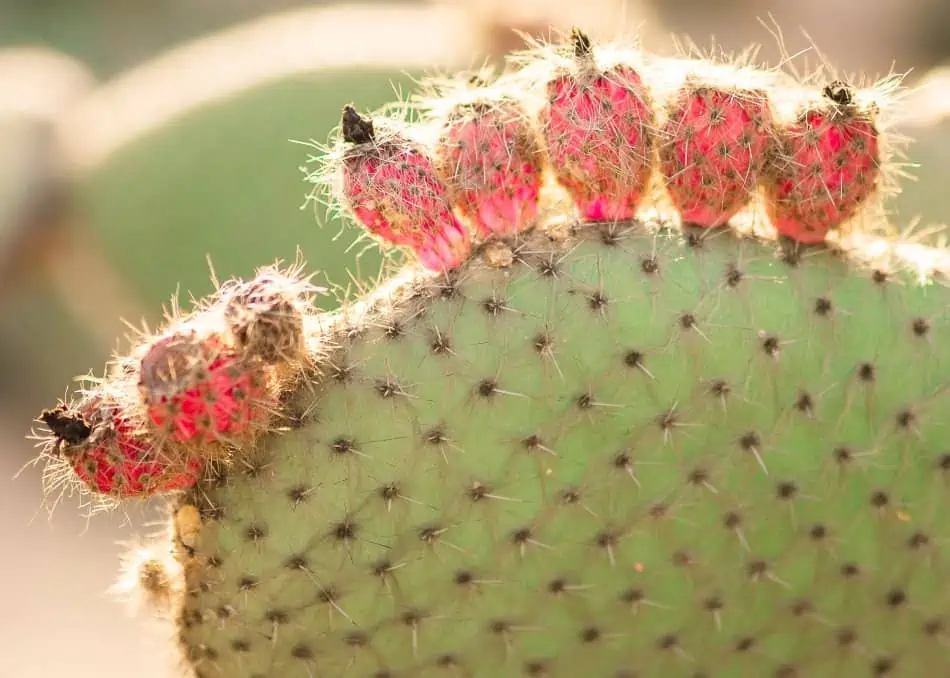 Boosts immunity
Research published in the American Journal of Clinical Nutrition shows that consuming a small portion of the cactus fruit daily helps in the removal of toxic substances from your body. The antioxidant activity is caused by the high levels of vitamin C and vitamin E in the fruit.
In fact, a single serving of the cactus fruit contains more than 35% of the recommended daily intake of vitamin C. Also referred to as ascorbic acid; vitamin C plays a critical role in boosting your immune system and stimulating the production of more white blood cells.
It acts as a powerful antioxidant protecting you from harmful microorganisms that may be lurking in your body. Vitamin C also plays a critical role in the production of muscle tissue and metabolic processes.
Reduces inflammation
This wild fruit is also highly valued for its powerful anti-inflammatory properties. Research shows that chronic inflammation is a major contributing factor to arthritis, coronary heart disease, and Crohn's disease. It can also lead to chronic depression, pain, fatigue, and a wide range of other recurrent infections.
While treatment for inflammation is available, most drugs have side effects that may affect your health in the long run. Therefore, before you visit that drug store, consider changing your diet. Replacing your conventional snacks with cactus fruits can be a good starting point.
In a 2018 study published in the Food & Nutrition Journal, it was proved that the prickly pear can prevent and reduce inflammation effectively. Researchers attribute this effect to the high number of vitamins and antioxidants that occur naturally in cactus fruits. Beta-carotene, betanin, glutathione, and kaempferol are just some of the antioxidants found in cactus fruits.
Aids in weight loss
Did you know that eating cactus fruits can play a critical role in helping you achieve your weight goals? Well, a 2015 study published in the Nutrition Journal suggests that eating prickly pear can aid in a significant reduction in body fat, blood pressure, and cholesterol levels. The findings of the research show that this wild fruit not only promotes weight loss but it is also essential in keeping you healthy.
Another study published in the BioMed Research International Journal confirmed the effects of prickly pear on cholesterol levels. High levels of cholesterol are linked to heart diseases and obesity. Therefore, eating cactus fruits will benefit not only your waistline but also your heart.
It can fight cancer
According to the American Journal of Clinical Nutrition, cactus fruits have relatively high levels of betalains, polyphenols, and flavonoids. These compounds are potent antioxidants that neutralize free radicals before they cause healthy body cells to start mutating.
The phytochemical compounds found in cactus fruits also slow down the overall growth of cancer cells in the liver, colon, prostate, and breasts without affecting the functioning of other healthy cells in the body.
Lowers blood pressure
A four-ounce prickly pear is packed with up to 227miligrams of potassium, which is equivalent to about 6% of the recommended daily intake and only five milligrams of sodium equivalent to 2% of recommended daily intake.
A high-potassium, low-sodium diet can prevent high blood pressure or help you manage blood pressure that is already high. High blood pressure is a dangerous disease that also increases your risk of developing stroke and kidney disease.
Vegetables and fresh fruits are high in nutritional potassium and low in sodium, which is critical to keeping your blood pressure in check.
Protects your heart health
Cactus fruits are packed with a significant number of nutrients that are good for heart health. The levels of dietary fiber in the fruit can play a crucial role in lowering levels of bad cholesterol in your body.
Furthermore, the significant amount of potassium in the fruit lowers blood pressure by relaxing blood vessels and reducing the overall stress on your cardiovascular system.
Finally, betalains found in the cactus fruit are directly connected to strengthening the endothelial walls of blood vessels hence reducing the chances of weakening the blood circulatory system.
Overall, consuming prickly pear lowers your risk of developing coronary heart diseases, stroke, and atherosclerosis.
Aids indigestion
Prickly pear boasts a high amount of dietary fiber like most fruits and vegetables. Therefore, these wild spiny fruits can aid in the digestion process by preventing constipation.
The dietary fiber bulks up a stool to help pass food particles through the digestive tract quite easily hence eliminating the risk of bloating, constipation, and other gastrointestinal issues such as gastric ulcers.
Lowers LDL Levels
Regular consumption of cactus fruit can lower cholesterol levels by approximately 30%. The fruit is a rich source of soluble fiber, which helps reduce the absorption of LDL cholesterol from the intestines.
It also reduces fat oxidation, preventing atherosclerosis. Reduced levels of LDL cholesterol may reduce the risk of heart attack and stroke.
High in Antioxidants
Cactus fruit is rich in antioxidants, which help protect cells from damage caused by free radicals.
The antioxidant content of cactus fruits may help protect against chronic diseases such as cancer and diabetes, as well as improve overall health.
Improves the health of your liver
The liver is a vital body organ, and disregarding its importance can adversely affect your physical well-being and health.
The primary role of the liver is to filter blood from the gastrointestinal tract and carry out the metabolic processing of drugs while eliminating harmful toxins.
You must monitor your diet closely to maintain a healthy liver. Occasional consumption of carcinogens can pose a threat to this organ.
Cactus fruit is rich in antioxidants, which reduce the oxidative stress induced by compounds in the liver.
Consequently, it exhibits hepatoprotective properties primarily by neutralizing free radicals and enhancing the liver's antioxidant capacity.
How Can You Eat a Cactus Fruit?
Fortunately, there are many ways you can enjoy cactus fruits.
You can cut open the fruit and scoop out the edible flesh with a spoon. This is an easy way to eat since you don't need special tools.
The inside of the fruit is succulent, sweet, and juicy. You only need to be careful to avoid the spines that surround the fruit.
Another way to enjoy cactus fruit is to blend it into a smoothie. This is a great way to get all the nutritional benefits of cactus fruit in an easy-to-consume form.
Cut open the fruit and scoop out the flesh, then add other ingredients like bananas, mangos, and honey to make a delicious smoothie.
You can also blend your cactus fruit into cactus juice. The refreshing and nutritious beverage can be enjoyed on its own or mixed with other juices for an exciting flavor.
Toss chunks of peeled cactus fruit into a blender, add water, then strain off any remaining solids before drinking.
If you're looking for a unique way to enjoy your cactus fruit, try making candied cactus fruit.
Cut the fruit into thin slices and simmer it in a syrup of sugar and water until it's tender and candied. Sprinkle with a bit of cinnamon for an even more delicious treat.
Cactus fruit is also a great addition to salads, salsa, guacamole, or chutney. Cut open the fruit, scoop out the flesh, and add it to your favorite recipes to enjoy the unique flavor of cactus fruit.
What Else Is Edible from the Prickly Plant
Are you wondering what else you can consume from the prickly plant? Well, apart from the fruits, you can also eat the pads as vegetables and the petals as salads. You can chop the pads into small pieces, boil or grill them and add to your salads or serve as a side dish.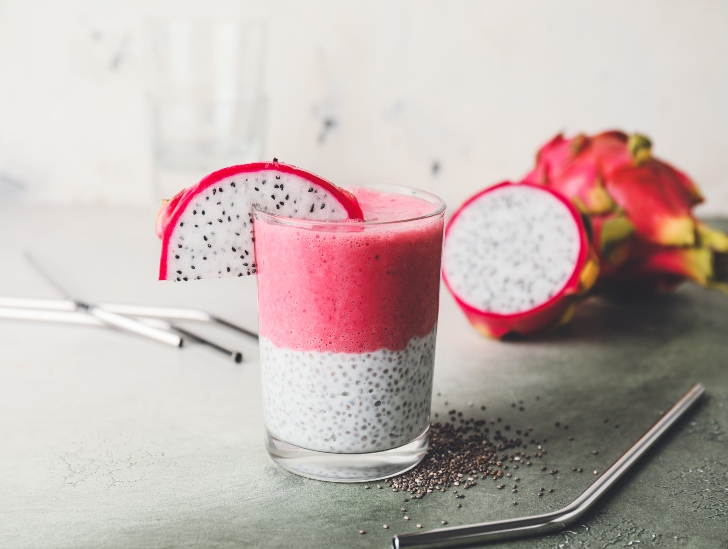 You can also eat them raw, although the slightly bitter taste might not be a thing for you. Many people out there also enjoy adding cactus fruits to their smoothies. No matter how you want to eat the prickly pear, you can always be sure of getting a wide range of healthy nutrients.
Final Thoughts
The prickly fruit is one of the healthiest fruits you can include in your diet. It is rich in vitamins, minerals, and dietary fiber that offer a wide range of health benefits. In fact, the fruit is a staple in parts of Latin America, and Mexico mostly served with eggs and salads.
However, before you consume the prickly pear, make sure you remove the skin and carefully peel it off to get rid of the spines. If you don't, the glochids can lodge themselves in your throat, gums, and lips, which can be quite painful.
If you have not tried the prickly pear yet, then you might be missing something important. Find it today, try it out, and let us know how it feels in the comments section below.

Last update on 2023-12-11 / Affiliate links / Images from Amazon Product Advertising API