Succulents are not only charming and low maintenance but also versatile enough to become the star of your next centerpiece. Whether it's for a wedding, party, or dining table, succulent centerpieces add a touch of natural elegance to any setting. However, proper arrangement and care for succulents are essential to creating a lasting, stunning centerpiece.
So, how can you make a stunning succulent centerpiece? The first step in creating a stunning succulent centerpiece is choosing the right succulents. Once you have the right succulents, plan and gather your materials for the project. They include a shallow container or planter, cactus or succulent potting mix, decorative stones, pebbles, or moss, gardening gloves, and a small trowel or spoon. Prepare your container and gather your succulents. The next thing to do is prepare your container. Make sure that it has proper drainage holes for the succulents to thrive. Plant the succulents and add decorative elements. Water the plants and keep them in a sunny spot.
This blog post will guide you through the process of making a stunning succulent centerpiece step by step. Read on to find out everything you need to know.
Why Choose Succulents for Centerpieces?
Before we dive into the steps, let's explore why succulents make excellent centerpieces:
Longevity: Succulents have a longer lifespan than many other cut flowers, ensuring your centerpiece remains beautiful long after the event.
Low Maintenance: They require minimal care, making them ideal for busy hosts. With the right conditions, they can thrive for weeks.
Versatility: Succulents come in various shapes, sizes, and colors, allowing you to create diverse and visually striking arrangements.
Sustainability: Many succulents can be replanted or propagated after the event, reducing waste, and providing lasting memories.
How to Make a Stunning Succulent Centerpiece: Step-by-Step Guide
Now that you know why succulents are an excellent choice for centerpieces, let's get into the steps of making one:
Step 1: Choosing the Right Succulents
The first step in creating a beautiful succulent centerpiece is choosing the right plants. There are countless varieties of succulents, each with its own unique shape, color, and size.
However, not all succulents are suitable for a centerpiece. It's best to choose ones that have similar growth habits and care requirements so that they can thrive together in one container.
Some popular succulent choices for centerpieces include echeverias, haworthias, sedums, and aeoniums. They come in different colors, textures, and sizes that can add dimension and interest to your centerpiece.
When choosing succulents, also consider the size of your container. For a small or medium-sized container, it's best to choose smaller succulents so they don't overcrowd each other as they grow.
Step 2: Gathering Materials
You will need the following materials to create your succulent centerpiece:
A shallow container or planter with proper drainage holes
Cactus or succulent potting mix
Decorative stones, pebbles, or moss
Gardening gloves
Small trowel or spoon for planting
Watering can or spray bottle
Optional: Decorative elements like driftwood, seashells, or fairy lights
Ensure you have gathered all these materials before starting the project. Otherwise, you might have to pause in the middle of the process, which can disrupt your workflow.
Step 3: Preparing Your Container
Once you have selected your succulents, it's time to prepare the container for planting. Start by selecting a shallow container with proper drainage holes. Succulents do not like to sit in standing water, so ensuring the container can drain excess water properly is crucial.
Next, add a layer of cactus or succulent potting mix to the bottom of the container. This soil type is specifically formulated for succulents and has excellent drainage properties.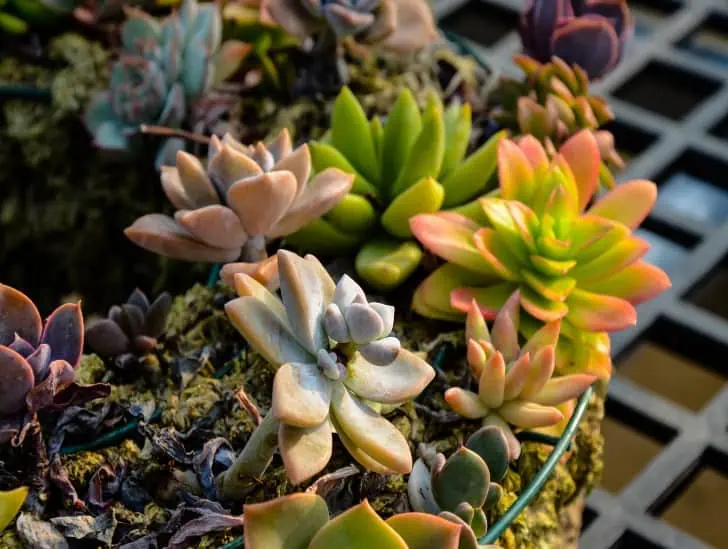 Be careful with the type of container you choose. Metal or glass containers can become too hot and damage the succulents' roots, while porous materials like terracotta can absorb water too quickly.
Step 4: Planting and Arranging Your Succulents
It's now time to get your hands dirty! Put on your gardening gloves and start planting your succulents in the container.
Begin with the larger succulents first, placing them towards the back or center of the container. Then, fill in any empty spaces with smaller succulents. You can also add decorative elements like driftwood or seashells to add interest and texture.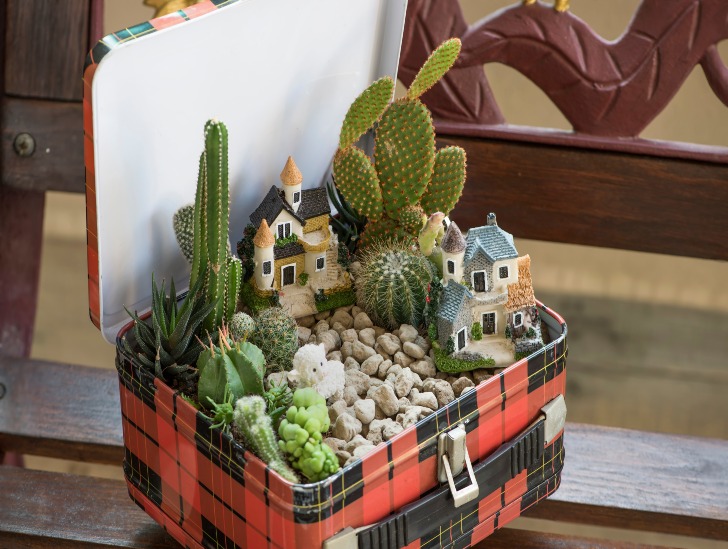 Leave enough space between each plant for them to grow and breathe. Once all your succulents are planted, use your hands or a small trowel to pack the soil around them gently.
Step 5: Adding Decorative Elements
Add decorative elements like pebbles, stones, or moss on top of the soil to make your centerpiece even more eye-catching. This not only adds texture and visual interest but also helps keep moisture in the soil and prevents it from drying out too quickly.
You can also incorporate fairy lights or other small decorations to add a touch of whimsy and charm to your centerpiece.
Step 6: Watering and Settling
Water your succulents lightly, ensuring the soil is evenly moist but not soggy. You can use a spray bottle for gentle watering. Don't water the leaves directly because it can cause rot issues.
After watering, set your succulent centerpiece in a sunny spot. Succulents require plenty of sunlight to thrive. So, ensure they get at least 6 hours of direct sunlight daily.
You should also allow your stunning centerpiece arrangement to settle for a day or two before displaying it, giving the succulents time to adjust to the new environment.
Step 7: Caring for Your Succulent Centerpiece
Your succulent centerpiece can last weeks or months with proper care. Here are some tips to keep it looking beautiful:
Water your succulents once a week, ensuring the soil is evenly moist but not soggy.
Give them enough sunlight. If you notice your succulents starting to stretch towards the light source, it's a sign they need more sunlight.
Avoid placing your centerpiece near air conditioning vents or heaters because temperature fluctuations can harm the succulents.
Remove dead or dying leaves to keep your centerpiece fresh and healthy.
Replant or propagate any succulents that outgrow the container to avoid overcrowding and promote sustainability.
How Long Does It Take to Make a Succulent Centerpiece?
The time it takes to create a succulent centerpiece will depend on the size and complexity of your arrangement. Small centerpieces can be made in less than an hour, while larger and more intricate ones may take a few hours to complete.
The time it takes to complete the project will also depend on your skill set. If you are new to gardening or working with succulents, it may take longer as you get the hang of it. With practice, you can create stunning, succulent centerpieces in no time.
Don't be afraid to ask for help from more experienced gardeners or seek inspiration from online tutorials and resources.
Where Can I Display My Succulent Centerpiece?
Succulent centerpieces are versatile and can be displayed in different settings. They make great additions to dining tables, coffee tables, and mantelpieces. You can also use them as focal points on entryway tables or outdoor patios.
Choose a spot with enough sunlight for your succulents to thrive. With proper care, your succulent centerpiece can be a beautiful addition to any space for weeks or months.
How Long Do Succulent Centerpieces Last?
The lifespan of your succulent centerpiece depends on various factors, such as the type of succulents used, care and maintenance, and environmental conditions.
Your succulent centerpiece can last several weeks or even months with proper care and attention. The most important thing is to provide your succulents with the right conditions they need to thrive.
Can I Reuse the Succulents from My Centerpiece?
Yes, you can! Once your centerpiece starts to fade, carefully remove the succulents and replant them in a new container with fresh potting mix.
You can also propagate any overgrown or damaged succulents by taking cuttings and rooting them in soil or water.
This allows you to enjoy your succulents for longer and promotes sustainability by reducing waste and promoting plant growth.
So don't be afraid to experiment with different containers and arrangements, knowing that you can always reuse your succulents in the future.
Do Succulent Centerpieces Require Maintenance?
Succulent centerpieces require minimal maintenance, but you can do a few things to keep them looking good.
Water your succulents once a week, ensuring the soil is evenly moist but not soggy. Give them enough sunlight. If you notice your succulents starting to stretch towards the light source, it's a sign they need more sunlight.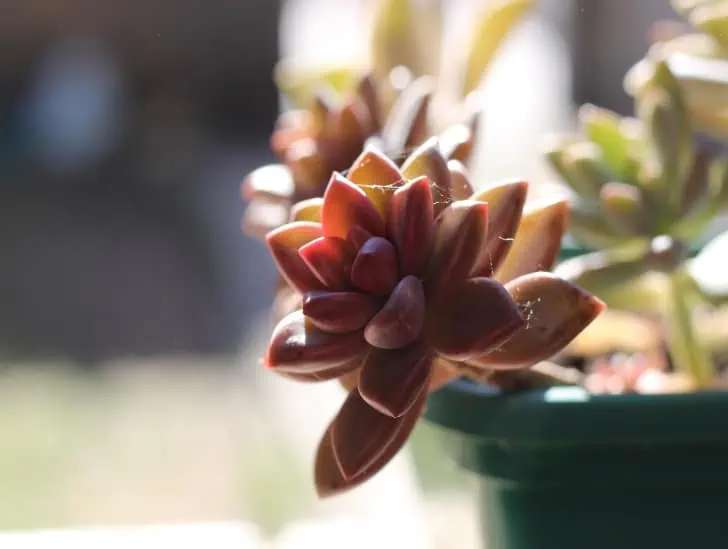 Remove dead or dying leaves to keep your centerpiece fresh and healthy. You should also replant or propagate any succulents that outgrow the container to avoid overcrowding and promote sustainability.
Final Thoughts
Creating a succulent centerpiece is a fun and rewarding project that can add a touch of nature and beauty to any space.
Remember to choose the right succulents, gather all necessary materials, prepare your container properly, plant and arrange your succulents creatively, add decorative elements, and care for your centerpiece regularly.
With these steps in mind, you can create a stunning succulent centerpiece that will impress and delight you for weeks or even months.
Last update on 2023-12-11 / Affiliate links / Images from Amazon Product Advertising API