Succulents are among the most popular house plants. They're easy to grow and care for and they come in all shapes, sizes, and colors. They add interest and beauty both inside and outside your home. All that, but your Aloe Vera and Cactus plants are rotting – why?
There are measures you can take to save a rotting succulent and to prevent your succulent from rotting in the first place. With proper care, succulents can live a long and happy life. But once rot begins, you need to act fast to save them.
Read on to learn what causes succulents to rot, how to save them once rot begins, and how to keep your succulents from rotting in the first place.
What Causes Succulents to Rot?
Succulents are made for arid regions with little rain and loosely compacted soil. To get through dry seasons, succulents store water in their leaves and stems. Given they are used to dry periods and soil that drains, two of the main reasons for succulent rot is too much water and poor drainage. 
Taking a closer look at reasons why succulents can rot can help in understanding how to save them.
Too Much Water
Succulents will continue to try and store water in their leaves and stems, even if it's not necessary. So, when you overwater them, their tissues will swell, become mushy, and finally burst from trying to hold all of the excess water.
Overwatered succulents will have leaves and stems that become soft, turn dark, begin to droop, and then drop off. (If you were under-watering, the leaves would be brown and shriveled.) Watch for coloration changes as well— over-watering causes the leaves to yellow and become translucent.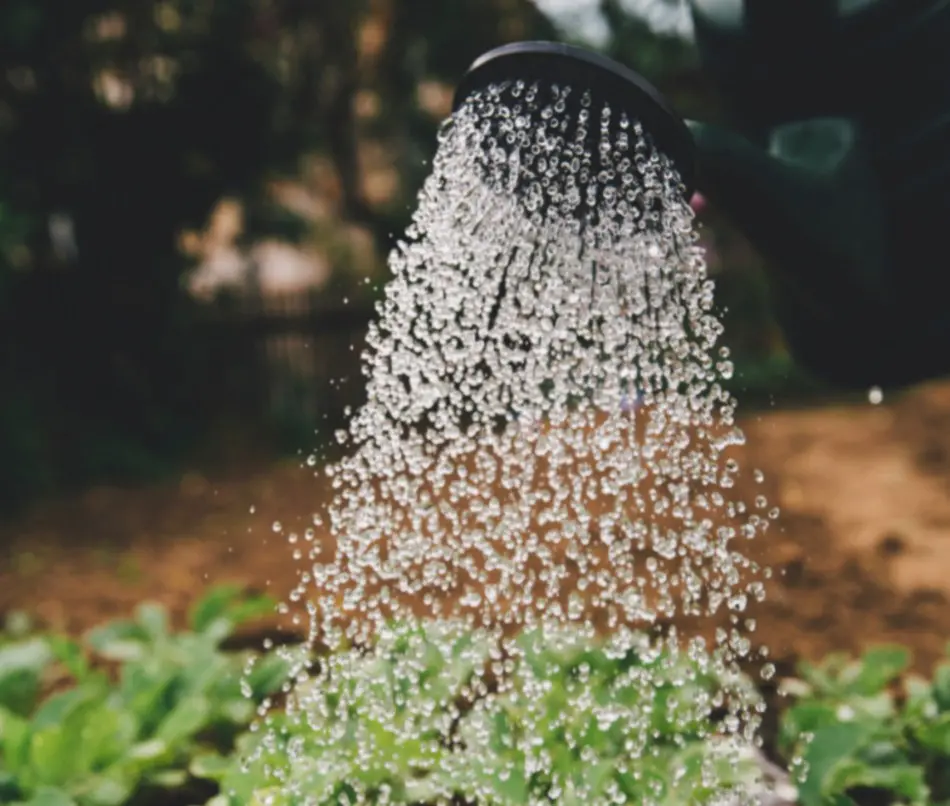 Why does too much water cause these issues, particularly root rot? Like all plants, succulent roots pull both water and oxygen from in-between soil particles. When overwatered, air pockets in the soil are displaced. Then the roots become oxygen deprived. This in combination with too much water, leads to the collapse of root and plant structure, hence root rot.
Poor Drainage
Succulents are not used to sitting in water. If you've used regular potting soil, or the soil is too compacted, what might be good for another type of plant, can lead to rot in a succulent. Use a potting mix specifically designed for succulents (more on this shortly.)
Fungal or Bacterial Infections
Although rare in succulents, it's possible that the soil, pot, or tools used to plant the succulent were contaminated with some sort of pathogen or fungus. And, back to water for a moment, both pathogens and fungi thrive on excessive moisture or dampness. 
Your best bet for this cause of root rot is to give your succulent a new home (pot) with succulent potting mix, sunshine, and water after two weeks.
Cold Weather
Not all succulents can tolerate the cold winter weather, especially if there are extremes in temperature. Large, outside succulents like certain types of cacti are cold-resistant, given they're often found naturally in high-altitude deserts. For smaller varieties, bring them inside and use a grow light if more direct light and warmth is needed.
How to Save a Rotting Succulent
The sooner you diagnose root rot, the better the chance of saving your succulent. In other words, there's first aid and then there's the 911 level of intervention.
First Aid for a Rotting Succulent
The best early intervention is to stop watering your succulent for at least a week. Placing it in sunlight will help the soil dry out even more. If the top of the soil is completely dry after a week, then you can consider watering the succulent again.
If the main stem of the plant is still strong and the leaves appear only slightly damaged, you may be able to save the entire plant.
To do this, remove any rotted leaves and let the roots dry completely before you repot the succulent. Then, sterilize the pot and prepare it with fresh, succulent-specific, soil mix. You'll also want to wipe or dunk the roots with an anti-fungal solution before repotting as well.
Emergency Care for a Rotting Succulent
You still have options, even if the rotting has progressed beyond the first aid stage. Fortunately, succulents do propagate easily.
If there's rot in the stem, but there are some viable leaves still on the plant, then you can take cuttings from the leaves and stems, let them dry, and then repot. It's possible the planted cuttings will eventually root and a new plant will develop.
Many succulents produce "offsets," or little succulents that sprout up around the base of an existing plant. If so, you can divide these little plants away from the parent. Next, allow the ends of these to "callus," or harden a bit. As the callus forms, some of the succulent cells may form roots capable of regenerating the plant, so once planted, your succulent will have a fresh start.
The resource tessgarden.com gives step-by-step descriptions for dealing with succulent root rot— from initial diagnosis to specifics around transplanting.
How to Prevent Your Succulent From Rotting
There are three keys to preventing root rot in your succulent— whether you keep them inside, outside, or both. These keys are proper watering, the right kind of pot, and the correct soil mix.
Water Every Two Weeks
Water your succulents only when the soil has completely dried out. A reasonable watering schedule is once every two weeks. In the winter, outside succulents (and some inside ones) go dormant. So, you can cut your watering back significantly— perhaps even to once a month or less.
By the way, if you're in the habit of misting your plants after watering them – skip misting the succulents. They don't like it and misting can encourage rot. (The only time to mist is if you're propagating new little succulent plants from calluses or cuttings.)
Use a Clay Pot
The best pot for succulents is a clay pot. The composition of clay means more air can get to the succulent – as opposed to plastic or similar which has no possibility of aeration. Most clay pots even come with a hole in the bottom for drainage, but double-check just to be sure.
Succulent Specific Potting Mix
Your best bet for soil is to buy a pre-mix specific to succulents. There are several good kinds of succulent potting mixes— including familiar names like Miracle-Gro and Bonsai Jack Succulent and Cactus Soil
Outside Succulents
A note on outside succulents like Agave or Cactus plants; These do best in areas where the rainfall is less than 25 inches a year. And like their inside succulent friends, they don't like soggy soil. With outside succulents, you can cover all three keys to a healthy plant by remembering they do best in arid regions and when planted in coarse soil that drains well.
Resources for Saving Your Succulent
There are several great resources online to help you keep your succulent plants happy and healthy. In addition to online, there are also several books on how to care for and revive succulents who are under the weather. (Check out "Succulent Container Gardens" by Debra Lee Baldwin and "Essential Succulents: The Beginner's Guide" by Ken Shelf.)
You Can Save Rotting Succulents
There's hope! You can do it— succulents are hardy plants. If you follow the guidance and suggestions in this article, you can prevent root rot and enjoy your succulents for many years to come.
Last update on 2023-07-26 / Affiliate links / Images from Amazon Product Advertising API