Terrarium mold is a fuzzy mortal enemy for many terrarium owners. It can form on the glass walls of your terrarium, on plants and soil, or even in moist crevices. While it is not usually harmful to your succulents, it does look unsightly and can cause an unpleasant smell. Furthermore, mold can attract other pests, such as cockroaches and mites, which can spread around your terrarium. To prevent the spread of mold in your terrarium, it is important to remove it straight away.
So, how do you remove mold in a terrarium? Typically, mold grows in areas that lack airflow with high humidity and moisture. Therefore, you need to reduce moisture and increase ventilation to prevent mold growth in your terrarium. You can do this by increasing air circulation within the terrarium by opening the lid or utilizing a fan. Additionally, you can add a dehumidifier to reduce the humidity levels. You should also check if the plants need additional water and ensure that the soil drains properly.
This article discusses everything you need to know about removing mold in a terrarium. Read on to learn more and keep your terrarium clean and healthy.
What Is Mold?
Mold is a common term used to refer to many different types of fungi. It is typically found in wet, humid environments and can grow on various surfaces such as walls, windows, furniture, and other items.
Mold usually has a fuzzy or slimy appearance and can range in color from white to black or green.
Fungi play a critical role on the planet by breaking down organic matter. However, mold can become a nuisance in a terrarium and cause your plants to die.
However, you must remember that mold is not always bad. Certain types of mold can be beneficial in the terrarium environment and help break down bacteria.
So, don't always be quick to grab a flamethrower ready to pounce whenever you see mold in your terrarium. It's best to determine the type of mold first and then decide on an appropriate course of action.
What Causes Mold Growth in a Terrarium?
The truth is that mold is a natural phenomenon. It is everywhere. All it needs to flourish and reproduce is organic matter and the right environment.
Mold can enter your plant terrarium in different ways, including but not limited to the following.
Air: If you have mold in your home or wherever you decide to build your plant terrarium, there is a high chance that the mold spores in the air will find their way into your plant terrarium and germinate.
Soil: While some soils come sterile and packed in airtight containers, others are simply a random assortment of soil mixes or native soil taken from the wild. The latter may contain fungi spores that can germinate in the moist environment of your terrarium.
Plants & Mosses: Some plants are more susceptible to fungal spores than others. If you have a plant with signs of mold, it is important to inspect and clean all other plants in the terrarium to prevent the spread of mold throughout your mini ecosystem.
Hardscape branches: Living woods tend to contain a lot of sugar that can't just go away even if they are treated and bleached for several years. The sugar attracts fungi and can be the breeding ground for mold.
When it comes to terrariums, mold can grow due to high humidity levels, lack of air circulation, and excessive moisture.
This is why it's important to ensure your plants have enough water, but not too much. You should also ensure that there is good ventilation within the terrarium by opening the lid or using a fan.
Furthermore, use a dehumidifier to reduce humidity levels and prevent mold growth in your terrarium.
How to Remove Mold in Terrarium?
The best way to remove mold from your terrarium is by increasing ventilation and decreasing moisture. Here are a few tips to get you started:
1. Increase Air Circulation
Improve the airflow inside your terrarium by opening the lid or using a fan to circulate air inside the terrarium.
Make sure your plants get enough oxygen and carbon dioxide for healthy growth. Air circulation also helps reduce humidity levels and prevent mold from growing in your terrarium.
2. Spray with Chamomile Tea
Chamomile tea is a mild organic fungicide that can help control and prevent mold growth in your terrarium.
Make a chamomile tea spray by brewing two teaspoons of dried chamomile flowers with one cup of hot water. Let it cool off before straining, then spray the mixture on plants to help them fight off mold.
While chamomile tea may not be potent enough to prevent the rapid spread of mold in your terrarium, it certainly prevents outbreaks of plants and moss.
3. Use Activated Charcoal
Activated charcoal is ground-up charcoal that has been treated with oxygen to create pores and make it more porous.
Sprinkle activated charcoals around the terrarium and on top of the soil medium to prevent mold growth in your terrarium. The porous nature of activated charcoal helps absorb excess moisture responsible for mold growth.
It also helps neutralize the environment and can help break down bacteria.
4. Remove Affected Plants and Quarantine Them
If the mold is only local to a few plants in your terrarium, it's best to remove and quarantine them away from the rest of the terrarium.
This will help keep other plants safe from mold growth. After removing the affected plant, you can use a fungicide spray on the infected area and replace any dead plant material with fresh soil.
One of the most important things you should pay close attention to when removing affected plants is to avoid spreading mold spores from one plant to another.
Always use gloves and disinfect any tools you use while working in the terrarium.
5. Change The Soil
Sometimes, all the other steps mentioned above may not yield the desired results. In that case, you may need to replace the soil in your terrarium altogether.
This is especially necessary if the soil has been infected with fungal spores or there is a rapid spread of mold throughout your terrarium. It is important to thoroughly clean and disinfects the container before adding new soil.
6. Bake Your Soil
No matter where you purchase your succulent soil, there is no guarantee that it won't contain some mold spores.
Before you use the soil in your terrarium, it's a good idea to bake it in the oven to kill any potential fungus that might be present in the mix.
Baking your soil will help ensure that the mold stays out of your terrarium and that your plants stay healthy.
7. Reduce Humidity
Use a dehumidifier in the room where you have your plant terrarium. This will help reduce moisture levels and make it difficult for mold to grow.
It is also important to open the lid of your terrarium from time to time to allow air circulation. This will help reduce the humidity and make it difficult for mold spores to germinate and thrive in your terrarium.
8. Include Sphagnum Moss
Sphagnum moss is a natural desiccant that absorbs and retains moisture.
Including sphagnum moss in your terrarium will help absorb excess moisture responsible for mold growth. Not only does the moss help reduce humidity levels, but it also adds to the aesthetic of the terrarium.
Besides removing mold from your terrarium, sphagnum moss also helps improve the overall health of your plants by providing additional nutrition.
9. Monitor Regularly
Make sure you keep an eye on your terrarium and regularly monitor for signs of mold growth. If you spot any, take the necessary steps to remove and prevent them from returning.
Regular monitoring will help ensure your plants stay healthy and free from disease. This will also save you time and money on costly treatments if the problem is left unchecked for too long.
Can Mold Harm Your Plants?
Mold can cause damage to your plants if left unchecked. It will spread over the leaves and block off sunlight, depriving the plant of essential nutrients. It also provides an entry point for other diseases and parasites which can attack your plants.
Taking the right steps to removing mold from your terrarium will help keep your plants healthy and ensure they stay free from any damage caused by mold growth.
How Often Should I Clean My Terrarium?
Periodically clean your terrarium to remove any build-up of dirt, dust, and debris that may be contributing to the humid environment that encourages mold growth.
Also, check for signs of fungal growth and take appropriate steps to remove it as soon as possible.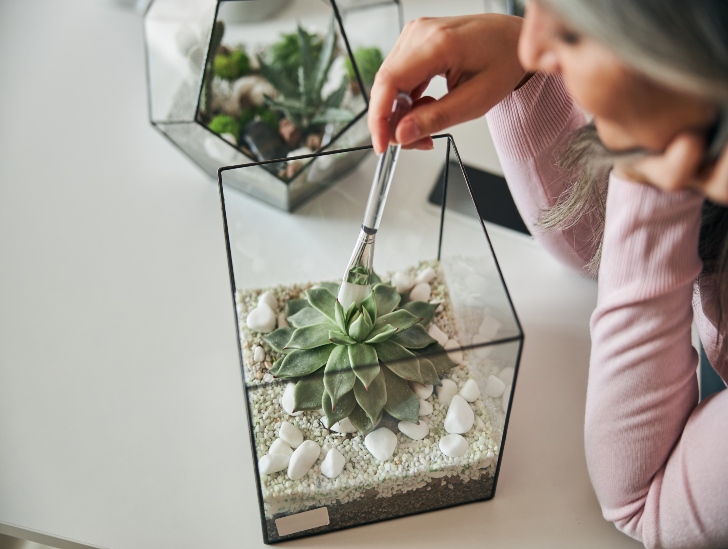 Sometimes, you may need professional help to identify the source of the problem and to take corrective measures.
Should I Use Pesticides?
Pesticides can be used as a last resort if other methods fail to remove the mold. However, it is important to note that pesticides may do more harm than good to your plants and should only be used in extreme cases. Contact an expert for advice before using pesticides or chemicals in your terrarium.
Summary
Mold growth in terrariums is a common problem that can be easily prevented with the right precautions.
Make sure to keep your terrarium clean and well-ventilated, use a dehumidifier to reduce humidity levels, and remove affected plants immediately.
You can also sprinkle activated charcoal around the terrarium and bake the soil in the oven to prevent mold from growing.
Last update on 2023-07-26 / Affiliate links / Images from Amazon Product Advertising API