You saw an attractive succulent plant at the plant store and decided to purchase it. So, it is now in your home, and you are probably wondering how often you need to water it.
Don't worry because you are not alone. Most succulent beginners are never sure of how often to water their plants.
The most important thing you need to realize about succulents is that they have unique water requirements compared to other indoor or outdoor plants.
While other plants require daily watering, succulents can go for relatively long periods without watering. Since they are adapted to growing in dry areas, these plants have thickened and fleshy leaves or stems that retain water for a long time.
As such, most of them don't require frequent watering. However, there are also a few misconceptions about how often to water succulents that you need to be aware of to avoid problems.
In this post, we discuss everything you need to know about watering succulents. Read on to learn how to keep your succulents healthy.
Do Succulents Need Water to Survive?
Just like any other plant, succulents need water to survive. But the big question is; how much water do they require?
Many gardeners have the misconception that succulents require only a small amount of water once in a while to survive. While it is true that some succulents are tough and can survive with a minimal amount of water, most of them won't thrive in drought-like conditions.
During the growing phase, succulents usually require plenty of water. It means that regular watering is essential during this phase.
Some succulents are summer growers, while others are winter growers. The summer growers are active during summer and dormant during winter, while winter growers become active during winter and slide into dormancy during summer.
To understand the ideal watering schedule for your succulents, you should first identify whether they are summer growers or winter growers. Some of the common summer growing succulents include:
Adenia.
Cissus.
Plumeria.
Titanopsis.
Dorstenia.
Sinningia.
Xerosicyos.
Euphorbia.
Agave
Echeveria.
Synadenium.
Some of the common winter growing succulents include:
Aloe.
Kalanchoe.
Avonia.
Bulbine.
Cetraria.
Othonna.
Senecio.
Cotyledon.
Sansevieria.
Sedum.
Bulbine.
If you don't see your succulent among those mentioned above, conduct a quick online search of its name, and within no time, you will know whether it is a summer or winter grower.
How Often Should You Water Succulents?
Generally, you need to water your succulents at least once a week during the growing phase. Some gardeners prefer watering more than this, but that will depend on a wide range of factors that we shall discuss in a moment.
When watering your succulents, ensure you thoroughly soak the plant until water starts to run out of the container's drainage holes.
However, before you water your plants, you need to ensure that the soil is completely dry. You can confirm whether the soil is completely dry by sticking a stick into the soil. Wait for a few minutes before you pull it out.
If the stick is damp with soil particles stuck on it, the soil is not completely dry. But if it comes out quite easily and is dry, then the potting mix is completely dry, and you can proceed to water your succulent.
When your succulents enter the dormancy phase, you need to increase the interval between watering. During this time, be sure to provide your plants with enough water so that there are no signs of wilting.
This is a critical time you need to apply common sense and do what you believe is right for your succulents.
For instance, if you have summer growing succulents and keep them indoors on a window sill in a heated room during winter, you may be forced to water it slightly more than when you'd have left it outside.
Critical Factors That Affect How Often You Need to Water Succulents
Other than the general rule of thumb mentioned above, some factors determine how often you should water succulents. They include:
1. Season
As mentioned above, some succulents grow during summer while others grow during winter.
Typically, you will need to water your plants more during the active growing season since they absorb water from the soil at a relatively higher rate to make new leaves, stems, roots, and blooms.
During this time, consider watering them up to three times a week depending on conditions such as temperature and light. But you must always ensure that the soil is completely dry before watering.
During the dormant season, the growth stops, and you only need to water them once or twice for the entire season. When in dormancy, the plants rarely absorb water from the soil because almost nothing is happening.
Keep in mind that one of the easiest ways to kill your succulent is by overwatering it during the dormant season. This is the time to let your plant rest easy and sleep.
2. Amount of light
Succulents that get at least ten hours of full sunlight require more watering than those that get less light. Generally, outdoor succulents need more water than indoor succulents because they are exposed to more sunlight and tougher conditions.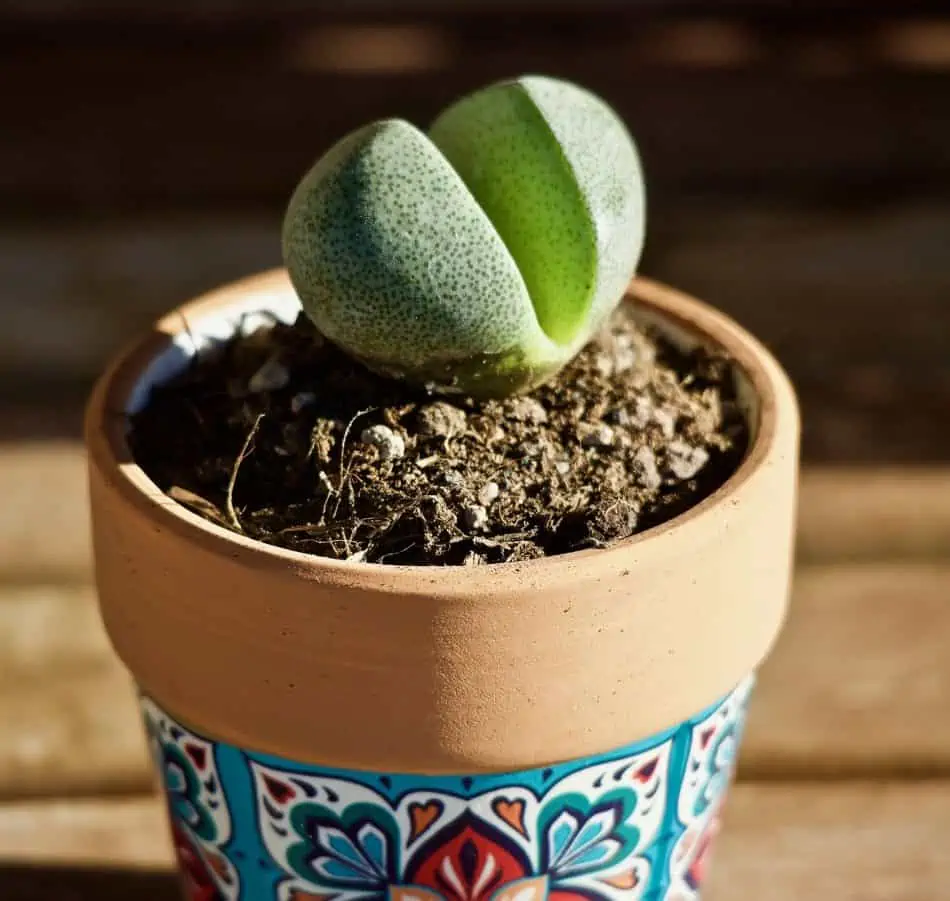 3. Humidity
Another factor that determines how often to water succulents is the amount of humidity.
Succulents grown in high humidity and relatively cooler temperatures require less frequent watering than succulents grown in hot and dry climates because they retain moisture for more extended periods.
So, if you live in a relatively hotter region and you have to position your succulent pots on your patio in full sun, then you may be forced to water them frequently.
However, if you live in a relatively cooler region and your plants are indoors, you only need to water them once every two weeks.
4. Container size
The size of your container will also determine how often you should water your plants.
Typically, succulents grown in large containers require less frequent watering because the containers hold moisture for a long time.
Plants grown in small and shallow containers require frequent watering because the soil tends to dry out faster.
5. Size of your succulent
The size of your succulent also affects the watering frequency.
Succulents with relatively thick leaves, stems, and bigger in size store more water than those with thinner leaves, stems, and smaller in size.
Therefore, the bigger succulents can sustain longer periods between watering sessions than smaller size succulents.
6. Soil Type
Your succulent watering routine should be determined by the soil type you use since the time it takes to dry out depends on its density.
The denser the soil, the slower it drains after watering, which can keep the roots moist for longer periods. To prevent root rot, you should reduce the frequency of watering.
In simple terms, soil density is determined by a mix of two main ingredients: organic and inorganic compounds.
If your soil has a higher proportion of organic compounds, it will be denser, and consequently, it will retain more water. Hence, you should water it less compared to well-drained soil.
7. Dormancy Time
Every succulent experiences a dormant phase annually. Understanding when your succulent will enter this dormant period is crucial because it will affect your watering routine.
Typically, watering should be reduced during dormancy to avoid overwatering, which can lead to irreversible damage.
It's important to note that not all succulents enter dormancy at the same time. So, take time to find out when your succulent will likely go through this phase.
What Is the Right Way to Water Succulents?
Now that you know how often to water your succulents and the critical factors that affect the watering frequency, it is time to understand how to water them right.
Yes, there is a right and wrong way to water succulents. So, don't be surprised.
Most succulents are desert natives, and there is one thing that makes them unique plants. While most of us know that deserts don't receive a lot of rainfall, we don't know that when it rains, it pours.
Desert rainstorms are monsoons that allow plenty of water to come out of the skies when it is time. You need to try and replicate the same scenario when watering your plants.
When watering your succulents, be sure to drench them. Pour water on them slowly, and don't stop until you have plenty of it running out of the drainage holes at the bottom of the container.
Succulents usually require periodic but long and deep drinks that soak the soil to the bottom. So, when it is time to water your succulents, make sure you drench them.
Let the soil dry out completely and drench again and repeat the cycle. Follow this pattern, and you will have happy and healthy plants.
What Is the Best Type of Water for Succulents?
Besides the watering frequency, you also need to be careful with the type of water you use on your succulent plants. Rainwater is always the best choice, but it may not always be available.
If your tap water is so hard or highly alkaline, you need to find an alternative. Hard/alkaline water introduces a lot of minerals to your potting mix.
With time, the minerals build up, causing harm to your succulents in the long run. However, repotting annually with all fresh potting mix can help prevent a dangerous buildup of the unwanted minerals hence saving your plants.
You may also want to water your succulents with filtered, bottled water to avoid mineral buildup.
If it snows where you live, melt some snow during the winter months and store the water for use during the summer months.
Avoid Overwatering
Overwatering is the #1 killer of most succulents. Not in the sense that they get too much water, but instead, they get watered before the soil dries out completely.
When you don't allow enough time between watering sessions, the potting mix is constantly damp, which can cause a lot of problems.
The most common issue related to overwatering is root rot and stem rot.
If you start to notice rotting stems on your succulents, it is most likely that you have been overwatering them, and the roots have already rotted as well.  Overwatering can also cause leaf cracks in succulents.
Underwatering Is Equally Bad
While overwatering is more dangerous than underwatering, you should also avoid underwatering your succulents.
Your succulents may dry out and wilt if you fail to water them for too long. The leaves become more transparent and start turning brown or yellowish.
Stems can also pucker when the plant is severely dehydrated. This can be fixed with one or two proper watering sessions.
Once you water your plant and the soil becomes saturated, it will revive and become healthy again within a few days.
However, if you wait too long to water, the plant may not recover. Therefore, keep an eye on your succulents and give them enough water when necessary.
Summary
Overall, succulents must be watered correctly and at the right frequency to stay healthy and thrive.
The amount of water needed by each succulent depends on the size of its container, climate conditions, light exposure, type of soil used, and other factors mentioned above.
Consider these factors before deciding how often to water your succulents. As long as you keep an eye on your succulents and only water them when necessary, you will have happy and healthy plants in your home.
Last update on 2023-08-04 / Affiliate links / Images from Amazon Product Advertising API