Cacti have a reputation for their abilities to survive in incredibly dry environments like deserts. But these hardy plants are also commonly kept as houseplants. If you have some cacti of your own and want more without spending money, you might try to root your own.
Does cactus root in water? Cactus is a type of succulent that can root in either water or dirt. Some varieties of cacti will root better in dirt, but many will also root in water. By rooting your cactus in water, you can try getting more plants without buying them since you use plants you already have.
There is no guarantee that any cactus will grow in water or dirt; sometimes, the environment just is not what the plant wants. The good thing is that it is easy to at least try rooting your cactus in water, and you do have a good chance of success.
Rooting a Cactus in Water
The process of growing a new plant from a piece of the parent plant is called propagation. Although you can grow new cacti and other succulents from seeds, you can also propagate them by using part of the original (parent) plant's stem.
Propagating your plants is not always successful, but it is a process that you can easily attempt without any major consequences. Propagation is also an easy way for you to expand your plant collection without spending more money on buying new plants. Plus, you get the satisfaction of having rooted your own plant.
You can also propagate your cactus in soil, which is more traditional. It may seem counterintuitive to place plants that do not usually like much water in a glass of water, but it does work. If you want to be able to see the process of a cactus rooting, then it is best to propagate it in water.
Some people may also find that they have no luck propagating plants in soil, or vice versa. If you are having trouble propagating your plants in dirt or just want to see if water will work too, then you can easily try to propagate your cactus in water.
Materials
To propagate your cactus in water, you only need a few things:
Parent plant: Naturally, you will need the parent plant to propagate from.
Scissors: You can use sharp scissors or garden shears. These will be needed to gather cuttings.
Glass: You can use any sort of glass vessel. It does not have to be see-through, but it does add a cool element if you can see the roots.
Water: You will need plain water.
Plastic wrap: This is an optional material.
Step 1: Gather the Cuttings
The first thing you need to do is find where you will take cuttings from. Look at your parent plant and locate a new growth that has some stem. Carefully cut the piece off of the parent plant.
You want to have some of the stem exposed, so you may have to remove a few of the lowest leaves. If you are unsure of how your propagation will go, you may decide to gather a few cuttings from multiple cactus plants to try.
Step 2: Dry the Cuttings
Once you have the cutting, you need to leave it out for a few days. This allows the cut part of the stem to heal a bit. The cut side of the stem needs to be calloused over before you try to root it in water.
Depending on the environment, it may take closer to a week or so for the cuttings to completely dry. Just be patient and let the stem heal itself.
Step 3: Place the Cuttings in Water
Fill your vessel with water. The amount you put in will depend on how long the cutting is. You want the root of the cutting to be in water, but not any of the leaves, so fill the glass accordingly.
You have the option of covering the top of the glass with plastic wrap and poking a hole in the center to put the stem through. This adds a layer of protection between the leaves and the water.
Place the cutting in the water so that the stem is either just above or inside the water. This might take a bit of experimentation. Some people find that placing the stem slightly above the water encourages the plant to see out the moisture and root.
Step 4: Wait
Place the vessel with your cuttings in an area with lots of light. At this point, you need to have patience and let the plant root. It might take several weeks or even a month to start rooting.
Be sure to regularly check the water in the glass. You will likely need to change it and refill it. If the water starts to get murky, you should change it to prevent fungus and bacteria from forming.
Once the cactus starts rooting in the water, you can either leave it there or transport it to a pot with soil. If you decide to move the cactus to a pot, make sure that you use a soil mixture meant for succulents. You can buy bagged versions for ease or make your own mixture out of materials like pumice, perlite, and sand.
Care of a Cactus
Each species of cactus will have slight differences in their needs. Generally, cacti need to be in an area with lots of light. It does not necessarily need to be direct sunlight, but cacti do need substantial light to grow.
One of the most important aspects of caring for a cactus is the soil. If you are planting a cactus in a pot or other container, the soil must be able to drain well. It is important to note that although the soil for cacti needs to drain well, you can still root a cactus in water.
For a potted cactus, you want to make sure that you do not overwater the plant. You should only water the plant when the soil is completely dry. Depending on the environment and time of year, you may only water your cactus once a week.
You also need to make sure that the cactus is getting enough light. If you notice the cactus leaning toward a window or its color turning pale, you should try finding a different spot with more light.
Safety with Prickly Cactus Plants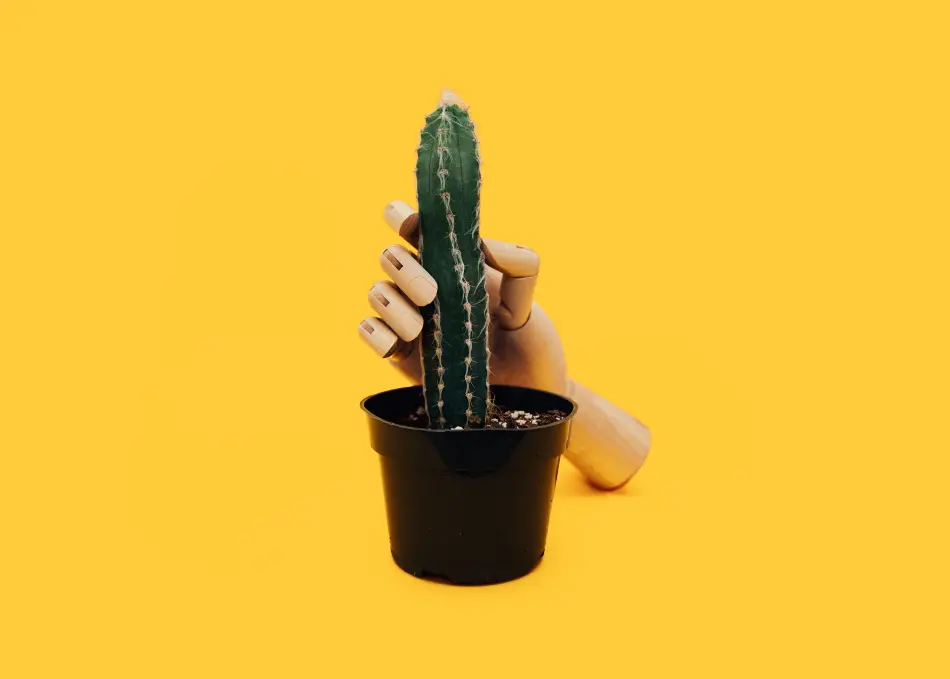 Not all cacti have sharp spikes, but those that do can be quite painful if you touch them with your bare skin. Always use thick gloves or folded papers to handle these types of cactus.
If you have pets or small children around, make sure that they cannot reach prickly cacti plants. Pets will not know any better, and children may not understand why they cannot touch the cactus until they prick themselves.
Cactus Lifespans
Cacti that are in natural environments like deserts can live for centuries. Indoor cactus plants can live for around a decade if they are cared for properly.
Despite their ability to live for a long time, cacti are not indestructible. They are sensitive to being overwatered and underexposed to light. Cactus plants can also be broken if you are not careful in handling them.
You should always be extremely cautious when you move your cactus. Every time there is damage done to the cactus, the mark will always be there. This is especially true with older cacti, so be careful not to move them in a way that could compromise their structure.
Last update on 2023-12-10 / Affiliate links / Images from Amazon Product Advertising API