Many people love to grow cacti in their homes, but if you want yours to flower, it can be a tricky process. The first thing you need to do is find out what type of cactus it is. There are over 2,000 different types of cacti and the flowering requirements vary with each one. It will take a keen eye to not only answer the question of what type of cactus it is but also determine if it will fower.
So, how do you know if your cactus will flower? The best way to know if your cactus will flower is to read the label. Most labels include a flowering time, which indicates when you should expect it to produce flowers. If there is no information on the label and you're not sure when your cactus will flower, it's best to wait until the plant has been at least two years old before giving up hope.
This article will be looking at the best ways to make sure your cactus will flower. It will also look at steps to make you cactus flower.
How to make a cactus flower
Once you know which type your plant is, there are several ways to get it blooming again:
#1 – If your plant has not flowered for many years and the leaves have been dying off gradually over time then this may indicate that it needs more water than usual.
#2 – If your plant has flowered before then try moving pots around or changing its light exposure level, this might reactivate the plant's natural response to produce blooms. Additionally, the plant can be given supplemental lighting to encourage blooming.
If none of those things work then you may need to try repotting the cactus in a new soil mix that is better suited for flowering plants (such as Cacti & Succulents). Make sure not to water your plant too much, and keep it in a dark place for about two weeks.
Alternative ways to determine if your cactus will flower
Other ways to determine if your cactus is a flowering cactusar is to look for a flower-like bud on the cactus and wait until it opens. Here, you will need patience, as it can take a few years for the plant to flower.
A cactus will usually start flowering when it is healthy and happy, not stressed out by too much water or light exposure. If your cactus has flowered before then try moving pots around or changing its light exposure level, this might reactivate the plant's natural tendency to flower.
It can also be determined by looking at the plant's terminal spine or central rib — this sometimes has a white/pinkish coloration which may indicate that your plant will bloom soon! Once this is noted, you can start giving the plant appropriate care.
If you are still not sure, try to gauge the plant's age. If it is between two and four years old, then there should be a good chance that you will see its first flower in the next year or so. However, if it is older than four years, then you should not expect to see any flowers for at least another year.
Also look for any signs of flowering on other plants from the same cacti species (this may help indicate if your own cactus will bloom in the future). By studying similar species of cacti, it is possible to get an idea of when they will flower.
My cactus is not flowering, what next?
There are several types of flowering cactii, which can be classified in a number of ways.
If the cactus is not blooming and you cannot tell why, then consult with a professional to determine if there may be an issue that needs addressing. There are many reasons for this lack of flowering: it could be due to insufficient light or water; diseases such as rot or rust; pests such as insects, mites or fungus.
Each of these can be dealt with by a professional in the appropriate manner. For example, if there is an issue due to insufficient light then you may need to change the location it sits in order for blooming to take place. If your cactus has been flowering and now doesn't then again, consult a professional to determine the cause.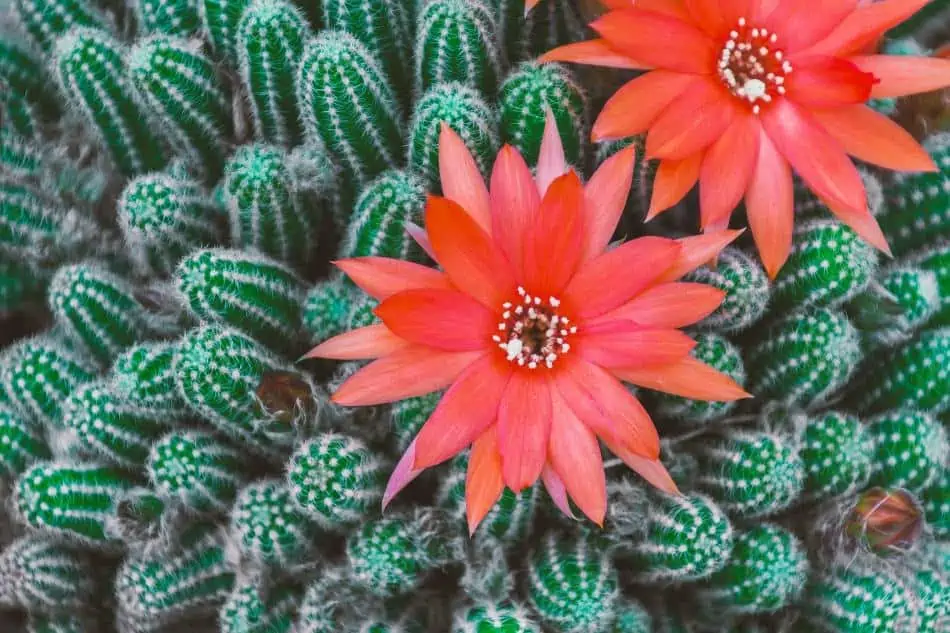 However, there are cactus species that do not flower naturally and will only do so when they are pruned back. For example, the Mammillaria species of cactus is one that does not naturally flower and needs to be trimmed down in order for flowers to come out from its body. The plant may also need some protection from frost or other weather conditions if it resides outdoors near such an area.
Why do flowers matter in cactus?
Cactus flowers are important because they allow the plant to reproduce which is essential for its survival. The more cacti there are in existence, the less likely it will become endangered or extinct due to a lack of number in population size.
Additionally, different types of cactus species produce flowers with different colors and sizes that vary from just a few inches to over six feet in height.Flowers will come in various shapes like balls or columns that could be as wide as a foot or as tall as five inches.
Varieties of Flowers:
-Flower Colors are usually shades of cream, yellow, red, pink and purple
-Some flowers can have an onion shape or a sharp columnar appearance that shoot up high into the air
-Other plants will have stems with long spines on them
What does a cactus flower look like?
-Some have long spines while others are small, round balls
-Most flowering plants will grow out of the top or side of the plant but for some types it can actually be on one of their sides. For example, prickly pear blossoms are on the side of their stem
-The flowers will usually be a different color than the plant itself, while other plants can have both colors. For example, saguaro cactus has pink and white petals with green leaves
-Some flowers will be small and come in clusters while other plants have a single flower on them. Common cactus species with clustered flowers include prickly pear, hedgehog and organ pipe
-The flower will have petals that allow the flowers to open up while some types of cacti are more like a closed ball when they bloom. Common cactus with this tendency include a barrel, hedgehog and candelabra.
-You can also look at the cacti's flowers to see if they are open or closed when trying to determine how well it will flower
-The best way to know is by looking for buds on your plant before any sign of a bloom has appeared. If you have no buds, it's unlikely that your cactus will bloom.
-Keep in mind that a lot of factors can contribute to the plant blooming including region and light exposure
-Cacti are very sensitive plants so they may not flower if you don't care for them properly or provide enough water. You should also note things like temperature changes and the time of year.
-If your cactus is a type that blooms easily, like a barrel or hedgehog, then you can get an idea about whether it will bloom by looking at its flowering season
-Another way to tell if your plant will flower is to look for specific types of flowers and buds on the plants themselves.
-It is possible for a cactus to grow without blooming, which means that it might be able to flower in the future. In such cases, it is best to keep the plant healthy so that its chances of blooming are increased.
-The most simple way to find out if your cactus will flower is to wait until it does, and there's no guarantee that waiting for flowering means you'll get flowers
-Before planting a new cactus, take care in choosing one that will be easy to care for and is at the appropriate level of difficulty.
-If you've had your plant for a long time (more than one year), then it's worth discussing with someone who has more knowledge about plants, such as an expert in cactus botany. This way, you will be able to know if your plant needs any special care in order to increase the chances of it flowering.
It is important to know whether or not your cactus plant will flower in order for you to take care of it properly. There are three ways that one can find out if their cactus will bloom- waiting until the moment occurs, maintaining a healthy lifestyle for the plant and doing some research beforehand before planting a new one. If you are interested in knowing whether or not your cactus will bloom, then you should do some research beforehand before planting a new one. If you've had your plant for more than six months and it is thriving, has no diseases and receives the appropriate amount of care, then there's a good chance that it will flower soon!
Last update on 2023-06-04 / Affiliate links / Images from Amazon Product Advertising API