When people think of cacti, they often imagine the hot, arid desert; like other succulents, a cactus can thrive outdoors. However, what if you wanted to grow your own cactus indoors? Will it do just as well, or even better?
Will a cactus grow better indoors or outdoors? A cactus can be grown both inside your home and outside equally well. However, regardless if you choose to grow cacti indoors or out, note that they can only grow successfully in specific environments.
This means that while specific locations are great for planting a cactus outdoors, other locations, such as those that get a lot of rain, would not help the cactus thrive to the best of its ability and therefore require to be kept inside. Cacti are plants known to store water, so when it comes to indoor care, the leading cause of their failure to bloom is overwatering or being planted in the wrong soil. (Note that this can be the case if the plant is outside, too.)
When should you grow cactus indoors?
Cacti are naturally occurring in the desert, where the climate is dry, and there is very little rain. In other words, they thrive in hot, dry conditions. If you live in an area that gets a lot of rain (or just more rain than the desert), then it is best to grow your cactus indoors. These plants need a lot of sunlight, but so long as they are placed in the proper position, they are low maintenance and easy to take care of.
Types of Cactus that Can Grow Indoors
Cacti are known for their wide variety of species. While they are commonly thought of a desert plant, many can thrive indoors as well. That being said, some cacti do thrive better indoors than others. Here, we have compiled a list of cacti that make great indoor plants:
Bunny Eared Cactus
Also known as Opuntia microdasys. These cacti originate from Mexico and are named for their appearance. These cacti are covered in brown pickles, and in the summertime, they often grow white flowers and purple fruits. They can grow to be up to three feet tall, which is around the size of many other average house plants.
Old Lady Cactus
Also known as the Mammillaria hahniana. It is a type of pincushion cactus of the mammillaria family, which has 250 species within it! The old lady cactus is known for its ring of pink or purple flowers that grow and bloom in spring. They are easy to take care of and only need to be watered once a week.
Moon Cactus
The moon cacti's proper name is Gymnocalycium mihanovichii. They vary in shape, size, and color, but typically the popular variety is the Hibotan cactus. It originates in South America and comes in many bright colors. They need to be watered more than many other cacti, usually once a week. They also need only partial light, and all in all, they are still easy to take care of.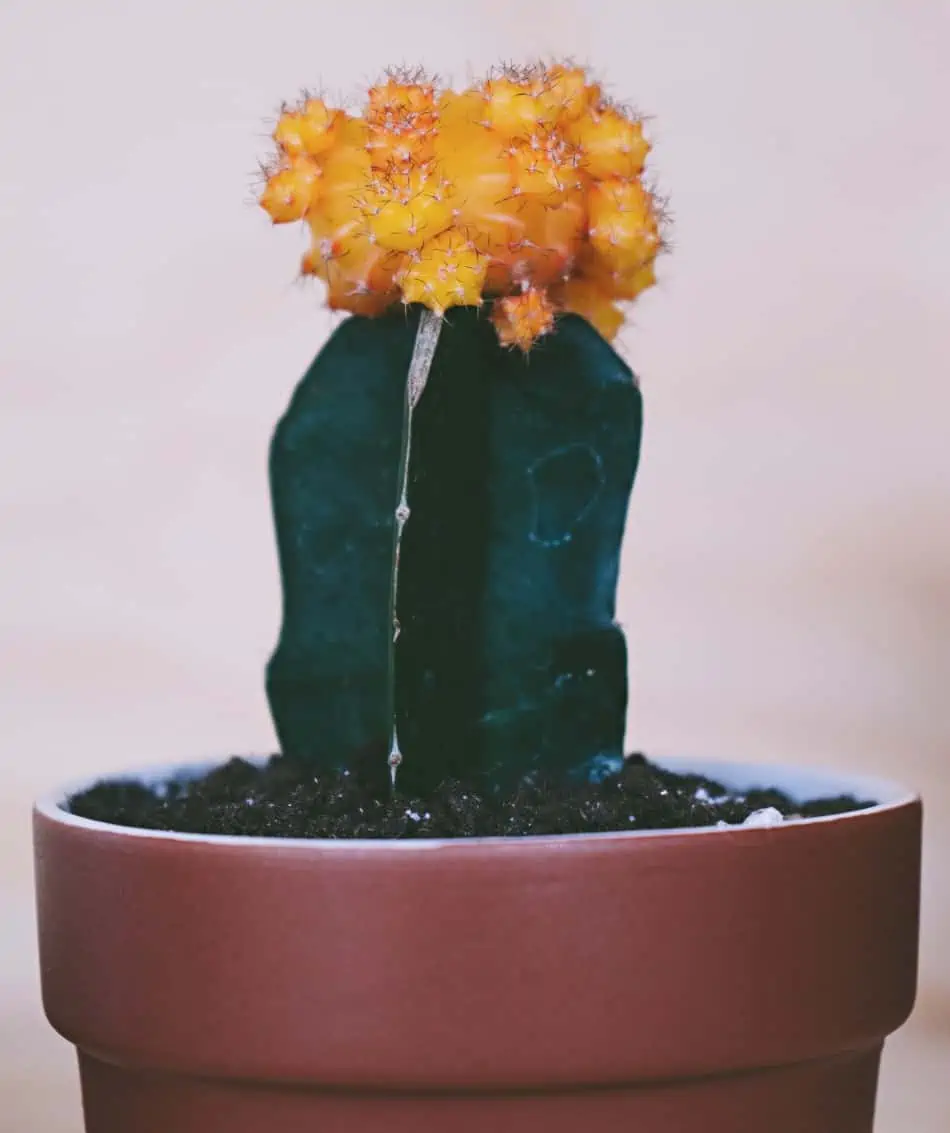 Star Cactus
Less commonly known as the Astrophytum asteria. The star cactus has also been called the sand dollar cactus and the sea urchin cactus. It is easily identified by its round body, which is sectioned into eight pieces. It also has tiny white dots leading up to the top center of the cacti, where it blooms a yellow flower in the spring. It has a small (2-6 inches in diameter) appearance, which makes it an ideal house plant to manage.
Easter Cactus
Also known as the Hatiora gaertneri, this plant is native to Brazil. The Easter cactus usually blooms anywhere from late winter to early spring. Its flowers are beautiful and come in a variety of colors from white to orange, or even lavender. They have also been known to bloom red and even peach colors.
The flowers on the Easter cactus are not the only attention-grabbing feature on the cacti. They are also known for their rickety stacked appearance, which creates a very unusual shape.
Unlike regular cacti, they thrive in colder temperatures. How much you water the plant can vary anywhere from every 3 to 6 weeks. The amount of water the cactus receives mostly depends on the environment the plant is grown in. The best temperature to grow them in is between 50 to 65 degrees Fahrenheit.
Types of Cactus that Can Grow Outdoors
As previously mentioned, many types of cacti grow best outdoors. This list is for those of you that live an environment ideal for outdoor cactus growth:
Barrel Cactus
Also known as Ferocactus, the barrel cactus is known for its round or barrel-like shape. There are a few different varieties of this cactus. Some of the most popular are the California barrel, the blue barrel, and the golden barrel. Their flowers bloom in May and June and are commonly either red or yellow.
Thanksgiving Cactus
Scientifically known as the Schlumbergera truncate, this cactus is known as the Thanksgiving cactus because it blooms around the Thanksgiving holiday every year. Like the Easter Cactus, it thrives in colder temperatures. It blooms throughout the winter. Even though it flourishes in colder temperatures, it cannot grow in a region where frost occurs.
Prickly Pear Cactus
The prickly pear cactus is found in areas that are prone to droughts. They can thrive in back yards but are unpopular for such a scenario because they do shed their needles. They can produce either purple, yellow, and red flowers. They usually only need to be watered every three weeks.
Queen of the Night
Also known as the dutchman's pipe cacti, the queen of the night is native to Brazil. This cactus' actual name is Epiphyllum oxypetalum; however, it is known as the queen of the night because its flowers bloom at night.  It produces large white blooms, and when planted in slightly acidic soil, it will bloom frequently. Fun fact: this plant actually grows on trees! 
Totem Pole Cactus
The totem pole cactus is slow growing; however, it can grow up to twelve feet in height! Instead of visible spines, the notches on this cactus look more like wrinkles. Similar to the queen of the night, the totem pole cactus blooms at night, producing pink flowers and red egg-shaped edible fruit.
To thrive, this plant needs full sunlight during the daytime and does not need a lot of water.  They live well in drought-prone areas and survive best in well-draining, gravely soil.  Therefore, it needs very little water.  It is an excellent plant for backyards because it does not shed its needles.
Conclusion
Cacti are part of a group of plants known as succulents. They are generally found in desert areas but have gained growing popularity as house plants. Certain cacti thrive best indoors, and others are more likely to survive outdoors.
There are even certain cacti like the totem pole cactus and the Saguaro cactus that survive both indoors and outdoors. Both these cacti are slow-growing and can eventually be moved to the outdoors when they become too tall to keep inside.
Owning cacti gives your home a modern feel and is excellent for anyone who loves plants but doesn't have time to water them. They are also excellent housewarming gifts for first-time homeowners!
In conclusion, whether you choose to grow cactus indoors or out, it is vital that you're mindful of their sunlight and watering needs so they can thrive in the environment they're kept in.
Last update on 2023-07-26 / Affiliate links / Images from Amazon Product Advertising API