Since plants cannot talk, it is not easy to understand their physiology. Succulent falling over is undoubtedly unhealthy for a succulent and the cause behind this troublesome behavior requires some attention. A proper environment is necessary for the succulent to grow and have healthy leaves and roots.
A succulent falling over could be attributed to a few causes. These causes include water level, light level, energy issues, temperature levels, and chemical damage.
Continue reading to figure out the problem with your succulent. Once the root cause is realized, it is easy to restore the health of the plant. So if you notice that the succulent is falling over, do not sulk and continue on to diagnose the reason.
Diagnose Your Succulents Ailment
Since there are several reasons your succulent could be falling over, you will need to determine the true cause. Assess these points to figure out the reason for the succulent falling over:
Is the soil damp or compacted?
Is the soil prepared for the succulents?
Are there any holes in the pots?
Are the leaves shedding from above or below the plant?
Is it normal shedding or abnormal?
Assessing and diagnosing can help in fixing the problem with the succulent. Assessing the soil dampness can give an idea about the watering and light needs. Assessing the direction of the succulent damage can enlighten you about its energy needs.
Looking at the position of the succulent damage can clue you in about temperature and light needs. If the plant is damaged abnormally, you might find that your succulent has suffered some type of chemical damage.
Optimal Water Exposure for the Succulent
When your succulent is not watered properly, it can become damaged and fall over. The proper way to water is to wait until the solid is almost dry and the leaves look a bit wrinkled. Water thoroughly after that until you can see water coming out of the drainage holes.
It is important to use pots with drainage holes when growing succulents. Watering too frequently and watering in high amounts can swell their leaves and, consequently, cause harm.
If the damage has occurred already, check if the stem is bad too. If so, cut off the rotted area and keep the healthy portion of the plant in a dry area. For a week, do not water the plant and the plant should revive to its original condition.
Overwatering
Overwatering can seriously damage the succulent to the point of total plant death. The extra water swells up the cell walls leading to plant death and it is the number one cause of succulent death.
Water only when the soil appears dry to touch, which would be about once every week or so.
Underwatering
An underwatered succulent can be diagnosed by its soft and wrinkled leaves. Leaves will appear weak and wilted, but a change in color is not seen like seen in overwatered leaves.
If leaves do not fall off from touching, the plant can still be brought to its original condition. If the damage is too severe, the plant will die and no amount of watering the plant would help at this point.
As long as the succulent was not severely underwatered, salvage it by:
Increasing the watering frequency slowly to revive the plant.
Only making gradual changes as drastic changes can hurt the plant.
Watering from the bottom as not to exert too much pressure.
These fixes will likely perk your succulent back up so it is no longer leaning over.
Optimal Sunlight Exposure for the Succulent
If succulents are not exposed to enough light, they can turn yellow and straggly as they reach for a light source. As they reach, they will fall over and stay that way. If the lighting is not fixed then the new leaves will grow smaller. Succulents need lots of sun all year long and can die if kept in no light for a long time.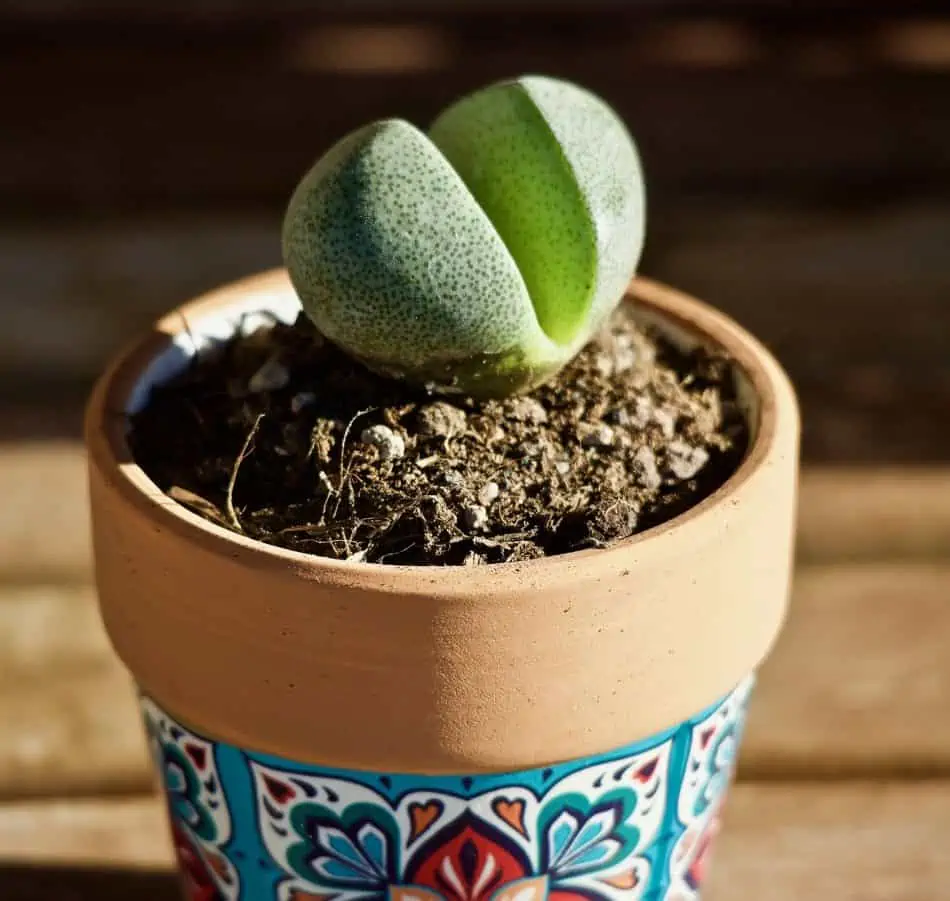 To fix this issue, gradually expose the succulent to sunlight or artificial light. Start with three hours daily and slowly increase it up to six hours of sunlight or 12 hours of artificial light per day. Overexposure to sunlight can give sunburn and so it is necessary to find the proper level.
Optimal Temperature for the Succulent
If a succulent is new and has not acclimated, exposure to hot temperatures from outside can damage it. Even though most succulents grow in naturally harsh habitats, too much heat is not healthy. If succulents are exposed to extended periods of heat, they can become damaged when stressed by drought or heat. Thus, keeping succulents in the shade when temperatures rise will be beneficial.
If the succulent looks fallen over or wilted, either place a shade cloth over it or move it to a shaded region. Keeping the plant in a den or a patio with some form of shading can help in controlling the heat. Under a roof or inside a shielded net can also be appropriate. 
Just like too much heat, most succulents cannot bear the extreme cold. If exposed to freezing temperatures for too long, the cells inside their leaves can freeze. If your succulent has frozen in the winter, its leaves will feel mushy and look either brown or black.
During winter times, make the following changes:
Move the plant to an enclosed location that does not vary in temperature too much.
Relocating from outdoors to a garage is a good choice, however from outdoors to completely indoors is too much of a change.
Do not water the succulent at all if you need to keep your succulent outdoors during winter.
Watering can freeze the soil causing damage to the roots, thus eliminating any chance of survival. The plant should be kept dry only.
Optimal Energy for the Succulent
If your succulent is leaned over, you may also notice that the leaves at the bottom of the plant appear brown mainly due to being covered by leaves higher up. Before shedding the leaves, plants take as much energy as possible from them.
This is not a reason to be alarmed if it only happens occasionally as this is a natural phenomenon. This is completely normal and can be overlooked, however, if it is of concern then simply pick out the brown leaves slowly.
Chemical Damage Causing Succulent to Fall Over
Using chemicals without properly following package directions can harm the plant. Likewise, too much fertilizer can also be harmful and stunt growth. Improper use can damage the root and cause the succulent leaves to discolor. Eventually, the plant could burn or fall over.
Most over-fertilized plants can be fixed by removing any fertilizer from the plant and soil that can be seen.
Allow some water to run through the roots to wash the remaining fertilizer.
Then, remove the damaged foliage and do not give any fertilizer for about a month. 
Lack of nutrients can make leaves turn yellow. Overwatering can wash away necessary nutrients often found in potting soil. You will have to add back these nutrients through the use of fertilizer or through replanting your succulent in a new pot of soil.
You should only use well-balanced fertilizer on your succulents that is designed specifically for cacti or succulents. Succulents do not actually require much fertilizer, so you do not have to use a great deal. When using fertilizer with succulents, dilute the recommended amount by half.
Conclusion
A succulent can be salvaged through proper care and maintenance. Do not let the fallen succulent leaves scare you as they can regenerate. First diagnose the cause of the succulent tipping over to make the appropriate changes in levels of water, light, temperature, or chemicals. Next, figure out which one of the above problems caused your succulent to fall over and make adjustments over time that are not sudden.
Last update on 2023-07-26 / Affiliate links / Images from Amazon Product Advertising API