You finally got a cactus plant, and it's been sitting pretty in your house. You can't wait for the beautiful flowers to start blooming! The lady at the nursery mentioned a few things you should do to prevent your plants from turning yellow, and as usual, you forgot some…We are here to help you with that.
What might make a cactus plant turn yellow? A few things might lead your cactus plant to turn yellow, such as insufficient lighting, insect infestation, excess watering, or even lack of proper nutrients. The wrong kind of soil can also affect your plant's color or survival.
Read on to see more in-depth info on the topic. Information is power, and it can help you learn how to take care of your cactus plants best.

6 Reasons Why your cactus is turning yellow
The cactus is a striking plant and can give your home a fresh new contemporary look. The succulent comes in many different shapes and sizes, and the beautiful flowers it sires also come in various vivid and gorgeous hues.
Besides its unusual beauty, the plant is easy to care for, and can even take some neglect. Unlike most plants that require constant care, this plant requires minimal effort.
As much as it's easy to take care of this plant, it might sometimes end up not surviving, under some conditions. The hue might also start changing from green to a yellow color.
Nothing is as disheartening as watching your cactus turn yellow right in front your eyes. The first thing you might ask yourself is what could have caused the change — usually, it's the conditions around the plant that are the source of the problem.
Worry not, these are just simple oversights. There are a few things that are easy to adjust, and will not take a lot of your time. All you need to do is start making small adjustments here, and your plant will thrive.
1. Inadequate light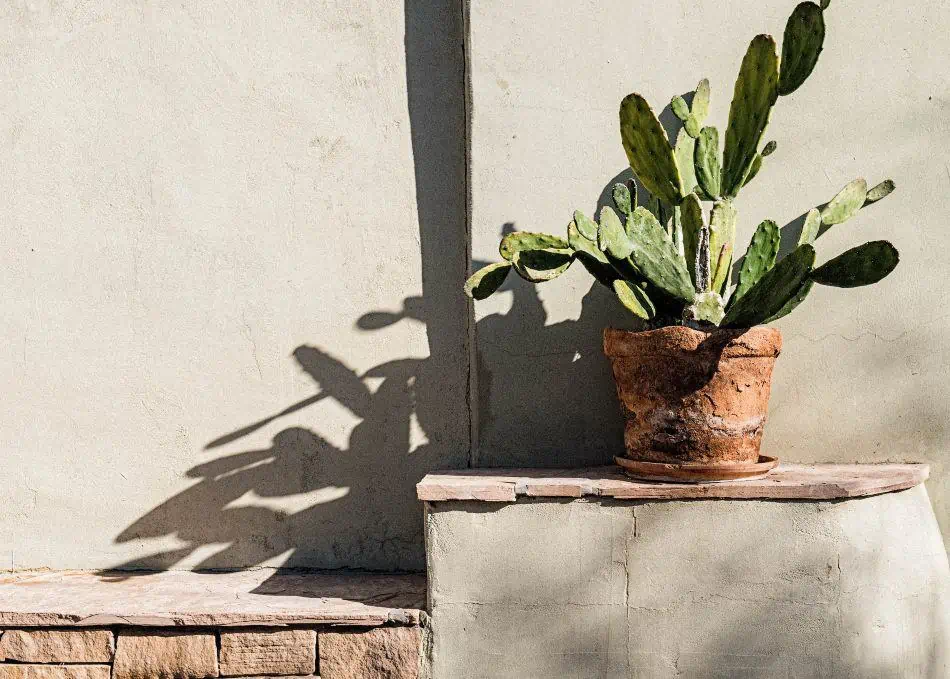 There's such a thing as too much or too little light when it comes to the cactus plant. The amount of light that your plant will need will depend on the species.
You might be tempted to put your succulent on the windowsill, but this might result in sunburns, which can turn the plant yellow. Remember, not all species require too much light.
The only way to find out if your plant is getting adequate light to observe its behavior. If the plant's color is turning from green to yellow, this indicates too much light.
If the plant is indoors and starts to grow towards a source of light such as a window, this indicates that it's not getting the amount of light it needs to grow.
Move the plant to a location that has natural light such as a window. Make sure to turn the plant regularly to ensure that all the parts get sufficient lighting.
If the weather conditions keep changing rapidly, your plant may scorch, and this might harm it for life. If the sun becomes scorching and your plant is on the window, move the plant away for a few hours, then return it when temperatures regulate to normal.
If your plant is outdoor, place it in a sunny place in the morning, and then under a shade in the afternoons. The afternoon sun is hot and may end up discoloring the plant.
Some experts recommend putting your plants in the most South or Western window in your house.
2. Soil type
According to SFGate, cacti need properly draining soils. Heavy soil types such as clay soil might end up retaining too much water, which may make that plant's roots rot.
Once the roots start rotting, the plant will be unable to transport nutrients from the soil, making the plant turn yellow.
Ensure that your container isn't too big, as bigger containers tend to make the soil stay wet for too long. If your soil's drainage is not good, try adding a little bit of sand to solve the problem.
3. Underwatering or overwatering
It might seem like it's okay to let the cactus go without water for months since it's a desert plant, but lack of sufficient water can harm your cactus.
Watering is an essential part of every plant. Even cactus in the desert does everything in its power to collect and conserve water because water is necessary for the plant's growth.
However, too much or too little could harm your plant. The cactus plant swells when it has sufficient water.
During summer and spring, when the plant is in the growing season, it may start using up more water from its reserves, and this may cause it to look shriveled. The plant may also turn yellow, and this is usually visible from the parts closest to the soil going upwards.
Although cactus can store plenty of water, too much might be detrimental to its health. Too much water makes it impossible for air to travel to the roots, turning it yellow.
With little or no aeration in the soil, fungi and bacteria are also likely to grow, which might eventually kill your plant.
Another sign that you're overwatering your plant is the darkening of leaves. The plant might also start rot.
How do you know whether you're providing the right amount of water for your cactus?
Insert your finger into your soil to test soil dryness. Ensure that the top one or two inches of soil in your pot is dry. This indicates that the plant needs watering.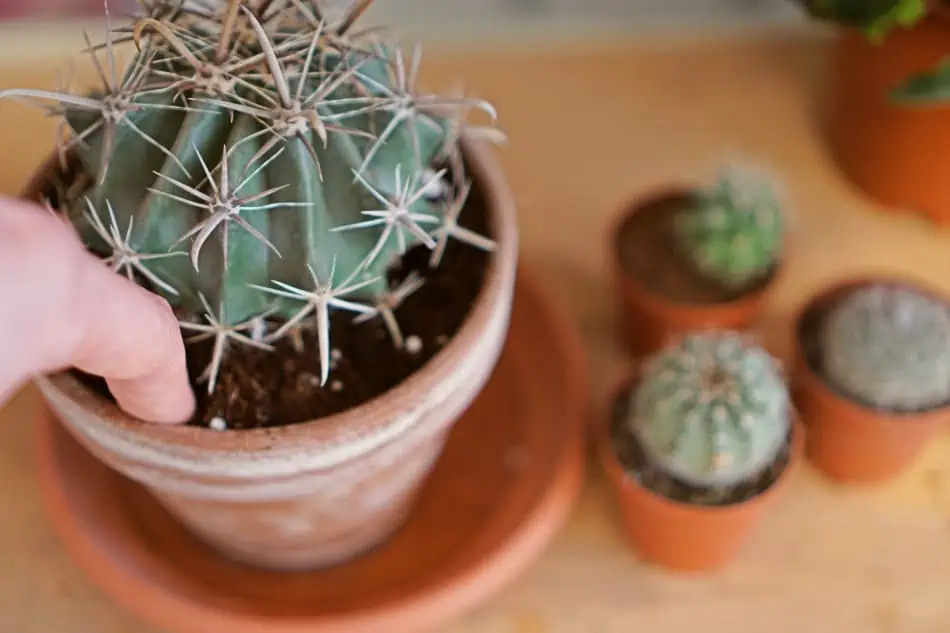 You can also use an electronic moisture meter to help you establish whether your soil has enough moisture. The gadget is inexpensive, and you can get it from your local plant store.
All you need to do is push the gadget into the soil. If the marker is dry, it shows that the soil is dry enough for watering. Otherwise, refrain from watering your plant unless it is necessary.
Use a wooden or bamboo stick
Insert a wooden stick into your pot. Remove the stick, and on touching, it should feel dry. If it feels wet, do not water your plants, as you will be overwatering them.
Generally, water your plants bi-weekly. Ensure that your pot has some perforations. When watering, ensure that at least some water starts leaking from the holes, and this is when you can tell that your plant has had enough.
4. Wrong temperature
Desert climate is sweltering during the day and freezing at night time. For some plants like the Christmas cactus epiphyllum and jade, the cold weather at night is essential for blooming. Therefore don't worry too much during cold weather.
During summer, the soil might dry out too fast, leaving your plant without adequate water. If your plants are outdoors during the hot season, you might need to water them weekly, instead of doing it once every two weeks, otherwise, they'll turn yellow.
The temperature in your house is humid from cooking and breathing. Unlike in the desert where there's free movement of air, the temperature stays humid because you close your windows and doors at night. Your soil ends up absorbing this humidity, and this might encourage the yellowing of your plant, as well as root rot.
5. Bug infestation
Some bugs like scale insects, mealy bugs, spider mites, slugs or snails attach themselves to cactus as they suck on the succulent plant juices. When these critters detach from the plants, they leave marks.
The insects also spread fast, and tend to attack plants in colonies. When this happens, the plant may look discolored. The best way to remove these bugs is to use an insecticide that you can get from your local pest control store.
6. Lack of proper nutrients
Cacti need nutrients to thrive. A reason why your plant could be turning yellow is due to improper nutrient absorption by the roots. This problem is common where the roots are rotting.
Inspect your roots to see if there are any signs of rotting. If the roots have started to rot, you may need to regrow them. Scrap off the rotten parts, change the soil in the pot, and replant your roots.
Related Questions
Why does my cactus look shriveled? The cactus soaks up a lot of water, and when it has sufficient water in its storage, it looks plump and turgid. When the water starts drying up, especially during the dry seasons or due to inadequate watering, it starts losing water, which makes the plant look shriveled. When this happens, water your plant, and it will begin to regain its health once again.
Why is my cactus turning brown? Your cactus might be turning brown because of a mite infestation. Mites are spider-like insects that attach themselves to the upper parts of the plants, to suck juices. This type of infestation is more common in indoor cactus than in outdoor cactus. It's essential to thoroughly inspect your plant if you're purchasing it from a nursery, as it might already have mites.
Last update on 2023-06-04 / Affiliate links / Images from Amazon Product Advertising API