Cacti are relatively hardy plants that can survive for a pretty long time with minimum care and maintenance. However, it doesn't mean that your plant doesn't require any specialized care at all. Once in a while, you may notice problems in your plants that require urgent attention. Drooping, yellowing, and softness are some of the common issues that you may encounter while growing these succulents.
So, why is my cactus going soft? Well, the most likely causes of this problem could range from the improper site and ambient conditions to underlying diseases and root rot. Generally, potted plants require good drainage soil to thrive. The existence of soft spots in the flesh of your plant could be a sign of root rot, disease, or simply a mechanical injury to the stems and pads. The other common causes of this problem are fungal infection and insect damage.
In this post, we discuss some of the common reasons why cacti plants go soft and possible solutions that can help you save your plant from further damage. Everything you need to know is summarized below.
Why Is My Cactus Going Soft?
As mentioned above, a wide range of issues can cause cacti plants to start developing soft spots. It could be a sign of an underlying disease or improper cultivation conditions such as poor drainage potting mix.
Generally, cacti plants tend to have relatively low moisture needs. Most of them do well in temperatures above 70oF in relatively sunny areas and require minimal supplemental nutrients. Potted plants, in particular, require good drainage holes on the growing medium and nutritious potting mix with plenty of grit.
In-ground cacti plants also have similar requirements. The soil must be of good drainage and nutritious as well.
Just like any other plant, cacti can develop diseases or get damaged. A common sign of an underlying disease or damage is the existence of soft spots on the stem of your plant. These spots may also be discolored or corky depending on the extent of the damage.
Here are some of the other common causes of this problem:
1. Overwatering
Typically, cacti plants don't thrive in wet and poorly drained soil. Poorly drained soils cause water to fill up air spaces between soil particles, which prevent the much-needed root aeration. The damp conditions also provide favorable conditions for fungi and harmful bacteria to multiply.
As a result, the roots of your plant start to die, and disease-causing organisms get an opportunity to move into the stem tissue causing soft spots to start developing in different parts of the stem.
If you suspect that the problem is overwatering, then you need to stop being overzealous when watering your plant. Always wait until the top two inches of the soil are dry completely before you water again. Other than creating a watering schedule, let the potting mix tell you when you need to water your succulent.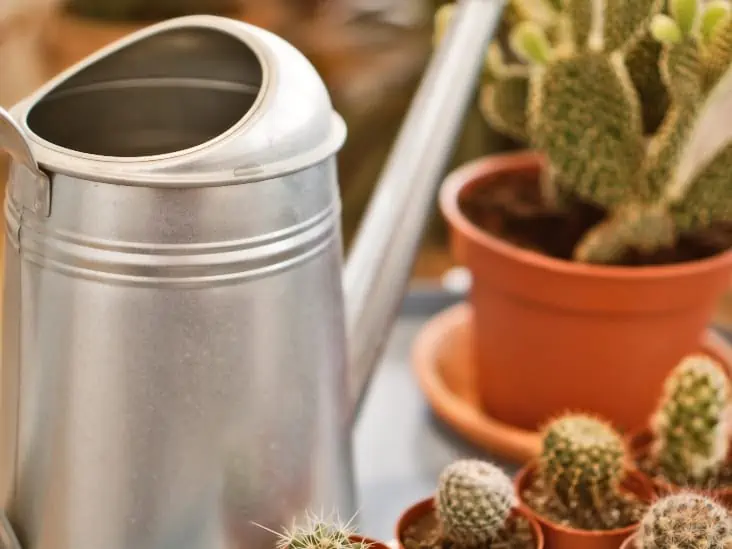 For cactus growing in the ground, it takes much longer for the soil to dry out completely after watering. Consider using a probe to check the soil moisture before you water, again. Avoid watering your cactus if it rains.
2. Physical injury
Your pet dog knocks over your indoor potted cactus, and it gets a slight nick in its skin near the soil line, or you unknowingly injure some roots while repotting your plant. While these things might seem minute to you, they can cause extensive damage to the plant.
The injured spots serve as openings that allow pathogens to find their way into plant tissues, causing extensive damage. Unfortunately, it might take you some time before you realize the actual cause of the problem.
To avoid such issues, always take time to check your plant for any wounds. You can do this at least once every week. If you discover any wounds during your inspection, be sure to treat them immediately.
One of the best ways of treating cactus wounds is by dusting on a cleanser that contains bleach until the wounded spot has scabbed over. Try as much as possible not to bring the wounded area in direct contact with water.
It will take about one week for the cactus to form a scab, but it might take much longer if the wound is pretty large.
Don't water your repotted cactus plant for a few days to allow for injured roots to heal. During this time, take time to check the plant for any other physical damage on its stem, especially near the base.
3. Poor soil drainage
All cacti species need well-draining soil to thrive. Heavy soils tend to retain water for a relatively long period, which might cause extensive damage to roots and allow diseases to develop.
Be sure to use a well-prepared potting mix for your potted plants. If you don't know how to prepare your own potting mix, feel free to go for the commercial options available. Make sure the soil doesn't allow water to stand in the container during watering.
If that is the case with your soil, consider adding perlite to it to enhance drainage. To help promote the rapid drying of the potting mix, avoid using a container that is too large for your plant. Take time to find a right-size pot that will fit your plant size.
For outdoor plants grown in the ground, take some time to thoroughly prepare the ground before you plant your cactus. Add some sand and pumice to enhance drainage and check for pests and insects.
4. Fungal and bacterial infections
In most cases, bacteria and fungus are introduced to cactus plants from openings in the flesh. The open spots might be from animal or insect activity, heavy weather such as hail, or inanimate objects.
While the injury might seem insignificant, the damage caused by bacterial and fungal infection can be extensive. Warm and moist conditions tend to accelerate the production of fungal spores, which in turn stimulate the production of harmful bacteria.
Once the fungus and bacteria start eating up your plant, you will notice the existence of soft mushy spots on the stem and near the base of the plant.
Some of the common symptoms of fungal and bacterial infection to watch for include discolored scabs, sunken spots, black dots, and round soft areas usually surrounded by fruiting bodies.
5. Insect damage
If you live in a warm region, pests and insects could be lurking in your garden. For instance, the longhorn beetle is one of the most dangerous insects since it consumes any new growth of prickly pears and some columnar cacti. This insect creates a burrow in your plant-eating up the water-storage tissue.
Furthermore, it can cause severe rot and introduce a wide range of other diseases. The longhorn mostly concentrates near the base of the plant, causing extensive damage before it starts moving upwards.
If left unchecked, the effects of this inset may result in extensive damage to your plant.
6. Root rot
The presence of soft spots near the base of your cactus plant may be a sign of root rot. Unfortunately, root rot is a common problem that many gardeners have to deal with quite frequently.
A wide range of things can cause root rot, but the most common cause is overwatering or growing the plant in humid areas. It is good to keep in mind that root rot doesn't heal on its own, and if you don't act swiftly, your plant will eventually die.
Sometimes, the soft tissues could also be a sign of stem rot- not just root rot. The first signs of stem rot include the presence of dark brown, yellow, or black spots on different parts of the stem. Stem rot may occur as a result of fungal infection and usually spreads fast to other parts of the plant.
Can You Save a Rotting Cactus?
The answer to this question will depend on the extent of the rot. If the plant has rotted so severely such that its top has tipped over or has sunken in on itself, it might be relatively difficult to save it. However, if it is only showing early signs of rot, there are a couple of things you can do to save it.
The first thing you need to do is remove it from other plants and place it in quarantine that creates a false impression of drought. You can achieve this by placing it in sand, not watering it at all, and using relatively brighter lamps to supply it with the much-needed light.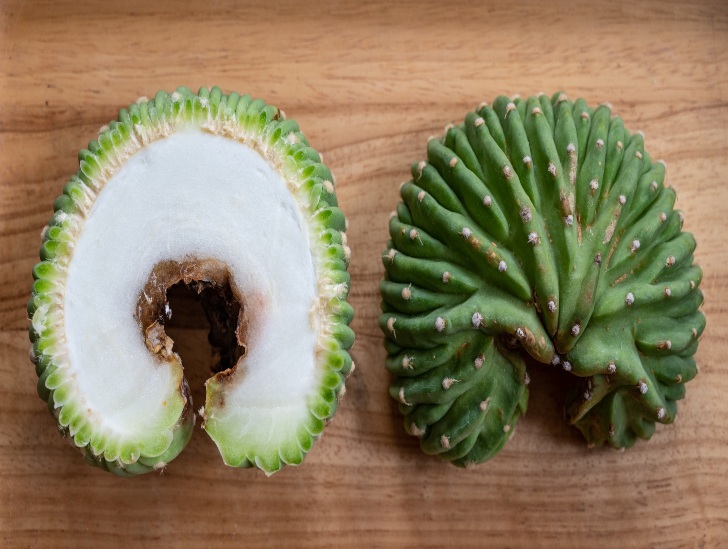 In most cases, this should be enough to kill the minor patches of fungi infections that are beginning to form on the surface of the plant.
If you don't see change, try to wash away the fungal spots using q-tips or a small soft brush with soap. Carefully scrub the yellow/dark brown spots.
You can also cut out the affected spots. However, if you choose this route, you will need to cut extensively around the affected spots because some of the healthy-looking tissue may already be infected.
Summary
While cacti plants are relatively easy to grow, it doesn't mean that you don't need to take good care of them. Doing simple things such as watering appropriately and regular inspection of your plants for signs of pests and diseases can help you avoid so many problems.
We hope you now understand why your cactus is going soft, and you will do everything possible to save it. With a few fixes, you can get everything back on track and a gorgeous cactus plant that will make your home more beautiful!
Last update on 2023-07-26 / Affiliate links / Images from Amazon Product Advertising API