Cactus is a slow-growing succulent plant with stiff, jointed and fleshy stems covered by hard, leathery leaves. Unluckily, it is also very prickly! Cactus has long been a favorite houseplant for its attractive appearance and low-maintenance requirements. Due to its fleshy stem and brittle joints, the cactus is susceptible to breaks and dents which can be a big problem for the plant.
Such wounds can become entry points for fungal infection and cactus rot. Usually, small breaks in the cactus do not kill the plant, but its sulky appearance will definitely affect the aesthetic value of your home. If you love your prickly pets as we do, you may need to learn what to do if cactus breaks.
So, what to do if the cactus breaks? The first step is to access the extent of the damage. This will help determine whether you will reattach it back, perform grafting or planting the detached piece into a new plant. You can reattach a broken cactus by simply joining the broken parts. However, if the breakage is extensive and some of its segments are separated too far from each other, grafting or re-planting maybe your best option.
A broken cactus can be disappointing, especially if you do not know how to fix it. However, you need not worry as this article will teach you how to care for a broken cactus by taking you through a checklist on how to fix a broken cactus.
Vital Steps to Fixing a Broken Cactus
1. Initial assessment
The first step in dealing with a broken cactus is to appreciate the fact that the stem or joint cannot be replaced back into its normal position. In most cases, there will be a crack around the break which prevents it from being re-joined properly. If you are lucky enough for your cactus to have two symmetrical halves, leave it alone or you will risk introducing more problems.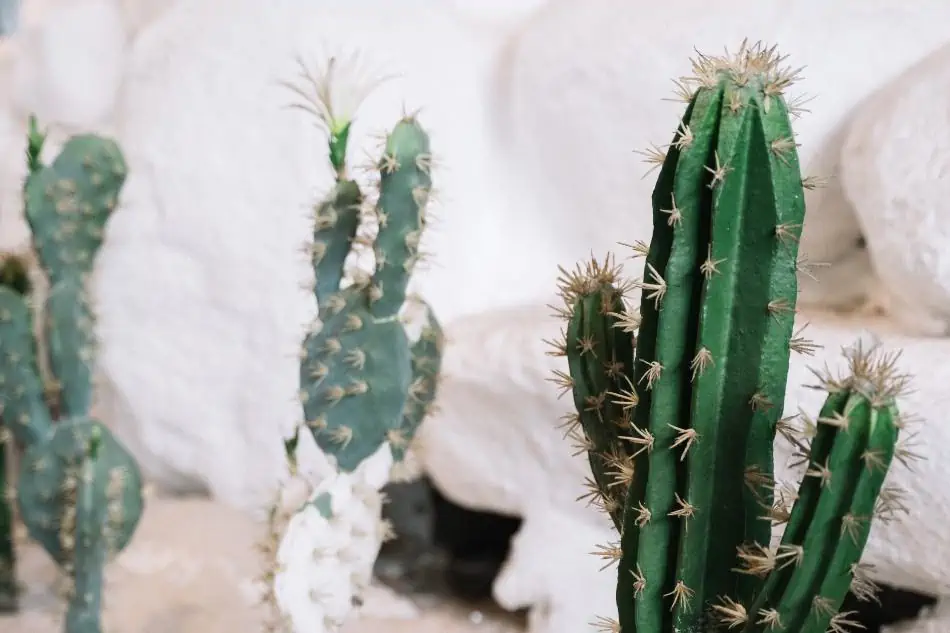 2. Cleaning the pieces
Roughly clean the area around the break by removing any unwanted dirt and debris with a soft brush. Use a mix of warm water and mild detergent to clean inside and around the wound thoroughly. It is important to remove all traces of dirt and bacteria otherwise they will proliferate to cause infection and rot. If you find that dead tissues around the wound are preventing it from closing properly, remove them carefully with a pair of sterilized scissors or tweezers.
3. Minimize scarring
If the stem is spiny on its underside as in many species, do not try to smooth out the area by rubbing in circles or applying pressure as it will only cause more damage. Instead, cover the area with green leaf gel as it will facilitate the healing process and minimize scarring.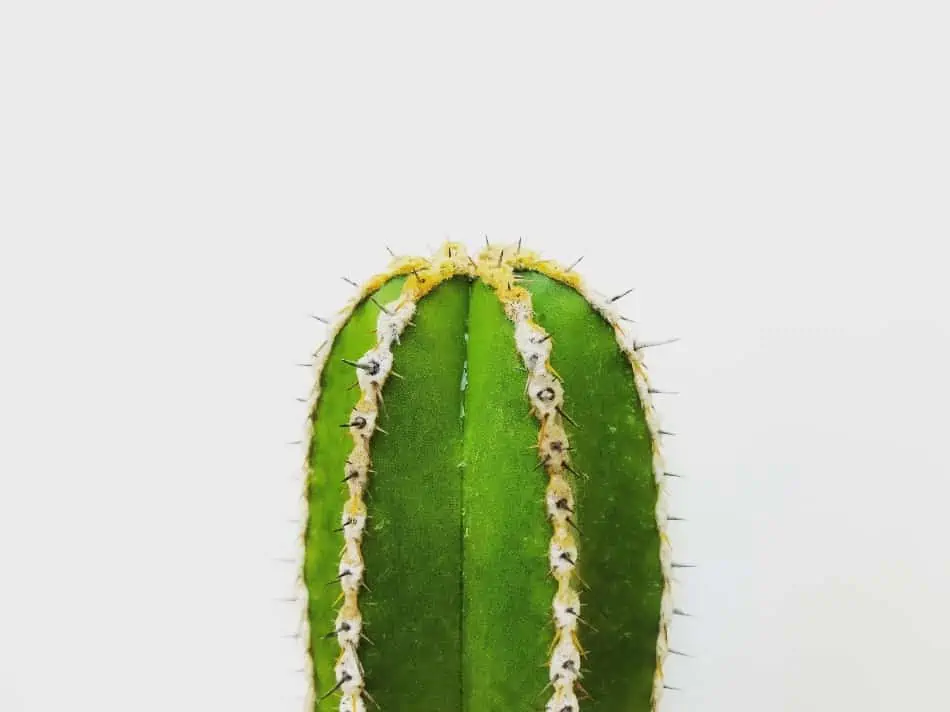 4. Take care of the cambium
When reattaching, always ensure the cambium is aligned. Cambium is the green layer of living tissue right below the bark. Cactus normally produces new stems from the cambium so it will be helpful to take a piece of stem from a healthy plant and use it as a replacement for the broken one. Stick the replacement onto your cactus with wood glue around the wound and hold it firmly until it dries.
5. Avoiding infections
The main concern after successfully fixing a broken cactus is to prevent it from becoming infected as the new stem has no natural protection against pathogens. Keep your prickly friend away from windows and drafts because they attract dust, mites and other dangers for your plants. It is also advisable to keep dehumidifier near growing or flowering cacti because they are more susceptible to rot and fungal diseases when flowers are present.
6. Dealing with the remaining half
Sometimes, your damaged cactus may be severed in half with the tops part missing. It is possible to save a damaged cactus even if it only has one-half of the stem left. The plant will eventually grow new stems and you can detach them once they reach sufficient size. Be patient as this process may take years. With good care, your cacti have the potential to live long and be as prickly as you like.
7. Consider grafting
Grafting is another approach to a broken cactus. This involves transferring pieces of stems or roots from other plants to the wounded area. Leave it undisturbed for a year and then you may consider repotting your cactus into a larger container so that the graft can grow freely. Your prickly pet will never be ugly again once it gets healed. The best part is, besides learning what to do if the cactus breaks, this procedure can be repeated as many times as you like without damaging the plant.
8. Re-planting as an option
In cases where the broken piece cannot be reattached, you can consider propagating it as a new plant. Take the detached piece and remove any unwanted parts. Place the stem in a glass filled with water and keep it out of direct sunlight.
When new leaves appear, plant your cactus cutting into the soil-based potting mix and transfer it to bright light. Water well and watch for growth as you wait for more roots to develop. Once the new stems become sturdy enough, you can move them out to direct sunlight and enjoy your new addition to the family. Just keep an eye on it so that it does not rot or become infected as this will further affect the health of your other houseplants.
A Few Tips to Prevent Future Breakage
– Watch out for falling branches or pot lids that can snap spiny stems of the cactus. If you are worried about such risks, plant your prickly pet in a sturdy ceramic pot.
– Try to avoid repotting cactus too often or putting them in a very small container that will cause the plant to grow towards the light source and break. If you are going to pot your pet into something smaller, make sure that it is just slightly bigger than its current size so it can grow outwards.
– Use a few pieces of fine wire mesh or slotted plastic to separate cactus branches in your pot, so that they cannot rub against each other and break accidentally.
-Keep your cactus out of reach of children or animals. Many people have gotten injured after touching cacti that were grown as ornamentals or kept as pets.
– Avoid overwatering your plant and keep the soil at a suitable level of moisture for healthy growth.
– Keep an eye on any wilting leaves, yellowing or irregular colored spots to avoid infection and rot before it spreads further into the plant.
– Know beforehand how spiny your cactus is and handle them accordingly when repotting, showering or moving them around the house. If you have pets at home, remind them to keep away from prickly houseplants to avoid unnecessary accidents.
Healing Considerations When Fixing a Broken Cactus
When fixing a broken cactus, it's important to consider how much work you want to put into fixing the plant. In some cases, it may be more aesthetically pleasing just to let a few holes in the cactus and consider it part of your decor. On the other hand, a few broken pieces of cactus can be considered parts that really show off your personality.
Whether you choose to fix a broken cactus or not, it's important to clean the wounds and apply antibacterial cream as needed. It may be helpful to clip off any undesirable parts of the plant so that they will not die with the main stem.
After applying medications, bandaging your cactus is a good way to prevent further infection or more rot from developing. It is also helpful to spray the plant with water and make sure it keeps moist until the damaged area heals enough to support itself.
If you do have a broken cactus, ensure that its parts are reattached in a similar compost so that they can grow back together. For plants whose stems or roots cannot be reattached, you can propagate the cutting as another plant to enjoy. You can also continue enjoying your cactus with or without the extra holes in it for years to come.
Fixing a broken cactus is not the east of tasks. It takes a lot of care and attention to the plant in order for it to heal quickly. If you are easily discouraged by broken plants, try not to fix your cactus immediately. Give it at least a week before trying again.
Don't be too hard on yourself if things don't work out as planned because there are plenty of other ways to enjoy your cactus. As long as you are careful when handling your plants and get them checked by a professional if necessary, fixing a broken cactus is not too difficult or threatening to the health of your plant.
If anything, looking after a cactus with holes in it will give you more practice in expanding your gardening skills and make you more confident with handling other plants in the future.
Last update on 2023-10-05 / Affiliate links / Images from Amazon Product Advertising API