While cacti plants are known to be drought-tolerant plants, it doesn't necessarily mean they love excessive heat. Like any other living thing, there are a lot of factors that come into play with the amount of heat that these plants will tolerate. Depending on where you live, the summer heat can be quite high and too excessive for your cacti plants.
So, what temperature is too hot for cactus? Well, the amount of heat that a cactus plant can tolerate will depend on its species. While others thrive in full sunlight and will tolerate extreme heat conditions, other species may need protection from the intense heat. Generally, most cacti plants will do well when kept in temperatures between 45oF -85oF (7oC-29oC). Some cacti species won't thrive in temperatures above 90oF.
In this post, we discuss the optimal temperatures ideal for growing cacti plants, how to take care of your plants during the hot summer season, and how to know if your plants have been exposed to excessive heat. Read on to find out everything you need to know about cacti plants and high temperatures.
What Is the Optimal Temperature for Cacti Plants?
To answer this question comprehensively, you need to understand your cacti species and its origin. This would help you establish its temperature requirements pretty quickly. While some plants are cold hardy and will survive hot temperatures as well, others won't survive extreme cold or heat at all.
Some cacti species are well adapted to do well in full sunlight and will tolerate extreme heat conditions whereas others will need full protection from intense heat. However, a majority of cacti species need warm weather to survive.
Therefore, the ideal temperature for most of them is anything between 45oF and 85oF. During the relatively dormant months in fall and winter, anything between 45oF and 55oF will do fine. Temperatures below this point can lead to severe irreversible damage to your plants.
It is also good to note that in deserts (natural habitat for most cacti plants) temperatures tend to fluctuate daily as much as 68oF to 77oF (20oC-25oC) each day. Sometimes, the extreme maximum temperatures in this habitat range from 109oF to 120oF while extreme minimum temperatures can sometimes drop to -18oF or even -0.4oF.
Having adapted to such extreme temperatures, many cacti plants will easily tolerate low night temperatures as long as they are kept dry and receive a sufficient amount of warmth and sunlight during the day.
The Overall Impact of Temperature on Cacti Plants
As mentioned earlier, cacti plants tend to do well in temperate climates with temperatures ranging between 45oF and 85oF (7oC-29oC). However, gardeners can sometimes expose their plants to extreme temperatures causing unnecessary stress in their plants.
While high temperatures of between 85oF and 90oF can sometimes help maintain the deep colors for many cacti species, you need to be careful when trying out this experiment. Even in normal temperatures, you can still achieve excellent colors as long as you water your plants properly and provide them with the right type and amount of fertilizer.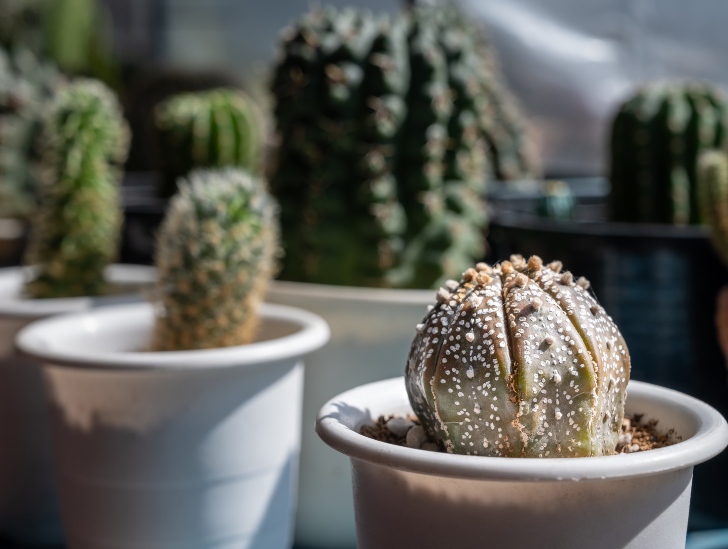 Keep in mind that extremely high temperatures can cause severe harm to your plants. In fact, avoid exposing your cacti plants to anything beyond 90oF unless you are 100% sure such high temperatures are ideal for your cacti species.
During the hot summer season, a combination of extremely high temperatures and full sun exposure can cause sunburn to your cacti plants damaging the spines, stem, and root system. During the hottest hours of the day (when the temperature is too high), consider relocating your plants to a shaded area or cover them with a shade cloth.
If you live in a region that is extremely hot during summer, consider planting your cacti directly into the ground instead of plant pots because the ground soil temperature tends to stay relatively constant despite any changes in weather.
If you must plant your cacti in containers, go for container materials that are great at insulating your cacti plants against sudden fluctuations in temperature. These materials include ceramic, terracotta, wood, and concrete. Avoid metallic and glass containers.
How Are Cacti Plants Adapted to Hot Temperatures?
Cacti plants are succulents adapted to survive in hot and dry conditions. They have several features that enable them to do this.
These plants have fleshy stems and leaves that store water for prolonged periods. This helps them to survive long periods without water.
They have a waxy coating on their leaves and stems that helps to prevent water loss. The waxy coating also reflects some of the harmful ultraviolet rays from the sun.
They have a shallow root system that helps them to absorb any water available quickly. Since they are typically found in habitats with little or no shade. This means they have to adapt to survive in direct sunlight.
They have spines instead of leaves. This helps minimize water loss by reducing the surface area exposed to the sun and wind. They often grow in clumps, providing protection from the sun and wind.
When Are Cacti Plants Most at Risk from Heat Damage?
Cacti plants are most at risk from heat damage during the summer months when the temperature is highest. This is because they suffer massive water loss due to evaporation.
They are also at risk during periods of drought when there is little or no water available for the plant to absorb.
However, it doesn't matter how well adapted a cacti plant is to hot conditions; if the temperature gets too high, it can still be damaged.
Signs of Too Much Heat and Sunlight (Sunburn)
Typically, it doesn't take long before your cacti plants start showing signs if they have been stressed from too much sunlight or intense heat. When your plants are getting the right amount of sunlight, they will often change colors or "blush" which is a beautiful transformation to see.
However, if they are exposed to too much heat and sunlight, the stems and spines will start to burn. With time, you may begin to notice pale or white patches on the stems and spines. The sad thing is that this damage is irreversible.
The only thing you can do to salvage the situation is to cut off the areas that have started turning dry and black. The black spots will mostly begin to form on the outside edges of your cactus plant, and it will be dry and crispy. This is in contrast to the blackening that may occur as a result of root rot which starts in the middle of your cactus plant and feels wet and mushy.
If you have moved your plants to a shady area, but they are still experiencing hot temperatures, you may notice a yellow/golden color start to appear. The plant won't turn completely black as it would with direct sunburn, but the colors will still look warmer or a little bit more yellow than usual.
This will generally go away with time, or your cactus plant will revert to its original color if you move it to a much cooler environment.
Protecting Your Cacti Plants from Sunburns
If you realize that your cacti plants have been affected by excessive heat and sunlight, then you need to take the right steps to protect them from any further damage. Even though the marks are permanent, the good news is that as your plant grows, the damaged parts may be covered.
Furthermore, if you can manage to catch the problem before the epidermis is scorched, then you might be able to save the poor plant. Here are a few tips to help you:
Move your cactus plant away from the sun
Obviously, the first thing you need to do to rescue your plant from any further damage is to get it out of the hot sun. If you notice any yellowing or shriveling on your cactus and it is still exposed to full sunlight, move it indoors or to shade.
It doesn't matter even if you have to move it in and out every day; your primary objective is to save it. However, this is only feasible if the plant is potted, and the size of the container is physically possible to move.
Use a shade cloth
If you have a relatively large cactus plant that you can't move because it is planted in your garden then try to use a shade cloth to protect it from any further sunburn. Cover it during the hottest part of the day and be sure to uncover it when the temperatures cool.
Water your plants consistently
If your cacti plants are showing signs of being stressed due to too much sunlight, there is a good chance that the plant will hibernate into dormancy.
This means that it will go into a stage where it won't be growing for some time. During this period, you want to keep your plant hydrated but be careful not to overwater it. Closely monitor soil dryness and only water it when the soil is completely dry.
Protect your plant from diseases
If your cactus plant has suffered sunburns, then it just got a lot weaker. This makes it more susceptible to infections and pest infestation.
Carefully check for bugs and ants that may cause more harm than what the sun has already done. Be sure to spray and treat your cacti plants if they show any signs of diseases or bug infestation.
Do All Cacti Plants Need Bright and Direct Sunlight?
The simple answer to this question is no. Not all cacti species need bright and direct sunlight to survive. Some cacti species will only thrive in bright but indirect sunlight since full exposure to the sun can cause severe damage.
For instance, Rhipsalis, which is a genus of the epiphytic cacti, won't do well when exposed to bright and direct sunlight. Instead, this group of cacti plants prefers shade since they have their natural habitat in the tropical rainforests. There are over 35 cacti species in the Rhipsalis genus with one of the most common ones being the Rhipsalis baccifera (mistletoe cactus).
On the other hand, some cacti species, especially those from genus mammillaria prefer bright light but are also fine with partial exposure to direct sunlight. You will find the globe and nipple cactus in this category.
It is also good to keep in mind that even those cacti species that thrive in bright and direct light might need a period of rest without much sunlight. Therefore, make sure you transfer them to shade for a few hours every day of the hot season.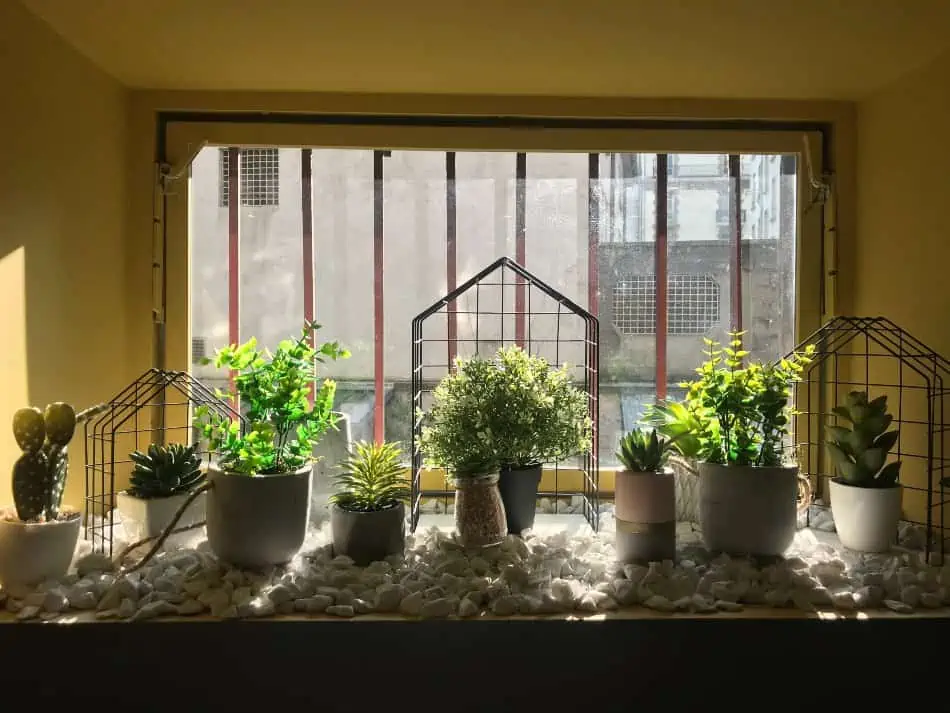 Can Cacti Plants Survive Too Much Heat?
The truth is that cacti plants are highly tolerant plants that can survive in various conditions. However, they are not indestructible and can be damaged by excessive heat, just like any other plant.
It is important to remember that while cacti plants can tolerate hot temperatures, they still need some protection from the intense heat of the midday sun. They will also need to be watered more frequently in hot weather.
If you are growing cacti plants in an area with very hot summers, choosing a species known to be tolerant of heat is important. Some heat-tolerant cacti plants include Opuntia ficus-indica, Ferocactus wislizenii, Echinocactus grusonii, and Lophocereus schottii.
It is also important to provide some protection from the intense heat. This can be done by planting the cacti in an area that receives some afternoon shade or by growing them in containers that can be moved into a sheltered area during periods of extreme heat.
Final Thoughts
While a significant number of cacti species will survive extreme heat, it is always good to keep them in a cool and shady area during the hottest days of summer to avoid sunburns.
If you have cacti plants planted in containers, you need to keep in mind that they are going to heat up relatively faster than those planted in the ground.
We hope this guide has provided you with valuable information you need to know when it comes to taking care of your cacti plants during the hot season.

Last update on 2023-07-26 / Affiliate links / Images from Amazon Product Advertising API