Ever wondered why a cactus plant is highly referred both in its natural habitat and at home? Well, this prickly plant has remained a wonder to both man and animals, thanks to its unique features. Any animal or human who has come in contact or seen a cactus will attest that no other plant comes close to it in terms of its uniqueness. It goes against the norm expected for most plants, and this has made it stand out.
So, what is so special about cactus plants? Apart from being one of the longest living plants on earth, it is also one of the most resilient and can withstand the harshest climatic conditions. The plant also grows in unique shapes and sizes seldom seen in conventional plants. They are also nocturnal and display unique growth patterns.
This article will be looking at some of the most notable features that make this plant uniquely special. It will look at how this prickly plant is wired differently, and factors that make it stand out in its growth pattern.
They are nocturnal
While each plant is wired differently, most of them are known to be active during the day. This is especially so in terms of their ability to take up nutrients and make food. During the day, the sun provides the best environment and conditions for photosynthesis, thus keeping most plants active. However, cacti seem to take a different route since they work best at night. Unlike most plants that open their stomata during the day, cacti have their pores open at night. This is an adaptation meant to help avoid water loss that would otherwise happen during the day when the sun is up.
During the night, temperatures are low. This is coupled with the calm breeze that helps them retain as much water as possible.
They are stem succulents
By virtue of being part of the succulent family, cacti are known to store water within its system. Unlike other succulents that store its water in the leaves, cacti do not have leaves and will let its stems take up this role. The huge, thick stem help function as a water storage 'tank'.  This explains why most cactus, have huge, round stems. During the dry season, this plant uses up the water already stored in its stems awaiting the little rains that come by occasionally in the deserts.
Unique growth patterns
Cactus is known to display some of the most bizarre growth patterns in the plant kingdom. This may range from its size to shape and texture. Some varieties like the arborescent cacti would take up the shape of the normal tree but will have a single huge trunk coupled by several branches. Then there are the columnar cacti that grow in cylindrical shapes. Depending on the variety, its stems may or may not have branches.
These prickly plants have it all from the massive-shaped cactus like the Saguaro to the smallest varieties like the moon cactus. Each cactus species has a unique growth pattern based on its adaptation and environment. Some species like the barrel cactus grow into huge cylindrical shapes while others like the pencil cactus depict the smallest of stems, you can almost mistake them for some type of grass. This huge contrast is what makes cactus stand out from the rest.
They are drought resistant
This may be rather obvious, but at the same time, it is a feature you would not find in most plants. Most cactus species are adapted for the deserts. As such, they have developed unique features and characteristics that help them adapt to this environment. Not many plants would survive in the desert, considering the fact that little rains and lack of enough nutrients may be detrimental to plant survival. However, cacti have mastered the art of thriving on such harsh environments thanks to its unique adaptations like succulent stems, lack of leaves and shallow root systems.
They can flower any time
Unlike other plants that have specific blooming seasons, most cacti species do not follow this trend. Their flowering will depend on the weather conditions and availability of food. As such, they tend to flower when they are 'happy'. This is characterized by enough water and nutrients in the soil.
Usually, some cactus species that rarely flower in their natural habitats would bloom better when grown at home, thanks to close monitoring, water availability, and the right fertilizer. While some would follow up this flowering with some fruits, others would simply fade out awaiting the next appropriate season to bloom again.
Unique skin surface
It is always easy to spot a cactus plant by simply looking at its skin surface. Most cactus plants have a characteristic shiny, waxy skin that helps them survive through the harsh conditions in the desert. In most cases, the outer part of the stem is ribbed. These ribs come in handy to help the plant stretch out and accommodate as much water as possible without the risk of bursting. While the ribs also help in offering shade to the plant's skin, the shiny waxy skin, on the other hand, comes in handy to help reduce the evaporation rate of the plant.
Multipurpose spines
Most plants have spines, alright, but for the cactus, its spines stand out, thanks to its functions and positioning. In most cases, the spines would grow all over the plant's stem. Apart from offering some aesthetics to the plant, the spines have other special functions in terms of helping the plant survive harsh environmental conditions. Mostly, the spines take the place of leaves and thus help reduce water loss that would otherwise happen through the stomata.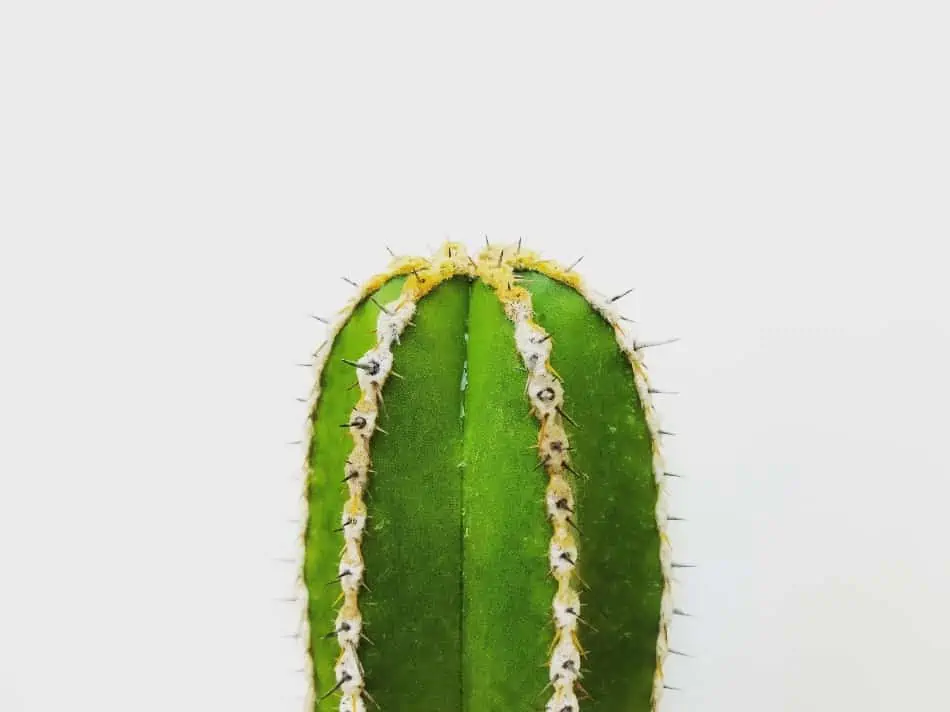 On the other hand, these prickly features on the cactus act as a defence mechanism against attack from herbivores. During the dry season, the cactus will be the only green plant remaining. This makes it the main target for herbivores looking for food. With these spines, the plant deters such animals from devouring them. In some cactus species, the spines help collect and direct the little rainwater into the roots. Others have huge spines that also help offer shade to the plants' skin to avoid unnecessary water loss.
Complex root system
Roots are meant to help a plant tap nutrients from the soil while offering support. Unlike other plants that have extensively deep roots, the cactus depicts a shallow root system. This is a special adaptation meant to help collect as much rainwater as possible. The desert experiences occasional rains, and when it does rain, it comes in small portions that may not seep deep into the soil.
With the shallow roots, it becomes much easier for the cactus to take advantage and use up as much water as possible. These roots would grow exponentially during such wet conditions to help the plant take up as much water as possible. When it dries up, the extra roots will break off from the main root system to help conserve as much water as possible.
Areoles
Areoles are small raised structures visible on the stems of most cactus species. These have become a distinguishing trait for the cactus family as you would not find these in any other plant. Cactus spines originate from its areoles. They are usually oval-shaped or circular and would be covered by sharp spikes or small hairs.
Extensive lifetimes
Cactus is one of the few plant species that have been documented to live for hundreds of years. This may result from their slow growth, but most importantly, their adaptations that help them survive and thrive even in the harshest of conditions. Some species like the Saguaro have been documented to live for well over 200 years.
They use ants as an additional defence mechanism
A cactus' first line of defence against herbivores is the spines. However, these may not always be effective since there are other predators like mealybugs and other harmful insects and pest that may be destructive to the cactus. As such, most cactus species employ other forms of defence to help them survive the harsh environment. One of these is the ability to attract ants within its vicinity to help deter small animals and harmful insects from feeding on it. It does so by producing nectar and other attractive juices for ants. In their bid to quench their thirst, the ants will flock to the plant thus acting as additional bodyguards to the cactus.
If you are a cactus enthusiast, you will agree that these prickly plants never cease to amaze. With their hundreds of species and respective uniqueness, you would be spoilt for choice on what to go for. Its exotic-looking features are enough to keep you glued to this special family of plants.
Last update on 2023-07-26 / Affiliate links / Images from Amazon Product Advertising API