Due to the harsh conditions of the cacti growth environment, it's normal not to expect these plants to bloom. But to the surprise of many, cacti do bloom with beautiful flowers. These blooms are very distinctive, and most even have a strong scent that many find appealing. Some cacti only bloom once, while others have been known to show their petticoat multiple times in a year.
So what does it mean when a cactus blooms? People see it as a symbol of love, while others see it as an indication that the cactus is dying. Many believe that when a cactus blooms, it's just beginning to show its age. Others see cactus blooms as a symbol of endurance because they endure all the hardship and still show their beauty.
If you're curious about cactus blooms and want to know more about them, this guide is here for you. Here are some things you might not know about cactus blooms:
The Meaning of Cactus Blooms
As you can see, cactus blooms can mean different things. Let's have a deeper look at some of them:
Old Age
For most people, cactus blooms are a symbol of age because these plants usually bloom once they've managed to grow at least six feet in height. This is based on the assumption that cacti can live up to 100 years or more. Many varieties won't bloom until they reach their full maturity.
Love
People from Mexico are one of the cultures that associate cactus blooms with love. So much so that it's not unusual to see cacti blooming in February and March, which is also their month of love. Many give credit to the main flower selling companies in Mexico, who purposefully plant and grow these plants near their shops, making them more visible. They believe that when a person sees a blooming cactus, it signifies that someone close to these people will get married soon.
Life Cycle
In the US, cactus blooms are seen as an indication of the life cycle. It starts when a person gets their first job and later in life they become parents. Later on in life, when their kids have grown and left home, the cactus blooms once more to signify the empty nest.
Dying/Death
People in some cultures associate cacti blooms with death. While it's not common, there are still people who believe that when a cactus blooms, it means that it is dying or in its last days. This is based on the belief that cacti flowers are not genetically engineered to be so beautiful. Instead, these blooms are viewed as a way for the plants to say goodbye before they die.
Good Care
If you give your cactus the care it deserves, you'll notice that it will start to grow flowers. Even if the blooms are not extremely big, your cactus will still look lovely. However, you should know of a few things first before you can expect to see your cacti bloom:
The flowering of a cactus can be very unpredictable, so do not expect them to bloom every year.
They may not even bloom at all during your lifetime, so you should expect this and try not to let it affect how you treat them.
As mentioned earlier, cacti grow best in poor conditions, and they tend to flourish more than usual if neglected.
Hanging Cactus Flowers
Some believe that the colorful blooms of cacti symbolize fragility and mortality. At the same time, others think of these cactus flowers as symbols of love and friendship since they only last for a short time.
The meaning of the word cactus is also important because it is derived from the Greek word "kaktos." This refers to a certain type of thorny plant that has been used as decoration since ancient times. In fact, those who first saw cacti were exploring new lands and looking for edible plants.
How to Make Cactus to Bloom
Just like other plants, cacti can be forced to blossom or bloom through different methods. Some of these methods include:
The Ferber Method
This method involves withholding water and fertilizer from the plant for an extended time. Since cacti survive harsh conditions, they can easily adapt to this method of forcing them to blossom. Another benefit of using this method is that there's no risk of harming or killing the cactus.
The Bending Method
This method is similar to the first one because it also withholds water and fertilizer from the cactus. The main difference of this method is that you bend the plant's stem instead of withholding its resources. Since the plant can't grow properly when its stem is bent, it forces it to blossom.
The Flower Pot Method
This method involves moving the cactus to a pot and placing it in a spot with indirect sunlight and room temperature. You also need to make sure that the plant's soil is moist but not soggy since too much water can kill it. After some time, you'll see that the cactus will start to blossom.
Types of Cactus Flowers
There are many different types of cactus flowers, but only a few you can expect to see when growing your own cactus plant. Some of the most common types of cacti include:
Mammillaria – This type of cactus is also called nipple cacti because it has small tubercles that look like nipples. These cacti grow almost anywhere and produce red, pink, or white flowers.
Echinopsis – Echinopsis is a type of cactus that can grow as tall as six feet and has beautiful blooms which come in different colors such as blue, purple, yellow, orange, and more. They may look like daisies, but they are actually cacti.
Trichocereus – Trichocereus is a type of cactus that looks like it has many spines, but actually, it's just one plant growing as a multiple-stemmed plant (much like bamboo). These plants grow green or yellow flowers that last only for a day.
Epiphyllum – This type of cactus is also called epiphyllum because it has flowers that resemble little orchids. These flowers are usually white, red, pink, or lavender and grow in clusters on top of their stems. They look so unique that they have been a favorite among cactus collectors.
How Long Does It Take Cactus to Bloom?
Once you successfully force a cactus to bloom, it can take anywhere from 1 week to several months before the flowers begin to show. The amount of time also depends on the age and type of cacti you're trying to force to blossom. Some types of cacti only need several days or weeks before they start blooming, while others take months before they finally show their colorful flowers.
Some cacti only bloom once a year, while others are known to blossom several times a year. The blooming season for these plants is usually during the spring and summer seasons. But there are also certain varieties of cacti that only flower during fall and winter.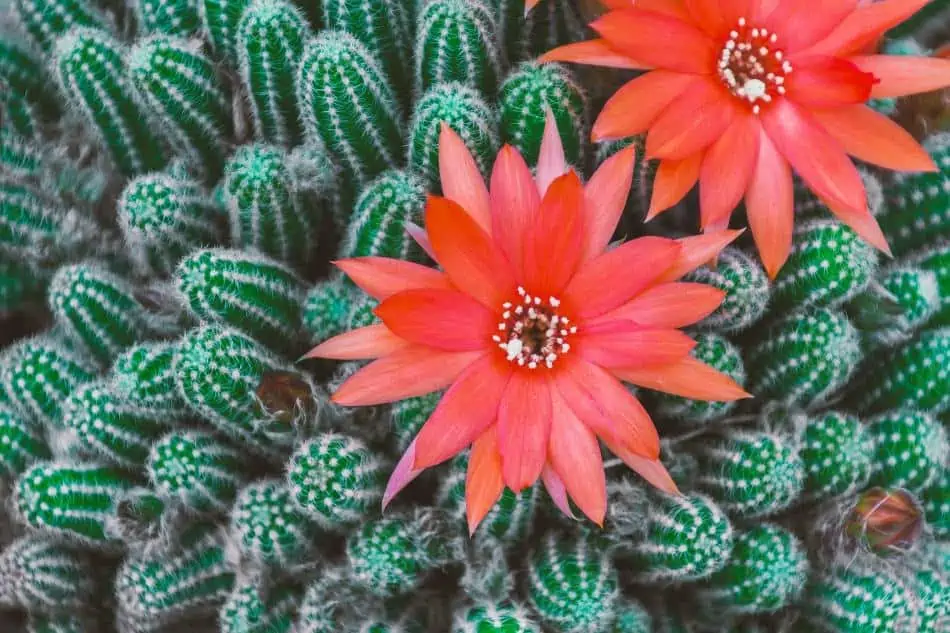 If you're planning on forcing a cactus to bloom, then keep in mind that timing is important. You also might need to try different methods of forcing the cacti to blossom if your desired result doesn't happen after some time. But if you do follow the proper steps and take the necessary precautions when trying to force a cactus to bloom, then you're very likely to see beautiful flowers in no time.
How Long Do Cactus Flowers Last?
Some cacti flowers can last for several days before wilting. But some types of cacti have very short blooming periods lasting only for a few hours. Try looking up the different types of cacti you have to determine how long their flowers last, or maybe ask someone who knows about these plants if you're unsure.
If you want to see your cacti bloom, but can't find them in nature, then try buying live cactus plants and growing them at home. It's not difficult to grow these beautiful succulents, so give them a try and wait until they bloom. You'd be surprised by how many colors and types of cacti there are to choose from.
Summary
As you can see, cacti blooms can mean different things depending on where you live or what culture you come from. It's essential to consider these different meanings and symbolism of the cactus flowers before deciding on what it means for you. This helps you better understand your cacti and how to properly care for them as well.
You can also try looking up information about when certain types of cacti will flower, depending on where you live. Please note that this method only works if you have a cactus located in your area and a similar climate as yours.
So, whatever reason cactus blooming may be, you can appreciate the sight of cactus blooms since these little wonders manage to survive the harsh conditions that lead many plants to die.
Last update on 2023-07-26 / Affiliate links / Images from Amazon Product Advertising API