Cactus plants have many benefits for both humans and animals. Some cacti have edible leaves, backs, and fruits. Others act as a source of water in arid regions; hence, helps many desert animals to survive.
Cactus plants such as prickly pear are food for various bird species, mammals, and insects. Many birds, lizards, mammals, insects, and bats rely on the flowers, fruits, and flesh of saguaro to survive in the desert. Some birds of prey and other ground animals make their nests in cactus.
There are different ways cactuses help various kinds of animals. Whether it's for food, shelter or a source of water, cactuses are essential for many animals' survival. Here is a list of different animals that depend on cactus and how they do so.
Camels
Camels are among the animals that depend on cactus. These animals eat Prickly Pear cactus's pads and spines. You must be wondering how they manage to eat this cactus with sharp spines. Well, it's all thanks to their hard palate on their mouths. They teed grind the cactus against the plate. They chew the food in a rotating manner and redistribute pressure from the cactus in the mouth. Their papillae slide the cactus needles down on their throat without poking them.
With this chewing technique, the sharp spines of prickly pear cactus don't prickle them when they ingest. Well, you cannot deny that the sharp spines hurt the camels while eating this cactus. However, they choose to enjoy the flesh beneath these spines and endure the discomfort that comes with it. After all, they only eat a few times because they're capable of preserving food in their body for a long time.
Desert Birds like Gila Woodpecker
For several desert birds, cactus is not only a source of food but a good shelter. These birds use the inside of the cactus plants to make themselves comfortable homes. Saguaro cactus makes a perfect host for most of these birds. These birds are the Gila woodpecker which excavates their nests on the saguaro's pulpy flesh.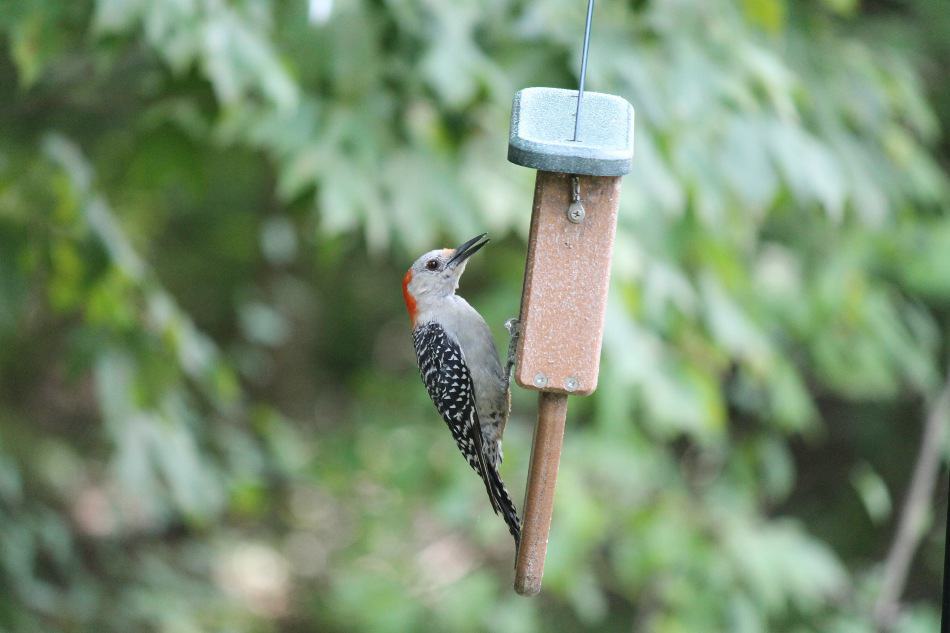 Gila woodpecker is a bird found in the Sonoran Desert. Like the name, this bird pecks the wood of the saguaro cactus tree to make its nest. You'll identify these birds with their brown feathers and black and white marks on the wings. The makes have some red patch on top of their heads.
The good thing about these birds is that they only make holes on the outside layer of the cactus, allowing the plant to heal and continue growing normally. They only cause superficial damage that will not kill the plant. They create a pocket of scar tissue that acts as their home. Sometimes the Native Americans collect this scar tissue to use for carrying water.
Gilded Flicker Birds
Another desert bird species that dwells inside the saguaro cactus is the gilded flicker. The bird is a common one in the Sonoran desert and has a healthy population. Its wings are about 11 inches long and 19 inches wide. You'll identify this bird with its brown and has some red and black marks. The non-dessert species of this bird not only live in cactus but also eat the fruit.
The bird hammers saguaro cactus through to the center. Their holes are so deep that above them, you can see the helpless cactus leaning over sharply. The cactus may even start drooping because the hole makes it lose its structural integrity. These birds can abandon the cavities, and elf owls, purple martins, screech owls, sparrows, and finches take over the homes.
The Western Screech Owl
This owl is another desert animal that lives inside the saguaro cactus. The owl lives in the holes abandoned by birds or make their nests in the cactus. This owl has brown and white feathers. It has a wingspan of 21 to 22 inches and large eyes. The western screech owl is a nocturnal animal. This means it comes out at night and rests in its nest during the day. It's also a territorial animal that can attack other animals and humans. It doesn't eat cactus. It depends on small birds, rodents, and insects for survival.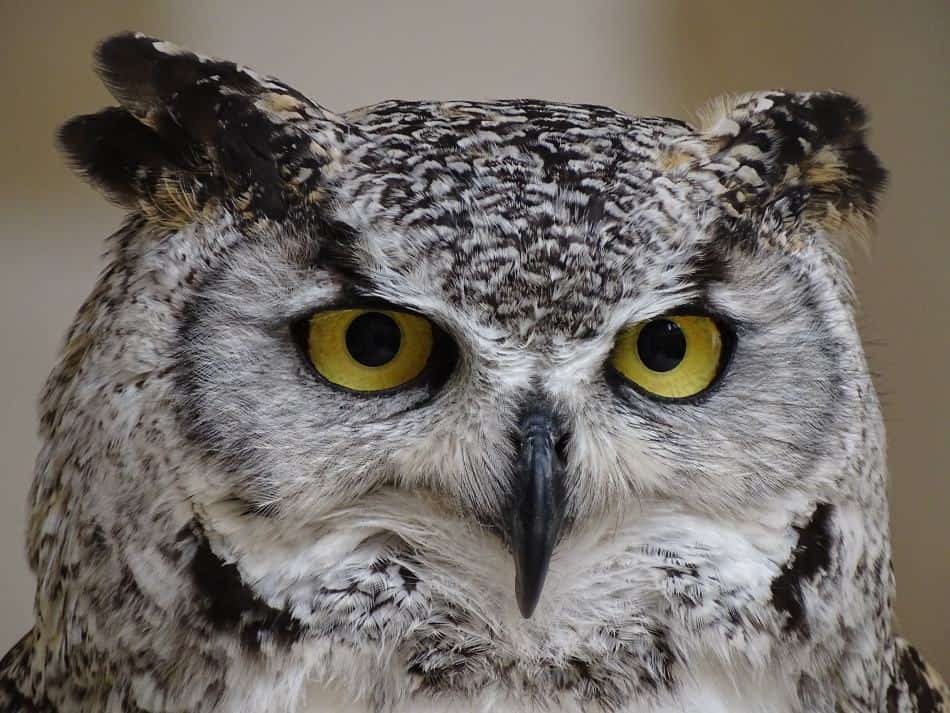 Bats
Bats not only use the holes left by other birds for their shelter. They also eat nectar and pollen from saguaro cactus. Bats such as the Mexican Long-tongued and Lesser long-nosed pollinate the saguaro. The bats, mammals, and other bird species eat the ripening fruits, which also act as their moisture source.
Collard Peccary
Collard peccary or javelina are also mammals that live in the desert and depend on cactus and other plants to survive. The peccaries almost look like pigs with their sharp spears. They're smaller in size as compared to pigs with almost invisible and tiny tails. Their small tails have some scent which they use to find their family members and mark their territory.
The animals also have sharp tusks under their snouts that they use to dig roots of the cacti to find food. They also get their water from the juicy cactus pads. They also dig up other plants to eat their roots. They're not shy and can even visit homes in search of food in moist plants.
Harris's Antelope Squirrels
This is another group of desert animals that eat cactus seeds and fruits to survive. You'll see them dashing out often in search of food with their fluffy tails held at their backs. They also dig underground burrows, which are mostly under prickly pear cactus and other shrubs.
You'll see these animals jumping on top of spiny barrel cactus to get the juicy cactus fruit for the meal of the day. The funny thing is that they're very careful on top of the spiny cactus that they never get poked. When it's too hot, these wonderful squirrels drop their bellies and spread their legs to cool off in shady soil when it gets too hot.
Woodrat
Most cacti plants from those prickly spines to scare away predators. These spines are everywhere, starting from the stems, leaves to the fruits. The spines force most hungry animals to stay away or risk being poked and wounded.
But this is not the same case with the white-throated woodrat. The rodent that mostly lives in the dessert is not scared of the spines. In fact, to them, these thorns seem like an invitation for a feast. It even looks like these animals will prefer cacti with thorns to the ones without.
Apart from collecting the fruits from these spiny cacti, like the prickly pear cactus, they also collect the spines to create their defense. The rodents use the cacti spines to surround their nests, so anyone who dares to pay them a visit will get a sharp welcome. This strategy has protected these rats from predators such as snakes.
Jackrabbits
This is another fun to watch desert mammal that the cacti plants help to survive. They have very long ears that help them sense danger from far away and cool their body temperatures in the hot desert climates. Their ears and short tails have black fur that got them the name jackrabbits.
Despite the name rabbits, these mammals are in the hare's family. They move about in open and flat areas, searching for food. The animals depend on cacti, leaves, shrubs, and grass for survival. Jackrabbits eat the flesh of young saguaro to get the moisture, especially when they run out of water completely.
The Coyote
This animal is a dog-like animal that you won't believe can eat cactus since they look more like carnivorous animals. However, they're omnivores that eat anything from plants to other small animals. The coyote can survive on anything from fruits of cacti, mesquite beans to dead animals. The coyote survives on prickly pear cactus, especially the fruits.
They also eat all kinds of rodents, including squirrels, woodrats, and rabbits. They have a variety of food to eat, making it easy for them to survive in the desert.
The Kangaroo Rat
This is another exciting animal that you'll come across in the desert and survive on cacti plants. You'll identify these rodents with their long tails of about 8 to 14 inches. They also have kangaroo-like feet that give them the name. They resemble kangaroos in many ways, including using their long tails for balance and having pouches, not on the stomach.
They use the pouches to carry seeds they collect from plants like cactus to their burrows. They also eat fresh pads from different species of cactus. The rats join the long list of animals that depend on prickly pear cactus for food.
Summary
Looking at the cactus plants, especially the prickly pear cactus, you'll think that no one will dare eat them. It seems like both animals and humans will do anything to reach the juicy fruits that these cacti produce. Cactus fruits make a good source of food, and some Native Americans use them for various culinary dishes. Now what humans can eat comfortably, animals will not spare.
But animals don't only depend on cacti plants for food. Others use them as their homes by building nests on them. Others like the woodrat collect the spines to use as a defense against predators such as snakes. The cacti plants are indeed helpful to many desert animals.
Last update on 2023-07-26 / Affiliate links / Images from Amazon Product Advertising API