Perhaps you and a friend are hanging out in their kitchen, and you notice she has succulent plants growing in her windowsill. Some are growing in soil, while others are growing in water. You point this out to your friend, to which they explain how succulents can root in water.
Succulents can root in water. Propagating succulents in water can take six weeks or more to start growing out the roots, just as one would do when propagating their succulents in soil. However, the steps to propagate in water is a different process than in soil.
Keep reading to find out the different succulents that can root in water, how to propagate succulents in water and the supplies that you would need to do so. You can also learn if it is better to propagate your succulents in either soil or water, as well as the difference in propagating between the two.
Succulents That Can Root In Water
While succulents can root in water, some specific types of succulents will respond better to this propagation method than others. Additionally, the maturity of the plant can also play a role in how it roots in water. Therefore, it is recommended that the succulents you obtain your cuttings from for water propagation are more mature, so they are, in turn, more tolerant.
According to Garden Kellogg Products, a couple of recommendations as to which succulents would have a better chance of successfully growing their roots in water include:
Aeonium
Crassula
Echeveria
Sempervivum
Spiderwort
Overall, it is okay to propagate any succulents of your choice. However, there are a few steps you must take to ensure they will not get root rot from absorbing too much water through their roots. Let us dive deeper into how to properly propagate succulents in the water below.
How to Propagate Succulents In Water
There is a process to propagating succulents in water that you must follow in order for them to successfully grow roots and become a healthy plant. Read on to find six steps on how to propagate your succulents in water.
Gather the Essentials
There are a few things that you will need before you begin the water propagation process.
These are the supplies that you will need for propagating your succulents in water:
Water
Bowl
Toothpick
Succulent leaf cutting of choice (or cuttings, if you are planning on propagating multiple)
Now that you know what you need to continue with this project, let's move on to putting everything together so your succulent cuttings can begin rooting in water.
Add Water and Plastic Wrap to the Bowl
Fill the bowl that you have chosen to use for this project about halfway with water. You do not want to fill it up completely, as the goal is to not have the succulents actually touching the water. After filling the bowl with water, wrap it with plastic wrap, making sure to cover the entirety of the bowl.
Poke Sizable Holes Into the Plastic Wrap
Take the toothpick and create sizable holes for the number of succulents that you are wanting to propagate. Poke additional holes so as to not let the moisture of the water become so trapped within the bowl that your succulent cuttings become too wet. It is better to let the water within the bowl air out than to create condensation underneath the plastic wrap.
Place The Succulent Cuttings Into the Holes
Once there are enough holes for the number of succulent cuttings you have selected, place each one in its respective hole(s). Make sure that you are not covering every single hole with a succulent, to prevent condensation buildup underneath the plastic wrap as stated in the previous step.
Place the Bowl in Indirect Sunlighting
Now that your succulent cuttings are all in place, you can place them in indirect sunlight to begin the roots-growing process. It is important to make sure that the succulent is in indirect sunlight. If you are having a hard time doing this, then you could purchase a grow light, which is a good way to help your plants grow. 
An exceptional recommendation for a grow light for water propagating your succulent cuttings is the EZORKAS 9 Dimmable Levels Grow Light. This grow light allows you to adjust the light settings through nine levels to ensure your succulent cuttings get the amount of light they need to flourish
Change the Water Often
It is important to switch out the water in your bowl with fresh water consistently and when necessary to promote healthy growth, but this is something that you do not have to do on an everyday basis.
On a week-by-week basis, you will start seeing results with your succulent cuttings as they begin growing their little roots. Around the six-week mark, you will start seeing longer roots growing out of your succulents. Once these roots are sufficient enough for growth, you can continue to grow your succulent in a planter with water only if it is your choice to do so.
Is It Better To Propagate Succulents In Water Or Soil?
Propagating in both soil and water has its pros and cons that would need to be heavily weighed. Both have their own completely different processes on how to propagate succulents, but they also have one major similarity. Let's dive deeper into the difference between the two below.
Propagating In Soil
To propagate in the soil, you would have your succulents in indirect sunlight.
The roots of your succulent would be absorbing nutrients and minerals found in the succulent soil as well when propagating in it, rather than just getting its nutrients from the water and sun.
Succulent soil is different from potting soil; potting soil holds in water, but not moisture, while succulent soil does the opposite and drains the water but keeps the moisture.
Propagating in Water
The process for propagating succulent cuttings in water is mentioned above. You can see that they both need indirect sunlight, but there are still large differences in the forms of propagation.
There will eventually come a time when the roots of the succulents will inevitably touch the water in the bowl and start to form baby succulents within the leaves. The main source of nutrients and food it will get is just from the sun and water.
The Difference Between Water Roots And Soil Roots
Since propagating succulents through water and soil have a different processes, they also have some differences.
A major difference between water roots and soil roots is that you are directly placing the succulents into the soil and watering them when needed as opposed to the water roots, which are constantly in water. Additionally, soil roots are thicker and are therefore stronger than water roots.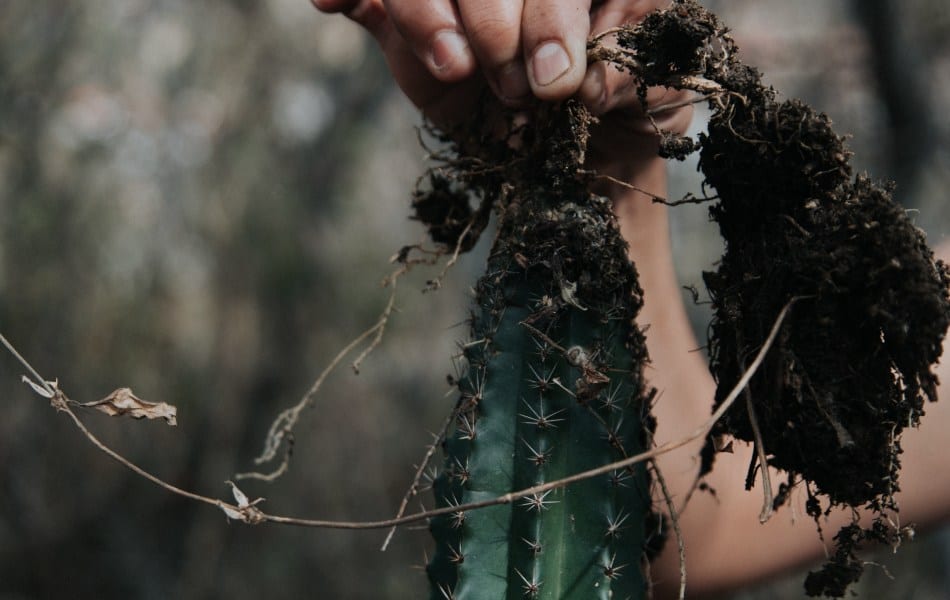 With water roots, to start the process, you are having to place the succulents an ½ inch from the water, but once their roots form, they will always be in the water. However, the succulent roots in soil are more layered and thicker than the water roots, so they are likely to become a lot stronger.
Another difference is that with soil roots, you are not watering them every day. You must make sure that they are being watered as minimally as possible so as not to absorb too much water when the roots are first starting to grow. When the roots are starting to see growth, then start watering the roots consistently to make sure that they are not dried up.
Saying that one way is better than the other would be untrue. In the end, it is all about preference and what you feel is more beneficial to your plants. Another option is that you can essentially do both. You can start by propagating your succulent in the water and after the first six weeks, you can transfer them over into a potted plant and continue propagating them in soil.
Conclusion
Now you know if succulents can root in water and the steps to propagate succulents in water. You also know the difference between water roots and soil roots and how, in the end, it is your preference on whether you would want to do one or the other since both ways can achieve the same result.
Last update on 2023-12-11 / Affiliate links / Images from Amazon Product Advertising API