A string of bananas is a wonder plant that any succulent enthusiast would love to have in their indoor garden. Its name may be contradictory, and you may be tempted to think it has something to do with the popular banana fruit. Far from it, this is a succulent vine plant that derives the name from its banana-shaped leaves.
This is an easy-to-care-for houseplant native to South Africa. It's a perfect option for someone who doesn't have a green thumb and needs something to decorate their space with minimal effort. The string of bananas will help you create a tropical vibe and give your home a much-desired ambiance.
So, how do you care for a string of bananas? A string of bananas thrives best when potted in hanging baskets. Use porous well-draining soil and ensure it gets bright but indirect light. As a succulent adapted for the warm weather, a string of bananas can comfortably handle temperatures of up to 110 degrees. Its unique growth pattern includes trailing vines, and thus, using strong to support the vines helps it thrive and extend even more.
Are you looking to grow a string of bananas but not sure where to start? This ultimate guide will help you care for a string of bananas in the best possible ways. It takes you through its growth circle and offers great insights on how to take care of it and keep this succulent vine healthy and growing strong.
Propagating String of Bananas
You can easily propagate string of bananas through its cuttings. The vines are sturdy enough to support themselves. Follow these steps when propagating string of bananas:
Cutting the vine – Cut a healthy stem from the main plant. The cutting should have at least three or four leaves on it and include some of the roots as well.
Potting medium – Use any moist potting mix to start with, such as cactus/succulent soil mix or perlite-based seedling mixes (preferred). Add 50% of perlite or pumice to your potting mix.
Rooting the cutting – Take a clean plastic container and fill it with enough water until about an inch of water remains at the top. Dip in half-inch deep rooting hormone powder (optional) and tap off excess on the side of the container.
Place string of bananas cutting in the water and gently push down until it's halfway submerged. Place a container on a tray or saucer to collect runoff during watering and cover with clear plastic wrap (cling film).
Let the cuttings sit undisturbed for about two weeks before removing from water; this allows enough time for roots to form at least an inch long.
You can plant the cuttings in individual pots filled with moistened potting mix. Make sure to cover all exposed roots and keep them warm during this period.
Water Requirements
String of bananas may be succulents, but they still need enough water to avoid getting stressed. Watering frequency varies depending on how much sunlight it gets and the temperature of your room.
During spring/summer: water every two weeks when soil is dried up to your first knuckle. You can tell if a string of bananas needs water by checking for moistness in the potting medium.
During winter: water once a month when soil is dried up to your first knuckle and keep it warm (75 degrees). Temperatures below 55 degrees can cause root rot, so avoid this at all costs.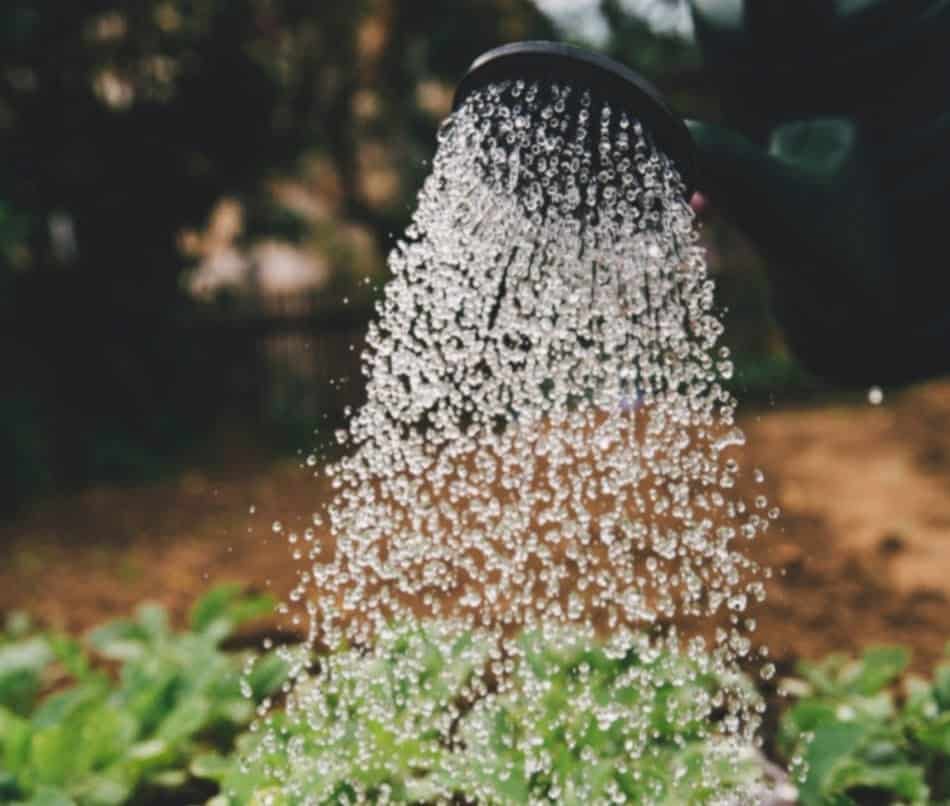 Light Requirements
String of bananas thrives in bright but indirect light. Place it near east or west-facing windows to receive ample sunlight during the morning and stay out of the direct sun all day long. It can tolerate some full afternoon sun if it gets adequate water to prevent wilting. However, too much sunlight may burn the leaves.
Ensure there is enough ventilation in your room to prevent string of bananas from getting too hot. Keep it away from heat sources such as radiators and vents or fireplaces that can dry out the air around them.
Temperature and Humidity
String of bananas can tolerate light frost, but it's best to keep in temperatures above 64 degrees Fahrenheit. String of bananas thrives in high humidity, so increase the ambient room temperature by grouping together with other plants or place a humidifier nearby for optimum growth. This will help prevent dry air conditions, which may cause leaves to turn yellow.
Potting and Repotting String of Bananas
String of bananas does best when potted in hanging baskets. Use porous well-draining soil and ensure it gets bright but indirect light. As a succulent adapted for the warm weather, string of bananas can comfortably handle temperatures of up to 110 degrees. Its unique structure makes it easy to identify when watered and provides a fun display.
The pots should be large enough to accommodate the string of bananas roots. Ensure there is adequate space so that water doesn't collect at the bottom and rot the roots. For hanging baskets, be sure to use sturdy hangers that can hold the weight of string of bananas without tipping over.
Common Pests/Diseases
Even with proper care, pests and diseases may attack your string of bananas plant. Treating it early is key so as not to compromise its overall health. Here are some common problems you may encounter and how to treat them.
Pests
Thrips – These are tiny insects noticeable by the damage they inflict on leaves, causing yellow spots, scarring, or stippling (irregular white patterns). Apply an insecticide containing neem oil when thrips appear in large numbers. Keep it out of reach of children and pets. You can also apply Diatomaceous earth to the soil every few weeks, which will help control thrips among other insects such as spider mites and mealybugs.
Mealybugs – These are tiny white bugs that feed on plant sap, causing leaves to turn yellow or appear dry and dusty, eventually leading to leaf drop. To treat for mealybugs, uses a cotton swab dipped in alcohol or apply an insecticide containing neem oil directly onto the affected plant parts.
Mites – These are spider-like pests that appear as tiny dots on leaves and stems but do not cause any noticeable damage until they have multiplied significantly; at this point, you will notice areas of leaf yellowing and dropping as well as webbing on the leaves. To treat for mites, apply an insecticide containing neem oil directly to affected plant parts every seven days until pests disappear.
Diseases
Powdery mildews – These are fungal diseases that appear as a white powdery-like growth on leaves and stems and the soil. While powdery mildews are not usually fatal, they do weaken plant defenses, so you will need to treat them immediately before they spread or cause further damage. To treat powdery mildew, apply a fungicide containing myclobutanil directly onto affected areas of the plant every seven days until the mildew disappears.
Downy/Verticillium wilt – These are fungal diseases that cause the leaves to droop and become water-soaked. It also causes yellowing on one side of the leaf and eventually dies off entirely. To treat for downy or verticillium wilt, remove affected leaves as soon as you see the symptoms. You can then apply a fungicide containing myclobutanil directly onto affected areas of the plant.
Other Common Issues with String of Bananas
Root rot – This is common when plant roots are constantly wet, typically due to a lack of drainage in the soil. To treat for root rot, ensure your string of bananas has proper drainage and that you aren't overwatering it or grouping together with other plants, which will add more humidity into the air.
A lack of leaves on the soil's top – this is typically the result of overwatering or insufficient light that causes root rot, leading to an overall unhealthy plant. To treat for lack of leaves on top, water string of bananas less frequently and make sure it has adequate drainage in its pot while providing bright but indirect sunlight
Reddened leaves – This is often a result of cold drafts, low humidity, or insufficient light. To treat for reddened leaves, make sure the string of bananas is in an area with bright but indirect sunlight and keep it away from drafts. Also, ensure there's plenty of humidity by misting the plant regularly
Failed vine cuttings – A lack of water typically causes this after planting. You can prevent it by making sure vines are well-watered after planting until they have started to take root.
Pruning & Maintenance
String of bananas plants needs pruning every few months for it to maintain its beautiful shape and lush foliage. Pruning also encourages new growth along with more flowers. It's best to prune when the plant is young to encourage it to grow into a manageable size that fits in your home or outdoors.
The best way to prune string of bananas is to remove dead leaves and stems growing inward towards the center. This will promote growth along its outer edges where you can see new foliage emerging from.
String of Bananas Toxicity
String of Bananas is closely related to Senecio rowleyanus (String of Pearls), known to be mildly toxic to humans and animals. It is safe to use as a house plant but should be kept out of reach from pets and children because it can cause some skin irritation upon contact. In case of ingestion, contact the Poison Control Center immediately.
This easy-to-grow houseplant requires minimal effort, making it a great choice for anyone who likes low-maintenance plants in their homes or offices. Hanging string of bananas plants is great for indoors or outdoors in areas that receive at least six hours of sunlight per day.
Last update on 2023-07-26 / Affiliate links / Images from Amazon Product Advertising API