A beautiful garden might not seem like an attainable goal; most plants go through the dormancy period in winter, and less growth happens during this time. However, nearly all indoor plants bloom for a few months before fading; with proper care, your plant will thrive for a few years.
The Santa Rita Cactus, commonly known as the Purple Prickly Pear, is an exception. This attractive succulent has colorful fleshy pads which turn to a deep purple in winter and soft blue-gray in warm temperatures. During the spring, large yellow flowers appear.
Native to Mexico, this hardy plant has over 40 varieties and can attain heights of 8 feet. The slow-growing edible succulents have flat-shaped pads with spines. Most people like them because of their edibility and ornamental nature.
In this article, we will learn more about growing and taking care of the Santa Rita Cactus. So let's get right into it.
Growing
A desert succulent like the prickly pear can not tolerate constant moisture. Therefore, we recommend planting in containers that can meet the drainage needs of the plant. Make sure that your container, preferably a pot, has enough drainage holes at the base.
Fill your pot with a well-draining soil mix for your succulent and move it to a warm location. The bottom-most layer should be gravel for better drainage. Start by planting seeds, push them slightly inside the ground, and place them near a sunny window or under grow lights.
Propagating is much faster than sowing seeds. Transfer the prickly pears into bigger pots if the cactus gets rootbound. If you are planting to transplant the plant, wait until the cold climate is over to avoid the danger of frost and rain.
You can also purchase young plants at your local nursery and transplant them to a sunny spot with well-draining soil. Though the best time to transplant is in spring, you can transfer your plant at any time if you reside in dry areas such as Southern California.
Propagation
You can propagate your Santa Rita Cactus plant from either seeds or pads. We suggest growing from the pads as this is relatively easier and faster. Cut a couple of pads from the parent plant during warmer climates.
Place the cut-off pads in a cool area and wait for about 1-2 weeks for the cuts to heal perfectly before planting. Then, push the cuttings about an inch dip in your container, just sufficient to hold the plant uprightly, and expect rooting within a few weeks. Do not water until you see signs of growth.
If you choose to propagate by seeds, scoop some seeds from an open ripe fruit and rinse them. Give the seeds time to dry completely and sprinkle them in a pot of moist, well-draining soil. Cover the seeds thinly with dirt or sand. Finally, cover your jar in a translucent paper wrap and position it in a sunny spot. Germination can take a few weeks to months.
Requirements for Growing your Santa Rita Cactus
Proper care of your prickly pear starts with knowing the best conditions necessary for your plant to thrive.
Water
Prickly pears are drought tolerant and only need occasional watering. This plant, like most succulents, stores water in its jointed stems called pads. Water only when the surface appears dry. Throughout spring and summer, we recommend it once or twice weekly.
In colder periods like fall and winter, you can water your prickly pear one to two times a month. When you are watering your plant, moisten it, don't soak it. Underwatering can cause the pads to appear wrinkled and thinner; water thoroughly if you notice these signs. On the other hand, too much water can reduce the purple pad color.
Light
A place with enough light is necessary for the prickly pear cactus to thrive. The Santa Rita Cactus is a tropical plant that thrives well when exposed to warmth. Therefore, place your plant where it can get at least six hours of direct sunlight. We recommend a west or south-facing window.
Soil
Santa Rita Cactus can take poor soil conditions as long as the drainage is good. However, the plant prefers light, well-drained gravelly or sandy soil. You can get a ready-made potting mix or come up with your own.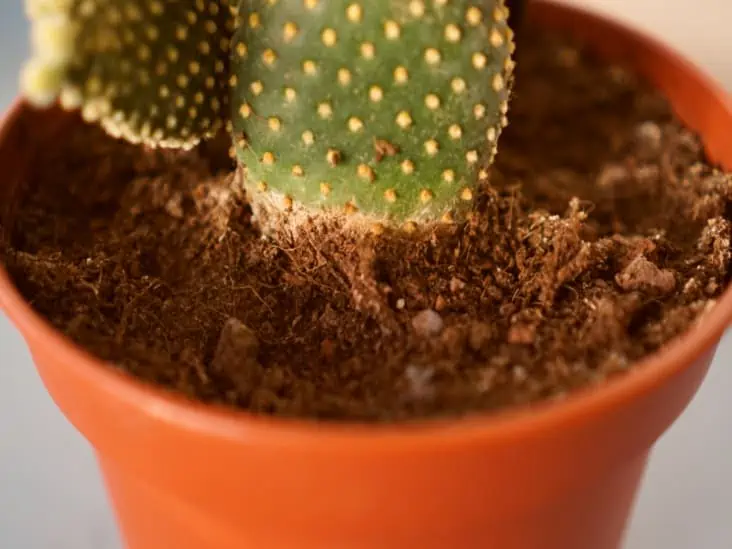 To make the potting medium, mix equal parts of compost, soil, and sand or perlite. Avoid clay-rich dirt because it can lead to stagnation. You can always mix the clay with sand or peat moss for better soil structure if you have no other options.
Temperature & Humidity
Santa Rita Cactus does well in hot and dry desert summers but can also take cold temperatures. Mild winters, hot summers, and low humidity are the ideal conditions for this succulent.
Indoor temperatures and humidity levels are generally acceptable for prickly pear. However, the plant does not tolerate high humidity even if the temperature is optimal. Avoid artificial sources like air conditioners because they can lead to excessive temperature fluctuations.
How to Take Care of Your Prickly Pear
Taking care of your Santa Rita Cactus is more than just providing the right conditions. Though the plant is low maintenance, you have to put in some work for the best results.
Feeding
Santa Rita Cactus does not need fertilizers, but nutrients get used up faster in containers, and you might have to feed your plant. For young plants, apply fertilizers that contain equal amounts of nitrogen, phosphorus, and potash during the growing season and follow product instructions. 
High nitrogen fertilizers lead to larger pads, while low nitrogen fertilizers contribute to increased flowers and fruits. Never feed your plant in winter as there is no growth.
Pruning
Pruning is not necessary but can help to keep your plant in size and propagation. The best time to prune is during spring or late summer while the pads are still young. They get woodier as they mature and might be hard to prune later on.
Remove the poorly formed pads that appear damaged and those that brush against each other. First, moisten the cactus to stop the micro spines from detaching from the pads. The fine spines, also known as glochids, can cause skin irritation and respiratory issues.
To remove the pads, hold them with a pair of tongs and snap them off at the base using a sharp kitchen knife or shears dipped in rubbing alcohol. Start with light cuts and take out the small pads between the trunks first, then move on to the top parts.
Repotting
Consider repotting your plant once the roots outgrow the pot or if the plant seems unstable in its container. The ideal time to repot is in spring. Before you repot, ensure that the soil is dry. Then, grab its base, and knock away the oil soil.
Move it to a slightly bigger pot and feel with a well-draining succulent mix. Avoid watering your plant right away; give the roots time to recombine. To figure out if your plant requires repotting, monitor the growth rate. If the plant is growing slowly, then it's time to report it.
Fruit Thinning
Fruit thinning involves removing extra fruits and flowers for lower production and improved quality. Thinning should be done two weeks before the formation of the fruits. When you thin your plant, leave about ten fruits on each stalk.
Harvesting
Prickly pears can be eaten raw or used to make juices. There are also claims of the pads being effective in the treatment of diabetes and high cholesterol. However, before harvesting the fruits, take precautions, such as wearing gloves for protection against the spines.
Go for young pads because mature pads have sharp spines and are more fibrous in texture. Hold the pad and use your other hand to cut the pad from the plant with one hand.
To harvest the fruits, use thick gloves or tongs. Then, twist each fruit off to remove it. Ripe fruits are orange, red, or purple, while younger fruits are green.
Santa Rita Cactus Problems
Pests and Diseases
Santa Rita prickly pears are generally disease-free but can become infested with mealybugs or scale. Scales appear like cotton coatings on the pads, while mealybugs are white. They both suck sap from the pads. To remove the pests, use a strong stream of pressurized water.
For more severe infestations, prune a few pads from the center of the cluster during summer when the insects are most active or use insecticidal soap.
Sunburn
Sunburn occurs when you transfer an indoor plant to the open landscape for direct sun exposure. For example, sunburned prickly bears turn yellow. You can reduce the risk of sunburn, placing cheesecloth over new plants.
Overwatering
Overwatering leads to root rot and scab. You can tell that your plant is getting too much water if the stems have a rust color. Do not water your Santa Rita cactus plant if the soil is still damp; wait for it to dry out completely.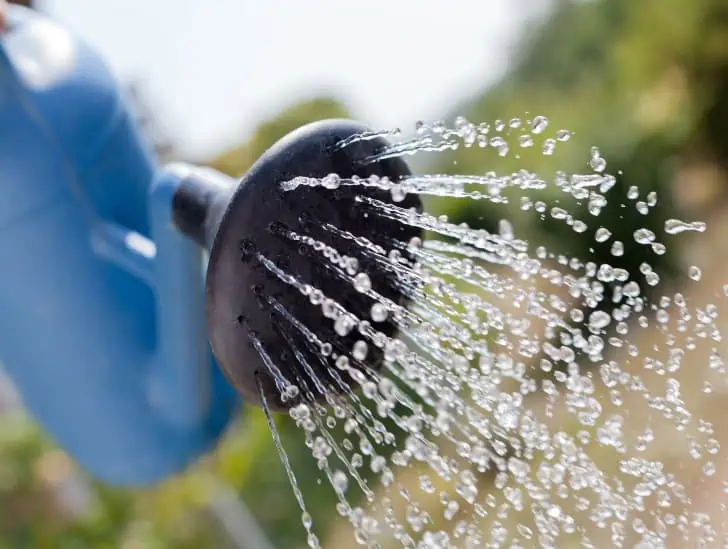 Infections
The commonly known infections include phyllosticta pad spots and charcoal spots. Phyllosticta pad spot is characterized by black lesions on the pads, while charcoal appears as a ring of raised dots. First, destroy the plant to prevent the spread of infections.
No doubt, the prickly pear is a worthy addition to your indoor plant collection if you are looking for low maintenance, ornamental and edible plants that bring out that pop of color in your home.
Last update on 2023-07-26 / Affiliate links / Images from Amazon Product Advertising API